Real Estate Business Move to Dominican Republic–A Booming Success in Face of Failing US Economy
Dreams of returning to the Caribbean come true for a South Florida real estate broker in an unlikely way. The failing U.S. economy, led by its housing crisis, has given La Costa Destinations International Realty new life by permanently moving to Punta Cana, Dominican Republic.
Punta Cana, D.R. April 2, 2009 — The Caribbean called Scott Medina back home, and he's glad he listened.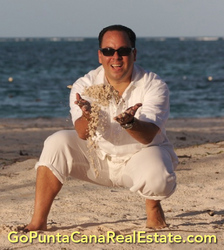 Scott Medina
While the economic landscape in the US is looking grim these days, the blue-sky view from La Costa Destinations International Realty's new headquarters in Punta Cana Dominican Republic shines bright with promise. Demand for property is high, and sales are strong. "It's a success story", says owner-broker of the company.
Originally from Puerto Rico, and having done business in the US all his life but concerned about today's plummeting economy, this Florida agent has found a silver lining. It's taking business outside the country to the sugar-colored beaches of the Caribbean, as he's always dreamed.
Get Started
Claim up to $26,000 per W2 Employee
Billions of dollars in funding available
Funds are available to U.S. Businesses NOW
This is not a loan. These tax credits do not need to be repaid
The ERC Program is currently open, but has been amended in the past. We recommend you claim yours before anything changes.
"After two years of doing so well, we've decided to relocate permanently. I knew my return to the Caribbean was coming," Medina says.
La Costa Destinations International Realty is a growing network of international brokers promoting Punta Cana real estate around the world. Although company staff has been in place in Punta Cana Dominican Republic for the past two years, Medina plans to relocate there in May, finalizing the move. Until then, Medina will continue to travel and manage business from Florida with the help of his partner, Emil Montas, a current resident and native of the island.
Why Dominican Republic? Medina explains that tropical destinations are appealing to US baby boomers and European retirees. Now more than ever, baby boomers preparing for a carefree life are looking for value in their dream getaway in the tropical climates where their pensions will buy more and they may have access to services they may not necessarily have at home. High real estate taxes and a floundering US economy have many retirees from North America seeking alternatives in the international real estate market. As it turns out, Dominican Republic is among the top ten destinations in the Caribbean, Central and South America for places to retire, along with Mexico, Costa Rica, Belize, Panama, and Brazil.
Once described by Christopher Columbus as "a beautiful island paradise", the lush and culturally diverse Dominican Republic is the second largest Caribbean nation, making it an attractive alternative to settling in the US. "The Dominican Republic has it all," says Minister of Tourism Javier Garcia who speaks of its unspoiled beauty, diversity and accessibility.
However, the island cannot help be touched by global economic winds and the US slowdown, with 32 percent of its visitors arriving from the United States, 19 percent from Canada and 40 percent from Europe, according to the Central Bank of the Dominican Republic. The United States, Canada, Western Europe and Japan buy the majority of Dominican Republic exports, which makes the country vulnerable to global economic conditions.
Contrary to belief, the Dominican Republic government encourages foreign investment, is economically stable, and has adequate modern transportation and telecommunications infrastructure opening itself to comparison with developed nations. Long-term prospects for Dominican Republic remain attractive, Medina says. In the current global economic crisis, real estate prices have remained stable. In addition, developers are willing to negotiate, offer incentives and more favorable buying conditions. And although many Punta Cana resorts have slowed their brisk construction pace, building remains steady since demand for Dominican luxury real estate remains high.
According to a recent report by Dominican Republic Ministry of Tourism, visits increased in 2008 with more than 3.4 million guests choosing the Dominican Republic as their vacation destination — a 1.45 percent increase compared to the same period in 2007. US tourism remain steady, with more than one million arrivals for the fourth consecutive year, and North American visits faring consistently better than those from Europe by about 24 percent.
While Medina expects big bank developments that rely on large financial institutions will likely suffer, the interest of worldwide investors to participate in such highly successful resorts likeCap Cana has made it much easier for the group to negotiate new financing with other banks. For second homebuyers and retirees, Dominican Republic has a wealth of natural resources–from beautiful beaches to pristine golf courses and breath-taking mountains–that will continue to attract a wide range of buyers.
"With every downturn, opportunity is always nearby. Terrific value can still be found in pristine Dominican Republic real estate," says Medina. "You can still be carefree when you need to be. My dreams of returning to island life have come true!"
About Us
La Costa Destinations International Realty, www.GoPuntaCanaRealEstate.com, is comprised of professional brokers from the Dominican Republic and North America, and has more than 25 years of combined real estate experience. The company, popular for its Dominican hospitality and local knowledge, and North American standards of doing business, offers peace of mind by providing the necessary tools to ensure that every property purchase is a safe investment. With representatives around the world, the company offers one-on-one customer service. Its network of sales representatives includes USA, Canada, Puerto Rico, Russia, Spain, Portugal, UK and France.
Contact:
Scott Medina
Punta Cana, Dominican Republic
829 341 4532
305 261 2666