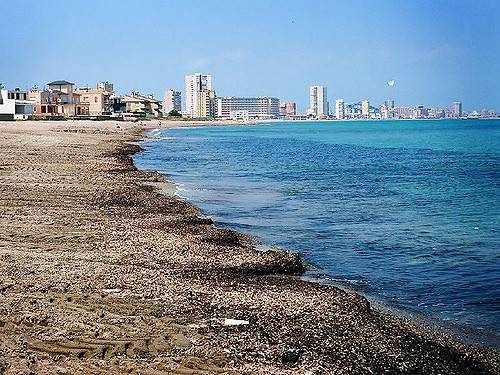 For many people, just the mention of a public fountain that flows with free wine once a year to celebrate the local grape harvest would be enough to get them to pack a bag. More people are finding out, though, that the region of Murcia, Spain, has much more to offer than the annual Fiesta de la Vendimia in the historic town of Jumilla. Tourists rarely make it this far down to Spain's southern wine region and so it retains that coveted sense of isolation without being cut off from the comfort of modernity. Jumilla offers fine Spanish living at unbelievable prices, like $80,000 for an 85 modestly-sized apartment or renting similar-sized accommodation for less than $500 a month. For more on this continue reading the following article from International Living.
There's something intoxicatingly exciting about a wine-gushing fountain.
But Jumilla's annual Fiesta de la Vendimia to celebrate the grape harvest won't happen until at least mid-August. So today, I can only imagine what it's like when the water from the fountain in the Jardin de la Glorieta turns into a cascade of ruby-red wine—free wine. Talk about bad timing…
Jumilla is an historic town in the upper reaches of Murcia, a relatively unknown region of southern Spain. As Murcia's hinterland is even less explored than its coastal fringe, few foreign visitors ever find their way through the hills to its wine towns.
So they don't get to enjoy an $11 three-course lunch—wine included—in the San Agustin, one of Jumilla's best restaurants. They won't see its castle, Tuesday market, the colorful picture tiles in the Jardin del Rey, or the robes worn by Easter penitents in the town's Museo de Semana Santa. (Holy Week Museum).
They don't get to visit its wine bodegas, either. Sue and John Walker, an English couple living in Jumilla took me to Silvano Garcia's bodega on Avenida de Murcia.
Get Started
Claim up to $26,000 per W2 Employee
Billions of dollars in funding available
Funds are available to U.S. Businesses NOW
This is not a loan. These tax credits do not need to be repaid
The ERC Program is currently open, but has been amended in the past. We recommend you claim yours before anything changes.
As I was driving to the spa town of Archena later, I had to forgo the full tasting extravaganza of 11 different bottles. If I'd known, I'd have stayed in Jumilla overnight.
I'm a wine enthusiast, so limiting myself to one tiny sip was self-inflicted torture.
Wine has been produced in Jumilla and neighboring Yecla since the proverbial mists of time. Archeologists recently unearthed a pair of golden ear-rings decorated with grape clusters—they're around 2,500 years old.
Although I hadn't heard of Jumilla's red nectar before, American wine connoisseur Robert Parker certainly has. He rates it as one of Spain's best, tipping it to out-perform the famous Rioja brand by 2015.
In Silvano Garcia's bodega, bottled Jumilla D.O. (Denomination of Origin) of various vintages start at 3.95 euro, around $5. Vinahonda Crianza from 2006 (rated 91/100 on Robert Parker's website) costs 5.10 euro ($6.75). It's not widely available in North America, but I found it selling through two U.S. online vintners for $17.95 and $20.
At the bodega, you can also purchase young wine in five-liter plastic bottles for $6.50. It's table wine—perfectly acceptable. And five liters is the equivalent of seven normal-size bottles. If you're a frequent wine-drinker, you'd make some serious savings living here. At less than $1 a bottle, it's very nearly as good as free…
Home to around 25,000 people, Jumilla is steeped in old traditions as well as wine. Sue told me about last year's Holy Week procession. Some penitents walk through the old quarter barefoot, clanking chains behind them. All the street lights go out during the procession, so everywhere is plunged into darkness. It must feel like going back to medieval times.
And although it's not exactly medieval prices, property values in Jumilla seem from another age. Spacious 85-square-meter apartments go for 60,000 euro ($80,000) and less. Renting a similar apartment can cost you as little 350 euro ($460) per month.
This article was republished with permission from International Living.