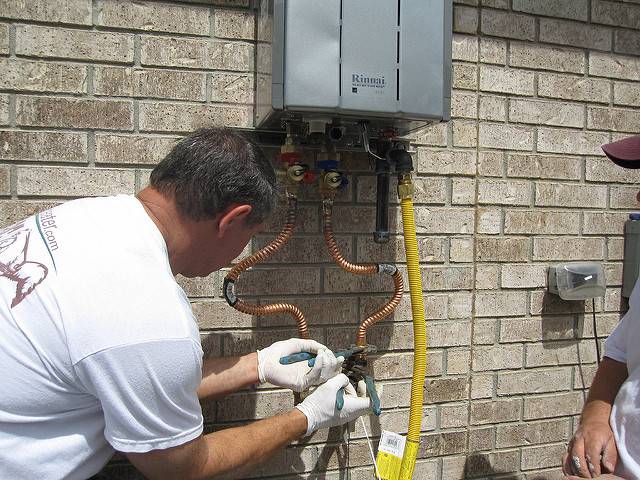 One thing is for sure, if you take care of things in the right manner – they tend to last. This goes for everything, whether it is your car, clothes or your home. From time to time, everything needs a little bit of repair just so it can last longer. However, when it comes to your home there are more things that need to be taken care of, especially if nothing has been changed or repaired for a long period of time. With the real estate prices sky-rocketing these past few years, renovating your house or part of it might be the smartest thing you can do with your money if you are thinking of selling your house. 
Remodeling may be your best choice nowadays, because with proper planning and investing your money right – you can add significant value to your home. After some time, if you decide to sell and move away, your house will be worth more because of the renovations you invested in. In addition, here are ten ways in which you can add some more value to your property. 
#1 Rewiring Your House
The most important thing while renovating your home from scratch is quality rewiring. A lot of houses in the UK have old wiring systems which are inadequate for sophisticated wiring systems and can prove to be quite dangerous, too. This is the first step we advise you to think about when remodeling, especially if you live in an older house and the wiring hasn't been changed in ten years or more. The cost of house rewiring is always tightly connected with the size of your property and the shape of the structure.  
#2 Wall Plastering
Wall plastering will help you get flat and even surfaces to internal walls and ceilings which you can afterward decorate with the color you prefer the most. Plastering your walls will also provide you with additional sound insulation and heat. The cost of plastering your walls is nothing compared to how much it changes the environment and the added value to your house once it's done. 
#3 Update Your Central Heating System
Updating your central heating is an investment you make once every ten or more years, just like rewiring. It's good to have it updated from time to time, along with on-time repairs, since it can be dangerous if you ignore it for a long time. Your central heating system is one of the few things in your home that needs proper care and maintenance during the years. Plus, a recent study shows that a brand new heating system in your household may boost your home's value by almost 2%, making it one of the best improvements you can do to your home. 
Get Started
Claim up to $26,000 per W2 Employee
Billions of dollars in funding available
Funds are available to U.S. Businesses NOW
This is not a loan. These tax credits do not need to be repaid
The ERC Program is currently open, but has been amended in the past. We recommend you claim yours before anything changes.
#4 Remodel Your Kitchen
Remodeling your kitchen is as important as redoing your bathroom. Apart from being an essential part of your everyday life, it can add up a lot of value to your home as well. For example, if you spend £10,000 installing a new kitchen that will replace an outdated, undesirable one, it may add £20-30,000 onto a property's value. Of course, if your kitchen isn't totally outdated the cost for remodeling would be way lower.
#5 Remodel Your Living Room
As one of the most important rooms in your home where most of the family gathers, it's the room that needs remodeling the most.  Refreshing the paint of the walls, rearranging flowers and paintings can do a great job if you don't want to spend a lot of money. Also, you might consider covering the sofa with some interesting material as it would light up the place right away.
#6 Tidy Up The Garden
Gardens sell homes. Even if you are just remodeling to make your family and yourself feel way better in your own home when it comes to selling know that the garden is usually the first place every potential buyer sees at every house. Especially in big cities, gardens are very rare and truly are a tiny piece of treasure in the massive concrete jungle. Making little improvements, like adding a deck or a patio can make your garden practically your living room, particularly in spring and summer.
#7  Remodel The Bathroom
As well as a brand new kitchen, getting a new bathroom increases the value of each house by 3-5%. Although this can be a very expensive investment, there is a way to update your bathroom without exceeding your budget.  You can always keep the layout you already have and for example, just replace your old shower with an exposed one. It's trendy, stylish, and way easier for cleaning and maintenance.
#8 Update The Fireplace
Not all living rooms have one, but if you have a fireplace installed and you are trying to sell the property, updating it is just what you should do. It adds a lot of value to the home and it is quite practical in the winter season.
#9 Fix The Roof
Apart from keeping you and your family safe and warm, fixing the roof makes the house look better. Roof repair is done very rarely since it's a part of your home that should probably last at least 15 years from the day it was made.
#10 Interior Painting
A fresh coat of paint can freshen up any room. Nonetheless, maybe it's the right time to repaint the interior of your whole house all at once. If you are trying to sell in the near future, repaint the walls of your house with neutral tones and colors. 
Final Thought
The amount of money you put into home improvements will certainly boost your home value if everything is done right. Plan it right, find the right professionals, and execute. You will most certainly be thrilled with the finished product and how your house will look once the renovations are finished.