Cryptohopper Review: Pros, Cons, and More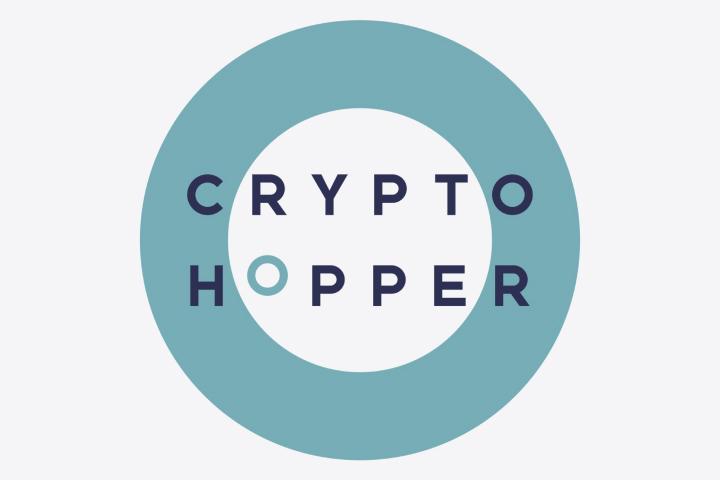 Cryptohopper
Cryptohopper's AI-powered software can execute trades more efficiently than human traders
Users can test trading strategies in a risk-free environment before entering the market
Provides loyal users with a rewards system that allows them to accrue added benefits
Pros:
Integrates with popular cryptocurrency exchanges
Offers free and paid subscription plans
Provides a dedicated customer support team to resolve issues
Cons:
Highly effective trading templates are expensive
Most valuable features only included in paid subscription plans
Not suitable for beginner traders
Cryptohopper Ratings and Reviews
Cryptohopper is a cryptocurrency trading software that allows users to conduct trades automatically based on set parameters. Users can customize the AI-powered trading bots to analyze market data, create customized templates, and follow signals based on market actions. Cryptohopper includes several powerful tools to improve automated trading.
Some features Cryptohopper offers are:
24/7  Automatic Trading: Traders can use Cryptohopper software to program automated trading bots. These bots will react automatically based on conditions set by the user. In other words, they will function automatically without needing additional input from the user. [1]

Trading Terminal: The Cryptohopper Trading Terminal is an organizational tool for users to organize their crypto trading accounts. The Trading Terminal allows users to view all their cryptocurrency exchange accounts in one location. [2]
Using these tools, Cryptohopper enables users to trade more intelligently.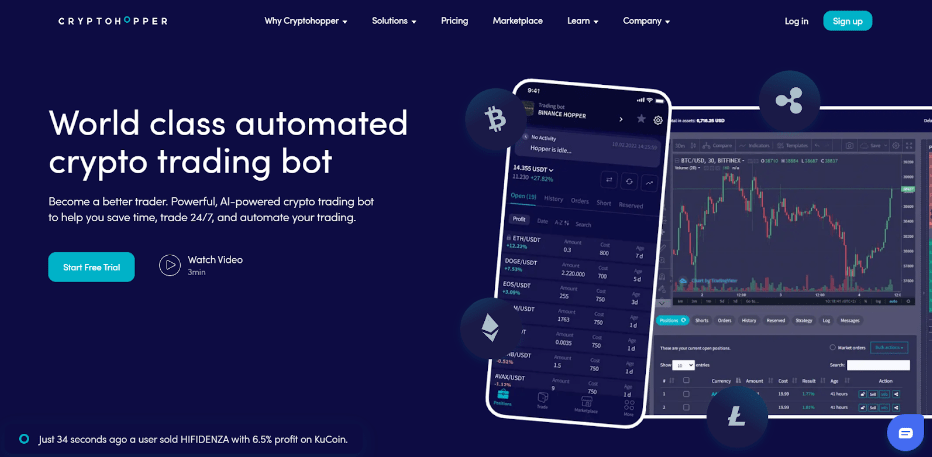 Highlights of Cryptohopper
Cryptohopper's

AI-powered software

can execute trades

more efficiently than human traders

[3].

Cryptohopper

includes detailed tutorials

to teach users

how to best use and customize their trading bots

[4].

The software features

free and paid subscription plans

, making the software

available to a wide range of users

[5].

Experienced traders can

create trading templates to sell

to other Cryptohopper users.

Cryptohopper trading bots

integrate with popular cryptocurrency exchanges

such as

Binance, Coinbase, and KuCoin

.

Support channels include

helpful articles and a dedicated customer support team

to resolve issues [6].

Cryptohopper provides loyal users with a

rewards system

that allows them to

accrue added benefits

[7].

Users can test trading strategies in a risk-free environment

before entering the market [8].
Risks of using Cryptohopper
Many of the

most valuable features are included only in paid subscription plans

. However, the

free plan still provides useful tools for traders

.

The software

requires a high level of familiarity with cryptocurrency trading

. Novice traders may be overwhelmed by the amount of information and options available.

Highly

effective trading templates are usually expensive

and may not be accessible to all users.

Users cannot trade cryptocurrency directly through Cryptohopper

. Instead, users must integrate Cryptohopper software with a pre-existing account on a supported exchange.
Cryptohopper Features
Cryptohopper Pro Tools: Cryptohopper Pro Tools are a set of advanced trading tools that allow users to take advantage of specific market conditions. For example, these tools can be used to automatically execute arbitrage trades, which are complex trades that occur when cryptocurrency prices differ on various exchanges.
Strategy Designer: The Cryptohopper Strategy Designer is where users craft the strategies that Cryptohopper bots will use. Users can compile indicators, test their strategy, and sell them to other users.
Marketplace: The Cryptohopper Marketplace allows users to buy and sell templates, signals, strategies, and copy bots to other users. This feature allows beginner traders to follow the plans of experienced traders, and it allows experienced traders to generate more income by creating profitable strategies.
Social Copy Trading: Cryptohopper Social Copy Trading is a feature allowing users to mirror cryptocurrency trades made by experienced traders. This feature allows users to copy all the steps taken by veteran traders without needing to choose different strategies, signals, and templates individually.
Cryptohopper Pricing and Fees
Cryptohopper has several tiers of subscription plans that include both free and paid options.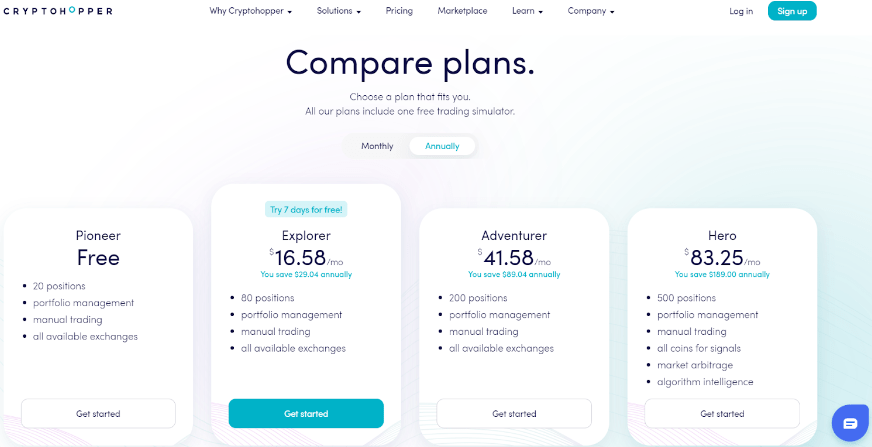 One of the largest differences between each subscription tier is the number of positions provided. With a free account, users can enter 20 active positions on their accounts. With paid plans, users can open up to 500 positions. 
Cryptohopper does not require a minimum deposit amount for users to begin trading with bots. Instead, the minimum deposit amount is based on the exchange with which Cryptohopper is integrated.
Cryptohopper Company Background
Headquartered in Amsterdam, Cryptohopper is a Dutch-based company founded by brothers Ruud Feltkamp and Pim Feltkamp. They have backgrounds in software engineering and day trading, as well as an interest in the cryptocurrency space. They combined these skillsets and founded Cryptohopper in 2017 [10].
After its launch, Cryptohopper grew rapidly and now handles 9 million transactions with an estimated monthly volume of $2 billion [11]. In only four years, Cryptohopper became an industry leader in the ai-assisted crypto software industry. 
How does Cryptohopper Work?
Cryptohopper works by using automated bots called "Hoppers" to execute cryptocurrency trades based on a set of inputs. Users customize their Hoppers to execute trades based on their preferred indicator or strategy.
Users can create their own strategies or purchase one on the Cryptohopper marketplace. These strategies were created by other experienced Cryptohopper users. After completing the programming for a Hopper, users can then integrate the Hopper into a supported exchange [12].
After connecting to an exchange, users may select the default currency the Hopper should use to take positions and finish configuring the bot. After finalizing the trading settings, the Hopper will automatically begin trading with no further action required from the user [13].
Cryptohopper User Experience
For users new to Cryptohopper, creating and initializing a new Hopper can be a complicated experience. Cryptohopper helps new users by providing recommendations for setting up their first Hopper. This helps beginner traders better understand the functions of a Hopper and how to customize these bots most effectively [14].
The Cryptohopper dashboard is easy to navigate and configure bots to follow desired trading plans. The interface features valuable tools like Trade History, Charts, and Stats, allowing users to keep track of their trades. Users can quickly navigate between these sections using the drop-down menu on the left side of the interface.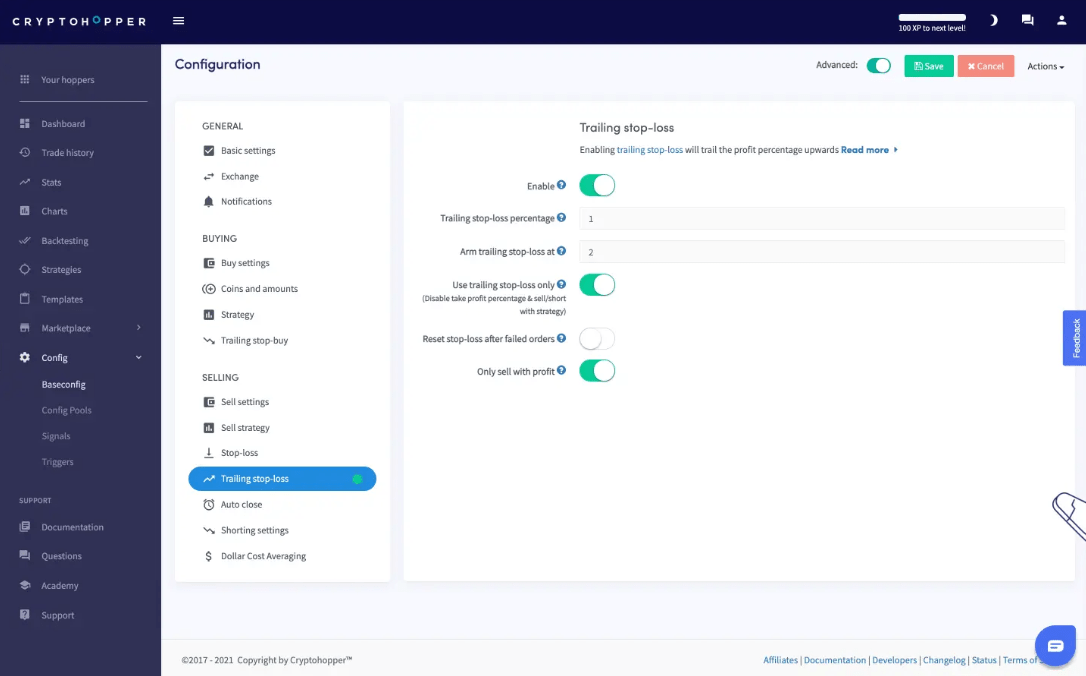 Additionally, Cryptohopper features several detailed tutorials about using Hoppers in the Get Started and Tutorials section. These tutorials are written by official Cryptohopper employees. In addition to written guides, there are several informative videos to assist new users.
For a more in-depth experience, users can access the Cryptohopper Academy. The Academy features a series of educational courses to teach users about the basics of cryptocurrency trading. Users can learn about common market patterns, top cryptocurrencies, and more. These educational tools create a welcoming experience for users of any experience level.
Cryptohopper Supported Exchanges
Cryptohopper currently supports 16 cryptocurrency exchanges. Although 16 is a relatively small number of exchanges, many of these exchanges are industry leaders with large user bases. This means that many of the cryptocurrency markets can integrate with Cryptohopper.
A few notable exchanges are: [15]
Binance

Coinbase

Kraken

Crypto.com

Bittrex

KuCoin
Security: Is Cryptohopper Safe & Secure?
Cryptohopper places importance on the safety of its users. No user assets are stored on Cryptohopper, and Cryptohopper does not have permission to access user funds on exchanges. This means that hackers cannot access your funds by attacking Cryptohopper [16]
Traders can also enable 2-factor authentication (2FA) to increase the security of their accounts. This adds an additional layer of security in case login information is stolen or misused.
Customer Support: Contacts & How to Get Help
Users have several options to receive customer support if a problem occurs. For simple issues, users can check the Cryptohopper Knowledge Base to check answers to frequently asked questions. If these articles do not help, users can directly contact the customer support team.
The primary method of contacting support is by submitting a customer support ticket through the ticket portal. Unfortunately, Cryptohopper does not feature a live chat option for customer support. However, the Cryptohopper support team responds rapidly to support tickets to ensure problems are solved without delay.
Who is Cryptohopper Best For?
Cryptohopper is a powerful cryptocurrency trading software that allows users to leverage market data and automatic bots called "Hoppers" to execute cryptocurrency trades. Cryptohopper is an option for international and US users because it integrates with most leading cryptocurrency exchanges.
Cryptohopper creates a welcoming environment for new users by providing educational content and guided lessons. These lessons teach new users how to optimize their Hoppers and begin automated trading. 
For experienced cryptocurrency traders, Cryptohopper features indicators and templates to customize Hoppers. Experienced traders also have the option to sell their successful templates and signals to other Cryptohopper users. 
Cryptohopper is an excellent option for traders of all experience levels that want to transition to AI-assisted trading. Software like Cryptohopper can help users save time trading, as well as execute trades more accurately. Ultimately, Cryptohopper software can improve the cryptocurrency trading experience of a wide range of users.