TradeSanta Review: Pros, Cons, and More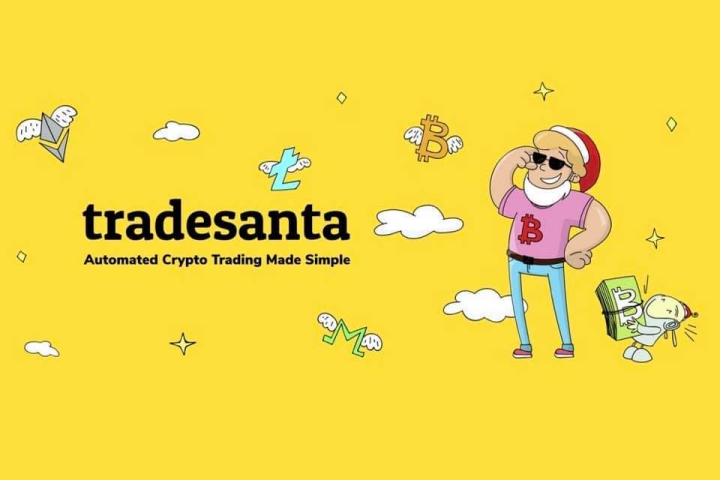 TradeSanta
Free version with access to trading bots and trading terminal
In-depth educational resources for traders of all levels
Customizable dashboard and trading bot options
Pros:
User-friendly mobile app
Expansive trading strategy integration
Quality customer support channels
Cons:
Limited list of supported exchanges
Short free trial period of three days
No guarantee for profit
TradeSanta Ratings and Reviews
TradeSanta is a comprehensive automated trading software designed for traders to intuitively create passive income strategies. Users can develop their own trading bots without the need for coding skills or copy one of the many successful strategies available on the platform.
TradeSanta offers a user-friendly experience and extensive educational resources conducive to beginner traders to learn while still providing powerful tools to be utilized by advanced traders. 
With the integration of top exchanges, such as Binance and Coinbase, and affordable pricing plans, TradeSanta can be seen as a viable option for automated cryptocurrency trading.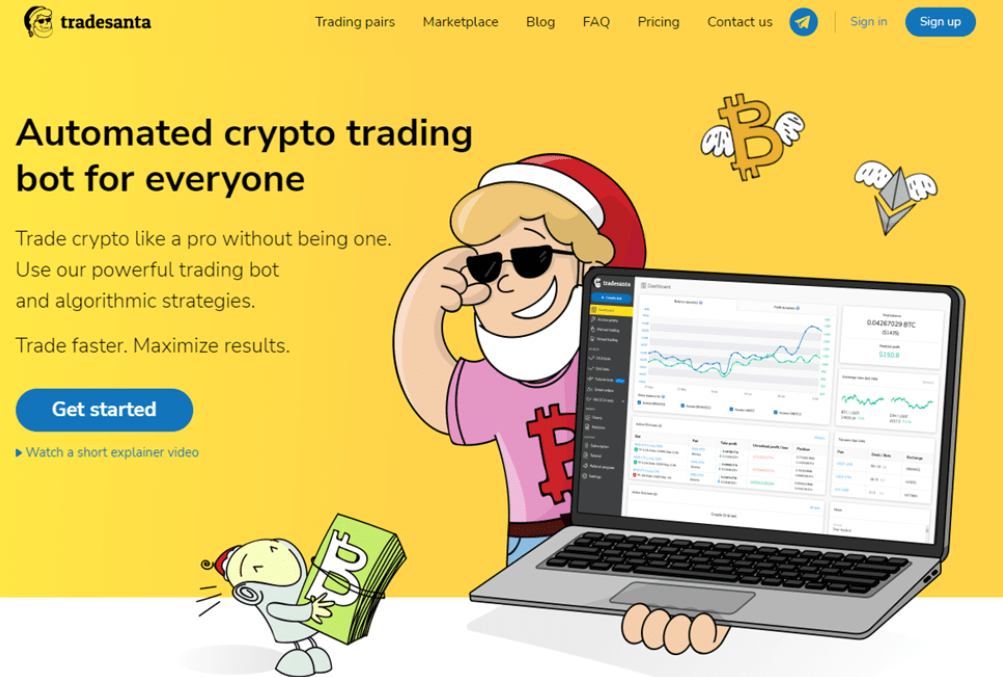 Highlights of TradeSanta
Beginners can utilize the

free version

of TradeSanta with

access to trading bots and trading terminal.
User-friendly mobile app

available on the

Apple App Store

and

Google Play Store

with an

average user rating of 3.9 out of 5.

TradeSanta provides

in-depth educational resources for traders of all levels.

Users have access to

customizable dashboards and trading bot options

.

TradeSanta provides

quality customer support

channels including a

support team and an AI chatbot

.

TradeSanta offers additional power

through the

expansive trading strategy integration.
Risks of using TradeSanta
TradeSanta provides a

limited list of supported exchanges

.

The

short 3-day free trial period

may not be enough for users to fully understand what TradeSanta has to offer.

TradeSanta makes it clear that there is no guarantee for profit

.
TradeSanta Features
Marketplace: Beginner traders can learn from the best by copying exact trading strategies created by professionals. Users can browse the marketplace to find trading strategies sorted by profitability, bot timespan, and utilized exchanges. Top strategies currently return over 100 percent within 7 days, with some returning over 200 percent.
TradeSanta Blog: TradeSanta provides a wealth of informative articles covering individual token analysis, market overviews, trading strategies and industry news. Inexperienced traders can use these resources to learn the basics of trading, while more experienced investors can fine-tune their skills.
Terminal: The TradeSanta Terminal allows traders to aggregate their accounts across exchanges to manage their overall portfolio in one location. The increase in trading efficiency, in combination with TradeSanta bots, allows users to make the most of their assets.
Mobile App: Available on both the Apple App Store and Google Play Store, users can manage and track their trading bot strategies wherever they can access their phone. Complete with all of the features available on the desktop version, users can stay on top of their strategies without the need for a computer.
TradeSanta Pricing and Fees
TradeSanta offers a range of pricing plans to suit the needs of each individual investor, with free plans offering a limited experience and the Maximum option providing unlimited access to all features. Plans are further discounted when purchased on a yearly basis.

Users also have access to a free 3-day trial period where traders can test the capabilities of the features offered by the Maximum plan. All plans can be purchased through cryptocurrency or supported fiat channels such as credit cards.
TradeSanta Company Background
TradeSanta was launched in the Fall of 2018 with the mission "to make automated crypto trading accessible to everyone and provide opportunities to traders of all experience levels to make a profit in the ever-growing crypto market" [1].
Headquartered in Yerevan, Armenia, TradeSanta was founded by Polina Demchuk when she identified the potential of automated trading in cryptocurrencies but realized the lack of tools necessary to make these strategies more accessible.
How does TradeSanta work?
TradeSanta allows cryptocurrency traders to deploy automated trading strategies designed to create a time-efficient stream of passive income. 
Users can connect one of the supported exchanges to TradeSanta through unique API keys generated by the exchange. Once connected, traders can select their desired trading strategy from one of the templates produced by TradeSanta, or they can develop their own strategy to deploy.
Creating an original strategy consists of choosing specific trading pairs, target profits, and trading strategies such as long/short, dollar cost averaging (DCA), and Relative Strength Index (RSI).
After traders have launched their strategies, they can manage and track their bots through the TradeSanta dashboard available on desktop and mobile, along with viewing other insightful statistics relating to their portfolio.
TradeSanta User Experience
The TradeSanta dashboard offers users a simple interface that is easy to navigate for traders of all levels. The dashboard displays at-a-glance data such as portfolio balance, realized profits, active trading bots, and relevant market statistics.
Through the dashboard, users can also manage active bots, launch new strategies, and receive timely news updates.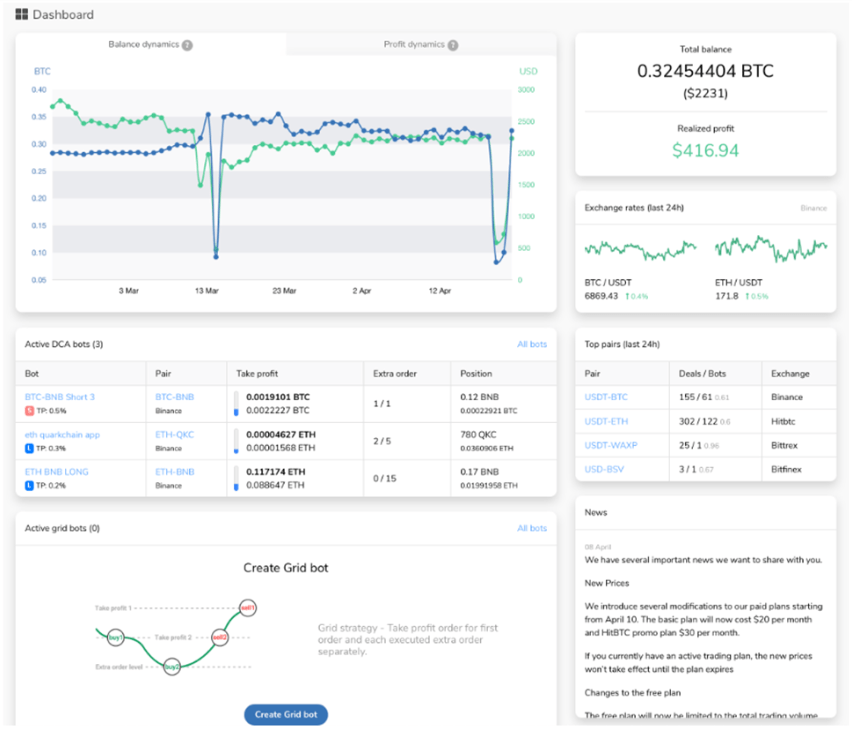 The mobile app is structured similarly to the desktop interface, with all of the same features and access points.
Although the interfaces provide comprehensive tools and information for traders, it can be overwhelming for beginners, which is why it's important to utilize the educational resources provided by TradeSanta.
TradeSanta Supported Exchanges
TradeSanta allows users to connect directly to supported exchanges through an account-specific API key generated by the exchange. They currently support 8 exchanges and continue to add to the list. Although they support many of the most popular exchanges, traders using unsupported exchanges will not be able to fully utilize some of TradeSanta's features.
The list of supported exchanges includes:
Binance

Binance Futures

Binance US

OKX

Huobi

Upbit

HitBTC

CoinbasePro
Security: Is TradeSanta Safe & Secure?
Customer security and privacy is a top concern for the TradeSanta team, and they have implemented industry-leading security features to ensure the safety of its users.
At an account level, TradeSanta utilizes two-factor authentication (2FA) for login safety. They also implement trade permission-only APIs, meaning the trade bots can only initiate trades and cannot withdraw funds from the account.
TradeSanta also provides beginners with a risk-free environment to learn the basics of cryptocurrency markets and trading bots through simulated Virtual Bots. This allows beginners to use the trading bots and practice their techniques without the risk associated with volatile markets.
Although TradeSanta has implemented some impressive security features, it is important for traders to understand that there is no guarantee for trading bots to return a profit.
Customer Support: Contacts & How to Get Help
TradeSanta provides multiple methods for traders to find support for their issues. Users have access to instant support via the "Santa's Helpers" AI chatbot, or they can reach out to the customer support team by emailing them at team@TradeSanta.com. TradeSanta also provides an in-depth FAQ page complete with common questions and YouTube demonstrations.
If users experience difficulty finding answers through the offered support channels, they can bring their questions to the TradeSanta telegram group to find help from the community. However, users should always be wary of other individuals requesting access to accounts, as they may be phishing scams.
Who is TradeSanta Best For?
TradeSanta provides an intuitive solution to automated cryptocurrency trading by providing a comprehensive and accessible experience for traders of all levels. 
The multiple options for price plans, ranging from the free version to maximum version priced at $70 per month, provide access to beginners who wish to learn the software as well as experienced traders who require more in-depth trading strategies. 
Although TradeSanta only supports 8 exchanges, those exchanges include Binance and Coinbase, which make up a significant portion of total volume, especially for U.S.-based users. In addition, TradeSanta continues to integrate top exchanges to the list in attempts to make the experience more inclusive to users who may use more niche platforms. 
The educational resources provided through the Blog and FAQ page, the sandbox-like environment for risk free-trading, and the ability for traders to copy the most successful trading strategies all combine to create an ideal trading software for beginners. Moreover, the depth of options for trading bot development and other levels of customization provides experienced traders with the tools to take advantage of their skillset.