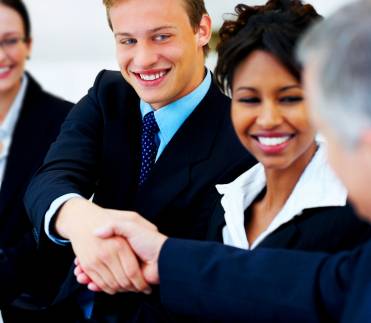 When it comes to successful investing, two is better than one. This is why investors commonly pool resources together and forge partnerships. But for all of the benefits that come with investment partnerships, there's also some additional work and effort that must be put forth. Specifically, you're going to need to invest in relationship building.
5 Tips for Strong Partnerships
Every partnership is different, but there are a few commonalities that exist between almost all business relationships. Primarily, there needs to be good rapport and lots of trust.
Here are a few tips for forging a strong investment partnership that's mutually beneficial and full of trust:
1. Find and Set Common Goals
"It's important to share the same end goal, even when you have different ways of achieving it," says entrepreneur Ken Carbone. "This common ground becomes a tool for overcoming any challenge that comes your way – and a great mediating device."
Everyone has their own unique goals and needs. And even though you and your partner are joining forces to accomplish something, it's possible that your idea of success is much different than their idea of success. Finding common goals in the beginning will yield better results in the end.
Get Started
Claim up to $26,000 per W2 Employee
Billions of dollars in funding available
Funds are available to U.S. Businesses NOW
This is not a loan. These tax credits do not need to be repaid
The ERC Program is currently open, but has been amended in the past. We recommend you claim yours before anything changes.
2. Clearly Identify Roles
Both partners need to be very clear about their role. For example, is your investment partner supposed to be actively involved with management decisions – or are they simply providing the funds? If you don't figure out these responsibilities early on, there will be conflict down the road.
3. Show Your Appreciation
As important as the big-picture concepts are, it's also necessary to cultivate the personal side of the relationship. Every now and then, make sure you show your appreciation for your partner in concrete ways that strengthen the relationship.
Here are three specific ideas:
Send a gift. There's something about sending a tangible gift that shows your appreciation. In particular, a personalized gift works well because the recipient will never forget where it came from.
Spend an evening out. While you probably spend most of your time entertaining prospective clients, it's important that you also entertain existing partners. Something as simple as attending a baseball game, grabbing drinks, or enjoying a long lunch can help cultivate your relationship.
Write a note. In our world of electronic communication, there's something very endearing about a hand-written note. Sending a note – especially around the holidays – is a wonderful way to show your gratitude for the partnership.
There are hundreds of other things you can do to show your appreciation – and you know better than anyone what your partner would prefer – but make sure you're doing something to humanize your working relationship.
4. Know When to Call a Truce
Successful people tend to have strong personalities. Even if you've done an adequate job of setting goals and clearly identifying roles, there will be times when the two of you will butt heads. The key here is to know when to call a truce. Some things aren't worth fighting over, so pick your battles.
5. Over-Communicate Everything
The final tip is to over-communicate absolutely everything. If you ever find yourself making a decision without consulting your partner, stop and ask yourself whether this is something they need to be involved in. Even if it's ultimately your decision to make, communicating in advance can help you avoid unnecessary conflicts and mistakes.
Keep Your Partner Happy
While romantic relationships and investment partnerships are quite different from one another in most respects, there is one common goal between the two: keep your partner happy.
Thankfully, if you focus on the aforementioned tips, you won't have any trouble keeping your investment partner in good spirits.