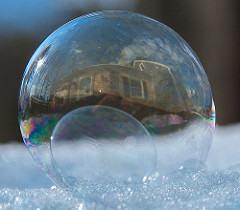 The 2008 housing crash is something that virtually every investor today is still old enough to remember. For those who don't, housing prices spiked during the second half of the decade, and after many mortgages started to foreclose due to subprime lending practices, housing prices tanked for the next two years. Millions of people lost their homes and millions more lost all the equity they had gained.
A lot of people are now starting to wonder if we are reaching a similar situation. Home values in prominent cities are averaging nearly a 10% increase yearly. Any real estate investor can tell you that number is not sustainable. Think about the numbers. If wage growth is only growing by 2-3% a year, but home prices are climbing at quadruple that rate, eventually things will start to slow down, at the least. People can no longer afford homes, and once they stop buying, prices come again.
On top of that, a lot of data shows that the average credit score for buyers with approved mortgages was 719 as of January, down a full 10-20 points from last year. Considering the housing bubble of 2008 caused by spiking prices and loosening standards, this is clearly a cause for worry.
However, there are some important differences between now and 2008 that need to be taken into account before selling everything you own and moving into the woods.
Get Started
Claim up to $26,000 per W2 Employee
Billions of dollars in funding available
Funds are available to U.S. Businesses NOW
This is not a loan. These tax credits do not need to be repaid
The ERC Program is currently open, but has been amended in the past. We recommend you claim yours before anything changes.
The first, and most important reason is with the issue of loosening credit standards. Back in 2008 banks were giving away mortgages. They wouldn't require any kind of income verification. You could borrow with almost no collateral. Millions of mortgages required no down payment. These credit standards seem like such an obvious bad idea to us today, but few recognized what kind of problems they could bring back in 2008.
A lot of this is due to government regulation. The Dodd-Frank act was passed after the 2008 recession and has significantly cut down on the number of loans. Anyone that has tried to get a mortgage in the last few years would be happy to tell you about their downpayment, waiting periods, paperwork, income verifications, and other research their mortgage company put them through.
The second important number to look at is new homes. Forbes magazine has reported a significant decrease in new homes being built in the past few years. This means that people are having to rely on old homes, and that the supply is more limited. Real estate runs on supply and demand, so when there are less homes being added to the market, but demand continues to climb steadily, you will see an increase in price until everything matches out.
There are other great reasons to claim that we are not in a bubble as well. We are at an all-time low in interest rates. This means that people are spending significantly less of their monthly payments towards interest and can afford to get a little higher mortgages.
There is also the issue of housing supply. Lawrence Yun, chief economist for the National Association of REALTORS, recently discussed the housing supply and claimed that it would take 4-5 months to sell through all the existing homes on the market, which is similar to 2008. With total home sales being down nearly 30%, this looks more like a squeeze than anything.
In conclusion, it is important to note that high prices are not always a sign of a bubble. Yes, bubbles always have high prices, but the converse is not always true. Sometimes the laws of supply and demand simply push up prices for awhile. Will the drastic yearly increases continue forever? Probably not. But there is nothing to indicate that we are in for another crash. I use my local MLS to keep an eye on things like this. I live in Georgia, so I use Fizber's Georgia MLS, but you can use whatever one is closest to you.