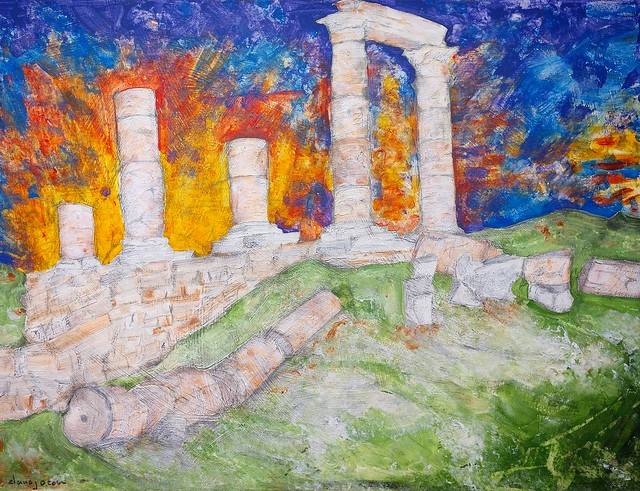 Art has become an excellent alternative investment opportunity to add to your portfolio. There are many reasons to invest in art. To start, it is widely available in thanks to companies like MasterWorks that allow you to buy shares of artwork, rather than purchasing the entire piece.
If you're looking for an investment that can withstand an unstable and uncertain market, then art is what you should look at. Time and time again, art has proven to be a reliable investment. One of the reasons for this is that it's non-correlated. This means that it doesn't move in relation to the overall market. So, if the market is underperforming, your art investment could go in the opposite direction.
Reports show that the art industry could hit up to $2.7 trillion by 2026. What that tells us is that this industry is continually booming, and doesn't show signs of slowing down anytime soon.
As with all investments, you should have a plan as to what you're doing, why you're doing it, and what your goal is for this investment. Use the following guide to help you plan out your new art investment as you diversify your portfolio.
Back Your Decision With Research
Every investment you make should come from research. Even if you have a gut feeling about a particular opportunity, you should still spend the time researching it first. Research will give you an insight into the artist and other work he or she has produced. Your research will also help you confirm that your potential art investment is authentic and not a replica.
Get Started
Claim up to $26,000 per W2 Employee
Billions of dollars in funding available
Funds are available to U.S. Businesses NOW
This is not a loan. These tax credits do not need to be repaid
The ERC Program is currently open, but has been amended in the past. We recommend you claim yours before anything changes.
Think About the Style
There are many styles of art in the world, some that are more popular than others. Just because one technique is popular, that doesn't make it a good investment, and vice versa. You'll want to find a balance between a style that is showing a rise in popularity, but the art is still at a fair value.
Art and Stocks Are Not the Same Thing
It's essential to remember that art is different compared to other investments. Even though art isn't correlated to the market, you could still consider it to be quite volatile. The reason is that art is subjective to each personal opinion, and one opinion can drastically change the value of a piece.
Look Beyond What Others See
A popular piece of art may seem like the right choice to invest in, and maybe it is. However, another piece by the same artist that isn't quite as popular could be an even better investment opportunity. That is because the extremely popular piece of art will come with a higher price compared to something less popular.
Beware of Frauds
We see it all the time – a famous piece of artwork selling for millions, only to find out that it was a fake. It can be difficult to spot a fake from the real thing. It's important, though, that whatever piece of art you choose as your investment, make sure it is the real thing.
You Don't Have to Buy the Whole Thing
It's easy to think that you need to purchase the entire piece of art in order to invest in it. However, as pointed out at the beginning of this article, that is no longer the case. You can buy shares of a particular piece of artwork and invest in it that way. This makes art investing more affordable and easy to access.
Consider adding art to your investment portfolio. By choosing the right piece, you could bump up your portfolio so that it can withstand any changes in the market, no matter how drastic it may be.