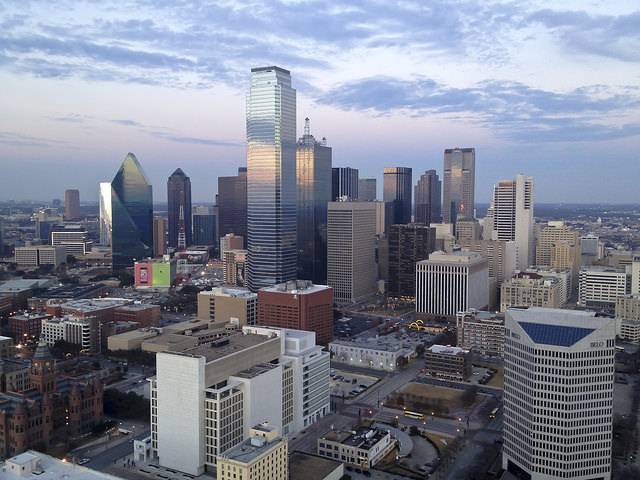 Investing successfully in real estate is all about targeting the right market. In the United States, it's best to take things state by state. Texas is performing exceptionally well in real estate, and the 2018 outlook is favorable.
"Thanks to a booming economy, Dallas and many other areas in the Lone Star state have seen a boom in housing over the past several years," writes Josh Smith of USAToday. "A steady flow of profitable companies continue to relocate, expand, or launch their businesses here, thanks to lower taxes and a lower cost of living."
Smith also points out that Texas home sales are expected to grow by six percent in 2018. Investors can take advantage of the many investment opportunities available in the largest state in the contiguous U.S. As you research the best real estate areas for you, here are some of the top cities to focus on.
Dallas
According to a forecast from the National Association of Realtors, the Dallas-Fort Worth area will be one of the strongest real estate markets in the country. "Inventory increases will be felt in higher priced segments after spring home buying season, which we expect to take hold and begin to provide relief for buyers and drive sales growth in 2019 and beyond," Javier Vivas, director of economic research, said in the NAR report.
The NAR isn't the only organization forecasting high profits for Dallas investors. Last year, WalletHub performed a study on the best-performing small-to mid-size real estate markets out of 300 cities across the country, and five of the top 10 cities on the list were not only in Texas, but in North Dallas.
Get Started
Claim up to $26,000 per W2 Employee
Billions of dollars in funding available
Funds are available to U.S. Businesses NOW
This is not a loan. These tax credits do not need to be repaid
The ERC Program is currently open, but has been amended in the past. We recommend you claim yours before anything changes.
Frisco, located in North Dallas, was the number one small-to-mid-size market in the nation, followed by Allen, McKinney, Richardson, and Carrollton, all located in beautiful North Dallas. The market is still looking favorable for these cities, promising high returns for those looking to invest in commercial or residential property in Dallas this year.
Houston
Houston is usually a high-performing market for real estate, but Hurricane Harvey brought the market down. That being said, the aftermath is at the tail-end of cleanup, and there's only positive growth expected from this market.
According to research from Gord Collins, Houston is one of the best housing markets in the country right now with a projected growth rate of 2.8 percent this year. Home sales are climbing at a volume of 10.8 percent higher than 2016, and revenues are high for investors in this particular market.
Austin
Austin was ranked as one of the top 10 major cities for real estate in a Fall 2017 report, and the momentum is still going strong. Housing prices continue to climb, but the higher cost of living isn't a problem for Austin residents thanks to strong economic growth.
Zillow calculates a 3.3 percent increase in home prices for the coming year, promising excellent returns for investors. Zillow also reported that Austin has one of the lowest unemployment rates per capita, even though Austin's population is growing at 2.8 percent, significantly faster than most cities of its size.
Waco
"To suggest that the Waco housing market is hot right now might be an understatement," claims Than Merrill of FortuneBuilders.com. "In fact, there is only one word that can even come close to summarizing the state of Waco's real estate sector: unstoppable."
Merrill references data from the National Association of Realtors that shows housing prices about $50k below the national average, which is a huge draw for young couples in need of a home and investors ready to sell it to them. The cost of living in Waco is 16.1 percent lower than the state average.
Along with the low housing prices, the popularity of the hit HGTV series Fixer Upper, featuring house flippers Chip and Joanna Gaines, has drawn a lot of people to the area. It has also shown investors the potential for investment in this otherwise overlooked area of Texas.