Binance NFT Marketplace Review: Pros, Cons, and More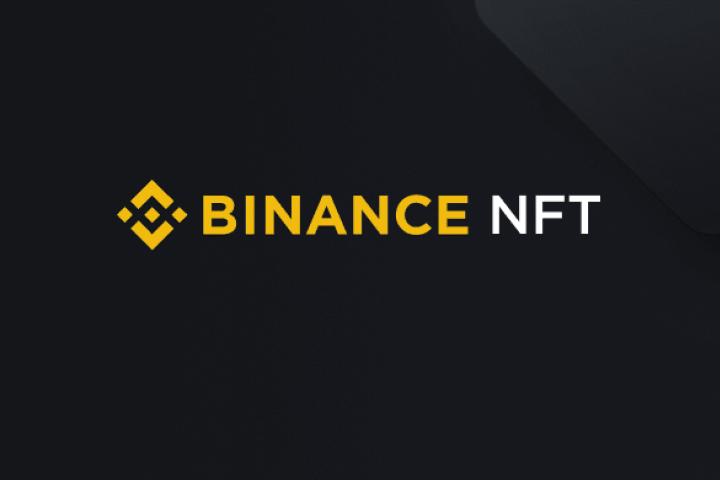 Binance NFT Marketplace
Features digital artworks and collectibles in non-fungible token (NFT) format
Provides high security and liquidity with affordable fees for buying, selling, minting, and creating NFTs
Pros
Low fees than other NFT marketplaces
Straightforward design that is easy-to-navigate
Compatible with most crypto wallets
Cons
Not available in the United States
Low royalties for creators
At-risk due to Binance's regulatory issues
Binance NFT Marketplace Ratings and Reviews
Binance NFT Marketplace is a platform that features digital artworks and collectibles in non-fungible token (NFT) format. Built by the world's largest cryptocurrency exchange, Binance, the well-known marketplace allows users to trade NFTs and create their own digital artworks connecting their wallets.
Powered by the Binance blockchain infrastructure, the Binance NFT Marketplace provides high security and liquidity with affordable fees for buying, selling, minting, and creating. The platform offers easy-to-understand onboarding for new users and comprehensive educational content.
Binance NFT Marketplace stands out from the competition with its Mystery Box feature. As the 'brainchild' of the marketplace, Mystery Box is for curious buyers willing to pay a fixed price without knowing the content until they open it.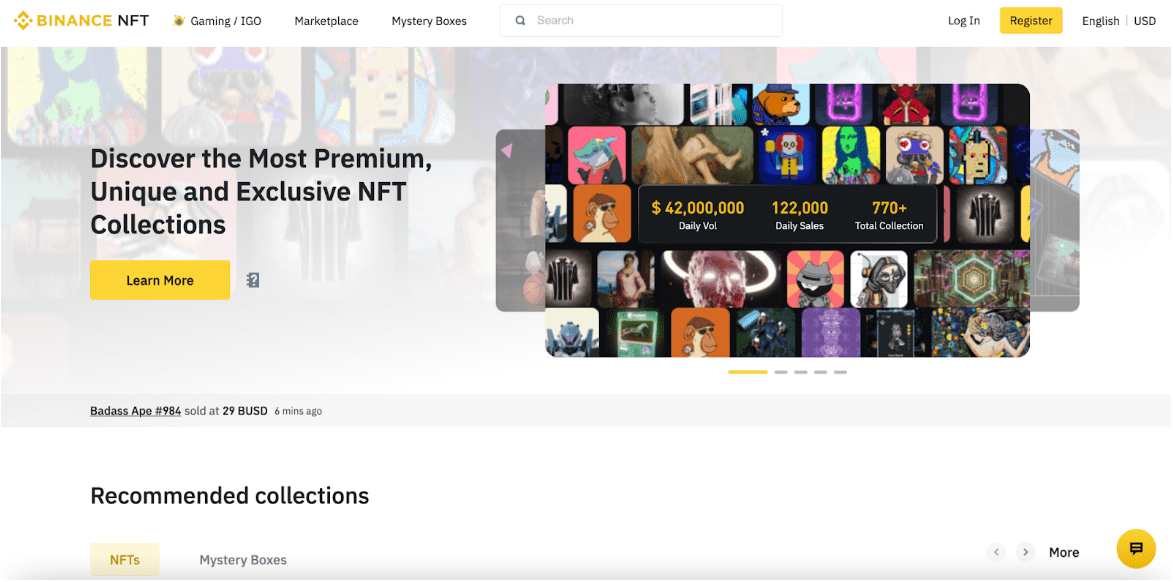 Perks of Binance NFT Marketplace
Backed by the leading cryptocurrency exchange, Binance NFT Marketplace offers several advantages to its users, including:
Trust and Security:

Binance is a highly trusted company in the web3 industry that prioritizes users' safety with security measures such as SAFU and insurance.

It also provides security tips

1

against NFT scams.

Infrastructure:

the

marketplace primarily uses Binance Smart Chan (BSC) and Ethereum (ETH) networks and has a multi-chain support infrastructure, allowing users to create NFTs on the blockchain network of their choosing.

Interface:

Binance NFT Marketplace has a straightforward design offering easy-to-understand onboarding for new users. The details about pricing, navigating through NFT collections and projects, and instructions on selling and buying NFTs are precise.

Integration with Wallets:

The marketplace is compatible with various crypto wallets, such as MetaMask and TrustWallet, and also connects to other wallets supported by the WalletConnect protocol.

Low Fees:

Binance NFT Marketplace offers lower fees than most NFT marketplaces, with users only paying a 1% transaction fee while buying, selling, and trading NFTs. However, gas fees can change according to projects and network volumes.

Educational Content:

Binance has an extensive digital library and learning sources about NFTs. The company provides its users with how-to articles and simplified technical information about NFT technology. 
Risks of using Binance NFT Marketplace
Even though Binance offers a high-quality platform for trading NFTs, several points may cause inconvenience to users.
Low Royalties:

Royalties are a preset percentage of the NFT price paid by either the buyer or the supplier. As Binance has the lowest transaction fee in the industry, digital artists creating NFTs get a minimum of only 1% royalties on the platform.

Not available in the United States:

Binance NFT Marketplace is open for Binance customers in more than 140 countries worldwide, but not in the United States. The Binance.US platform does not offer an NFT marketplace.

Binance's regulatory issues:

As Binance has various regulatory problems for its crypto exchange platform, NFTs are also under the watch of authorities. Any NFT scams on the platform can affect its credibility, piling up lawsuits and regulatory issues.
Binance NFT Marketplace Features
Binance's all-in-one NFT marketplace gathers crypto enthusiasts, artists, traders, and creators in three product lines:
Marketplace:

Binance's NFT platform to purchase, sell, trade, and create NFTs worldwide.

Events:

Binance NFT Marketplace collaborates with leading names and brands in various industries to promote their digital assets through Events. The platform has already launched NFTs in collaboration with Cristiano Ronaldo, Vogue Singapore, Balmain, and Associated Press.

Mystery Boxes:

Users can opt for Mystery Box, each containing a random NFT which cannot be known until it's opened. In the box, there can be a Normal (N), Rare (R), Super Rare (SR), or Super Super Rare (SSR) NFT.
Binance also offers the largest Gaming NFT trading platform, whose total volume surpassed $1B with 20 Initial Game Offering (IDO)2 projects.
Binance NFT Marketplace Pricing and Fees
Binance allows users to list their NFTs on its NFT Marketplace without charging any fee. However, users must pay when trading, depositing, withdrawing, and creating NFTs:
Platform Fee:

When users sell an NFT, Binance charges a 1% platform fee.

Minting Fee:

On BNB Smart Chain (BSC), each NFT minted is charged a fee of 0.005 BNB. On Ethereum, the NFT Minting fee is 0.001 ETH.

Smart Contract Deployment Fee:

When users create a new NFT collection, Binance automatically deploys a smart contract to ETH/BSC with a charge of 0.10 ETH or 0.03 BNB.

Royalty Fee:

On the Binance NFT Marketplace, sellers must pay a 1-10% royalty fee to the creator. For NFTs minted by project partners, sellers must pay a 10% royalty fee.

Deposit Fee

: Users can set the desired gas fee when depositing NFTs to Binance, but the prices can change depending on several factors.

3

Withdrawal fee:

Users who wish to transfer their NFT to other marketplaces must pay a network fee to miners or validators responsible for processing the transactions in the related blockchain. The fees are dynamic and change according to the network status of the chosen blockchain.
More details on NFT transaction fees can be found on the company's website.
Binance NFT Marketplace Company Background
Binance NFT Marketplace was launched in June 2021 by the world's leading cryptocurrency exchange and web3 company, Binance. The parent company was founded in July 2017 by Changpeng Zhao in China but moved its headquarters to Japan and Malta due to the Chinese and Japanese governments' regulations on cryptocurrencies. 
Just six months from its launch, the community-driven marketplace onboarded over 1,000 digital creators worldwide and listed over 2.5 million NFTs across various categories, such as gaming, entertainment, art, virtual land, and more. During the same period, Binance NFT Marketplace increased active traders by 9x and trading volume by 30x.
How does Binance NFT Marketplace work?
To start trading or create NFTs on Binance's marketplace, non-US users are required to follow three steps:
Create an account:

Users who wish to buy, sell, trade, or create NFTs on Binance NFT Marketplace must register at

binance.com

.

KYC verification:

After creating an account, users must complete the KYC process. Verification levels and procedures may vary depending on the country.

Buy or deposit cryptocurrency:

In order to make any transaction on the Binance NFT Marketplace, users should have $BNB, $BUSD, or $ETH in their wallets. These cryptocurrencies can be bought from the Binance crypto exchange or transferred from another exchange or digital wallet.
Trading Tools & User Experience
For buying, selling, or trading NFTs, three methods are available on the platform:
Users can list their NFTs for sale at

a fixed price,

and buyers can pay the fee in the chosen cryptocurrency format. The transaction occurs immediately as the seller receives the payment while the buyer gets NFT in their crypto wallet. Assets can be seen under the related section.

Users can also list their NFTs in

auctions

. Buyers who want to purchase NFT in an auction can make bids according to the floor price set by the seller. Auctioning an NFT is preferable since the price can increase quickly in response to the demand.

Users who want to buy an NFT that is originally non-listed for sale can make an unsolicited offer

to the owner. The sale is completed if the offer is accepted.
What Types of NFTs can you trade on Binance NFT Marketplace
In addition to the Mystery Box feature, Binance NFT Marketplace offers eight categories:4
Binance NFT Marketplace Supported Wallets
Binance NFT Marketplace supports various crypto wallets for storing digital assets. 
When users log in to their NFT Marketplace account, Binance requires them to choose a wallet. The MetaMask wallet is the default choice, but users can connect to other wallets supported by WalletConnect, an open-source protocol for connecting decentralized applications to mobile wallets, such as TrustWallet, LedgerLive, Spot Wallet, Rainbow, MyEtherWallet, SafePal, Argent Wallet, and more. After setting up the wallet, users can begin NFT transactions. Binance advises users to choose the network carefully while connecting (BSC or ETH) to avoid sending assets to the wrong blockchain networks.
Security: Is Binance NFT Marketplace Safe & Secure?
As the world's leading web3 company, Binance prioritizes security by enforcing advanced safety methods. 
To protect users' assets, Binance implements end-to-end security and two-factor authentication via the Google Authenticator app, SMS authentication, and email verification. 
Binance also warns users about NFT scams and shares information about avoiding them in its learning resources center.
Who is Binance NFT Marketplace Best For?
Binance NFT Marketplace is suitable for individuals outside the United States looking for a user-friendly platform to trade and list NFTs. Within its eight categories, Binance NFT Marketplace allows users to showcase their artwork, list their NFT, and easily buy, sell or trade the blockchain-born digital assets. The platform also provides a Mystery Box feature for crypto enthusiasts that turns NFTs into an adventurous experience.
Users willing to learn about NFTs can benefit from Binance's learning center. For beginners, the marketplace serves as an entry point to buy and sell NFTs. Additionally, experienced users and artists can list their NFTs at a fixed price or in an auction on the platform. Supporting over 50 wallets thanks to WalletConnect, Binance users have many options about where to store their NFTs.
With Binance's updates on the latest NFT news and alerts concerning NFT scams, users can make a knowledgeable choice about their NFT trade and be part of the NFT space.