BitPay Review: Pros, Cons, and More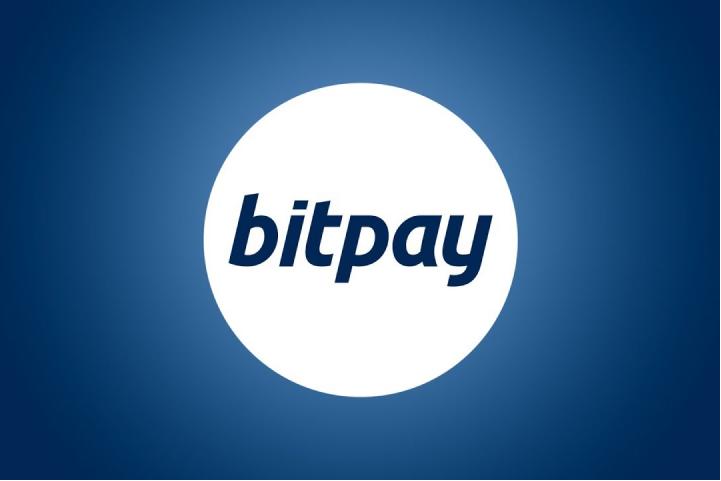 BitPay
User-friendly mobile app available on the Apple App Store and Google Play Store
Users can spend cryptocurrency with over 250 vendors
Access to BitPay native cryptocurrency exchange
Pros:
Transaction costs as low as 1%
Efficient customer support channels
Intuitive user experience
Cons:
Substandard security features
No cashback or rewards system
Only 16 tokens supported
BitPay Ratings and Reviews
BitPay is a crypto payment solution that allows users to buy, store, and spend their digital assets effortlessly. With an intuitive mobile app, secure crypto wallet, and familiar debit card experience, users of all levels can learn to integrate cryptocurrency into daily transactions.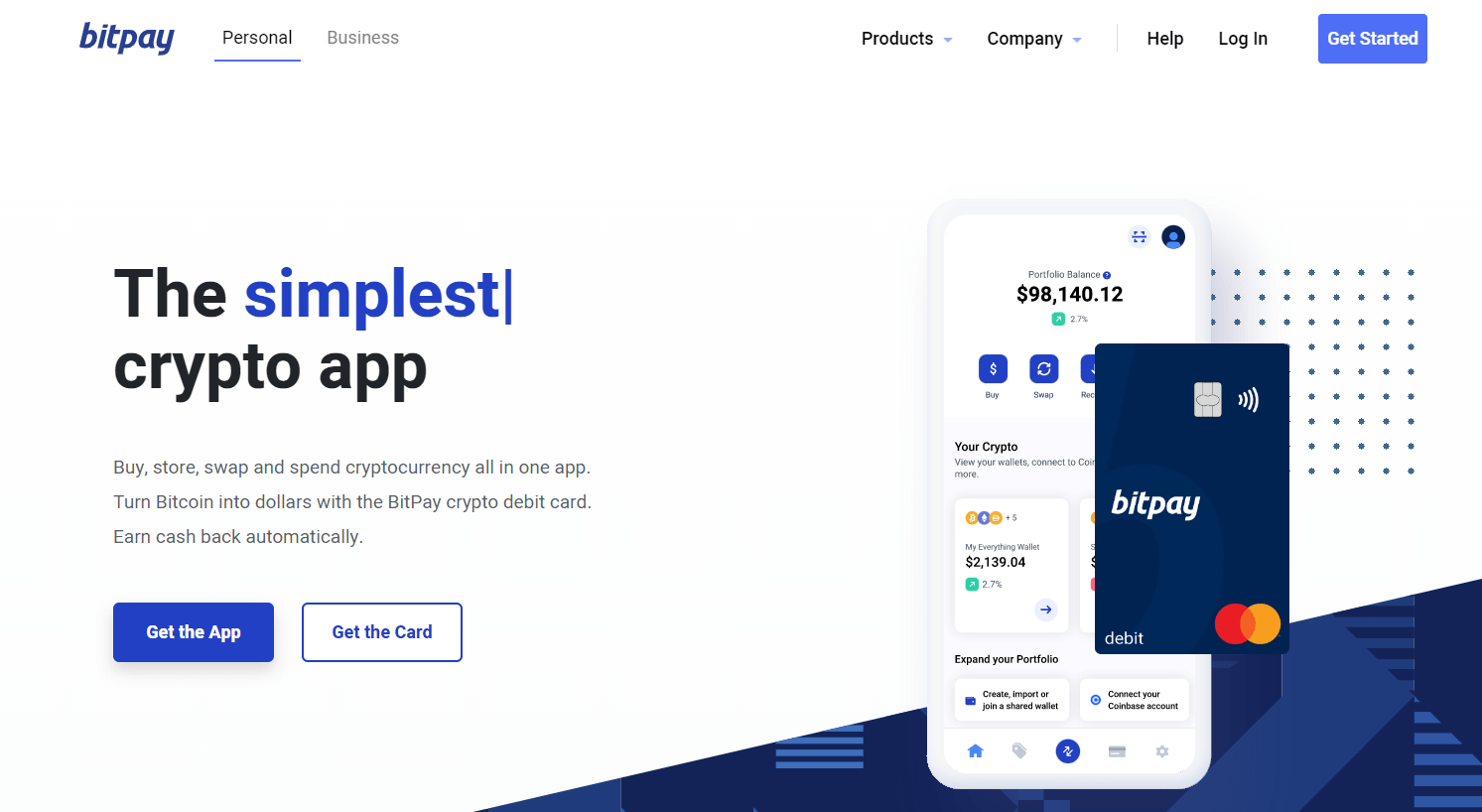 Highlights of BitPay
BitPay offers a

user-friendly mobile app

available on the

Apple App Store

and

Google Play Store

with an

average user rating of 4 out of 5

.

Users can expect

low fees and signup costs

, with

transaction costs as low as 1%

and

initial card costs of $10 USD

. 

BitPay has displayed

power and reliability since 2011

by consistently

improving its product offerings

. 

Users can

spend cryptocurrency online and in-person

with

over 250 supported vendors

.

BitPay provides efficient customer support

channels through accessible

AI live chat

and an extensive

help center

.
Downsides of BitPay
BitPay provides

substandard security infrastructure

for the platform, with much of the

responsibility laying on the customer

to safely manage their wallet and card information.  

BitPay

does not provide a cashback or rewards system

for their cards, however,

select vendors may provide rewards

for using BitPay.

BitPay currently offers a limited selection of 16 cryptocurrencies,

but they

continue to add to their offerings

.
BitPay Features
BitPay Exchange: Users can purchase 16 cryptocurrencies directly through the BitPay mobile app, including popular tokens and stablecoins such as Bitcoin (BTC) and USD Coin (USDC). Users can also directly swap supported token pairs.
BitPay Card: The flagship BitPay Card is a prepaid crypto debit card that allows users to easily spend cryptocurrency at supported vendors. Funded through the BitPay Wallet, users can even earn cashback rewards from select vendors.
BitPay Wallet: Customers can effortlessly track and manage their cryptocurrency through the BitPay mobile wallet. With layers of security, users can safely fund their BitPay cards, send crypto, or simply store their digital assets.
BitPay Spend: BitPay allows users to spend crypto at hundreds of supported vendors online and in person. Users can shop online through the mobile app, the browser extension, or the BitPay Card directly at the store.
BitPay Pricing and Fees
The BitPay mobile app and wallet can be downloaded free of charge to all consumers, with a small $10 USD fee charged for ordering the BitPay Card. However, they do charge a flat one percent fee on all transactions. 
The BitPay card can be seen as a preloaded cryptocurrency debit card, which means there are no monthly interest charges and no credit being loaned. There are some additional charges for activities such as ATM withdrawals, inactivity, and foreign currency conversions.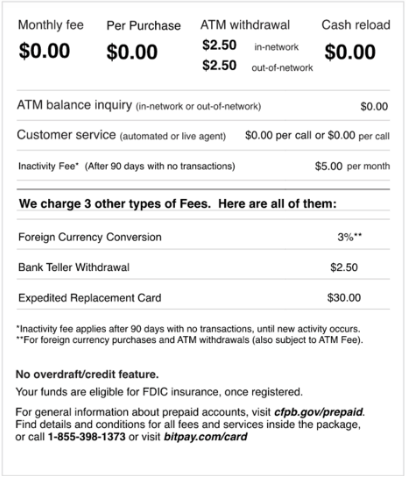 BitPay Company Background
The early days of Bitcoin brought a sense of uncertainty with it, but those who sought to understand it recognized the opportunity. In 2011, Stephen Pair and Jim Aviles founded BitPay when they saw the potential for cryptocurrency to revolutionize the financial industry.
BitPay was founded with the mission of "building blockchain payment technology to transform how businesses and people send, receive, and store money around the world." [1].
Backed by investors such as Index Ventures, Founders Fund, and RPE Ventures, BitPay continues to strive toward its mission by delivering new products that make crypto payments easy for everyone to use.
How does BitPay work?
BitPay comprises a package of cryptocurrency products designed to make using crypto as easy as possible. Users can download the free BitPay Wallet to store their crypto, NFTs, and other digital assets or use the BitPay Exchange to purchase assets.
The flagship product, the BitPay Card, is essentially a prepaid cryptocurrency debit card. Users can fund the card via fiat currency methods or by transferring cryptocurrency through the BitPay Wallet.
Users can then transact with supported vendors, allowing them to pay with cryptocurrency for everyday products. They can even withdraw cash from an ATM, exchanging crypto for tangible dollars.
BitPay themselves do not provide users any rewards for using the cards, but select vendors may offer cashback rewards for using BitPay as a payment method.
BitPay User Experience
The BitPay user experience is designed to be as intuitive as possible so that all consumers can take advantage of cryptocurrency. The user-friendly mobile app provides a simple interface for customers to manage their assets, track spending, and purchase cryptocurrency. The mobile app works directly with the BitPay Card to fund balances, shop with supported vendors, and send funds directly to others.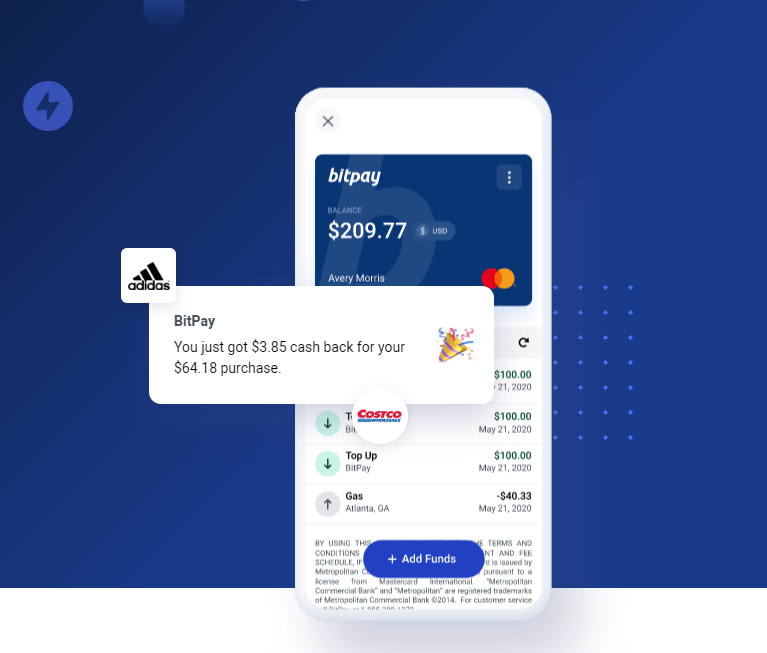 What cryptocurrencies are supported on BitPay?
BitPay allows users to shop at over 250 vendors using 16 different cryptocurrencies, including many popular tokens.
Some of the supported tokens include:
Bitcoin (BTC)

Ethereum (ETH)

Ripple (XRP)

Polygon (MATIC)

USD Coin (USDC)

LiteCoin (LTC)
Security: Is BitPay Safe & Secure?
The security features provided by BitPay may be below industry standards on a platform level, but the self-custody nature of their wallet can provide a safe experience for consumers that accept the responsibility. BitPay also provides encrypted passwords, safety phrases, and two-factor authentication to further secure customer accounts.
There are only a few safeguards against the theft of BitPay cards, therefore, it is up to cardholders to keep their information safe. In the event of theft or a lost card, customers can easily cancel and replace their card and funds by calling the Cardholder Services team.
Customer Support: Contacts & How to Get Help
BitPay provides quick customer support to users who may have issues. 
The primary option for support is through the AI live chat found in the bottom right-hand corner of the desktop site. Users can quickly find a solution through this AI chatbot or be transferred to a live agent for further assistance.
For those who prefer to individually troubleshoot their issues, BitPay provides an extensive Help Center complete with FAQs and other insight resources to help with their problems.
Who is BitPay Best For?
BitPay is a comprehensive crypto payment solution that makes using cryptocurrency in everyday life as easy as possible. With a powerful suite of crypto products, consumers can spend their cryptocurrency with ease through online and in-person transactions. 
The intuitive mobile app and BitPay Card create a familiar experience for everyday consumers. The ability to shop online through the mobile app or swipe a card at vendors makes crypto transactions simple for novices. 
Although the rewards may be limited, the low costs of using BitPay are enticing enough to attract consumers of all levels. With a transaction fee as low as 1%, and a single cost of $10 USD for a card, the BitPay payment solution is an affordable option for all. 
For those that may be wary of using cryptocurrency for regular transactions, BitPay has proven to aid the adoption and use of cryptocurrency since 2011. The powerful brand has led to the integration of over 250 vendors, helpful customer service channels, and industry-standard security.