Bittrex Review: A Comprehensive Overview 2022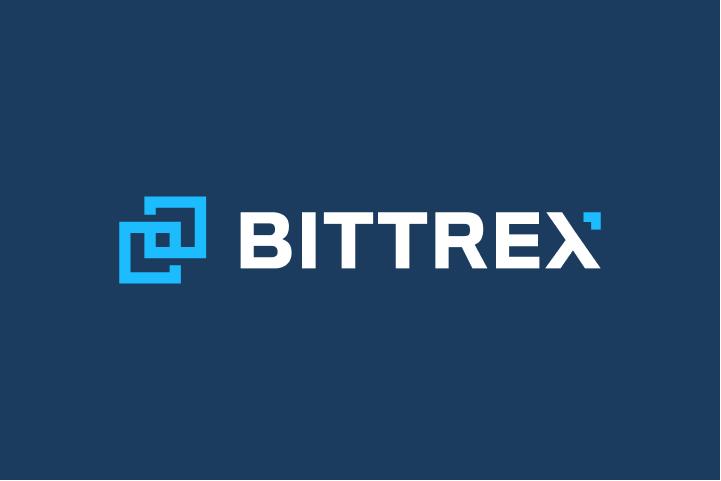 Bittrex
Rapid crypto purchases
An API interface for developers to build their own apps
More than 400 currencies and trading pairs available
Pros
Quick purchase options
Comprehensive educational content
Highly accurate charts and trading tools
Cons
Higher trading and withdrawal fees
No live phone support
Does not offer margin or leveraged trading
Bittrex Ratings and Reviews
Bittrex is a US-based cryptocurrency exchange that allows users to trade hundreds of popular cryptocurrencies and prides itself on offering fast, secure trades in real time.
Popular for its accurate charts and up-to-date pricing, Bittrex is an exchange platform optimized to make buying and selling straightforward and speedy for users, making it a preferred option compared to other centralized exchanges. 
Despite a lengthy initial ID verification process and some long customer support response times, Bittrex rates very highly in its security, enabling users to trade easily and without fear.
Pros & Highlights
Considered one of the top 10 exchanges in the world by volume, with over 5 million users.

Offers a trading platform for traders and an API interface for developers to build their own apps.

Quick purchase options for a wide variety of popular coins.

Features highly accurate charts and numerous trading tools to assist novice and veteran traders execute trades.

Bittrex provides educational blogs and informative posts for new users to get better acquainted with cryptocurrency and trading.[1]

Security is a top priority with very few instances of hacks/exploits that have compromised the assets of Bittrex users.
Cons & Risks
Bittrex does not offer live phone support, but they can be reached via email or live chat on their website.

Bittrex currently does not offer any margin or leveraged trading for its users but plans to roll out a new trading system that allows for margin trading. [2]

The identity verification process may have a long turnaround time, having users wait to be verified before making their first trades.

Trading and withdrawal fees are higher on Bittrex than on some other exchanges.

Advanced charts and extensive information may be overwhelming and confusing to new users.
Bittrex Features
Optimized Mobile App: Bittrex offers a detailed mobile app that features the same trading experience and tools as on the desktop version, allowing users to make quality trade decisions on the go.
Rapid Crypto Purchases: Users can make direct crypto purchases after linking their banking information to Bittrex, allowing seamless and rapid trade.
Earning Options: Bittrex users can explore a variety of staking and earning options for popular currencies like Ethereum and Cardano.
Detailed Charting & Analysis: Bittrex offers precise charts to monitor price action as it occurs, allowing users to make informed decisions using the most up-to-date information.
Bittrex Prices and Withdrawal Fees
Bittrex withdrawal fees are based on a 30-day system that incentives users to trade more frequently to incur less overall fees. The fee structure is as follows: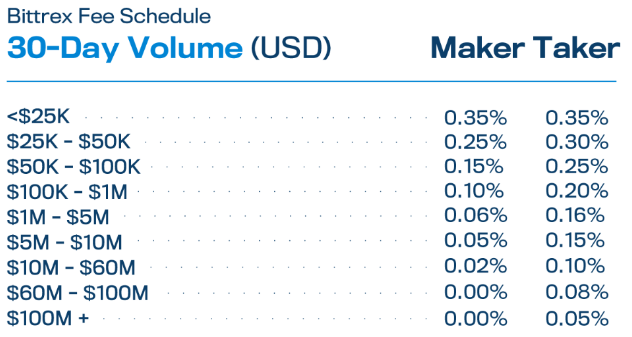 Bittrex charges significantly lower fees for users with large total trading volumes in the millions of dollars. However, the majority of users will be unlikely to benefit from these reduced rates because the volume required is simply beyond the range of the average trader. [3]
In addition to the 30-day volume system, Bittrex charges a small fee on each transaction to cover the expense incurred from transacting on the blockchain. However, these fees are not incurred when depositing funds to Bittrex.
Company Background & History
Based in Seattle, Bittrex was founded in 2014 by Bill Shihara, Richie Lai, and Rami Kawach. They all previously worked together at Amazon before leaving their day jobs to work on the exchange. [4]
The exchange initially offered only crypto-to-crypto trading but recently introduced fiat-to-crypto trading. As their fiat trading program is relatively new, the trading pairs are limited, and fiat trading isn't available everywhere. 
Bittrex is available in 46 U.S. states, excluding Connecticut, Hawaii, New York, and Vermont.
The exchange has had very few controversies and scandals due to its focus on security and safety of its users.
Trader Tools & Trading Experience
Bittrex has several cutting-edge trading tools making it an attractive option for experienced crypto traders. Under the 'Markets' tab, traders can access updated charts and a real-time order book to see other incoming orders. Traders can place market, limit, stop loss, and trailing orders on the Bittrex trading site. 
For new traders, this surplus of information may be hard to make sense of. However, these features can become powerful tools for traders with a little practice.
For example, users can download programs from the open API database to perform useful functions like sending an automated alert when new trades are placed or closed.[5] Users can also insert custom trendlines, text messages, and drawings onto price charts to better track important information.
Together, these tools can make the trading experience more streamlined and understandable for users.
What Cryptocurrencies are Available on Bittrex?
Bittrex is one of the largest exchanges, with more than 400 currencies and trading pairs available on its platform. Users can trade high market cap coins as well as a variety of altcoins. A few examples are:
Bitcoin (BTC)

Ethereum (ETH)

Dogecoin (DOGE)

Litecoin (LTC)

Cardano (ADA)

Raven (RVN)

Cosmos (ATOM)

Tether (USDT)

Polkadot (DOT)
With its market analytics, users can search for various cryptocurrencies to see if they are offered on Bittrex. Bittrex constantly adds new pairs that meet the requirements to be listed on major exchanges.
Security: Is Bittrex Safe & Secure?
Bittrex has a robust security system with multi-factor authentication (MFA). In addition to MFA, Bittrex uses a third-party app called Authy that adds an extra layer of confirmation before users can log in. 
All users must complete the KYC (Know-Your-Customer) ID verification process to further enhance security before trading. This process benefits users because it enables Bittrex to better prevent fraud, money laundering, and illegal purchases.
Bittrex abides by all SEC regulations and ensures its users' funds are secured on the platform. Unlike many other major exchanges, Bittrex has not suffered from a major hack or exploit in recent history.
Customer Support: Contacts & How to Get Help
Bittrex offers customer support through live chat and support tickets on its website. In the past, users have complained about the lengthy wait times to address support tickets, but it is likely the result of the high volume of new users on the Bittrex platform.
To address the concerns of lengthy response times, Bittrex opened a full-time Twitter account for customer support at @BittrexSupport. If customers cannot reach support through their website, they can use this official Twitter account to receive help.
KYC, Taxes & IRS Reporting Details
To use Bittrex, users must complete the KYC (Know-Your-Customer) identification process. This process involves submitting documents like a driver's license, passport, and proof of address for Bittrex to confirm the identity of its users. 
Bittrex complies with IRS regulations and submits profiles of its user to the IRS whose capital gains surpass $600. Trading cryptocurrency incurs tax penalties and must be accurately reported for taxation purposes.
Who It's Best For
Bittrex is a great option for crypto enthusiasts as well as new customers entering the cryptocurrency market. The wide variety of available tools and cryptocurrencies appeal to traders of all experience levels. 
Bittrex is a strong option for U.S. users seeking a safe, secure exchange to make transactions.
With Bittrex, international and U.S. users have the benefit of conducting safe, reliable, and fast transactions on a premier exchange. Despite the few drawbacks, Bittrex has achieved high ratings from a wide range of traders.