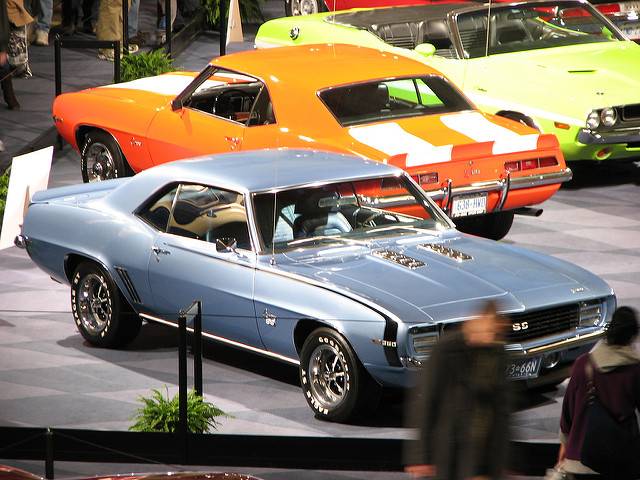 When choosing an investment, there are always two sides. You can invest in gold by actually purchasing the metal or invest in gold by purchasing stock in miners and processors. The same applies to cars. Classic cars are popular collectors' items, as are luxury vehicles, but does it make more sense to invest in cars or in their manufacturers? What side is more lucrative and more secure?
Option One: Cars
If you're interested in collecting cars as a future investment, acquiring them before their prices rise, there are several things you need to consider. First of all, you'll need a place to securely store a number of vehicles – it won't do you much good to invest in cars and then house them on the street where they'll be exposed to the elements. And the second thing you'll want to consider is what type of cars you'd like to specialize in.
Those with limited space and capital might consider investing in a small lot for a salvage yard. Vehicles for salvage are typically inexpensive but can be broken down piecemeal and sold for parts to others who are repairing or restoring cars. Though the vehicles may not be worth much on their own, the separate parts make a good investment.
Other prefer to invest in classic cars, and this requires an intimate familiarity with different makes and models and an understanding of which cars are worth the investment. It also requires a significant amount of capital. In general, classic cars gain value from scarcity and the fewer that were made, the more they're worth. A well-maintained classic car can be worth hundreds of thousands of dollars, but you need to be careful how much you put into restoring and maintaining it and should know when to sell.
Get Started
Claim up to $26,000 per W2 Employee
Billions of dollars in funding available
Funds are available to U.S. Businesses NOW
This is not a loan. These tax credits do not need to be repaid
The ERC Program is currently open, but has been amended in the past. We recommend you claim yours before anything changes.
Perhaps the easiest and most affordable way to begin collecting cars is by identifying the cars that will become classics before their price goes up. One way to do this is to invest in current luxury cars, buying them used. For example, you can get a used luxury car that's only been leased for significantly less than the original ticket price, maintaining it for decades. Before you buy, though, you'll want to research the brands and the number produced, among other factors.
It is, of course, easier to predict the fates of slightly older cars – cars that aren't yet considered classics but are on course to become very valuable. Now over 20 years old, the Toyota Supra Turbo, for example, is currently selling for about $40,000, a remarkable value for a car that isn't yet a classic. For a less expensive starter car, the Nissan 300 Z31 Twin Turbo currently sells for less than $20,000 but is predicted to go up in value significantly.
Option Two: Supplier Stocks
Of course, the alternative to investing in actual vehicles is to invest in car-related stocks, whether those related to major car brands or for suppliers and automotive technology developers.
Currently, automotive suppliers are outperforming car companies by a significant margin on the Standard & Poor's 500 index. That's because suppliers make much of their profit overseas, so a slowing domestic car market doesn't affect them as badly as it does domestic car stocks like Ford or General Motors.
Finally, while suppliers are strong, perhaps the best place to invest, if you're interested in cars, is in automotive technology developers. Right now, autonomous vehicles are a hot topic, but the associated technology is still in development. Companies like Alphabet Inc, the brand behind Google, NXP Semiconductors, and Nvidia are all designing the sensors and code inside self-driving cars, and their stocks are on the brink of serious growth. Autonomous vehicles can't hit the road without them.
Both stocks and cars themselves make great investments – it's all about knowing what you're equipped for. Car aficionados will thrive investing in classic cars, while economy buffs are more likely to do well playing the market. Know your strengths and your resources. The most important thing is that you're thriving financially.