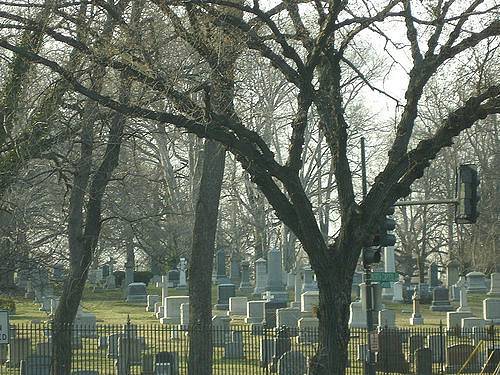 Is a cemetery a viable option for undeveloped land? In light of the faltering real estate market, many investors and developers may find themselves with property that no longer has an immediate purpose. Creating a housing development no longer makes financial sense, with prices so low and a distinct lack of buyers. Some property owners trying to find a use for their undeveloped land may have considered establishing a cemetery as a possible solution.
And there may be definite perks to the cemetery business during these difficult times.
"This industry has been pretty recession-proof. [People] certainly need what you're selling," Lawrence Anspach, president of American Cemetery Mortuary Consultants in Las Vegas and a former funeral home owner/operator, said. "In hard times, sales in our industry go up. Six months ago maybe [a family was] thinking of getting a second TV, but now they're thinking they're going to need a funeral in the future. They start to think more about items of necessity."
Cemeteries are more complex than they may first appear| alt=||]But creating a cemetery requires a lot of legal legwork and substantial funds, not to mention a commitment for the rest of eternity. Investors mulling over this possibility should consider all the details before deciding to make the death industry their life's work.
First, consider the legal elements involved. Different regions have different regulations, some more prohibitive than others, and hiring qualified legal counsel is a must. Check into zoning requirements in the area, and know what the planned usage is for the space; building a mausoleum or a crematorium will probably require different zoning permissions than a traditional cemetery. It's also worth bearing in mind that many states require owners of private cemeteries to establish a $25,000 care trust fund to help support startup costs, according to the International Cemetery, Cremation and Funeral Association (ICCFA).
And, before starting down the road of master plans and official legal petitions, would-be cemetery owners need to seriously consider whether or not a cemetery is even necessary.
"Cemeteries work within a 20 to 25 mile radius of where the population center is. What cemeteries are currently supporting the area? Is another cemetery needed?" Robert Fells, external chief operating officer and general counsel for ICCFA, said. If there is already an established cemetery in the region, customers may not be willing to use a new burial ground, especially if other members of their families have already been interred at the existing location.
The heritage factor can be hard to beat. If entrepreneurs want to coax customers away from that 100-year-old local cemetery, they may need to draw on their creativity to make it happen.
Get Started
Claim up to $26,000 per W2 Employee
Billions of dollars in funding available
Funds are available to U.S. Businesses NOW
This is not a loan. These tax credits do not need to be repaid
The ERC Program is currently open, but has been amended in the past. We recommend you claim yours before anything changes.
"I would say the main thing is to do something so unique that someone wants to drive an extra 50 miles. It would have to be that type of thing to really attract somebody," Anspach said.
For example, the Great Burial Reef off the coast of Sarasota, Fla., "buries" cremated remains within reef memorials on the ocean floor. The Hollywood Forever cemetery in Los Angeles screens films featuring the celebrities buried within its borders. Anspach also mentioned an "urban environment" cemetery with which he was involved, which provided community activities such as an egg hunt for Easter and a reindeer petting zoo during the winter holidays.
Another rising trend is the "green" cemetery, where the dearly departed are buried in a nature preserve without embalming, using biodegradable caskets. One such eco cemetery is the Ramsey Park preserve in South Carolina, managed by Memorial Ecosystems.
"It's not only saving the land, but uniting people with ecology in a meaningful way and giving people the opportunity to really be involved in the restoration process," Kimberley Campbell, vice president of Memorial Ecosystems, said. "It's very much getting your hands in the earth. And a lot of times people come and start learning about the native plants and other things about the woods and the natural history of the place." These "green" cemeteries require less upkeep than traditional burial grounds, since part of their appeal is that they are natural places. Traditional cemeteries require road maintenance, grass mowing, stone straightening and more. The monthly irrigation bill alone at the Hollywood Forever cemetery is approximately $25,000, according to Campbell. In contrast, the upkeep costs at Ramsey Park "are basically weeding the trails and stuff like that," she said.
A cemetery can take years—grimly put, a high body count—to make a profit| alt=|Cemeteries can take a decade to turn a profit after investment costs|]But don't think that means an environmentally-friendly cemetery is cheap. Memorial Ecosystems was originally established in 1996, and the company only recently began turning a profit. "Most cemeteries take 10 years to start making a profit because it's just so expensive, especially at first, to do all that earth moving. [Cemetery owners have to] get things laid out like road systems and expensive infrastructure," Campbell said.
"Green" cemeteries also hold a significantly smaller number of graves than traditional cemeteries, so there may be fewer opportunities to profit in the long term. A traditional cemetery holds approximately 1,250 burial plots per acre and, if two people are buried per plot, the capacity could potentially be up to 2,500 per acre, according to Anspach. The environmentally-friendly Ramsey Park contains approximately 30 graves per acre. Grants may be available to "green" cemeteries, as well as tax breaks if they are established as non-profits, but burial plots are where cemetery owner/operators make their money.
Costs for plots vary as widely as the values of homes, depending on demand. "In the San Francisco area I've seen individual grave sites sell for $10,000 to $12,000," Anspach said. "In the Midwest that same 3×8-foot grave site could be $300 to $500." Cemetery owners looking to maximize land space could also opt to build a multi-story mausoleum, which would provide additional interment options.
So, is turning vacant land into a cemetery worth it? Maybe, for those who do their homework and come up with a unique plan to attract customers. If would-be cemetery owners don't have a particularly innovative plan for a new cemetery, they may be better off purchasing an existing one.
"My recommendation is not to start a new cemetery, just because it's such a high-cost infrastructure and there are very high barriers to entry," Anspach said. "It's much easier to buy an existing cemetery than it is to start a new one. You can probably find one in almost every city." When purchasing an existing cemetery, it is easier for buyers to evaluate the graveyard's success and cash flow before committing. Another alternative is to establish a funeral home instead, which takes up substantially less space and can be established within most commercial zones.
Opting to open a funeral home may also be less risky in years to come. Cemeteries carry a lifetime (and beyond) guarantee. Owners are expected to continue maintaining the cemetery even after all the plots have been filled.
"In our country you expect to pay 'x' dollars for a grave, and then you expect someone to mow the grass forever and never pay another dime for that service," Anspach said. "There's a project in Illinois where a group of investors bought a mausoleum…and after a couple of years they wanted to sell it. But there's no inventory left, so what are they going to sell? Basically it's just the liability."
And once a cemetery has been established and burials have been carried out, there's no turning back.
"It's not as though, if after a couple of years you aren't making as much money as you thought, you can take out the cemetery and put in a bowling alley," Fells said. "You can do that with other businesses, but once you put in a cemetery you are stuck with a cemetery."
Those who are interested in establishing a cemetery can get in touch with the ICCFA for further information and guidance. Anspach provides consulting services, and also acts as a broker for those interested in purchasing an existing cemetery. Those seeking guidance in establishing a "green" cemetery can consult with Memorial Ecosystems.