Coinbase Review: A Comprehensive Overview 2022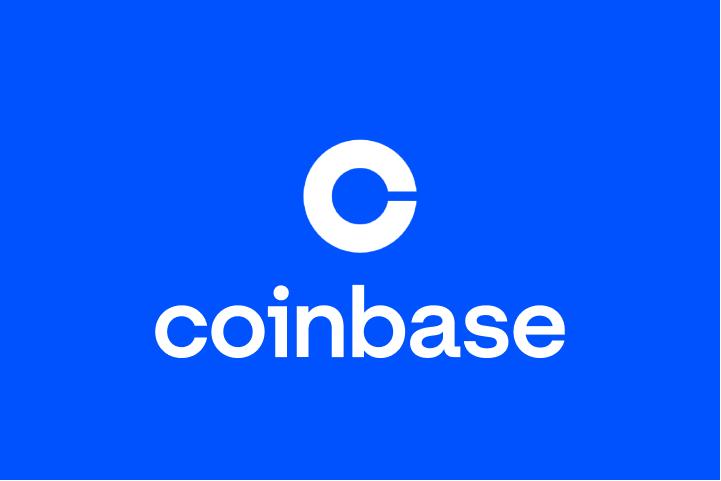 Coinbase
Seamless trading experience
Wide product range for crypto-related services and tools
Unique versions for beginner and advanced traders
Pros
Supports over 150 tradable coins
High liquidity on cryptocurrency selection
Instant KYC verification
Easy to buy crypto with fiat
Cons
Complicated and expensive fee structure
Limited staking and interest features
Slow customer service
Coinbase Ratings and Reviews
Coinbase is a secure, legitimate cryptocurrency exchange platform with a longstanding reputation among crypto communities. The US-based Coinbase has around 103 million verified users worldwide and 245,000 ecosystem partners in over 100 countries. 
Coinbase provides features and transparent trading tools to appeal to beginner-, mid-, and advanced-level crypto investors. Coinbase offers two different platforms for trading cryptocurrencies: Coinbase and Coinbase Pro. Coinbase is designed to assist first-time cryptocurrency buyers, whereas Pro is a professional-level trading platform for active traders.
Users of the two Coinbase platforms are trading a combined $217 billion worth of cryptocurrency each quarter. According to CoinMarketCap's data, Coinbase has the second-highest trade volume of all crypto exchanges, including Binance, FTX, and Kraken.1
As a leading centralized cryptocurrency exchange in the United States, Coinbase stands out from competitors with various features, especially educational content with rewards to help crypto enthusiasts.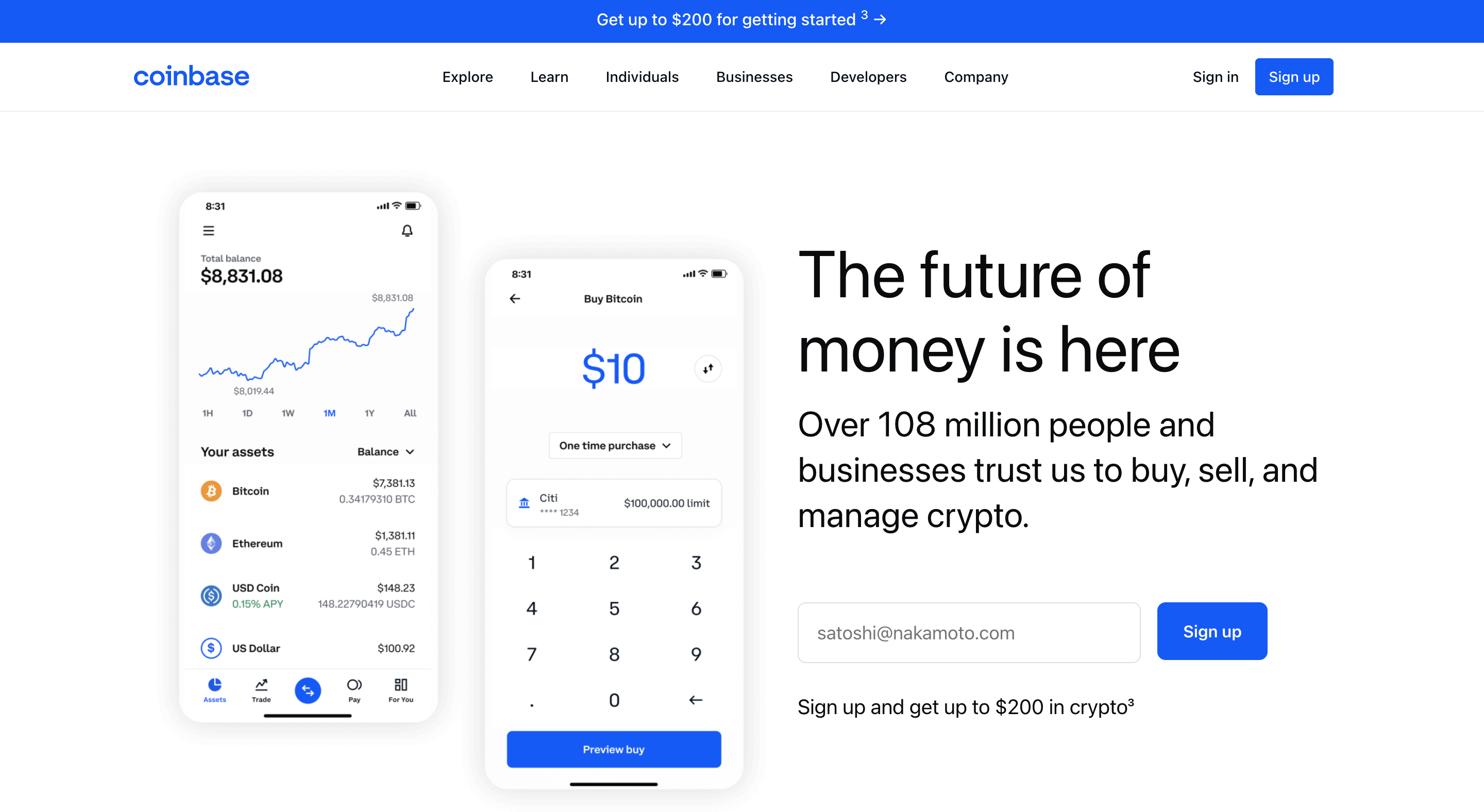 Pros & Highlights
Coinbase and Coinbase Pro offer many advantages, including;
Access to over 150 tradable coins 

Very high liquidity with extensive cryptocurrency selection

Low minimum ($2) to fund the account

Intuitive interface and top-rated mobile app

Easy to buy crypto with fiat

Simple and advanced trading

Instant KYC verification

Providing market updates with push notifications and news about the industry

Offering crypto rewards and Coinbase Debit Card

Educational content

Strong security measures with privately insured funds
Coinbase attracts crypto-traders thanks to its user-friendly interface on the website and app and diverse trading and charting tools to facilitate cryptocurrency trading. The platform is also known for holding 98 percent of customers' funds offline in cold storage.
Cons & Risks
Even though Coinbase ranks among the top cryptocurrency exchanges, several points could be improved:
Difficult-to-understand fee structure and higher fees than other cryptocurrency exchanges:

The fee structure of Coinbase changes according to the platform used (Coinbase or Coinbase Pro), and the rates vary depending on the region.

Limited staking and interest features:

Coinbase allows only a stake of six assets for passive rewards.

Slow customer service:

Several Coinbase reviews and analyses show that users are not fully satisfied with the services provided.

History of flash crashes and news influencing the company's reputation:

The news related to Coinbase bankruptcy risk and Coinbase layoffs affect the platform's prestige.
Coinbase Features
Coinbase has a wide product range for crypto-related services and tools. The platform offers two versions for crypto trading: Coinbase and Coinbase Pro. Coinbase is for beginner traders who prefer a simple interface to buy and sell cryptocurrencies, whereas Coinbase Pro is for advanced users offering various features and complex order types. 
The company also launched:
Coinbase Wallet:

a self-storage software solution for cryptocurrencies 

Coinbase Earn Program:

earn free crypto for watching Coinbase's educational videos  

Coinbase Card:

a crypto-backed Visa card allowing customers to make daily purchases with cryptocurrencies 

Coinbase Staking:

rewards users with rates of 0.15% to 5% for coins staked on its platform.

Coinbase Borrow:

borrowing feature for up to US$100,000 for eligible account holders.

Coinbase Private Client:

personalized support for ultra-high net worth individuals about their crypto investments.

Coinbase for Business 

Coinbase Prime,

a turnkey solution for brokerages, exchanges, and fintech companies, enabling them to offer customers crypto

Coinbase Commerce,

a software solution for eCommerce businesses, including integrations such as checkout pages and invoicing

Coinbase Custody,

a crypto custodial service for enterprises

Coinbase Asset Hub,

allowing digital asset developers to list their products on the Coinbase exchange

Coinbase Analytics,

a real-time crypto resource for financial institutions, businesses, and governmental agencies
Coinbase Prices & Withdrawal Fees
There are no fees for opening an account and holding crypto assets on Coinbase platforms. However, fee structures differ between Coinbase and Coinbase Pro for trading, staking, and other crypto transactions.
Coinbase is a bit expensive and complex, whereas Coinbase Pro fees are lower and less complicated, using a maker-taker model. For example, a user who places an order on Coinbase Pro to buy $1,000 worth of cryptocurrency pays between $0 and $6 in fees, while the user on Coinbase pays around $14.
Coinbase Fee Structure 
Coinbase charges higher fees than Coinbase Pro, making it a better choice for buy-and-hold investors who prefer to keep their cryptocurrencies long-term. Coinbase rates may vary across countries and regions. In the United States, Coinbase charges $0.99 for a total transaction amount of less than or equal to $10. 
Coinbase charges fiat deposit and withdrawal:
| | | |
| --- | --- | --- |
| | Deposit (Add Cash) Fee | Withdrawal (Cash Out) Fee |
| ACH | Free | Free |
| Wire (USD) | $10 USD | $25 USD |
| SEPA (EUR) | €0.15 EUR | €0.15 EUR |
| Swift (GBP | Free | £1 GBP |
Fee percentages also differ according to payment methods:
| | |
| --- | --- |
| Payment Method | Fee Percentage  |
| US Bank Account | 1.49% |
| Coinbase USD Wallet | 1.49% |
| Debit Card or PayPal | 3.99% |
| Instant Card Withdrawal | Up to 1.5% |
Coinbase Pro
Coinbase Pro uses a maker-taker model to determine the charge for a transaction. Users making transactions less than $10,000 in Coinbase Pro pay a 0.50% taker fee or 0.50% maker fee. Coinbase Pro only accepts wire transfers or Wallet transactions. The exchange platform does not allow credit card or debit card purchases.
Company Background & History
Coinbase was founded in 2012 by Brian Armstrong to send and receive Bitcoin ($BTC). 
From 2013 to 2015, the company raised millions of dollars of investment from various ventures.

In 2015, Coinbase launched its first cryptocurrency exchange, and after a year, the platform changed its name to Global Digital Asset Exchange (GDAX). 

In 2018, while the platform introduced several features, such as Coinbase Ventures and Coinbase Prime, it also transformed GDAX into Coinbase Pro. 

In 2020, the company announced that it shifted to remote work without any formal headquarters.

On the 14th of April, 2021, Coinbase became an American publicly traded company on the Nasdaq exchange and began trading at $381.
Trader Tools & Trading Experience
Coinbase provides a seamless trading experience to its users. After signing up to the Coinbase platform from its website or downloading its app, users are requested to add their personal information to set up the account. With approval from the platform, usually granted the same day, users gain 24/7 access to the exchange to buy and sell cryptocurrency easily.
In the Coinbase Pro app, there are diverse functionalities to help traders;
Wallet balance

, the section showing total assets and fiats 

Order form

, the space to buy or sell cryptocurrencies with three options: market price, limit option, stop option

Order book

, general data to observe lowest sales and highest purchase orders

Price chart

, the section to analyze data and the evolution of prices

Open orders

, the place created to list orders made by Coinbase account holder

Trade history

, the space to track all the previous transactions
To level up the Coinbase Pro trading experience, the platform introduced Advanced Trade which has charts powered by TradingView with EMA, MA, MACD, RSI, Bollinger Bands, and drawing tools.
What Cryptocurrencies are Available on Coinbase?
Ranking as the largest US-based cryptocurrency exchange, Coinbase offers trading of more than 150 cryptocurrencies, including;
Bitcoin (BTC)

Ethereum (ETH)

Dogecoin (DOGE)

Shiba Inu (SHIB)

Stellar Lumens (XLM)

Polygon (MATIC)

Cardano (ADA)

Solana (SOL)

Polkadot (DOT)

USD Coin (USDC)

Litecoin (LTC)

Algorand (ALGO)

SushiSwap (SUSHI)
Coinbase supports over 450 crypto-to-crypto trading pairs. Coinbase also regularly adds new tradable coins to its platform.
Security: Is Coinbase Safe & Secure?
Coinbase is recognized as a secure cryptocurrency exchange, holding the digital assets of its users insured. In addition, since the platform has a direct listing on Nasdaq, Coinbase's security standards are higher than most of its competitors.
The exchange states that they keep less than 2 percent of users' funds online and hold the rest in hardware storage. According to its policies, if any breach is detected in its hot wallets, "the insurance policy would pay out to cover any customer funds lost as a result." 
To provide a more secure solution for storing crypto funds, Coinbase requires all accounts to use two-factor authentication. It also proposes Coinbase Wallet, which allows customers to keep their digital assets in their own custody.
Customer Support: Contacts & How to Get Help
Coinbase offers customer support via the help page, email, Twitter, and phone to address issues. The platform currently does not provide phone support with a live agent. 
In the case of suspicious activity, users can lock their accounts by calling an automated phone system.
Coinbase has significant issues regarding customer service, receiving thousands of complaints from its users about account problems and lost funds. Many users hold Coinbase accountable due to the platform's poor and slow customer service.2
KYC, Taxes & IRS Reporting Details
Coinbase is the first bitcoin exchange to be approved by the U.S. government. To comply with KYC (Know Your Customer) regulations and AML (Anti-Money Laundering), Coinbase uses Identity Verification which helps to block fraudulent accounts.
U.S. Citizens using the platform are responsible for reporting all assets received as income on their tax forms within the IRS via Form 1099-MISC. 
What is mainly treated as income?
Staking and learning programs rewards 

Interest earned on Coinbase 

Payments received in crypto 

Coinbase incentives
Who It's Best For
Coinbase's various solutions suits everyone from beginners and inexperienced crypto traders to advanced investors across more than 100 countries, including the US, Canada, Brazil, France, the United Kingdom, Mexico, Japan, and Nigeria. 
Coinbase has a straightforward design supporting dozens of tradable coins, ranking among the top cryptocurrency exchanges in the United States. 
The crypto exchange provides secure transactions and the option to hold private keys in Coinbase Wallet. 
Coinbase gives access to educational resources, encouraging its users with Learn & Earn programs.
All in, Coinbase has leveraged blockchain technology married with a plethora of useful features for investors at all levels to become one of the industry's juggernauts.