CoinMama Review: A Comprehensive Overview 2022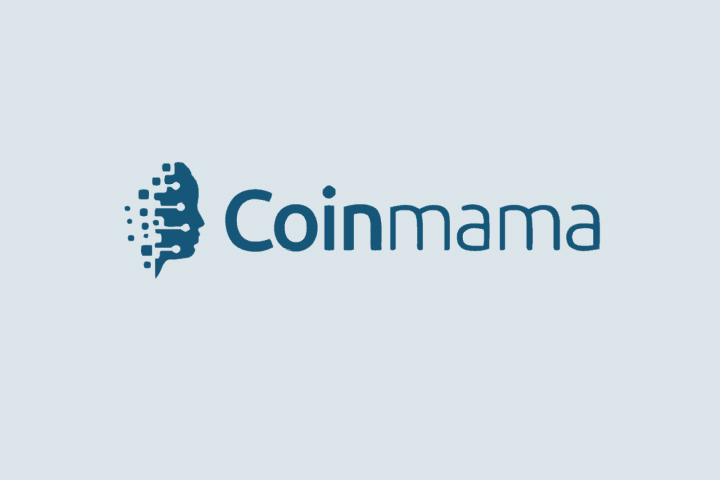 CoinMama
CoinMama has a long-established reputation, making it more trustworthy and secure to handle transactions.
High spending limits allow users to schedule large purchases in advance to surpass spending caps.
Widely accessible to uses of all financial backgrounds due to low minimum deposits.
Pros
Simplistic website user interface
Available in 188 countries and 48 U.S. states
Allows crypto purchase using Visa credit cards, Apple Pay, and Google Pay
Cons
Users can only sell Bitcoin on the platform
Lack of DeFi options, staking, or earning programs
Does not display price charting options for available cryptocurrencies
CoinMama Ratings and Reviews
CoinMama is a well-established cryptocurrency exchange platform that provides a simple, straightforward swapping experience for several major cryptocurrency options. With an easy-to-use website design and plenty of educational content, CoinMama is the perfect option for beginners entering the crypto space.
To ensure the process of buying and selling crypto is effortless and swift, CoinMama provides several features, such as:
Supports a wide variety of payment methods beyond physical banks, including Apple Pay, Google Pay, and Skrill virtual payments to fund crypto purchases. [1]

Rapid

verification process

allows users to sign up and make transactions quickly and securely. [2]
While CoinMama is an excellent exchange for purchasing large quantities of crypto, there are limited investment options available to users.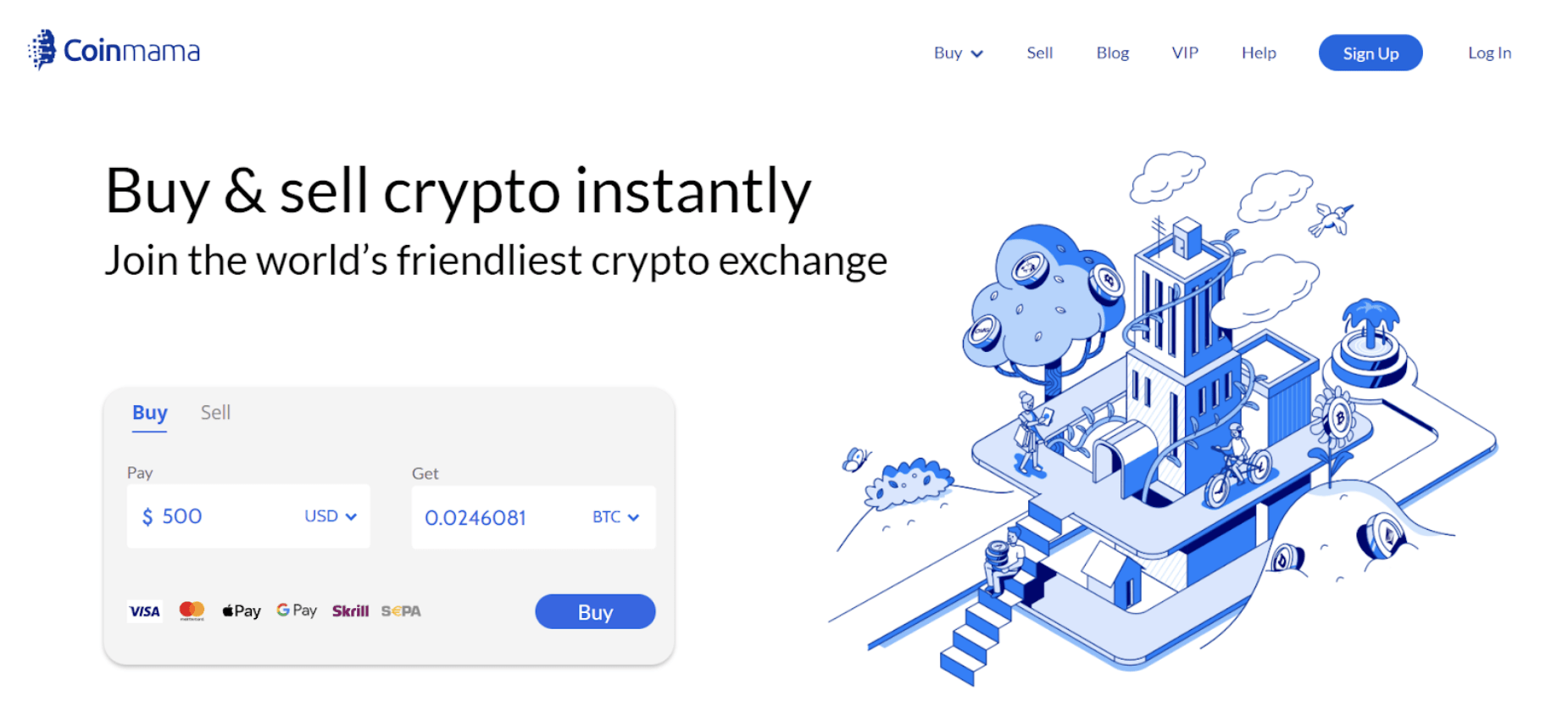 Pros and Highlights
The $30 minimum deposit allows CoinMama to be widely accessible to users of all financial backgrounds.
CoinMama has a long-established reputation, making it more trustworthy and secure to handle transactions.
Users can seamlessly buy crypto using Visa credit cards, Apple Pay, and Google Pay.
CoinMama has high spending limits, allowing users to schedule large purchases in advance to surpass spending caps. [3]
The simplistic website user interface makes crypto transactions straightforward and fast.
Transactions through CoinMama are confirmed rapidly with little downtime.
CoinMama services 188 international countries and 48 states in the US, excluding Hawaii and New York. [4]
Cons and Risks
While purchases for other assets are supported, Bitcoin is the only asset that users can sell through CoinMama.
Lack of DeFi options as CoinMama does not have any staking or earning programs for users to generate yields.
CoinMama does not offer a crypto wallet for users to store their assets.
CoinMama does not feature leverage or perpetual trading.
CoinMama does not display any price charting options for available cryptocurrencies.
CoinMama lacks a live support team.
CoinMama Features
CoinMama VIP Service: White Glove is a portfolio management and growth service run byCoinMama's crypto specialists, targeted towards corporations and individuals with large portfolios seeking to expand their crypto holdings strategically.
CoinMama Academy: CoinMama Academy is an educational hub with content covering intro-level topics in crypto for new users, like proof of stake, protocols, and micro-cap coins.
CoinMama Affiliate Program: Users who become CoinMama affiliates through the affiliate program are eligible to earn 15% fee revenue from trades made by referrals.
CoinMama Prices and Withdrawal Fees
CoinMama does not charge fees for withdrawals. However, hefty fees are incurred when depositing to CoinMama or selling Bitcoin. CoinMama factors several variables like order size, market volatility, and user loyalty level when calculating these fees. The structure for deposit fees is as follows: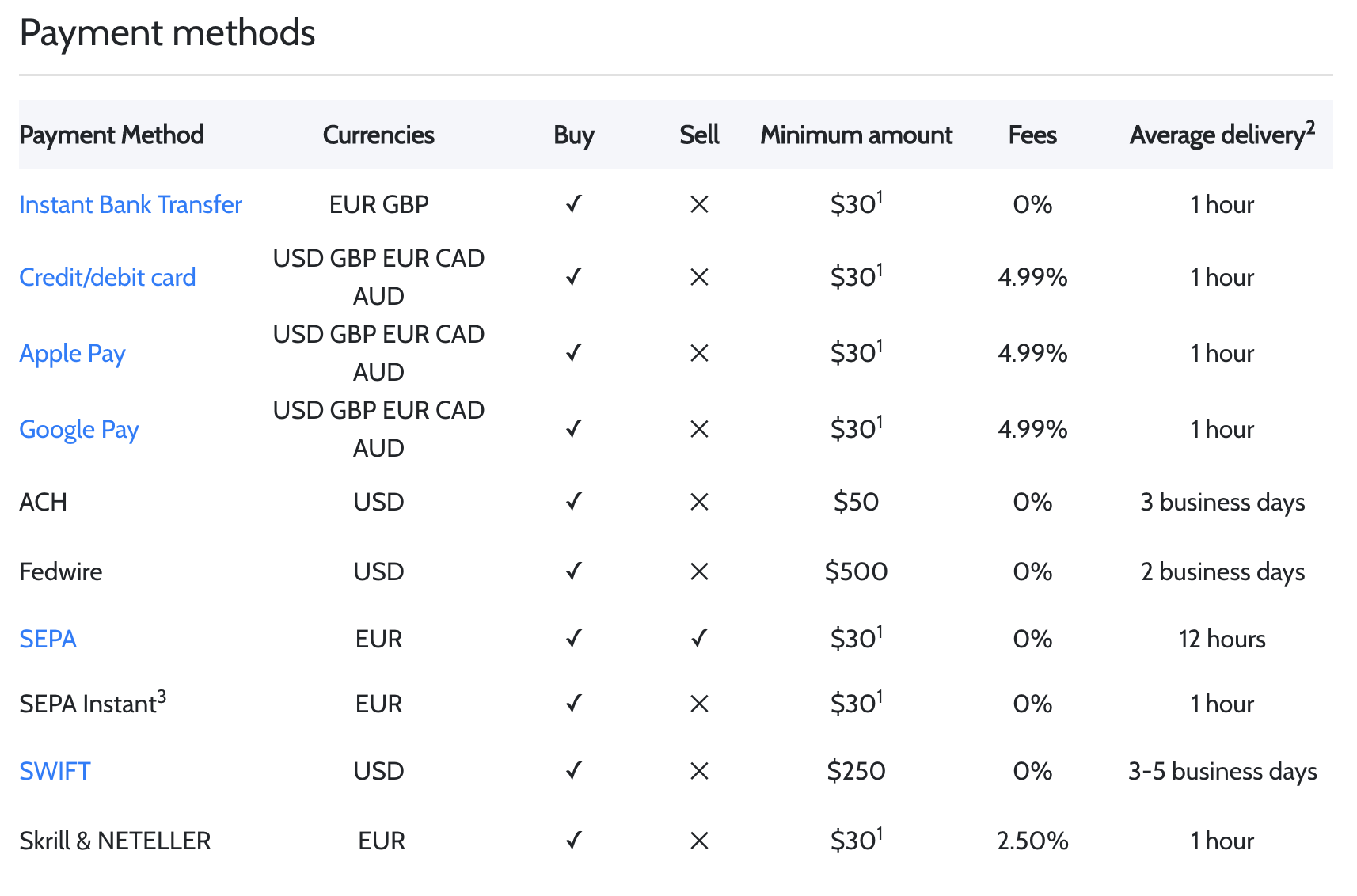 Selling any quantity of Bitcoin also incurs a transaction fee of 0.9% of the total value. [5] Overall, this complicated fee structure makes CoinMama expensive compared to other crypto exchanges. 
Users can reduce these high charges through the CoinMama loyalty program. Upon reaching incremental spending amounts, users automatically increase their loyalty level and gain better perks. The complete loyalty tier list is as follows:

Company Background & History
CoinMama was founded in 2013, making it one of the oldest cryptocurrency exchanges in operation. Entrepreneurs and crypto enthusiasts Nimrod Gruber and Laurence Newman founded CoinMama after successful tenures in several crypto startups. 
Originally, CoinMama focused on providing users with a direct interface to buy and sell Bitcoin. [6] By doing so, CoinMama skyrocketed in popularity among early crypto users. In recent years, the exchange has gradually expanded into offering a wider variety of cryptocurrencies.
CoinMama aims to be the world's friendliest crypto exchange. [7] Keeping in line with this theme, CoinMama emphasizes providing a customer-first sales experience for its users. [8]
Trader Tools & Trading Experience
Unlike many other exchanges, CoinMama does not feature any interactive trading tools or price charts. While price charts are an important tool for many traders, CoinMama opts to prioritize simplicity and clarity over a wide array of features.
A lack of complex trading options and tools makes CoinMama an ideal choice for a new trader with little prior experience. Rather than getting confused by many types of trades, beginners can learn the basics of buying and selling cryptocurrency.
To gain more trading experience, users can also browse CoinMama's blog, where users have free access to relevant crypto news and overall trends in economic data.
What Cryptocurrencies are Available on CoinMama?
CoinMama has a limited list of cryptocurrencies available to users. Expanding over Bitcoin, CoinMama now offers other popular tokens, including:
Chainlink (LINK)

Dogecoin (DOGE)

Ripple (XRP)

Uniswap (UNI)

Ethereum (ETH)

Aave (AAVE)

Litecoin (LTC)

Loopring (LRC)
Notably, CoinMama offers Ripple ($XRP) to international users outside the US and Canada. Due to ongoing litigation with the SEC, many US-based exchanges delisted Ripple from their platforms. International users benefit from being able to purchase Ripple through CoinMama.
Unfortunately, stablecoins like $UST and $USDC are not available for purchase on CoinMama. 
Security: Is CoinMama Safe & Secure?
CoinMama has a strong reputation for ensuring the safety of all assets traded by its users. Its ID verification process is a tiered system, with each tier requiring additional proof of identification to ensure that no illegal transactions are conducted on the platform.
Users can actively improve the security of their account by activating the Two Factor Authentication (2FA) process that requires users to complete an extra verification step before logging into CoinMama. [9]
As CoinMama does not directly hold the assets of its users, there is a reduced risk of the assets being compromised through a hack. Instead, CoinMama delivers purchased cryptocurrencies directly to the users' wallets, giving them direct control over the security of their assets.
Customer Support: Contacts & How to Get Help
For quick help, users can visit the CoinMama FAQ center to find answers to common questions. For more complex problems, users can search through support articles in the dedicated Help Center.
If these resources are inadequate to resolve the user's concern, they can contact the CoinMama team through the Contact Us page. Users must fill out a support ticket detailing the problem, and a CoinMama representative will respond via email within 24 business hours.
CoinMama does not offer live phone support but still maintains a reputation for quick responses to support tickets.
KYC, Taxes & IRS Reporting Details
CoinMama requires users to complete the KYC (Know-Your-Customer) ID verification process. However, unlike many exchanges, CoinMama separates this identification process into a Level 1, 2, and 3 verification system.
To reach Level 1, users must submit a document with valid photo identification and a picture of a piece of paper with the word 'coinmama' written on it alongside the date. [10]
To reach Level 2, users must submit another form of identification, such as a passport or driver's license, a paid utility bill in their name, and a KYC questionnaire form. To reach the final Level 3, users must have a portfolio nearing $50,000 USD and submit an updated questionnaire form. [11]
CoinMama does not report cryptocurrency transactions to the IRS. However, the exchange urges users to monitor and report their own transactions and abide by IRS regulations. [12] Users who earn over $600 worth of income from cryptocurrency must lawfully report these capital gains to the IRS.
Who It's Best For?
CoinMama is a longstanding crypto exchange that specializes in providing new investors with the ability to quickly and easily purchase cryptocurrency. Traders of all experience levels benefit from quick, seamless cryptocurrency purchases. Even without many trading options, CoinMama creates a secure process for users to buy and sell large quantities of cryptocurrency. 
Additionally, investors seeking to hold crypto assets for a long period of time may find CoinMama a feasible option. As these users are not executing many transactions, they will not incur high charges. Furthermore, investors seeking to invest primarily in Bitcoin have the advantage of using a well-established exchange specializing in handling Bitcoin transactions.
International users have the added benefit of being able to purchase Ripple through CoinMama. The straightforward transaction process and high levels of safety provided by CoinMama can benefit users worldwide.