Corporate Finance Institute Review: Pros, Cons, and More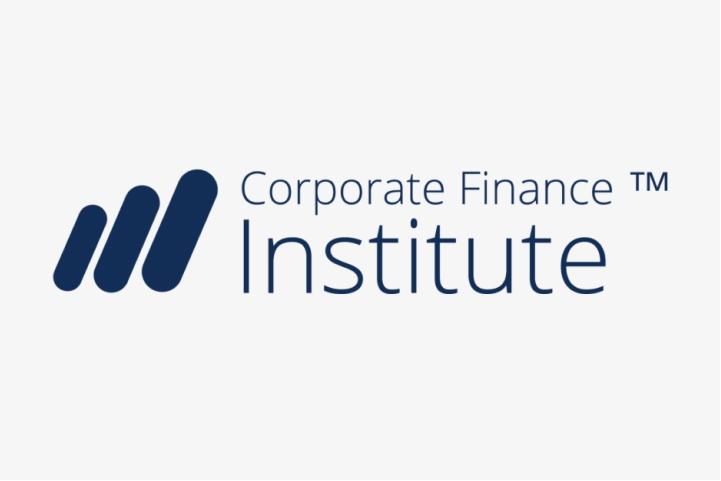 Corporate Finance Institute
Global provider of financial education and training
150+ on-demand courses about finance, accounting, and business
More than 1.5 million students around the world
Pros:
Wide range of courses
Highly experienced instructors
Accredited and recognized by The CP
Flexible learning options
Cons:
Relatively expensive
Programs are offered only online
Instructors cannot be reached easily
Corporate Finance Institute Ratings and Reviews
The Corporate Finance Institute (CFI) is a global provider of financial education and training. CFI offers a range of courses and resources for individuals and corporations, including certification and specialization programs, cryptocurrency, investment banking training, and more.
The Corporate Finance Institute is an excellent resource for those interested in learning about corporate finance. CFI offers unlimited access to 150+ on-demand courses ranging from basic financial modeling and valuation to advanced topics such as M&A and restructuring. The courses are taught by experienced professionals and are supplemented by a variety of practice problems, quizzes, and case studies. Additionally, CFI offers an extensive library of resources and free courses that can help learners enhance their knowledge and stay updated on the latest corporate finance trends.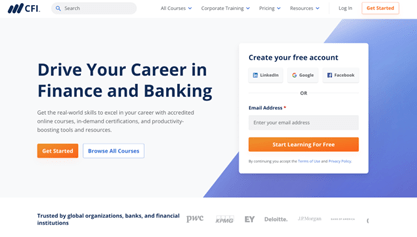 Corporate Finance Institute Pros
Comprehensive Courses:

Corporate Finance Institute offers a wide range of courses covering topics such as financial modeling, valuation, accounting, corporate finance, and more. These courses cover various topics in-depth and can be tailored to the individual's needs. 

Experienced Instructors:

The instructors at Corporate Finance Institute are highly experienced professionals in their respective fields. They are able to provide the learner with real-world examples and best practices that can be used in the workplace. 

Industry Recognition:

Courses offered by Corporate Finance Institute are accredited and recognized by The CPA institute. This recognition provides learners with additional credibility and shows potential employers that they are well-trained in their field. 

Flexible Learning Options:

Corporate Finance Institute offers a range of learning options, such as online courses, intensive courses, and customized courses, allowing learners to choose the method that works best for them.

Free Courses:

Corporate Finance Institute offers free courses, making financial education accessible to a wide range of learners.
Corporate Finance Institute Cons
Cost:

The Corporate Finance Institute (CFI) offers certifications at relatively high costs. The price can quickly add up depending on the program and the materials purchased by the user. 

Accessibility:

While the CFI programs are offered online, they are not always accessible to those without a reliable internet connection.

Limited Access to Instructors:

CFI courses are self-directed and don't offer access to instructors or mentors. This can be a disadvantage if individuals need help or have questions about the material.
Corporate Finance Institute Features
Comprehensive Online Courses:

Corporate Finance Institute (CFI) offers comprehensive, interactive courses on topics such as Financial Modeling, Valuation, Investment Banking, Accounting, Financial Analysis, and more. These courses are designed to provide a detailed overview of the subject matter while strengthening core knowledge and skills. CFI's well-known online programs include:

Certification Programs such as

Financial Modeling & Valuation Analyst (FMVA)®

,

Become a Commercial Banking & Credit Analyst (CBCA)™

,

Become a Capital Markets & Securities Analyst (CMSA)®

,

Become a Certified Business Intelligence & Data Analyst (BIDA)™

,

Become a Financial Planning & Wealth Management Professional (FPWM)®

Specializations such as

Commercial Real Estate Finance (CREF)

,

Environmental, Social, and Governance (ESG)

,

Business Essentials Bundle

Corporate training

aimed to empower employees with certifications, training, and productivity tools.

Access to Professional Certification:

CFI is a renowned provider of professional certifications widely accepted by financial experts globally. The company's credentials are created to certify financial professionals, students, and professionals on their expertise and abilities.

Curated Learning Library:

CFI offers a comprehensive library of courses, topics, case studies, and additional resources. CFI's knowledgeable instructors and industry professionals create and review all content to guarantee the highest quality.
Corporate Finance Institute Pricing and Fees
The Corporate Finance Institute offers a variety of pricing packages. The prices depend on the type of course or certification. For example:

Corporate Finance Institute Company Background
Founded in 2016 by Tim Vipond, Corporate Finance Institute (CFI) is a comprehensive educational platform that specializes in professional training and certification in finance and accounting. CFI has pioneered a mission to empower financial professionals with the most efficient and comprehensive learning experience in the world. 
Since its inception, CFI has grown to become a leader in financial education, with more than 1.5 million students and with over 5,000 on-demand lessons.[1] CFI's online platform includes over 150 online courses, e-books, certification exams, workbooks, and more. Additionally, CFI's global network of corporate finance experts provides in-person training and consulting to organizations of all sizes, from startups to Fortune 500 companies.
Under Tim Vipond's management, Corporate Finance Institute grew to have over 10 million monthly visitors and raised over $50 million of funding.[2]
In 2021, Corporate Finance Institute purchased Macabacus, a Microsoft Office Add-In with a large number of monthly and annual users.[3]
How does the Corporate Finance Institute work?
After purchasing a membership package of choice, users can access Corporate Finance Institute's online self-paced training and certification platform. Users can access guided case studies, downloadable models, templates, quizzes, assignments, and certification exams through the platform.
On the CFI's interactive learning platform, users can learn complex finance principles and topics quickly and easily with tutorials and practice exams and master the subject matter.
 In addition, CFI platform Self-Study subscribers can access online tools such as financial modeling templates, access to a finance community, global webinars, and mentoring opportunities. In the Full-Immersion package, users can receive a review of a resume and cover letter.
After completing the courses, users receive a digital blockchain-verified certificate.
Corporate Finance Institute User Experience
The Corporate Finance Institute (CFI) offers a user-friendly, comprehensive learning experience for aspiring finance professionals. The user interface is well-designed and intuitive, allowing users to easily find and digest the numerous tutorials, articles, and resources on offer. The courses are well-structured and offer some of the most well-respected financial qualifications. 
The online learning environment is interactive and engaging, with custom modules for tracking progress and tests and quizzes to track understanding. The lectures are presented in a clear and concise manner, allowing for quick comprehension and understanding. Aside from course material, CFI offers a variety of financial tools and models, as well as access to experienced finance professionals, allowing users to gain validation on processes they may be struggling with.
Customer Support: Contacts & How to Get Help
Corporate Financial Institute offers efficient customer support to its members via various channels. A variety of support options are available to ensure that the questions and concerns of all members are addressed in a timely manner. 
CFI provides technical support through CFI Help Center and addresses user concerns with curated articles and FAQs. When these resources are inadequate to resolve conflicts, users can check the online LinkedIn community to find answers to their questions.
CFI also provides Live Chat on its home page. Additionally, they can contact CFI on the company's  Instagram and Facebook or by emailing learning@corporatefinanceinstitute.com.
Who is the Corporate Finance Institute Best For?
The Corporate Finance Institute (CFI) is best for individuals and corporations interested in learning more about finance, accounting, and business.
Corporate Finance Institute is a great resource for finance professionals and aspiring finance professionals looking to further their financial industry knowledge. It is suitable for firms and can be used to understand better corporate finance and advanced topics such as M&A and restructuring. With 150+ on-demand courses, including certification and specialization programs, cryptocurrency, and investment banking training, CFI can help firms to support their employees' career paths.
It is also an excellent resource for individuals and those studying for the CFA exams or any other financial analysis-related exams. Since the programs offered by CFI provide an in-depth review of the most relevant topics in finance, it is ideal for those looking to advance their careers in finance and accounting.