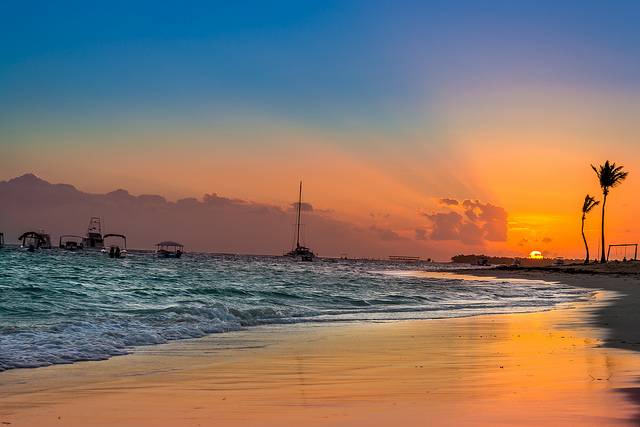 The Dominican Republic ended 2013 in a good mood, with GDP growing 4.1%, significantly above the IMF forecast of 2%, according to Central Bank governor Hector Valdez Albizu. This followed growth of 3.89% (y-o-y) in 2012, and 4.48% (y-o-y) in 2011.
Yet during the year 2013 there were some worries.  Growth decelerated in the first half of 2013 to 1.6% (y-o-y), in the context of "fiscal contraction and weak confidence," according to the International Monetary Fund.  The Republic's fiscal deficit had climbed to approximately 7.17% in 2012, up from 3.35% in 2011, prompting officials to pass a series of tax reforms, including a value-added tax increase to 18%, from 16%.
"I think part of the slowdown is due to less consumption, due to the tax reform," said Bernardo Fuentes, an economist at Santo Domingo-based consulting firm Economi-K SA. "Slower economic activity has been a result of less spending, which has been more aggressive than the central bank expected."
The quite strongly positive outcome for the full year 2013 was, therefore, something of a surprise.  The Dominican Republic´s economic numbers are above overall regional growth average for Latin American and Caribbean economies, which the Commission for Latin America and the Caribbean (ECLAC) has estimated at 2.6% in 2013.
The Republic´s growth was primarily driven by tourism, which grew 6.3%, to more than 5 billion dollars in annual revenues – a first.
The Caribbean's top tourist draw
The Dominican Republic has been the top vacation destination in the Caribbean since 2005, by a considerable margin, according to the World Bank.
During the financial crisis of 2008-2009, the country managed to attract 3.98 million and 3.99 million tourists, respectively.
In 2012, the country drew in 4.56 million tourists.
In 2013 the country has enjoyed a modest 2.79% growth (y-o-y) to 4.7 million tourist arrivals by air.
Although growth has slowed in more recent years, the country remains by far the top Caribbean destination.
The Dominican Republic's tourist developments are concentrated in the eastern and northern regions. Southern areas such as Barahona and Pedernales are less developed and less visited, but there have been efforts to promote them as eco-tourism destinations.
Get Started
Claim up to $26,000 per W2 Employee
Billions of dollars in funding available
Funds are available to U.S. Businesses NOW
This is not a loan. These tax credits do not need to be repaid
The ERC Program is currently open, but has been amended in the past. We recommend you claim yours before anything changes.
Foreign buyers rush to the coast
Some of the most desirable residential areas are in tourist hot spots such as the capital, Santo Domingo, and the areas on the country's beautiful Atlantic coast, such as the tourist towns of Sosua and Cabarete, the peninsula of Samaná, and Puerto Plata. Luxury beachfront apartments in places such as Punta Cana and Bavaro, Las Terrenas and Boca Chica have been built in recent years.
One of the most high-profile developments has been the Cap Cana project on the east coast, a high-end residential and tourist mixed development of hotels, oceanfront homes, golf courses and commercial establishments.
There are no restrictions on foreigners' buying property in the Dominican Republic. "Tourists come for the surfing and the windsurfing, and many of them end up buying homes here too," says Josefina Covents of the Cabarete-based agency Josefina Covents y Asoc.
Foreign property investments are greatly encouraged by the Dominican Republic government. Incentives, according to the country's tourism office, include:
Tax-free receipt of pension income from foreign sources, including the possibility of moving belongings to the country, is guaranteed by Law 171-07 on Special Incentives for Pensioners and Persons of Independent Means.
Foreign buyers receive a 50% exemption from property tax
Exemption of taxes on the payment of dividends and interest, generated within the country or overseas
Foreign buyers receive a 50% exemption on taxes on mortgages, when the creditors are financial institutions that are regulated by Dominican financial monetary law
Exemption on payment of taxes for household and personal items
Exemption from taxes on property transfers
Partial exemption on vehicle taxes
Developers are relieved of all national and municipal taxes for ten years, including the tax on the transfer of ownership to the first purchaser of a property, by Law 158-01 on Tourism Incentive.
In effect, the Dominican Republic is set up as a tax haven.
Foreign market resurges, house prices starting to rise
Over the past decade the country has had a building boom, much of it fueled by foreign buyers. Crash-induced foreclosures did not generate a significant drain on the Dominican market because most foreigners pay in cash. Even so, according to Alexandre Houisse of Coldwell Banker Coast to Coast Real Estate, the crisis did push prices down by about 20-25%.
New development projects fell by 70-80%, as a result of confidence crisis in the wake of global financial troubles, according to Sandy Parekh, broker-owner of Remax Coral Bay Realty. "A lot of people that were going to develop projects have all put them on hold," he said, "and there's still very few projects that are starting at the moment."
However that conclusion may be too pessimistic, others say.  After overcoming the 2008 global financial crisis, the foreign market for second homes has been reborn, especially during the last three years, said Realtor Association (AEI) president Emil Montas.   And foreigners with high buying power have in increasingly come to live in the capital after having made large investments in the past two years, according to a report by Dominican Today.
"The market for resale properties still has to recover, and there are many middle-range products remaining on the market," said Philip Weiser, managing director of Carlton International. "But quality properties sell very well."
Tourist-oriented developers have been selling their inventories. "The lowering of their inventory will lead to the construction of new projects," says Emil Montas.  Indeed this seems to be already happening, as investments in private sector construction of residential housing rose a whopping 85.08% (y-o-y) to DOP 724.9 million (USD 16.85 million) in 2012, up from 2011's meagre DOP 391.7 million spend (USD 9.1 million).
Data on Dominican property price-income ratio from Numbeo show property prices have increased relative to income from 3.54 in 2010 to 11.04 in 2013.
Erhem… we should not really use Numbeo's numbers, I don't trust them at all.  Our numbers, though different, are better.  I will send you Yasmin's latest numbers.  But remember that Yas' numbers are in US$, not Dominican Pesos, which has somewhat declined relative to the US$.  But this will not matter really.
You need to re-label this chart to "Growth in investment in private sector construction of residential housing"
This article was republished with permission from Global Property Guide.