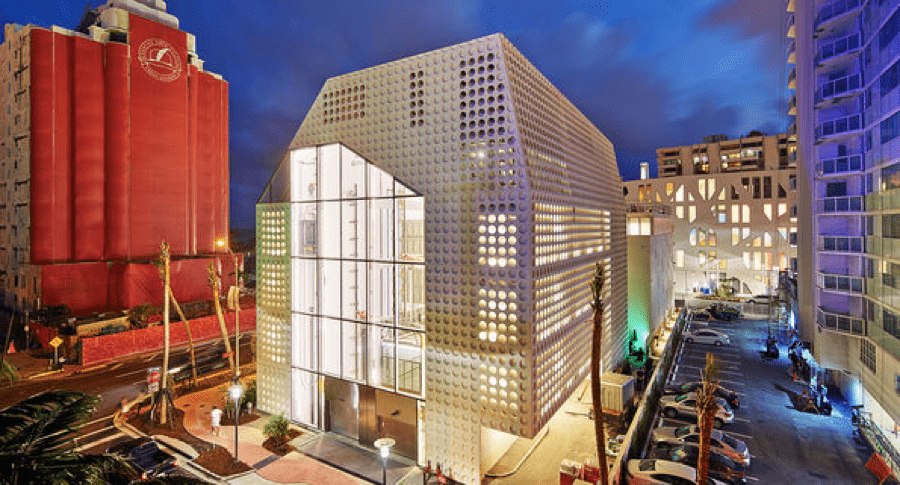 Architecture, development methods, and financing innovations have often driven broader trends in real estate. Here are a few current developments worth watching.
Exciting Parking Garages – Who Knew?
One of the most interesting trends in commercial real estate right now is the frequency with which developers are constructing parking garages with "beautiful skin" – a façade that is strikingly modern and contributes to the attractiveness of a neighborhood.
The trend has been underway for a while in certain European locales. Weel-designed parking facilities at the Amsterdam convention center and for a hospital complex in Belgium, for example, have been welcomed heartily in the architectural community.
Miami Beach, Florida, however, has been a particular beneficiary of using high-design parking garages to help re-generate an entire neighborhood or city.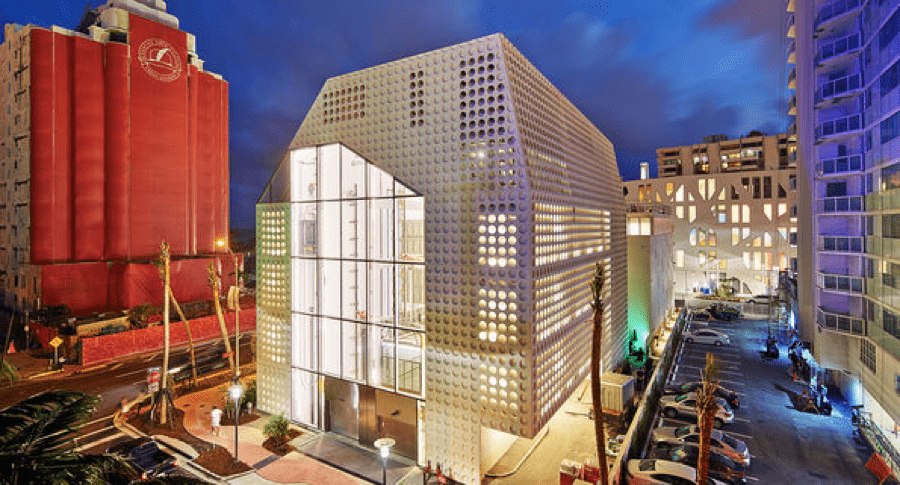 The planned parking garage pictured above, designed by the firm OMA (founded by Rem Koolhaas), could be yet another new addition to a Miami Beach that has seen a number of high-profile parking garage projects over the last two decades or so. Miami is largely built on sand or swamp and has a high water table, making subterranean parking expensive; building above ground is a better option
Get Started
Claim up to $26,000 per W2 Employee
Billions of dollars in funding available
Funds are available to U.S. Businesses NOW
This is not a loan. These tax credits do not need to be repaid
The ERC Program is currently open, but has been amended in the past. We recommend you claim yours before anything changes.
One of the first buildings to turn this building problem into a design opportunity was the evocatively titled "Ballet Valet" (pictured below).  Arquitectonica, a local firm, had established itself with a series of brash, colorful apartment blocks that quickly became sets for television series and movies.  Their design help promote a block of boutique shops was to wrap the building in a fiberglass mesh with an irrigation system.  The indigenous clusias and seal lettuce that were planted there promptly ran riot.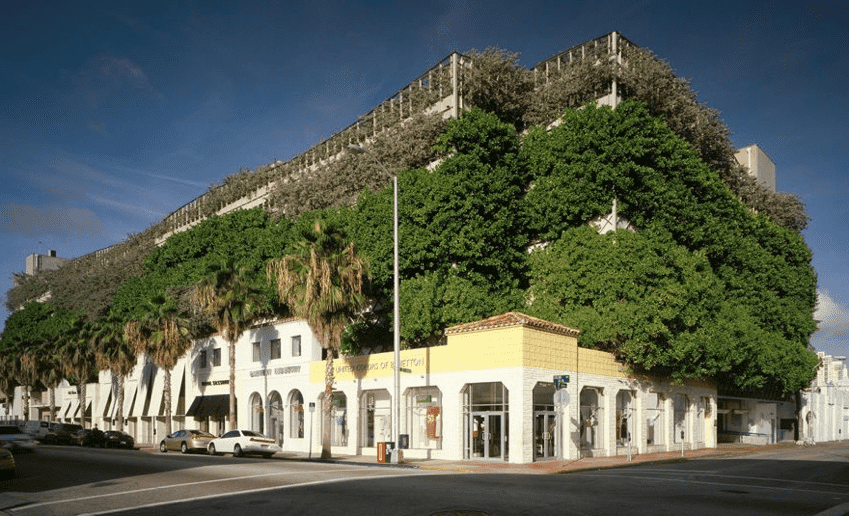 Ballet Valet began a much larger trend, however.  One of the most notable additions to Miami's portfolio of high-design parking garages was the spectacular 111 Lincoln Road project in 2010.  This giddy stack of concrete card (pictured below) set a benchmark for audacity; its upper deck is now one of the most sought-after party spaces during Art Basel Miami Beach.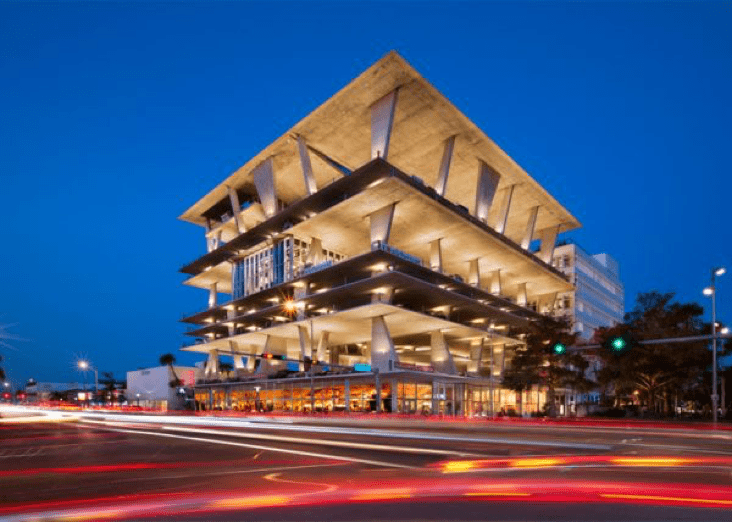 The competition among developers to build the most extravagant or most striking take on an otherwise dull building reflects Miami's peculiarly intimate glamor.
3D Printing of… Homes?
Part of Dubai's upcoming Museum of the Future is to be constructed in a unique way:  with a 3D printer. And for Dubai, that won't be a first.
Dubai has become a leader in using the 3D printing technology for buildings.  Many of the buildings are produced by WinSun, a Chinese firm that has produced a number of structures.  The office building pictured below, used as the headquarters for the dubai Futures Foundation, is a fully functional building featuring electricity, water, and telecommunications and air-conditioning systems.  And there are other, ongoing benefits; one 3D printed house was estimated to have reduced labor costs by 50 to 80 percent, and construction waste by 30 to 60 percent.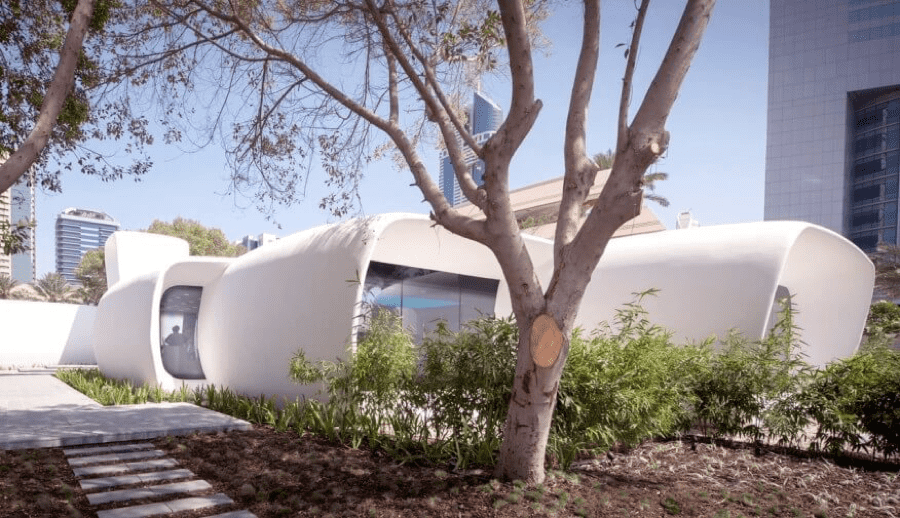 The printers feature a scaled-up, robotically controlled print head that extrudes a mixture of cement and other materials.  Sections of a building can either be printed in a factory and then assembled on site, or else the entire building might be printed on location.
China is a leader in 3D home-printing – Beijing-based HuaShend Tengda has also produced homes there – but the projects are in progress elsewhere in the world as well.  3D home-printing projects are completed or in progress also in Amsterdam, the Philippines, Italy, and upstate New York.
Author Bio
Lawrence Fassler is the corporate counsel of RealtyShares, a leading online real estate marketplace. Previously he served as the general counsel for another prominent real estate finance company; had run a real estate construction firm; and had worked for over 15 years as an attorney with prominent New York and Silicon Valley law firms (Shearman & Sterling and Cooley). Lawrence also earlier served as the general counsel for a Bay Area medical device company that was ultimately acquired for over $4 billion. Lawrence holds Series 7 and 66 licenses, and has a BS in Mechanical Engineering from UC Berkeley and a joint JD/MBA from Columbia University.