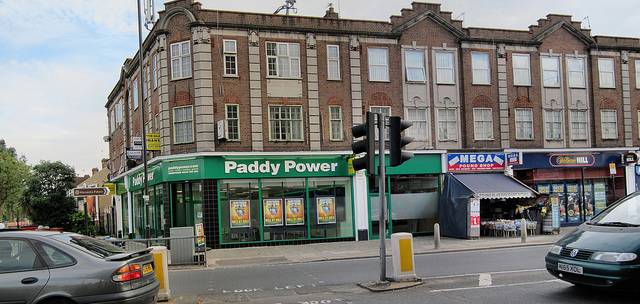 The global online gambling market has grown significantly since 2012. At that stage, North America generated $3.95 billion in revenue, while Europe accounted for $12.79 billion. By 2015, North America increased its share to $4.89 billion, while Europe grew to $18.11 billion. Fast-forward to 2018, and growth has exceeded expectations across the spectrum. North America is expected to fetch $8.66 billion in online gambling revenues, while Europe is predicted to increase its share to $24.75 billion. The total estimated market size in 2018 is expected to reach $51.94 billion. Of that, the USA, Canada, and Europe account for $33.41 billion, or 64.32%. By 2020, the global size of the online gambling market is expected to reach $59.79 billion. These figures alone indicate significant growth, and investment potential in the online gambling market.
Global Online Gambling Market in Billions of Dollars – Source Statista
The European and US online gambling market is of particular interest to fund managers. The sheer size and largely untapped potential of online gambling activity (online sports betting, online casino, online poker, online bingo, online lottery games etc.) for investment purposes is now coming into the reckoning. Talk Business UK explored the topic of investing in the online gaming industry in some detail. In the United Kingdom, online gambling enjoys near universal popularity. Many Britons take to their online gambling with aplomb. The National Lottery, bingo, casino, and sports betting online are part of the cultural zeitgeist. Online gambling investments are more commonplace in the United Kingdom, particularly with companies like 888 Holdings PLC, Paddy Power Betfair PLC, Ladbrokes Coral Group PLC, GVC Holdings PLC, and others.
The Latest Mergers and Acquisitions in the Gambling Market
The increasing regulation of the online gambling market in the US and Europe presents lucrative opportunities for mergers and acquisitions. This ongoing jockeying for position has resulted in several notable mergers and acquisitions in the gambling market in 2018, including:
The Stars Group acquired Sky Betting and Gaming
The Stars Group acquired William Hill Australia
The Stars Group acquired Crownbet
LeoVegas acquired IPS
GVC Holdings PLC acquired Crystalbet
Paddy Power Betfair acquired FanDuel
Scientific Games purchased NYX Gaming and Tech Art Incorporated
Transparency Market Research conducted extensive analysis of the competitive global online gambling market and the analysis indicates that the glut of mergers and acquisitions will lead to a consolidation of the industry. Currently, the market is entering a saturation phase, which makes it increasingly difficult for new entrants to compete. The increased regulation also serves as a barrier to entry to many new players. The compound annual growth rate (CAGR) of online gambling and betting is expected to hit 10.8% through 2024. Increasing regulatory pressures serve as obstacles for new entrants, making it all the more important to focus on the mergers and acquisitions that are taking place. This is particularly true in North America, given that the US is positioned to become the dominant online gambling and betting market in terms of consumer buying power.
Performance of Key LSE-listed Online Gambling Companies:
888 Holdings PLC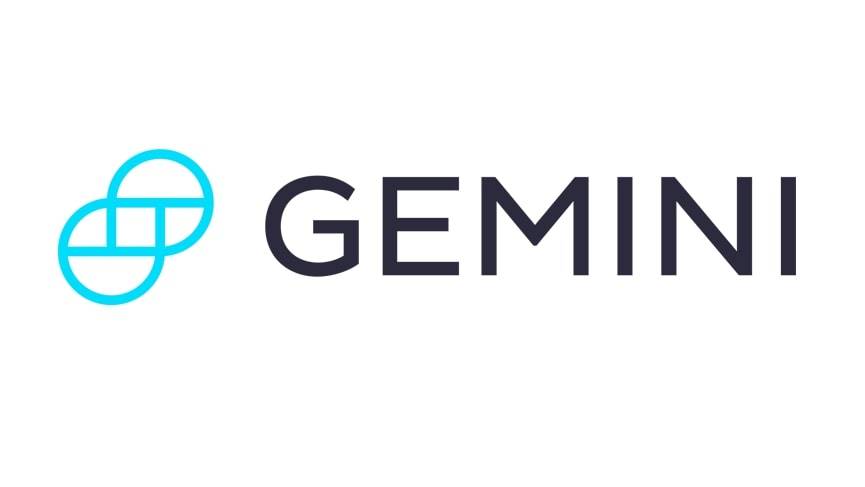 Get Started
Try Gemini Today! 123
The Gemini Exchange makes it simple to research crypto market, buy bitcoin and other cryptos plus earn Up to 8.05% APY!
888 Holdings PLC is listed on the London Stock Exchange under the ticker 888. The stock is currently priced around 298.60 pence, with a 1-year change of 7.80%. The company has a GBP revenue of £405.93M, and it was incorporated in 2003. It employs 1.31K people with a net income of £9.44 million. The company's market capitalization is £1.07 billion. With 888 Holdings PLC, some 60% of the revenues are derived from the casino business unit, meaning that online casino gaming is an exceptionally lucrative component of overall online gambling activity.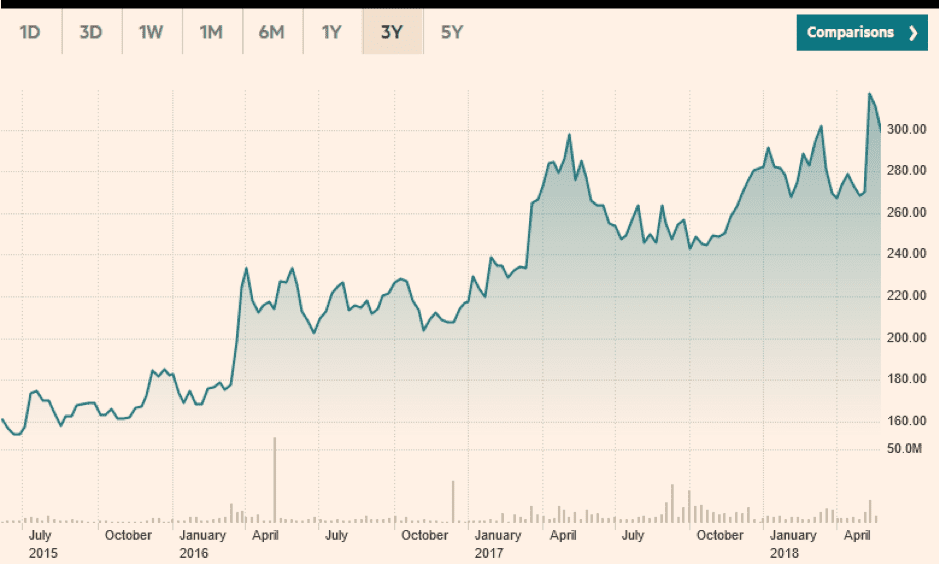 888 Holdings PLC – Financial Times
Paddy Power Betfair PLC
Paddy Power Betfair PLC is listed under the ticker PPB on the London Stock Exchange. The stock is currently priced at £9,035.00, with a one year change of 5.55%. The company has a revenue of £1.75 billion and was incorporated in 1958. Paddy Power Betfair PLC currently employs 7.50K people with a net income of £217.70 million. The company's market capitalization is listed as £7.64 billion.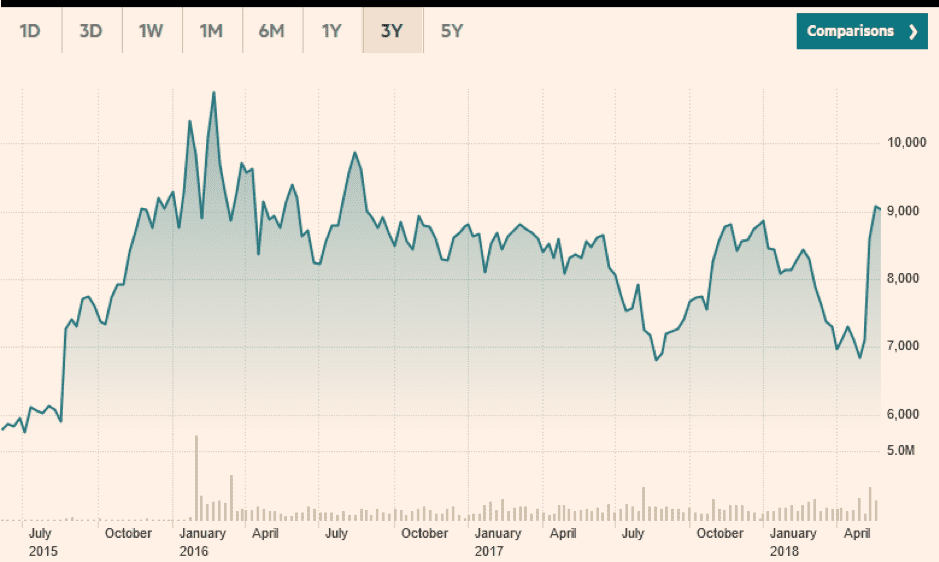 Paddy Power Betfair PLC – Financial Times
Ladbrokes Coral Group PLC
Ladbrokes Coral Group PLC was acquired by The transaction value of the deal was £5.23 billion. According to the latest analysis, GVC Holdings PLC has a market capitalization of £5.81 billion, and it ranks atop the chart when compared to Merlin Entertainment PLC (£3.79 billion market cap), and Arsenal Holdings PLC (£2.15 billion market cap).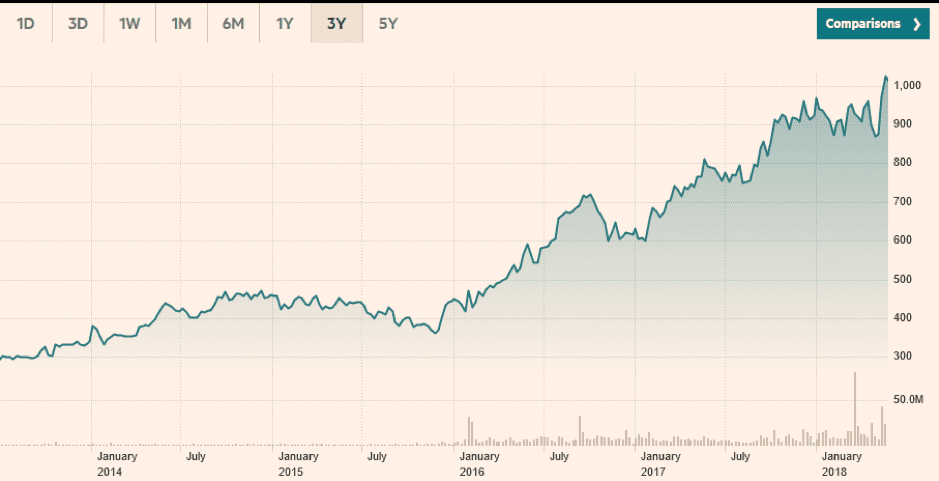 GVC Holdings PLC (acquired Ladbrokes Coral Group PLC in December 2017) – Financial Times
Clearly, the 3-year trend with online gambling companies is positive. The sharp appreciation of company stock prices mirrors the best performers of the FTSE 100, FTSE 250, NASDAQ Composite Index, NYSE, and S&P 500. Gambling stocks are hovering around multiyear highs, particularly 888 Holdings PLC, and GVC Holdings PLC. A big part of the fundamental strength of gambling stocks is found in the increasing liberalization of gambling legislation. Online gambling friendly legislation is gaining traction throughout mainland Europe and the United Kingdom. As this market grows, develops, and matures, it shuts down unregulated gambling markets that operate from questionable jurisdictions. Investors are clearly interested in the upside potential of online gambling investments, and they are approaching fund managers and portfolio managers to include gambling stocks in their retirement nest eggs.
What Is the Status of Online Gambling Legislation in the United States?
Sweeping changes have taken root across the United States vis-à-vis online gambling activity, in recent years. At inception three US states moved swiftly to regulate online gambling activity: New Jersey, Delaware, and Nevada. Since then, we have seen a streamlining of company activity to fine tune geolocation-tracking software, payment processing options, and gain traction within the market. Such is the popularity of online gambling activity in New Jersey, Delaware, and Nevada that interstate gambling compacts have now been signed to boost prize pools and player numbers in this nascent market. Recent legislation resulted in Pennsylvania moving to regulate online gambling activity. The current status of online gambling in these 4 US states is as follows:
The rapid and unprecedented increase in pro-online gambling legislation in the United States has resulted in many established operators playing a much bigger part in gambling expansion throughout the US. As more states liberalize online gambling activity, existing operators are now putting out their feelers to expand into new markets, entrench themselves, and grow market share. This bodes well from an investment perspective, since there is a virtually unlimited upside to be gained from dropping anchor with the pioneers in online gambling in the United States. The top-ranking online gaming companies in the US include 888 Holdings which is the owner/operator of the prestigious 888 casino – a brand that is celebrating 21 years of gaming excellence in 2018. This company works in tandem with Caesars Interactive Entertainment to bring online gaming solutions to land-based casinos across multiple states.
Scotus Decision Presents Strong Growth Potential for Online Gambling in the US
New Jersey legislators recently brought an appeal to the highest court in the land – the US Supreme Court, which agreed to allow the state of New Jersey to permit sports betting at racetracks and casinos. This opens the domestic market to competition from all US states. The Supreme Court decision read as follows: 'The legalization of sports gambling requires an important policy choice, but the choice is not ours to make… Congress can regulate sports gambling directly, but if it elects not to do so, each state is free to act on its own.' The ramifications of such a decision are significant for investors, and it certainly bodes well for online gambling companies with a foothold in the US market.
Is It Worthwhile Investing in Online Gambling Stocks?
Based on current trends and realities, it would be foolhardy to rule out the merits of investments in online gambling companies. Of course, fly-by-night operations should be avoided, since it is the established companies that will likely benefit from their knowledge of the market, their interactions with their clientele, and ongoing legislation on a state-by-state basis. Investors can effectively cash in early by buying top-performing gambling stocks on the NASDAQ, and the FTSE, since the growth potential is virtually uncapped.