Gemini Review: A Comprehensive Overview 2022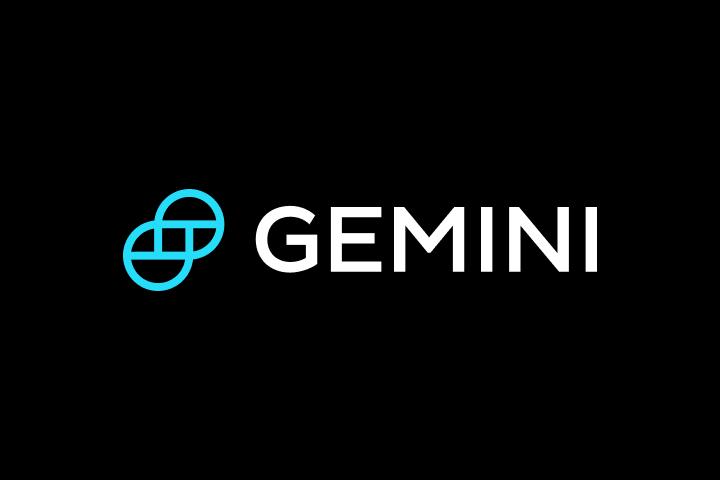 Gemini
Extensive features for crypto traders
Highly rated mobile app and website
Suitable for beginners and advanced traders
Offers comprehensive resource through Cryptopedia
Pros
Available in all 50 U.S. states
Supports 100+ digital currencies
Employs strongest security to protect user assets
Compliant with KYC and AML regulations
Cons
Expensive fee structure
Lengthy registration process
No phone support
Gemini Ratings and Reviews
Gemini is a leading centralized cryptocurrency exchange platform that provides the safest way to buy, sell, and trade cryptocurrency online. With over 100 cryptocurrencies available in more than 60 countries and all U.S. states, Gemini is suitable for crypto enthusiasts with every level of expertise. 
Gemini Exchange is a beginner-friendly platform that makes getting started effortless, whereas the Gemini ActiveTrader platform offers advanced trading tools and ordering features for professional crypto investors.
A popular choice for its strong account security and compliance measures, Gemini provides several other products and services, including: 
Gemini Earn: A lending program to earn interest on cryptocurrencies 

Gemini Wallet: A safe, secure wallet infrastructure 

Gemini Credit Card: A crypto rewards credit card 

Gemini Dollar: A 1:1 USD-backed stablecoin built by Gemini
While security is the main selling point for Gemini, the exchange platform charges higher fees with a slightly complicated fee structure than most exchanges.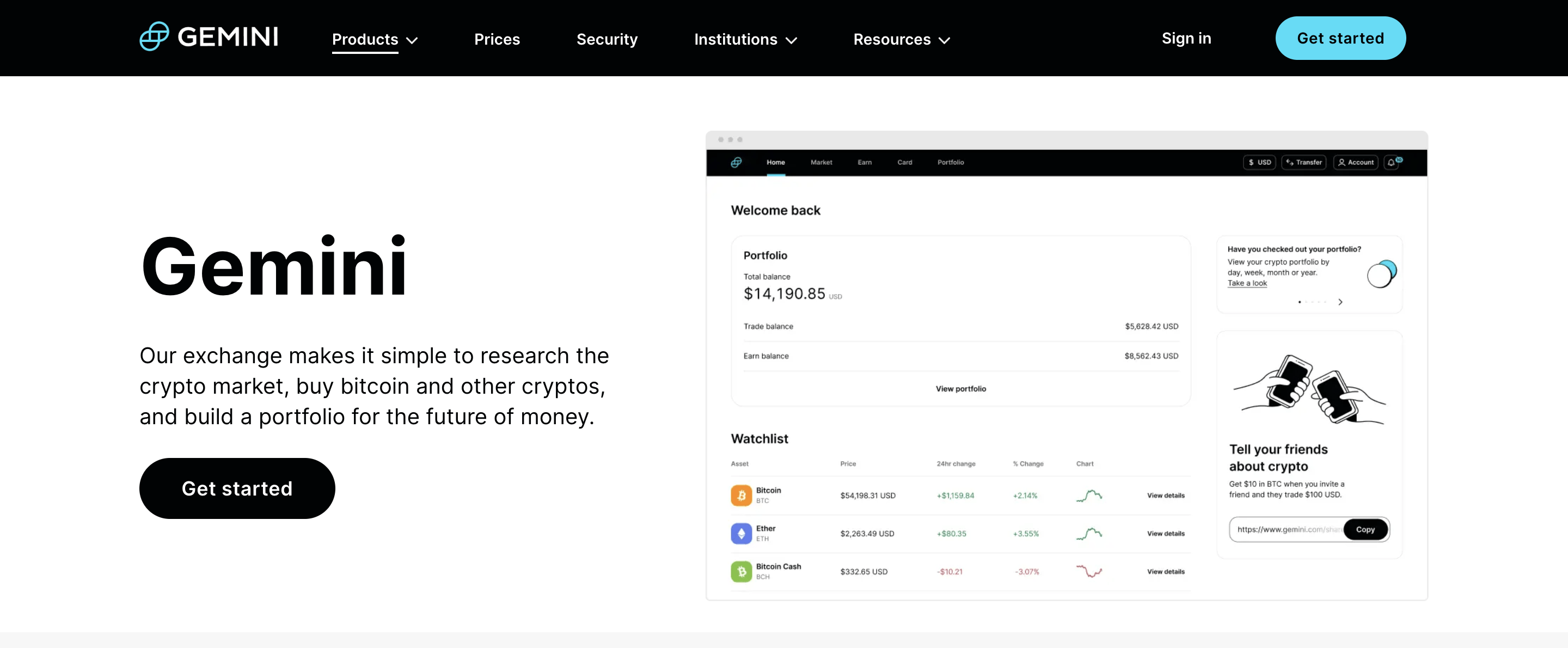 Pros and Highlights
Gemini is available in over 60 countries and all 50 U.S. states, including New York (a common exception among other cryptocurrency exchanges).1
Suitable for institutional customers as it is fully registered and compliant with banking standards such as KYC and AML.2

Supports trading in more than 100 cryptocurrencies and has its own currency, the Gemini stablecoin, Gemini Dollar (GUSD). 

Offers the strongest security by executing several security measures and insurance to help protect user assets. All USD deposits are insured by the Federal Deposit Insurance Corporation, and all funds are based in New York City in a secured chartered bank.

Its well-designed yet straightforward interface makes it suitable for beginners as well as advanced users.

Gemini offers premium customer service. When blog and online resources are inadequate to deal with the issues, user complaints are addressed over email with a sure-shot response time in hours.

Users can earn interest on their existing cryptocurrency holdings in their Gemini account.
Cons and Risks
Gemini's expensive fee structure is its biggest drawback. Users incur high transaction fees on its web exchange and mobile app, as well as additional charges for using credit or debit cards and trading small amounts. 

No phone support customer service. 

Offers fewer cryptocurrencies for trading compared to its industry competitors. Misses popular cryptocurrencies such as Cardano (ADA), Avalanche (AVAX), Tron (TRX), and Stellar (XLM)

In the wake of providing a secured platform, Gemini accumulates and processes a lot of personal data, which makes the registration process tedious and lengthy.
Gemini Features
Available in all U.S. states: Based in New York, Gemini is fully regulated in the U.S. by the New York State Department of Financial Services (NYSDFS), making it one of the few crypto exchanges available in the state of New York. Gemini's commitment to compliance means it can operate throughout the country. 
Extensive features for crypto traders: Gemini's ActiveTrader platform offers advanced charting tools, multiple order types, deep order book visibility, crypto-to-crypto trading options, additional security, anonymity, and lower trading costs for professional crypto traders. 
Highly rated mobile app and website: With the idea of building simple, elegant, and secure products, Gemini offers an easy-to-use website and a mobile app so that users can buy and sell digital currency from a smartphone, tablet, or computer. The app is available on Apple App Store , Google Play and Galaxy Store with an average user rating of 4.5 out of 5. 
Cryptopedia: Gemini actively works to raise cryptocurrency awareness, providing informational material to educate newcomers on cryptocurrencies and related technologies through its native Cryptopedia project consisting of a well-curated collection of topics.  
Gemini Earn: The most significant advantage of the Gemini exchange over most of its competitors is the Gemini Earn lending program that allows a user to earn interest on idle cryptocurrency balances like any other fiat currency saving account. With this feature, crypto assets can be lent to institutional investors for a competitive interest rate of up to 8.05% annual percentage yield (APY).
Gemini Pay: Gemini's payment app allows users to pay for goods and services with their cryptocurrencies at every eligible retail location in the U.S. with QR code technology.
Gemini Credit Card: Gemini lets users earn crypto rewards on every purchase on its Gemini Credit Card. It offers a 3% back in the cryptocurrency of choice with no annual or foreign transaction fee. Although crypto credit cards do not have enough benefits to compete with traditional rewards cards, Gemini Credit Card is a better option among the ones available in the market.
Gemini Prices and Withdrawal Fees
Gemini charges fees for most transactions, including deposits, purchases, trades, exchanges, and transfers, and its prices are slightly higher than its industry competitors. While the exchange is transparent about its fees, its basic fee structure is more complicated than other exchanges.
Gemini has different trading fees depending on its platforms. The default Gemini Exchange platform is significantly more expensive than Gemini ActiveTrader.
Convenience and transaction fees are charged every time a user buys or sells crypto on the Gemini Exchange platform. The convenience fee is about 0.5% of the Gemini market price for a given trade. The transaction fees are charged over and range from $0.99 to 1.49% of the order value. Here's a quick breakdown:
| | |
| --- | --- |
| Total Trade Amount | Fee |
| $10 or less | $0.99 |
| >$10 to $25 | $1.49 |
| >$25 to $50 | $1.99 |
| >$50 to $200 | $2.99 |
| >$200 | 1.49% of the order value |
Gemini allows users to move crypto assets from their wallet or other exchanges to trade on Gemini or deposit U.S. dollars into the account to make a trade. There's no deposit fee for depositing assets into a Gemini account when using cryptocurrencies, ACH transfers, Gemini dollars, or wire transfers. However, a charge of 3.49% of the total purchase amount is imposed for all debit/credit card transactions. 
Gemini also charges fees for withdrawing crypto from the platform. There are no withdrawal fees for under ten withdrawals per month, but they charge for each transaction after, and the amount depends on the cryptocurrency being transferred. Here's a complete list of crypto withdrawal fees for Gemini users.
Gemini offers a highly secure crypto storage solution intended mostly for institutional investors. In such cases, a custody fee of 0.40% is charged for customers with assets greater than $1 million. 
When added up, these fees make up a large percentage of the total investment in the Gemini Exchange account, making it relatively expensive.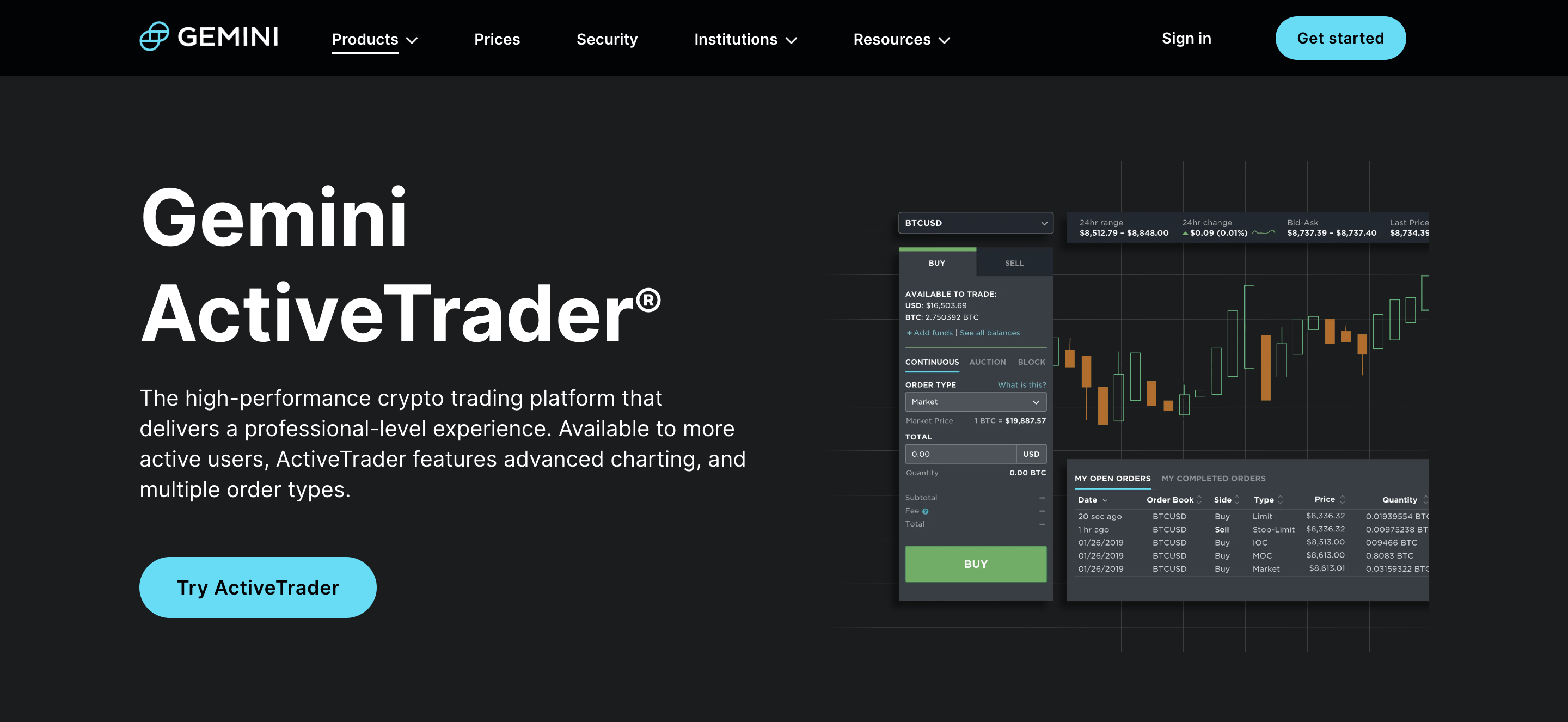 Gemini's ActiveTrader platform, on the other hand, uses a maker and taker fee structure. The fee amount for a trade depends on whether the user's order request for cryptocurrency is matched with another user's existing order request to buy or sell a particular crypto asset or if the user is making a new order request that will be matched with another users order request for that particular crypto asset. Order requests filled immediately by an existing order in the log are called taker trade and are charged the taker fees, whereas the order requests not filled immediately are called maker trade and are charged the maker fees.
Fee amounts are based on a 30-day trading volume. Here's the full Gemini ActiveTrade fee table:
| | | |
| --- | --- | --- |
| 30-DAY TRADING VOLUME (USD) | TAKER FEES | MAKER FEES |
| 0 | 0.40% | 0.20% |
| ≥ 10,000 | 0.30% | 0.10% |
| ≥ 50,000 | 0.25% | 0.10% |
| ≥ 100,000 | 0.20% | 0.08% |
| ≥ 1,000,000 | 0.15% | 0.05% |
| ≥ 5,000,000 | 0.10% | 0.03% |
| ≥ 10,000,000 | 0.08% | 0.02% |
| ≥ 50,000,000 | 0.05% | 0.00% |
| ≥ 100,000,000 | 0.04% | 0.00% |
| ≥ 500,000,000 | 0.03% | 0.00% |
Company Background and History
New York-based Gemini was founded in 2014 by Tyler and Cameron Winklevoss. Popularly known as the Winklevoss twins, they created ConnectU, the predecessor to Facebook, and rose to fame in 2004 for suing Mark Zuckerberg when they alleged that he stole their idea of creating Facebook when the three of them were students at Harvard University. After investing their settlement money from the lawsuit into Bitcoin, they struggled to find a safe place to hold their cryptocurrency and launched a cryptocurrency exchange of their own. 
Operating under the formal name Gemini Trust Co., LLC., the company functions with a "security-first" mentality and ethos of asking for permission, not forgiveness. They aim to establish and maintain user trust by investing in four key pillars: product, security, licensing, and compliance.3 
Gemini went live for U.S. users in October 2015 and expanded internationally to the U.K. and Canada in 2016. To sustain the increasing population of Asian cryptocurrency enthusiasts, it quickly extended its reach to Hong Kong, Singapore, South Korea, and Japan.4
As of 2022, Gemini is available in over 60 countries and supports more than 100 cryptocurrencies, including its own digital asset called Gemini Dollar (GUSD).
Gemini introduced the first-generation day-to-day bitcoin auction5 in September 2016 and the daily Ether auction6 in July 2017, a trading method that was soon followed by all modern crypto exchanges.
What Cryptocurrencies are Available on Gemini?
Gemini offers fewer cryptocurrencies compared to other leading crypto exchanges. As of 2022, around 100 assets are currently available on its platform. Users can buy, sell, and trade some of the most popular assets as well as some lesser-known coins. 
Some of the cryptocurrencies and stablecoins available on Gemini are: 
Bitcoin (BTC)

Ethereum (ETH)

Dogecoin (DOGE)

Gemini Dollar (GUSD)

USD Coin (USDC)

Uniswap (UNI)

Bitcoin Cash (BCH)

Litecoin (LTC)

Filecoin (FIL)
Check out the updated list of supported crypto assets maintained by Gemini. 
Currently, Gemini does not support XRP as its creator company, Ripple, as it is under investigation by the Securities and Exchange Commission (SEC)7. It also does not support other popular coins such as Cardano (ADA), Avalanche (AVAX), Tron (TRX), and Stellar (XLM).
Security: Is Gemini Safe & Secure?
Considered the safest crypto exchange by its users, Gemini has never been subject to a major hack since it began its operation. It employs industry-standard security features like two-factor authentication, ' review and approve device' for log-in and withdrawals, and wallet address whitelisting. Users are required to complete the know-your-customer (KYC) verification process by uploading a government-issued photo I.D. to reduce potential instances of fraud.8 
Gemini stores most of its crypto assets offline to minimize potential harm from the hack. Only a small percentage of cryptocurrencies are held online for trading. The exchange platform offers a crypto wallet with high-security storage backed by digital asset insurance to offset losses from potential hacks. 
Gemini is the first regulated crypto exchange in the U.S. due to its 'security first' approach. Regulated by the New York State Department of Financial Services (NYSDFS), Gemini is subject to capital reserve requirements, cybersecurity requirements, and banking compliance standards set forth by the NYSDFS and the New York Banking Law. Highlighting the platform's commitment to security and compliance, it is the world's first SOC 1 Type 2 and SOC 2 Type 2 certified crypto exchange and custodian.
Customer Support: Contacts & How to Get Help
Gemini has a comprehensive help center where users can find answers to common questions. It also thrives on its extensive learning hub covering all topics for cryptocurrency investment blockchain enthusiasts. Gemini's virtual chatbot also makes it easier for users to find the resources they need and navigate the website and mobile app.
If the online help center isn't enough, users can submit a support ticket for help from a human. With an efficient customer support center, the average response time for support requests is less than 24hrs.  
Like many other crypto exchanges, Gemini does not offer live support over the phone for individual users.
KYC, Taxes & IRS Reporting Details
Gemini complies with KYC (Know Your Customer) and AML (Anti-Money Laundering) regulations. It requires its new users to provide proof of identity in order to sign up for a Gemini account. Deemed as a tedious and lengthy process by some, the identity verification process asks for the user's personal details, including your name, address, and phone number, along with a government-issued photo I.D. Additionally, U.S. residents must provide social security numbers, whereas non-US-based users should provide a utility bill in their name. The verification process can take anywhere from several hours to a couple of days. 
Since IRS considers cryptocurrency a form of property, it is subject to both capital gains tax and income tax. Gemini reports to the IRS and sends 1099-MISC forms to users who've earned at least $600 worth of cryptocurrency income from the platform. Learn more about account management and cryptocurrency tax reporting on Gemini's support blog.
Who It's Best For
Gemini is one of the most secure cryptocurrency exchanges due to its focus on security and compliance measures. It is a great option for beginners and institutional investors who value security over everything else. Geared towards a wide variety of crypto enthusiasts, it gives the user full control of locking down their accounts and the peace of mind of insurance for assets held in the Gemini digital wallet. 
As it offers advanced options and tools for professional trading activity and crypto uses, it might still be overwhelming for total beginners. Gemini's cryptopedia educational tool fills up the knowledge gap by providing exclusive training material, making it suitable for beginners willing to learn about crypto trading. 
With its easy-to-navigate website interface and mobile app, Gemini is a good option for those seeking a user-friendly platform to buy, sell, and trade cryptocurrencies. 
Advanced traders can benefit from the Gemini ActiveTrader platform, which offers advanced charting tools and multiple order types at competitive prices that are not available on the regular Gemini Exchange platform.
Gemini Exchange charges are higher than other leading platforms. It levies fees for every transaction, transfer, and custody on top of the convenience fee when making a purchase. Users looking to trade over time can consider opting for Gemini ActiveTrader, which offers the same access as Gemini Exchange with the added benefit and cheaper costs. 
Gemini complies with all the necessary KYC and AML checks and can be used safely and securely by anyone who takes the time to verify their identity on the platform.