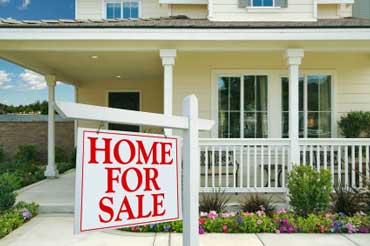 In many parts of the country, real estate is currently a buyer's market. As such, prospective homebuyers have become more selective than ever and developed a tendency to zero in on seemingly minor imperfections. That being the case, sellers who wish to find a buyer in a timely manner and receive a fair price should spruce up the old homestead prior to putting it on the market. A little bit of time and effort on your end can have a profound effect on the way potential buyers view your home.
Replacing Heating and/or Air Conditioning Systems
Many people purchase homes intending to live in them for the rest of their lives. Since most buyers are in it for the long haul, they rightfully expect big-ticket items like furnaces, heaters and central air conditioners to be in good shape. So if your home's heating and air conditioning units are several decades old and/or not running as efficiently as they once did, it may be in your best interest to replace them before listing your home. Although some buyers are amenable to replacing such items themselves, they're liable to request that the cost of replacement be deducted from the asking price. Additionally, newly-replaced heating and air conditioning units will enable you to list your home at a higher asking price.
Addressing Plumbing Issues
Few things are more frustrating than persistent plumbing issues. As such, it should come as no surprise that prospective buyers actively avoid homes with known plumbing problems. This is why you should have an experienced plumber give your pipes, sinks, tubs and water heater a thorough once-over before putting your property up for sale.
Get Started
Claim up to $26,000 per W2 Employee
Billions of dollars in funding available
Funds are available to U.S. Businesses NOW
This is not a loan. These tax credits do not need to be repaid
The ERC Program is currently open, but has been amended in the past. We recommend you claim yours before anything changes.
Even if you haven't experienced any significant issues with your plumbing, it may also be a good idea to replace any visibly worn piping. Furthermore, since home shoppers tend to find worn-down tubs and toilets extremely off-putting, consider replacing any bathroom fixtures that have seen better days. When negotiating, buyers frequently demand that the replacement costs for the aforementioned items be deducted from the asking price, so replacing them preemptively can be an effective way to nip this in the bud.
Repairing Walls
Most households are pretty hard on their walls. Between bumping into them, hanging things on them and positioning furniture against them, many of us put our walls through the wringer on a consistent basis. In light of all the abuse they endure, it's no wonder so many walls are rife with dents, holes, scratches and scuffs. Although homeowners often become so accustomed to minor wall damage that they no longer notice it, potential buyers will zero in on it right away.
Fortunately, most forms of wall damage can be repaired in a simple and cost-effective manner. Small holes and dents can easily be patched by an experienced handyman, and scuffs and scratches can be remedied by repainting. Additionally, any cracks you discover should promptly be inspected by a seasoned pro, as these can be a sign of more serious issues. If cracks are ignored, they can eventually cause damage to a home's foundation – and you're unlikely to find buyers willing to invest in a property with foundational issues.
Replacing Windows
Even seemingly minor cosmetic damage is liable to draw the ire of prospective buyers. This is particularly true in the case of windows. Even though windows are generally considered small-ticket items, they're likely to put off buyers if they've incurred noticeable cracks or holes. If this describes any of the windows in home, make a point of replacing them posthaste. This relatively minor expense can go a long way in impressing home shoppers and shouldn't prove much of a financial burden. Clipper City residents looking for affordable window replacement in Baltimore are sure to find a bevy of convenient options at their disposal.
For many people, a home is the single largest investment they'll ever make. With that in mind, there's little wonder as to why prospective homebuyers tend to be very discerning. This means that anyone looking to sell a home in a timely manner would be wise to thoroughly inspect the property and carry out the necessary repairs. While undertaking repairs in a home you intend to sell may seem cumbersome, it will ultimately make the property more attractive to potential buyers. Sellers looking to win over selective buyers are sure to benefit from undertaking the previously discussed projects.