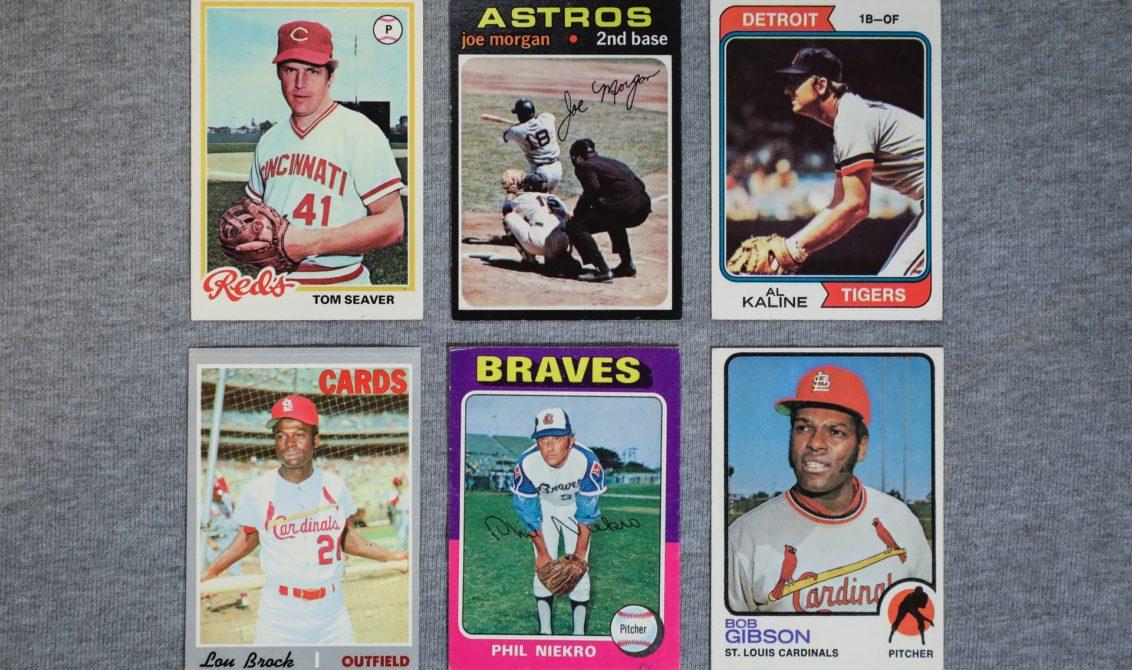 That's right. With "surprisingly high" levels of global inflation and some of the world's most prescient market analysts predicting financial bloodshed, investors are seeking tangible alternatives in which to store their money.
Who would have thought they'd find shelter in Gretzky and Mantle, Luka Doncic and Justin Herbert?
Though the market has cooled a bit of late, 2020-1 sparked unprecedented growth in the sports trading card sector. The Wall Street Journal analyzed the five-year performance of sports cards. It found that the Sports Card Industrial Average outperformed the Dow Jones Industrial average, offering respective returns of 12.4% and 7.9%.
Sports card investors crave not only massive returns, but also the emotional reconnection with a resurrected American pastime, a rite of passage for many sports-loving boys and girls.
But how do the uninitiated go about investing in sports cards, whether they seek financial returns, a nostalgic rush, or a combination of the two?
1. Allot a reasonable budget
The budget is a highly personal aspect of sports card investing. If you truly intend to maximize your investments in sports cards, you must not overextend. That is, you must maintain the necessary liquidity to hold onto a card for as long as necessary.
Say you decide to purchase a $1,500 LaMelo Ball rookie card, and you make roughly $3,500 per month before expenses. So, assuming you pay for the card in full, you're working with $2,000 to pay the rent, electric and water bills, day care (for parent-collectors), gas, and food costs for the month.
Ask yourself: can you afford a $1,500 card at this very moment?
What if your car unexpectedly breaks down? Or a pipe bursts and you have to pay the emergency premium for a handyman to fix it?
In such circumstances, you face the risk of:
Selling the card at a loss
Dipping into emergency resources as a means of hanging onto the card
Potentially going into debt because you purchased a card that was beyond your means
The worst decision you can make as a collector is spending money that you don't truly have. Calculating a conservative budget and sticking with that budget is the Golden Rule of sports card investing.
2. Absorb the common knowledge of card investing
Do a bit of homework before you spend any money. Let's assume that, as an investor, your objective is to make money. As you peruse sites like Beckett and PSA, you'll  encounter dissenting opinions about the proper way to invest in sports cards.
As a novice investor, you want to find the points that most industry sources agree on. For example, most sports card aficionados will agree that purchasing entire sets or individual packs is a high-risk gamble. The calculated investor will instead target individual cards that have already been assigned grades, preferably from a reputable service like PSA.
Before you bid or buy, research the commonly accepted maxims of sound investing.
Get Started
Claim up to $26,000 per W2 Employee
Billions of dollars in funding available
Funds are available to U.S. Businesses NOW
This is not a loan. These tax credits do not need to be repaid
The ERC Program is currently open, but has been amended in the past. We recommend you claim yours before anything changes.
3. Research long- and short-term market trends
Phrases like "buy the dip" have become commonplace in the age of the citizen-investor. As a sports card investor, know the general trends in the market so that you can pinpoint high-value items.
The global sports trading card market had a value shy of $14 billion in 2019. Some project that it could be worth nearly $100 billion by 2027. Though this could be a lofty target, the nine-figure valuation tells you that the market is trending upwards.
If you buy into similarly optimistic long-term projections, then you should be eager to buy short-term dips. Similar logic applies to cards featuring specific players. Philadelphia 76ers point guard Ben Simmons struggled mightily in the 2021 NBA playoffs, and his rookie card values plummeted as a consequence. If you believed that Simmons had better days ahead, you'd capitalize on the downward trend in those card prices and buy, buy, buy.
Having a general lay of the land allows you to contextualize value. With more knowledge, you can make shrewd, data-driven purchasing decisions.
4. Develop a coherent investing strategy
Just like stock traders, sports card investors differ in their risk tolerance, perceptions of value, and opinions on specific players, card manufacturers, sets, and trends.
A coherent investing strategy allows you to test the efficacy of certain approaches. Until you're confident in a strategy, you might dip your toes into a variety of shallow waters. Strategies can include:
Investing predominantly (or exclusively) in rookie cards
Investing in a certain sport because you believe it presents great value
Purchasing ungraded cards because you believe that they present a greater opportunity for profits
There is no shortage of card investing strategies. Through a combination of borrowed advice and trial and error, you should settle on a coherent investing approach.
5. Stick to your investing strategy
A surefire way to lose money investing in sports cards is to veer from a coherent strategy. Chasing the bidding mob, leaping at a shiny card that you have no foreknowledge of, and purchasing a high-priced hobby box because "it will be fun to open" are temptations that undisciplined investors often succumb to.
Once you devise and commit to an investing strategy, stay the course. That is, until you know the course has been run.
6. Be wary of fads
A fad is "a practice or interest followed for a time with exaggerated zeal". Some lob this derisive term at sports card investing as a whole, but it applies more fittingly to specific subsectors of the industry.
From an investing standpoint, a fad is any development that extends beyond the parameters of rationality. Time will tell whether non-fungible tokens (NFTs), a form of digital collectible, are a fad. NFTs are unique in that investors cannot hold them in their hands. Opinions on the durability of NFTs vary greatly.
Your own investing principles can be a litmus test for what is and is not a fad.
7. Understand your purchasing options
Investors can purchase sports cards, whether in packs or as individual cards, from:
eBay (the most popular marketplace for investors)
Trade shows
Large retail stores (though Target stopped selling sports cards—perhaps temporarily—due to the unforeseen dangers of high demand)
Trading card-specific retail stores
Online or in-person auctions
eBay tends to be the most convenient convergence point for buyers and sellers. It has robust buyer protections, an easy-to-use interface, and a vast collection of cards.
8. Know when to buy and when to sell
When you purchase a card, you should have a plan. Are you planning to hold onto the card until you get an offer you simply can't refuse? Or are you seeking a defined range of short-term profits before you offload it?
These decisions will depend on your outlook for sports cards as a whole. Your opinion of the specific card or set is also relevant.
A 1952 Topps Mickey Mantle rookie card has appreciated steadily, and into the multi-million-dollar range, over the course of several decades, through Recessions and market downturns. This sort of rock-solid asset is one that you may be comfortable holding onto even through dips and crazes.
On the other hand, you might be more inclined to offload a less proven asset if you sense a market correction on the horizon.
Defining your objective for each asset you purchase will help you determine when to sell. Don't be afraid to refer to knowledgeable market analysts when it comes to these decisions, either.
9. Diversify
Most investment advisors live by the credo of diversification. When it comes to sports card investing, you don't want all of your eggs in a single basket. This means that you:
Should not generally comprise your entire investment portfolio of sports cards
Should embrace diversification within your sports card portfolio
If you're invested entirely in the Panini Prizm set, for example, what are you to do if the set suddenly falls out of favor with collectors?
Even further, can you stomach a broad downturn in sports card values if you've invested every cent of your portfolio into them?
Diversify, diversify, diversify.
10. Understand that sellers are selling for a reason
That reason, in virtually every case, is to make money off of you.
Sellers set their "Buy It Now" prices on eBay to make an assured return. Search long and hard for the lowest price, don't be afraid to spend time bidding, and do not settle for a price that is well above market value.
Just as you should buy the dip (rather than the potential peak), investing in sports cards is all about finding the edge—hidden value and the best possible price for the card or set that you covet.
Time for you to enter the arena…
This concludes your primer on investing in sports cards. With the bases thoroughly covered, it's time that you insert yourself into the game. Batter up!