Katana Review: A Comprehensive Overview 2022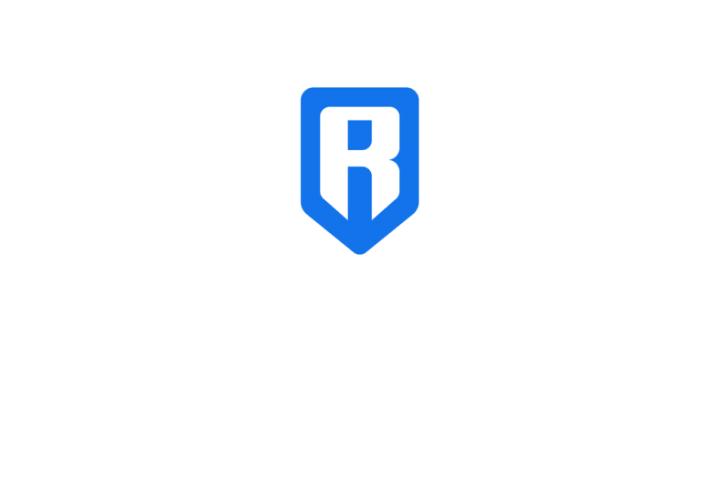 Katana
Quick and simple interface for users to interact with assets from the blockchain game Axie Infinity
Decentralized exchange (Dex) platform on the Ronin Layer-2 blockchain
Allows for quick swapping between ERC-20 coins on the Ronin chain
Pros
No hefty fees and long wait times
Features pooling and staking options
Does not require KYC to begin trading
Cons
No support for popular cryptocurrencies
Liquidity and trading volume declining
Does not have a direct avenue to contact customer support
Katana Ratings and Reviews
Katana is a decentralized exchange (Dex) platform on the Ronin Layer-2 blockchain that allows for quick swapping between ERC-20 coins on the Ronin chain. The Katana Dex is straightforward and easy to navigate, making it relevant to the audience of interest. 
Katana offers several innovative DeFi services to users, including:
Katana Pooling

: Users can lock their assets in Katana's liquidity pools and earn swapping fees when users exchange tokens.

Katana Farm

: Users can stake token pairs in the Katana farm and earn a 32-40% projected return annually.
With a small variety of investment options, Katana is an attractive option for interacting with assets living on the Ronon blockchain. US users and international investors can utilize Katana to quickly buy and sell assets like $SLP, $RON, and $AXS.
Pros & Highlights
Katana provides a quick and simple interface for users to interact with assets from the blockchain game Axie Infinity.
It is an efficient way to onboard new users into the Axie Infinity ecosystem.
As Katana operates on the Ronin Layer-2 network, it bypasses hefty fees and wait times, unlike other typical digital exchanges.
Katana features pooling and staking options for users to leverage their assets and earn annual returns.
The clear website design ensures a straightforward swapping process.
Katana does not require users to complete the KYC (Know-Your-Client) process, meaning users can quickly begin trading.
Katana displays in-depth analytics that helps users make informed decisions about Ronin-based assets. [1]
Cons & Risks
Many popular cryptocurrencies cannot be traded via Katana, as only the assets related to Axie Infinity are prioritized.
Liquidity and trading volume are rapidly declining due to the declining interest in Axie Infinity. The exchange volume and traffic has dropped significantly. [2]
Users must create a Ronin wallet in order to connect to Katana and begin exchanging tokens.
Katana does not have a direct user interface to create a support ticket or contact the customer support team.
Katana Features
Liquidity Pooling & Staking: Katana offers an impressive selection of pools and liquidity farms for users looking to leverage some of their assets. Using the pool, users can create liquidity pairs between the tokens they own. Farms allow users to earn the platform's $RON token by locking their liquidity in the exchange. This benefits Katana by enabling the exchange to quickly swap assets for users without delay. [3]

Katana Transaction Log: All transactions that occur through Katana are publicly displayed to users. This high level of transparency allows users to identify trends in buying/selling volume and make more informed trading decisions. [4]
Katana Prices & Withdrawal Fees
Katana charges a fee on every transaction carried on its platform. These fees are used to reward liquidity providers as well as contribute to the treasury. The total fee amount is 0.3% of the transaction, with 0.25% going to the liquidity providers and the remaining 0.05% towards the treasury. [5]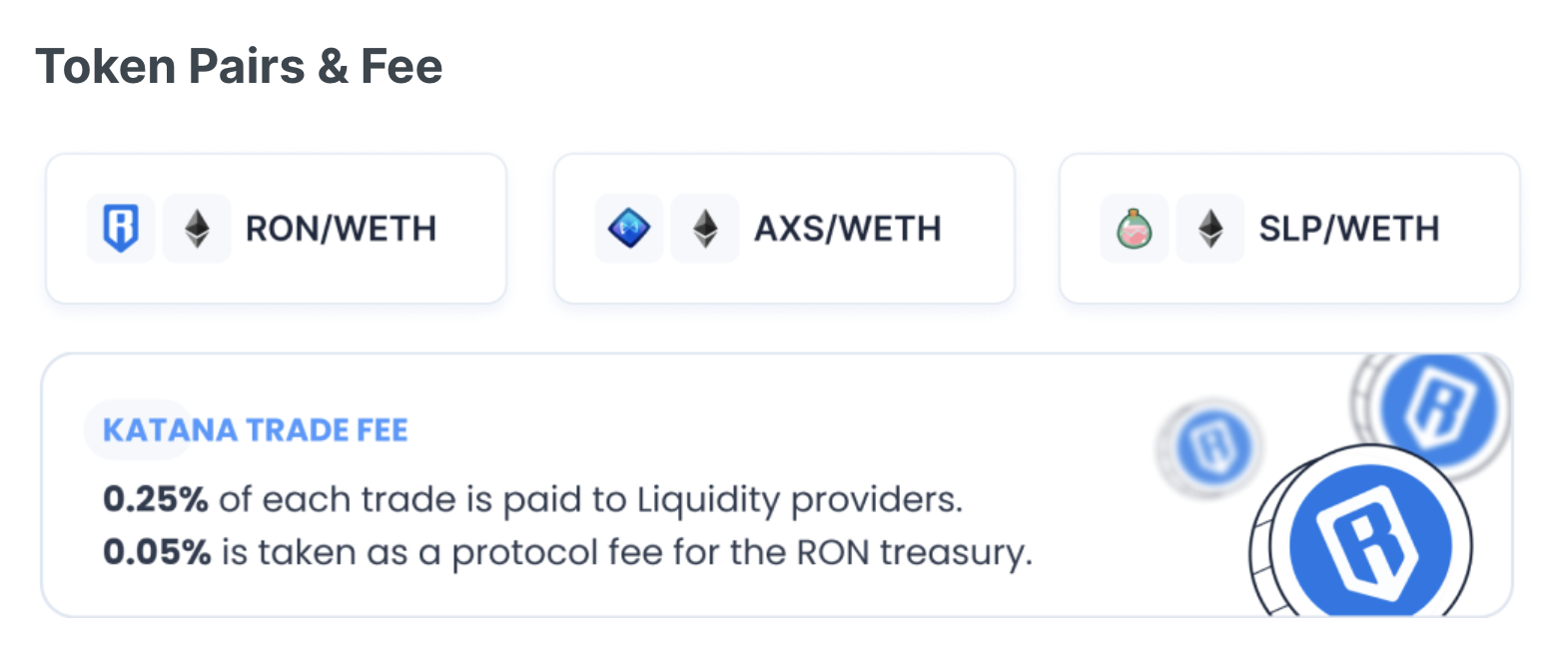 Because users do not directly deposit assets to Katana, there is no deposit or withdrawal fee associated with the exchange. Katana's fee structure is standard among the major exchanges, with the actual fee amount being relatively low, thanks to the Layer-2 Ronin chain reducing transaction costs.
Company Background & History
Sky Mavis is a diligent company that thoroughly developed the Katana exchange to help onboard new users to Axie Infinity. Sky Mavis was founded in 2018 by entrepreneurs Trung Nguyen and Aleksander Larsen.
Sky Mavis became a household name in the gaming world after the rising popularity of its blockchain-based game Axie Infinity. As its player base blossomed, Sky Mavis needed a way to make interacting with in-game assets and currencies more accessible to users.
On November 4, 2021, Sky Mavis officially launched the Katana Dex. Along with the Ronin Bridge, developers hoped this simple exchange would make it easier for new players to access the game's currencies. The mission of Katana is to increase accessibility and make onboarding easier for new Axie Infinity players.
Trader Tools & Trading Experience
The Katana Dex displays price information for the $RON and $AXS tokens as well as liquidity and volume statistics on its analytics page but does not provide any price charts or graphs for these coins. Additionally, the price of $SLP is not shown on the exchange and must be checked using a third-party site.
Katana does not offer users options to trade perpetual or leveraged positions. Because Katana only aims to increase access to Ronin-based assets, users can only swap Ethereum-based tokens into $SLP, $AXS, and $RON.
Traders using the Katana Dex must have experience with play-to-earn blockchain ecosystems. Cryptocurrencies tied to online video games may not behave in the same manner as other coins. Traders are recommended to research the tokenomics of the Axie Infinity ecosystem before trading.
What Cryptocurrencies are Available on Katana?
Katana features a limited offering of cryptocurrencies. The complete list is as follows:
Ethereum ($ETH)

Wrapped Ethereum ($WETH)

Smooth Love Potion ($SLP)

Axie Infinity Shards ($AXS)

Ronin ($RON)

US Dollar Coin ($USDC)
Smooth Love Potion is the main in-game currency rewarded to Axie Infinity players, whereas Axie Infinity Shards are the primary governance token for the game. Users can swap these in-game tokens for their choice of $ETH, $WETH, or the stablecoin $USDC.

Katana does not provide support for exchanging any other major ERC-20 tokens other than those listed. Users should only expect to interact with assets from the Axie Infinity exosystem when using Katana.
Security: Is Katana Safe & Secure?
On March 29, 2022, the Katana Dex was temporarily paused after a hacker exploited the Ronin network and stole over $600 million worth of funds.[6] This hack represented the single largest DeFi hack ever, affecting many Katana users suffering a loss of funds stored in the exchange.
In response, Sky Mavis used their personal reserves to compensate users whose funds were stolen in the exploit. The Katana Dex resumed normal operations shortly after the hack and has been deemed a safe and secure network backed by a reputable company supporting its customer base.
Additionally, users have a high level of security when interacting with Katana, thanks to the Ronin Wallet. When creating a wallet, users receive a 12-word secret seed phrase. This complex series of words helps prevent unauthorized access to users' wallets. [7]
Customer Support: Contacts & How to Get Help
The Katana Dex does not have a direct avenue to contact customer support for help with transactions. To contact customer support, users must contact the parent company Sky Mavis and specify their problem with Katana. The easiest way to do this is by accessing the Sky Mavis Help Page and clicking on the option that says Ronin Network and Wallet.
Sky Mavis also provides additional resources that address common issues with the Katana Dex and Ronin blockchain.  If the problem still needs to be solved, users can directly reach out to the Sky Mavis Twitter account. Although Katana does not feature a direct page for customer support, users still have a variety of useful tools to resolve issues that arise.
KYC, Taxes & IRS Reporting Details
Katana does not require KYC (Know-Your-Client) to use its platform. However, all transactions occurring through Katana are considered taxable by the IRS, and users bear the responsibility of reporting their own transactions when filing taxes. Katana Dex recommends that users keep a record of every transaction they make on the platform, including dates and token prices, to be referenced during tax season.
Who It's Best For?
Katana is a decentralized exchange with no geographical limitations on who can and cannot use its services. It is most popular with customers in the United States, the Philippines, and Venezuela as Axie Infinity is widely known in these countries, and it offers the potential to earn a significant income through the game. 
U.S. customers seeking to delve into the Axie Infinity ecosystem can benefit from rapid, inexpensive transactions with Ronin-based assets. Users can also explore a range of valuable DeFi tools after obtaining these assets through Katana.
For traders seeking to explore more diverse investment options, Katana may not offer the variety they desire. However, Katana creates an easy onboarding experience for one of the most popular blockchain-based games in recent history.
Katana is an excellent exchange for US and international users to interact with the assets on the Ronin Layer-2 blockchain.