Koinly Review: Pros, Cons, and More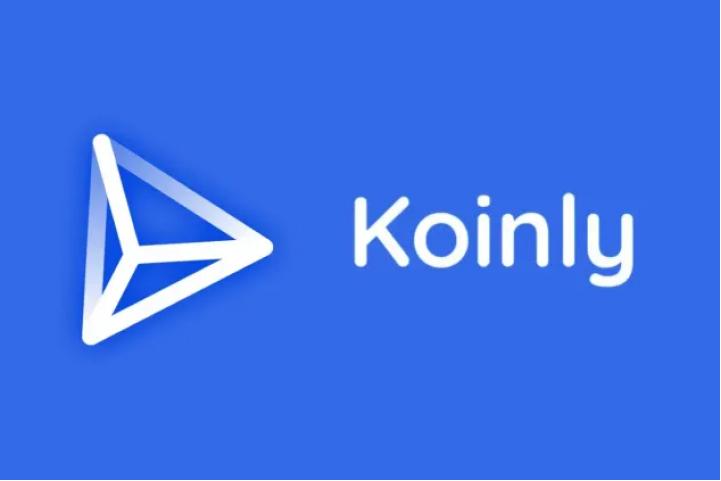 Koinly
Automatically generates official tax forms
Compatible with traditional tax software such as TurboTax
Over $250 million USD funds tracked
Pros:
Supports every cryptocurrency available
Available in over 100 countries
Fully compliant with IRS and other government regulators
Cons:
Expensive pricing plans
The free version does not provide official reports
Limited NFT compatibility
Koinly Ratings and Reviews
Koinly is a crypto tax software investors can use to track tax implications accurately, generate official tax documents, and view their portfolio data across multiple platforms.
Through the free version, investors can utilize the automated transaction tracking features to view insightful information regarding their portfolios. Paid users have additional access to automatically generated tax documents that are ready to file.
Koinly has become a leader in the tax solution space by offering a comprehensive experience to investors of all levels while providing a safe and secure environment created by an industry-leading team of blockchain and tax experts.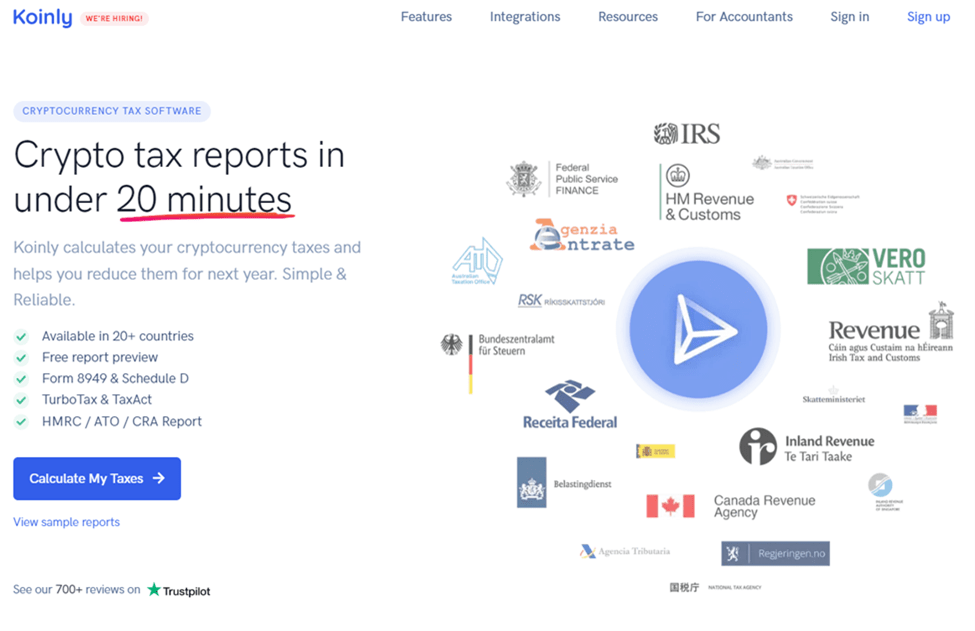 Highlights of Koinly
Reports generated by Koinly

are fully compliant with

IRS and other government regulators

.

Koinly

supports every cryptocurrency available

through

multiple avenues of asset syncing

.

Koinly tax reports are compatible

with

traditional tax software

such as TurboTax.

Official tax reports are

automatically generated depending on the user's location

.

Koinly automatically

identifies multiple income streams,

such as

staking, mining, and lending

.

Koinly is available in over 100 countries.
Risks of using Koinly
Koinly has

expensive pricing plans

compared to other tax softwares

The

free version

of Koinly

does not provide official reports

but offers other powerful features.

Koinly users

do not have access to automated tax-loss harvesting features

.

The

NFT compatibility

provided by Koinly

may be limited

.

CoinLedger supports many payment methods

, but users

cannot pay for services with cryptocurrency

.
Koinly Features
Universal Wallet Cost Tracking: Connect multiple wallets in a universal pool that automatically tracks transactions across all wallets. This function is utilized by individuals with multiple wallets as well as companies operating across multiple chains. 
Crypto Portfolio Tracker: Aggregates holdings across wallets to display portfolio value and tax implications in one place. Users can also view passive income streams such as mining, staking, and lending activities.
Koinly API: Connect the Koinly API to compatible exchanges such as Coinbase, Binance, and KuCoin to avoid syncing multiple wallets and dealing with exported data. Transactions associated with connected accounts are updated in real-time, allowing users to access the most current data.
Tax Guides: A regularly updated database of detailed tax guides for users in all supported countries. For example, the United States 2022 tax guide details the specifics of capital gains taxes, cost-basis methods, U.S. regulations, and efficient tax strategies.
Smart Transfer Matching: Through artificial intelligence, Koinly can detect transfers between owned wallets to ensure accurate cost-basis tracking. This automated system guarantees maximum accuracy of tax information for investors.
Koinly Pricing & Fees
Koinly provides a comprehensive package of tools but is also one of the more expensive cryptocurrency tax solutions. Koinly provides five pricing plans with varying levels of benefits. 
With paid plans ranging from $49 to $279, there are tax solutions for all levels of traders. The primary difference between plans is the number of supported transactions, with the lowest plans supporting 100 and the highest supporting over 10,000 transactions.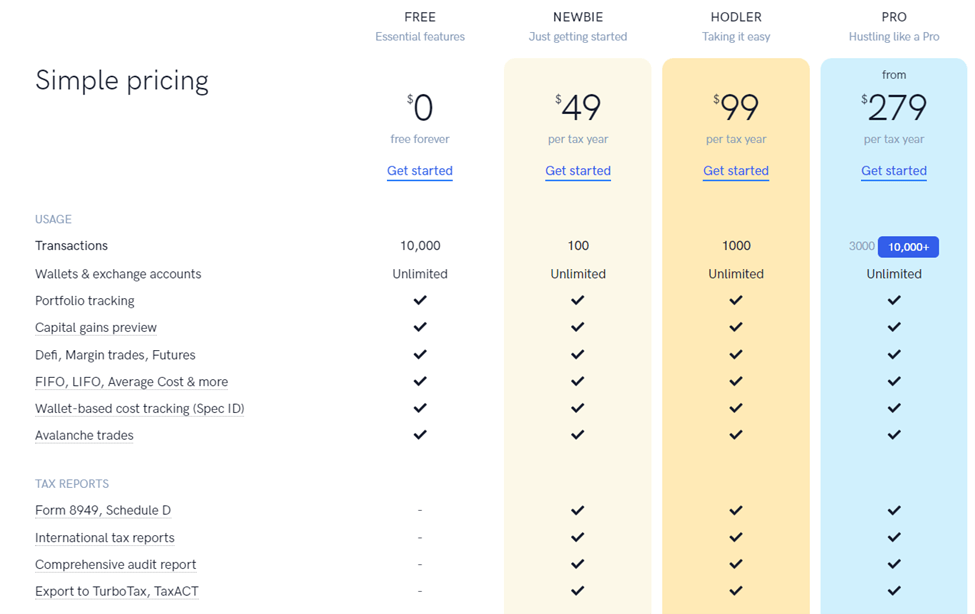 Koinly offers a free version of the software that provides many of the same tools as paid versions. However, free users cannot generate official tax documents while maintaining access to portfolio tracking and tax guides.
Koinly Company Background
Headquartered in London, Koinly was founded in 2018 by Robin Singh. As an early cryptocurrency investor, Robin struggled to accurately track tax information. In response, Robin and his team began to develop a solution in collaboration with reputable tax firms, traders, and engineers.
They sought to create a crypto tax software that could automatically track transactions across multiple accounts to generate accurate tax information ready to submit to government entities. After many iterations and failures, Koinly has secured itself as a leading crypto tax software.
How does Koinly Work?
Koinly works by aggregating transaction data through various methods to provide accurate information regarding investor's portfolio and tax implications. 
Users can link the Koinly API to their favorite exchanges, sync their wallets, or directly import transaction data. Once connected, users can view real-time portfolio data such as gains, losses, and even information from passive income activities such as staking. 
Through the automated transaction tracking features, users can easily generate government-compliant tax forms customized for each individual, dependent on their situation and tax strategies. In the United States, Koinly can generate and auto-populate Form 8949 (Sales and Dispositions of Capital Assets), which is used to complete Schedule D of investor tax forms.
Koinly Supported Crypto Exchanges
Koinly integrated over 400 exchanges for users to link their accounts directly. This includes most major exchanges and some rare as well. A full list of supported exchanges can be viewed here.
Popular supported exchanges include:
Coinbase

Binance

FTX

KuCoin

Kraken

Bitfinex
Koinly Supported Wallets
In addition to the extensive exchange integrations, Koinly supports over 100 cryptocurrency wallets. Users can sync their data from most wallets, including support for major hardware wallets. The full list of supported wallets can be viewed here. 
Supported wallets include:
MetaMask

Ledger

Coinbase Wallet

Uphold

Trezor

Trust
Notably, Koinly supports every cryptocurrency available on the market, from Bitcoin to the most niche of altcoins.
Security: Is Koinly Safe & Secure?
Koinly has proven to be a safe platform for crypto users by implementing a variety of security features. 
All exchange APIs and blockchain keys are encrypted, and Koinly does not have access to user funds. Because Koinly does not hold any assets on the platform, there is a much lower chance of users being hacked. The platform also boasts a 99.9% uptime that increases Koinly's reliability. 
Koinly utilizes third-party tools to scan for vulnerabilities to improve security infrastructure continuously. To provide additional layers of security, Koinly hosts all data on the cloud security platform Heroku [1]. 
Customer Support: Contacts & How to Get Help
Koinly adds to the customer experience by providing a number of efficient support channels. The simplest way to reach customer service is through the live chat box located on the bottom right of the site, where users can connect with an agent to resolve the issues in under two hours.
Users can also email the team directly at hello@koinly.io or use the Help Center to troubleshoot problems individually.  
Who is Koinly Best For?
Koinly is an intuitive crypto tax solution that offers an impressive set of features and availability for investors of all levels. Most cryptocurrency exchanges do not provide tools for crypto taxes, but all investors require them for accurate tax information.
Although the free version of the platform does not provide tax form generation, investors can still utilize the automated transaction tracking features to aggregate their assets into one place. Beyond tax information, users can view useful portfolio data such as Profit and Loss (PnL) and income streams to better inform their investment decisions.
High-frequency traders can purchase pro-level access to track over 10,000 transactions across platforms and wallets. These users will also have access to expert advice regarding tax planning and strategy.
Koinly is available in over 100 countries, including the United States, Canada, and the United Kingdom, and is fully compliant with most government regulators. Users of all levels can utilize the insightful tax guides when preparing their crypto taxes. 
Koinly currently provides limited support for NFTs but is actively building these capabilities. By adding integrations beyond Ethereum-based chains like Solana and Wax, Koinly will introduce an efficient tax solution for NFT investors.