Kryptex Review: In-Depth Review (Pros & Cons)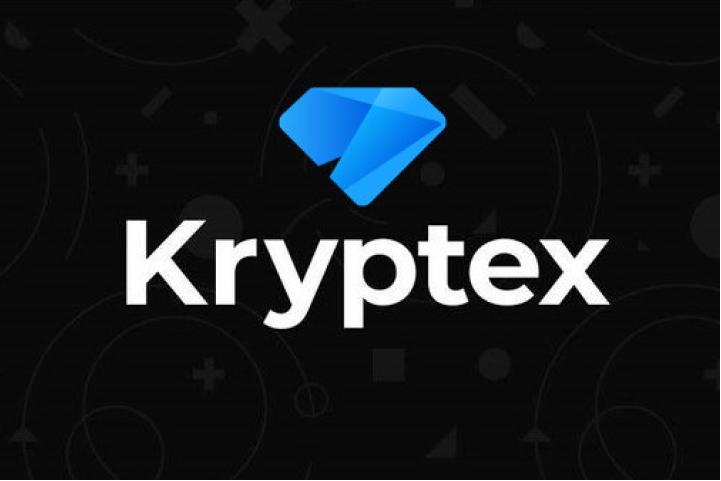 Kryptex
Users can leverage the Kryptex Cloud for computing power
Exclusive access to high-yield mining pools
Multiple options for all levels of crypto miners
Pros:
Industry-standard security features
Multiple withdrawal options
Simple setup process
Cons:
Only supports Bitcoin and Ethereum
Lack of in-person support
No mobile app
Kryptex Ratings and Reviews
Kryptex is a Russian-based cryptocurrency mining software with several products designed for beginner and advanced miners. Individuals can download Kryptex on their PC and turn their computer into cryptocurrency miners, earning passive income in the process. 
The flagship Kryptex Miner is available to download for free, with low withdrawal fees and enticing yields for multiple cryptocurrencies. The user-friendly interface and simple setup process make Kryptex an option for crypto miners.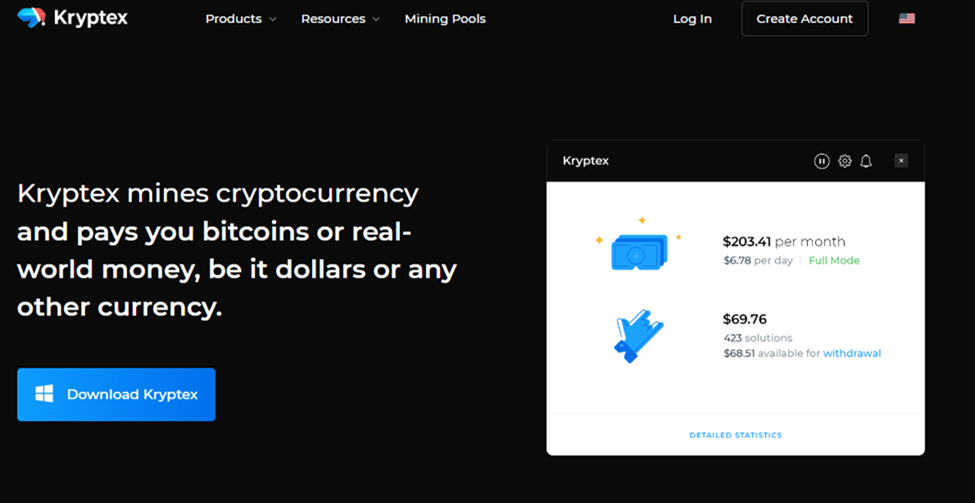 Highlights of using Kryptex
Kryptex provides multiple options for

all levels of crypto miners

, with basic software such as

Kryptex Miner

and advanced options such as

Kryptex Pro

. 

Miners can

withdraw their earnings via cryptocurrency

or one of the many supported

fiat currencies

with

low withdrawal fees.

Users can

utilize the computing power of the Kryptex Cloud

for uses outside of cryptocurrency, such as

video rendering and big data applications

.  

Kryptex provides access to

exclusive mining pools

for

high-yield altcoins and Ethereum PoW

.

Users can easily deploy

Kryptex Miner through a

simple setup process

and

extensive educational resources

.
Risks of using Kryptex
Kryptex Miner and Kryptex Pro

only support Ethereum and Bitcoin

, although users can access

additional tokens through mining pools

.  

Kryptex mining software is

only available on Microsoft Windows

, with

no availability for iOS or mobile devices

.

Users may find a

lack of in-person support

, however, the

FAQs section provides insight

into most issues users may face.

Kryptex offers industry-standard security at the platform level

, but users

may need to deploy their own countermeasures

to protect their devices.
Kryptex Features
Kryptex Miner: Leverage the computing power of a PC through the Kyptex Miner. Users can download the Kryptex software to mine cryptocurrency, or verify network transactions, and earn passive income.
Kryptex Pro: An advanced version of the Kryptex Miner, Kryptex Pro is designed for miners with comprehensive mining setups with high processing power. The Kryptex Pro interface provides miners with advanced insights such as hash rates (mining speed), GPU temperatures, and electricity consumption.
Mining Pools: Users can join mining pools, or collective groups of miners, to mine high-yield cryptocurrencies requiring a high minimum level of processing power that may not be available for individual miners.
Rent our GPUs: Individuals can rent processing power from the Kryptex Cloud at a rate ten times cheaper than Amazon Web Services. Users can leverage this power to fortify their miners, power artificial intelligence applications, or host video rendering services.
Kryptex Pricing and Fees
The Kryptex Miner software is free for users to download and start mining, however, the Pro version will cost $264 USD per month. Fees collected by Kryptex consist of the withdrawal fees charged when users transfer their mined cryptocurrency to a wallet or separate account. Miners are charged a flat rate for withdrawing cryptocurrency, with Bitcoin costing 0.00005 BTC and Ethereum 0.004 ETH. 
Users may also choose to sell their cryptocurrency and transfer the cash to a prepaid card such as Visa or Advcash, but this is more expensive than transferring crypto. A variable percentage fee is also charged depending on the bank card used, as well as maximum and minimum payouts.

Miners also have the option to join mining pools, which will cost them one percent of all cryptocurrency mined. 
Users who choose to rent cloud-based GPUs from Kryptex will pay $99.99 USD  per month for 6.5 teraflops of processing power.
How much can you make on Kryptex?
For the basic Kryptex Miner and advanced Kryptex Pro, the amount of money miners can earn depends on the power of their computer or mining setup. Those with power equivalent to a gaming PC may earn around $95 per month, whereas high-power mining farms may earn around $13,000 per month. 
The more processing power, the more money users earn.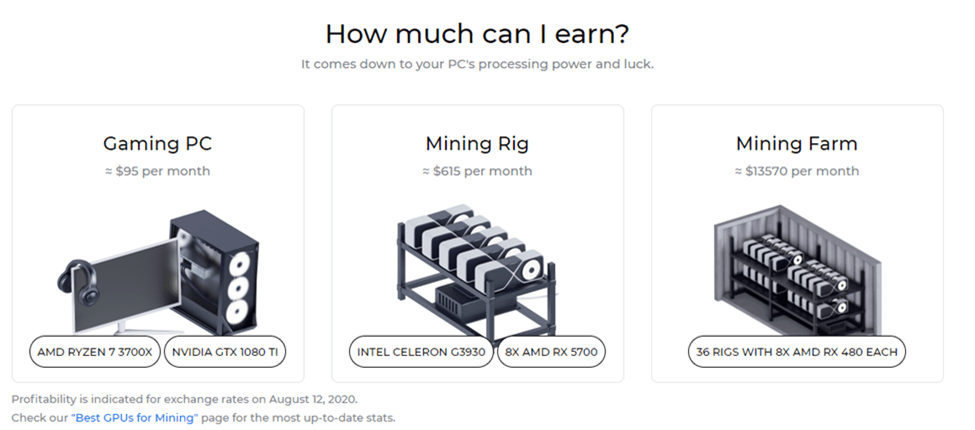 Users who participate in mining pools can expect a portion of the total pool earnings relative to the percentage of processing power provided. 
It is important to note that payouts will fluctuate with the price of the crypto being mined. 
Kryptex Company Background
Kryptex was founded in 2014 by Max Malysh when he realized the financial opportunities of securing blockchain networks and cryptocurrency transactions. Headquartered in Moscow, Russia, Kryptex aims to provide a simplistic approach to mining, allowing users to capitalize on the power of their own computers.
Kryptex continues to offer innovative mining solutions for everyday users as well as hardcore miners, recently announcing a cryptocurrency mining operating system with more customizability and power.
How does Kryptex work?
Kryptex offers portfolios of cryptocurrency mining products for those with rudimentary computers, as well as those with powerful mining rigs.
Mining cryptocurrency occurs when a user, or miner, successfully verifies a transaction on a blockchain network. To successfully verify a transaction, miners must leverage the power of their mining device to solve a complex equation. This is why mining power is important. The more power a miner has, the more likely they are to successfully solve the equation, earning the respective token as a reward.
Kryptex provides the free Kyrptex Miner software to beginner miners looking to understand the process and earn a passive income. The more powerful Kryptex pro miner provides advanced miners additional features and customizability to fine-tune their mining strategy. 
Users who withdraw their mined tokens will pay a small fee. They have options to sell the tokens and transfer the balance to a bank card or send them to another wallet.
Kryptex User Experience
The intuitive experience provided by Kryptex products makes the mining process simple for beginners while still offering the powerful features needed for advanced miners. 
Users can begin mining cryptocurrency by downloading the desired Kryptex software and linking their device to a blockchain network. For those that prefer a simple experience, Kyptex can mine tokens automatically with little oversight. However, users may choose to monitor the software to ensure everything is running smoothly, but typically the only action needed is when withdrawing earnings.  
Advanced miners with abundant processing power can purchase the Kryptex Miner pro for specific insights into their equipment. The smooth Kryptex Pro interface provides data pertaining to each GPU as well as high-level information such as profitability per day and account balances.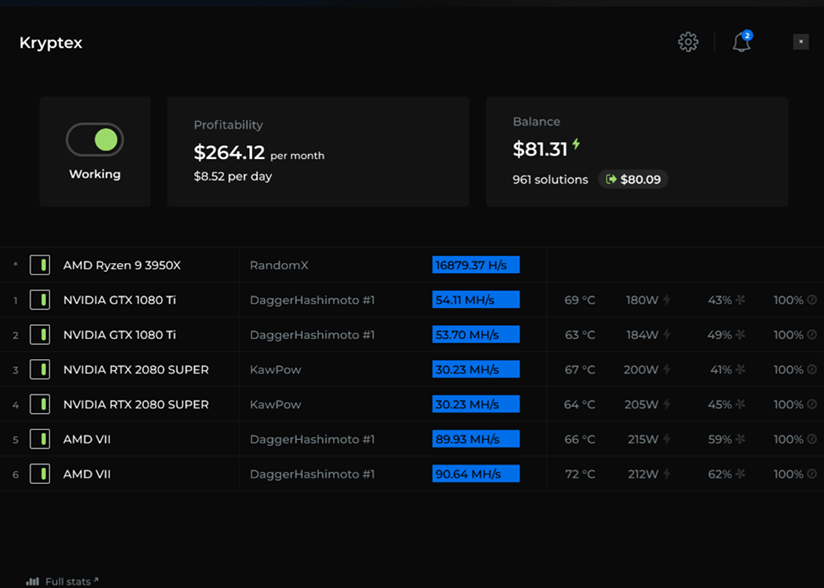 What coins are supported on Kryptex?
The Kryptex Miner and Kryptex Pro miners only allow users to mine Bitcoin and Ethereum Proof of Work (PoW). However, users can join mining pools for access to additional high-yield altcoins.
These tokens include:
Ethereum PoW (ETHW)

Ethereum Classic (ETC)

Ravencoin (RVN)

Ergo (ERG)

Ubiq (UBQ)

Monero (XMR)
Users may also choose to rent GPU or processing power from Kryptex for use with other miners with a wider selection of cryptocurrencies.
Security: Is Kryptex Safe & Secure?
Kryptex provides security infrastructure that is in line with its competitors, including industry-standard features such as SSL and encrypted data transfers. They also offer two-factor authentication (2FA) at the account level, but much of the responsibility will lie on the user.
Kryptex states that a primary attack vector is through viruses and phishing scams, for which they provide a number of reputable antivirus software to protect user devices, such as Kaspersky and Dr.Web [1].
Customer Support: Contacts & How to Get Help
With no option to speak with a live agent, Kryptex's main channel for customer support is their extensive FAQs section that covers most of the frequent problems users experience. Users can also reach the Kryptex team through their Telegram with more specific questions.
Who is Kryptex Best For?
Kryptex provides powerful cryptocurrency mining software for beginners as well as more experienced miners. With additional features such as mining pools and rentable processing power, users of all levels can find earning potential.
The free Kryptex Miner is a suitable option for those looking to learn the mining process at low cost. With a simple setup process, automated mining, and low capital investment, beginners can slowly scale their operations as they learn to navigate the market. 
Kryptex Miner Pro offers advanced miners the features and customizability they require to execute their mining strategy. With a comprehensive interface displaying all the necessary data needed to make informed decisions, users can monitor their operations efficiently. 
Although the list of supported tokens is short, the available altcoins offer higher yields compared to other options. The software provides quality access to high-volume networks such as Bitcoin and Ethereum. 
With powerful products designed for beginners and experienced miners, users of all levels can enter the market and make the most of their mining setups at a low cost.