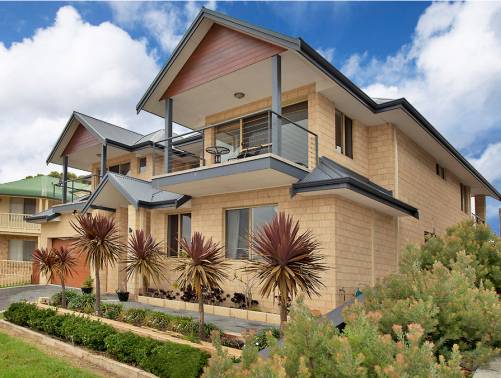 Real estate is like dating – sometimes, the first impression can be the most important one. We fall in love on a whim, whether it's in a human or in a house. Sometimes, a thing that wouldn't win any prizes in the aesthetics department is a keeper, while something that looks like a million dollars is actually a trap – but it's so hard to let go when we have our heart set on something.
Any real estate agent will tell you that it's the small stuff that matters, even if the house is obviously a great deal. The small stuff is what lets you raise the asking price, sound more confident and give off a great first impression.
While the smell of fresh paint, redone flooring, some new appliances might make a client actually want to imagine themselves as the owner of the property, it's what makes "curb appeal" translate into ROI that people most often forget about.
There is a difference between a maintained lawn and a well-done landscape, and it can actually tip the scales between a property looking "ok" and luxurious.
Investing in a garden
Any landscape architect will tell you that the yard of your house is like a stage, and sets the mood for what's inside. Before making a cottage garden around your Eichler, you might want to ask yourself "what's my style?" or "what kind of architecture am I trying to compliment?".
Yes, the garden should complement your property seamlessly. What makes the property look like it's well planned and executed is a balance between landscape architecture and home architecture.
The investment is well worth it, so take a look at some of these styles of landscaping and think about what fits your property. While there are some shortcuts, never think you can do it by yourself, armed with only a few hours and some perennials from the sales bin! No – landscape design requires calling the pros. One time you might want to get help, though, is if you need to have a tree removed. If you can't make your design work around an overbearing tree in the yard, you can find help on a site such as thelocaltreeexperts.com. Don't try to remove large trees on your own – you'll end up doing more damage than it's worth.
Cottage Garden
A cottage garden is a perfect choice if you live in a place that doesn't get hit by droughts too often. In fact, cottage gardens are a beautiful, timeless trend that goes back to England in the middle ages, or even earlier.
Get Started
Claim up to $26,000 per W2 Employee
Billions of dollars in funding available
Funds are available to U.S. Businesses NOW
This is not a loan. These tax credits do not need to be repaid
The ERC Program is currently open, but has been amended in the past. We recommend you claim yours before anything changes.
English gardens are known for seeming chaotic, but being meticulously planned underneath all of those wild natural blooms. Flowers like roses scattered Black-Eyed Susans, magical Foxgloves are all planted together and are interlaced with herbs and wildflowers in order to create a country paradise.
If you have a classic-shaped home with a slanted roof, wooden or stone facade, a white picket fence and you live in the USDA Plant Hardiness Zone 6 to 9, this is a garden that is perfect for you.
Some stylish additions to it might include accessories like a hidden birdbath, a secret romantic bench, or even a Victorian-style greenhouse where you can make a lantern-decorated tea room for those warm summer evenings.
Modern Garden
What's a modern garden anyway? When it comes to architecture and urban planning, modern isn't just concrete and glass. Modern is green, eco-friendly and human-friendly. Modern gardens are usually very well thought through – everything makes sense and is ergonomic.
If you own a house like an Eichler or anything with a straight roof, lots of geometric shapes and corners – this is a garden for you. Since it's less style-specific than a cottage garden, you can blend it with more styles of architecture. Old brick houses will look loft-like and eclectic when mixed with this type of garden planning.
Materials that you can use are concrete blocks – in order to make geometric paths, patio areas and additions like raised beds and oversized flower containers. Speaking of plants – these are some plants that work very well with a modern garden look:
Tall grasses
Groups of trees, like birches of Paulownias
Horsetails
Yuccas
Bamboo
Succulents (best planted in groups)
You might have noticed a trend here – groups! Anything planted in a group looks better. For example, a bunch of birch trees planted close to each other will look intriguing, especially if they're placed on a lawn of evenly manicured grass or a bed of white stones.
Remember a rule of modern art – just because it looks simple doesn't mean that it's thoughtless. Sometimes, complexity requires simplicity. If your landscape architect understands that, you're in business.
Drought-tolerant Garden
If your house is going to be on the market for a long time, or if you're too far away to monitor a watering service or hire an army of gardeners, a drought-resistant garden is a way to go.
It will look taken care of and well kept throughout the season, and save you extra work and money. Taking care of a garden in a drought can cost a lot, and because in times of drought a lot of communities put on watering caps, it's possible that all your hard work will go to waste.
During the great recession, a lot of California real estate agents suffered because a lot of properties under their care withered into unattractive yellow and brown. This gave their properties an abandoned, depressed look that no one wants. The price of your property will drop if it depresses everybody that drives by.
What to do if you're in a drought danger zone? A perfect example of how a landscape that needs virtually no water can look luxurious, expensive and sharp are some high-listing properties in none other than Arizona.
Arizonians have mastered the fine art of combining adobe, stones, sand and drought resistant plants in order to achieve a beautiful designer effect. Here are some ideas straight from the deserts and chaparrals:
Lavender
Cypress
Yarrow
Hellebore
Day Lily
Rosemary
Consider something other than grass – if you must have it, you may consider artificial grass. The quality is so great that the only thing that will give it away is that it looks too "pretty".
If you're willing to forgo grass, consider mulch, sand or stones – all on a nice weed resistant garden lining – unfortunately, a lot of weeds are very much drought resistant as well.
Investing Smart
Investing in first impressions is smart. Even if you don't know what to do with a property yet, one thing is certain – the longer your garden grows, the more value it will bring you. The more established a landscape is the better it looks, and the more natural it feels.