LocalBitcoins Review: A Comprehensive Overview 2022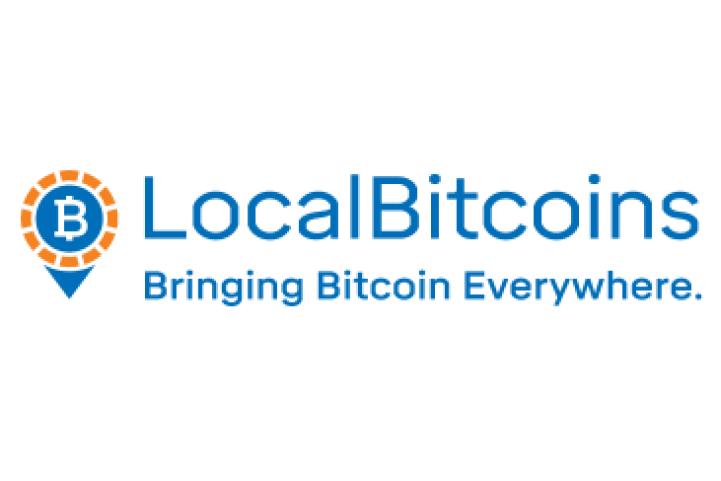 LocalBitcoins
Cryptocurrency marketplace that specializes in peer-to-peer Bitcoin trading
Employs a rating system for sellers so that buyers can select users with high feedback scores
Features a learning center with webinars, guides, and FAQs for traders to learn more
Pros
Avoid centralized banks and lengthy wait times
Accept a variety of payment methods
Services over 190 counties
Cons
Bitcoin is the only asset tradable between users
Does not offer a live chat support
Transactions are not immediate, leading to delays
LocalBitcoins Ratings and Reviews
LocalBitcoins is a cryptocurrency marketplace that specializes in peer-to-peer Bitcoin trading. Users can explore verified sellers offering Bitcoin and create ads to sell Bitcoin to others. With over 8 million registered users, LocalBitcoins is the premier customer-facing Bitcoin marketplace.
LocalBitcoins offers tools such as:
Buy/Sell Filter: allows users to input specific factors like quantity, payment method, and region to find the best suitable peers to trade. [1]

Ad Creator Tool: allows users seeking to sell Bitcoin to market themselves to suitable buyers on the site. [2]
LocalBitcoins is open to users and in states within the U.S., making it a feasible option for users worldwide to obtain Bitcoin outside of centralized exchanges.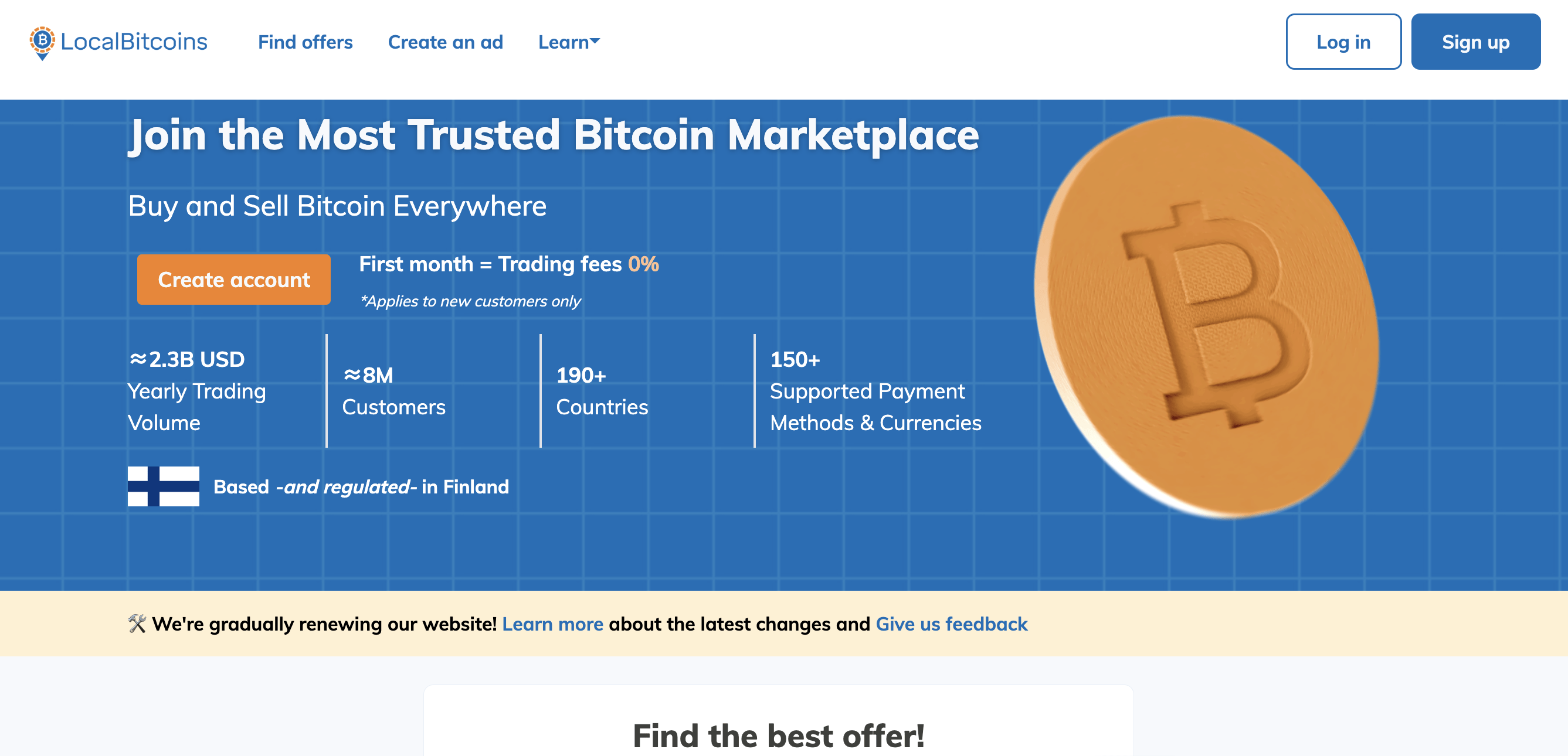 Pros and Highlights
Buying Bitcoin directly from other sellers helps users avoid centralized banks and lengthy wait times.

Users on LocalBitcoins can accept a variety of payment methods, including Paypal, bank transfers, and Zelle. [3] 

LocalBitcoins features a rating system for sellers so that buyers can select users with high feedback scores.

LocalBitcoin features a learning center with webinars, guides, and FAQs for beginner traders to learn about the platform. [4]

LocalBitcoin services over 190 counties, making them accessible to users worldwide. [5]
Cons and Risks
Bitcoin is the only asset tradable between users, meaning traders cannot buy or sell other cryptocurrencies.
LocalBitcoins does not offer a live chat support option and has long wait times for support issues. [6]
Transactions are not immediate, meaning there may be delays of several hours before Bitcoin is transferred between users.
Only serves 10 U.S. states that include Kansas, Virginia, Wisconsin, Illinois, Montana, New Hampshire, Tennessee, Pennsylvania, Texas, and New Jersey.
LocalBitcoins limits the amount of Bitcoin that can be purchased. For buying large quantities of Bitcoin, users may have to complete several transactions with different sellers.
LocalBitcoins Features
Offer Finder: The tool allows users to connect with other Bitcoin sellers. After specifying factors like payment method and quantity of Bitcoin, the offer finder tool automatically filters the highest quality sellers to display to users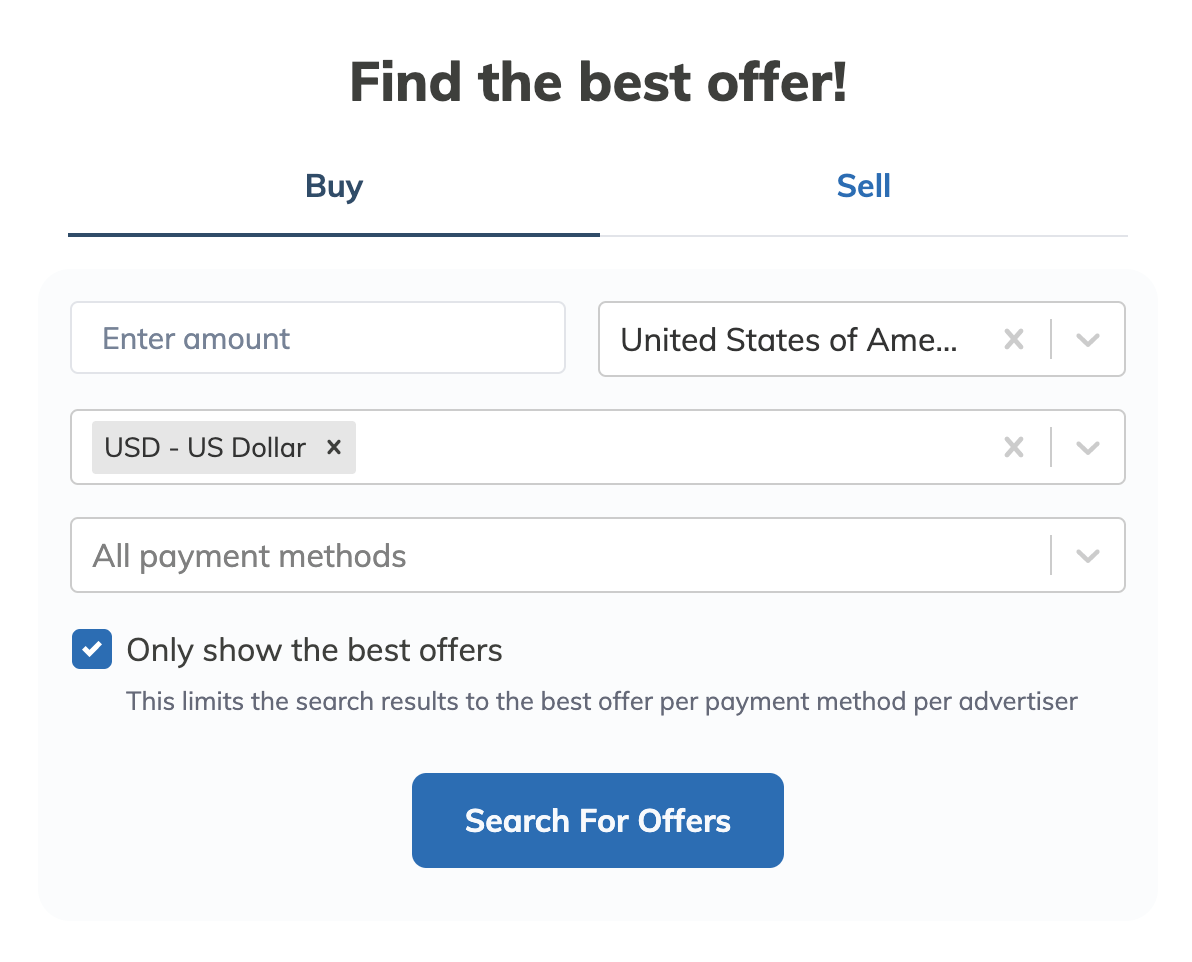 Medium Blogs: The blog site is a forum for sharing stories, experiences, and tips with other users via Medium posts. These blogs also contain resourceful information about economic trends, cryptocurrency cycles, and more.  
Learning Center: Users have access to the LocalBitcoins' learning center, a shared resource pool of FAQs, guides, and webinars about cryptocurrency and trading.
LocalBitcoins Prices and Withdrawal Fees
LocalBitcoins offers a low-cost fee structure. Users incur no fees for buying and selling Bitcoin unless an advertisement is created.

LocalBitcoins imposes a fee of 1% of the transaction value when users create sales ads. If this tool is used, users are charged a fee equal to 1% of the total value of the transaction. Compared to other exchanges, the total fee amount is significantly lower.
As Bitcoin is transferred from one account to another, LocalBitcoins never holds the users' assets. Users do not need to withdraw Bitcoin from the exchange, saving them from additional fees.
Company Background & History
LocalBitcoins is a Finnish exchange platform founded by Jeremias Kangas in 2012. Since then, the exchange has expanded rapidly, even developing physical Bitcoin ATMs worldwide. The current CEO of LocalBitcoins is marketing expert Sara Leppänen. 
The mission of LocalBitcoins is to connect all users to the Internet economy. [7] By creating an exchange that specializes in Bitcoin, the exchange seeks to increase the accessibility of Bitcoin to a broader audience. The company shares the belief that Bitcoin will drastically change the world's economic landscape.
Trader Tools & Trading Experience
Due to the specialized nature of LocalBitcoins, traders knowledgeable in Bitcoin are most suited to execute trades on this exchange.
Unfortunately, LocalBitcoins does not feature many tools for active traders. Unlike other exchanges, users cannot view Bitcoin price charts or order books with buying and selling history. Additionally, LocalBitcoins does not allow users to execute perpetual or leverage trading.
In exchange for a minimal scope of trading tools and options, users gain a seamless peer-to-peer Bitcoin trading experience that is unique to this exchange.
What Cryptocurrencies are Available on LocalBitcoins?
As the name suggests, LocalBitcoins only allows users to buy and sell Bitcoin. However, it also enables users to exchange Ethereum and receive Bitcoin. [8]
Unfortunately, this means that users do not have access to other popular cryptocurrencies or altcoins that are often featured on other crypto exchanges.
Despite the lack of cryptocurrencies, LocalBitcoin allows users to purchase and sell Bitcoin in a way most other exchanges do not.
Security: Is LocalBitcoins Safe & Secure?
Users can increase the security of their accounts by enabling Two Factor Authentication (2FA). LocalBitcoins offers two types of 2FA, mobile app, and paper-based. The mobile option utilizes the Google Authenticator app to scan an additional QR code to access the account. For paper-based authentication, users are given a list of 90 codes to enter at login. Once these codes have been exhausted, users must go back into the security settings and enable 2FA again. 
To further bolster security, LocalBitcoins uses a bug bounty system to reward users who discover critical exploits in the exchange. Based on the severity of the exploit, users may receive significant compensation in exchange for finding a bug. [9]
Customer Support: Contacts & How to Get Help
LocalBitcoin provides an extensive support center where users can find solutions to most common issues. [10]
Users can submit a support ticket to the customer support team if the issue cannot be resolved independently. The wait time for a response is estimated to be 1-3 days. 
Unfortunately, LocalBitcoins does not offer live support.
Despite the minor inconveniences, LocalBitcoins has a high level of customer satisfaction and a quality customer support team that is well-equipped to solve any issues users may face.
KYC, Taxes & IRS Reporting Details
LocalBitcoins requires users to complete the Know-Your-Client (KYC) process. To create an account and get verified, users must upload identification documents, including a driver's license, utility bill, and bank or credit card statement. Once these documents are submitted, users will be verified and granted access to the exchange within X days. [11]
LocalBitcoins follows all IRS-mandated reporting requirements. Users who make capital gains over $600 USD from cryptocurrency must lawfully report those to the IRS for taxation purposes. While LocalBitcoins reports user profiles to the IRS, it recommends users to keep track of all cryptocurrency transactions independently.
Who It's Best For?
LocalBitcoins is one of the premier exchanges for buying and selling Bitcoin in a peer-to-peer manner without the need for a centralized exchange or traditional bank. It is an excellent choice for investors looking to avoid centralized exchanges to accumulate significant amounts of Bitcoin.
Although access is limited to U.S. users, LocalBitcoins serves users worldwide. By expanding access internationally, LocalBitcoins aids the adoption of Bitcoin as a primary currency among a wider audience.
Low fees and reputable sellers make LocalBitcoins an appealing option for investors with significant knowledge of Bitcoin. For beginner users, the exchange offers free educational content on cryptocurrency content.
LocalBitcoins is a great option for eligible users in the U.S. and other countries to trade Bitcoin directly with other users through a quick and secure platform.