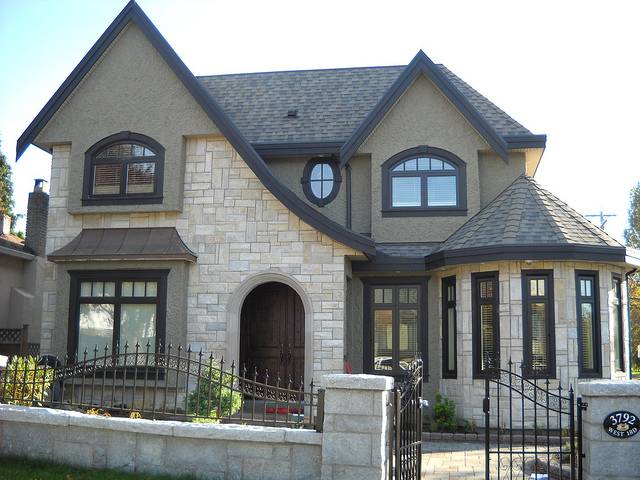 Not all insurances are created equal.  Your policies will differ on factors ranging from price and affordability to the types of coverage you are looking for, and the type of dwelling you own.  There are a few things you can keep an eye out for when looking into home insurance.
What Type Of Insurance Are You Looking For?
The first question that you need to ask when it comes to home insurance is what type of insurance policy are you looking for?  What type of coverage do you need for the home you have and the things you own to have it all or most of it covered in case of an emergency.
There Are 3 Major Types Of Insurance Policies That You Will Have The Option Of Looking Into:

1. Comprehensive
A comprehensive policy covers all risks towards your house and possessions with exclusions that will be listed and that you will have to keep mindful of when looking into this option.  Things that may be excluded are damages due to natural disasters. Some things like flooding or other natural disaster risks should be assessed, according to MoneyExpert.com.  If your area is prone to these occurrences, you may need to find a separate policy or add options that do include certain coverages.
2. The Basic or Named Perils
The Basic or Named Perils policy is as it sounds.  It will cover damages to risks that are specifically mentioned and outlined.  An example of this type of policy might cover fire and theft but not water damage.
3. The Broad Policy
The Broad Policy will be a combination of the Comprehensive and Basic/Named Perils Policy.  What is common is the comprehensive coverage to your home, and the basic coverage to the assets within.
When picking a coverage plan, it is best to speak with a professional who will be well equipped to advise and inform you on your situation.  A local advisor will even be even better, if they are familiar with the area, they can give you the best advice that works for you.
Get Started
Claim up to $26,000 per W2 Employee
Billions of dollars in funding available
Funds are available to U.S. Businesses NOW
This is not a loan. These tax credits do not need to be repaid
The ERC Program is currently open, but has been amended in the past. We recommend you claim yours before anything changes.
You Can Insure The Items Inside Your Home In Different Ways. 2 Of Those Options Are Cash Value and Actual Cost. 
The cash value option covers the current market selling value.  So if your computer system is insured under this policy option, if you were to put the claim in, you would receive an amount in return equal to what you would be able to get for it right now in its current condition.  You may have paid much more for it when you first purchased it, but due to depreciation, the value would drop.
Under the Actual Cost insurance option, replacing the same computer, you would receive money equal to the cost you paid for the insured item. The appeal to the Actual Cost insurance option is balanced out by the fact that it is more expensive than the cash value option.  You have to weigh the benefits, risks, and costs of both.
Actual Cost of your Home
Rebuilding a home will not cost the same as when you first purchased it.  In the event of having to repair or rebuild, you would not get the amount you paid for the home.  You won't get the premium back for the location as the land would rarely be damaged or even lost, and the materials to rebuild or repair may differ from the initial purchase.
High Value Items
Your home insurance policy will typically cover you from damages up to a maximum threshold or value limit which will be more than sufficient for most people.  The issue might arise that you have some extremely valuable items in your house that surpass that coverage cost. Things like electronics and gadgetry, jewelry, and art, can all be part of a list of things that can hold much value and not be covered.  If it is the case you have such items, more coverage may need to be added to your plan to cover these possessions. You may need to speak to your advisor about extra insurance depending on what you keep in your home.
Third Party Liabilities
Your third party liability can protect you from financial liability if there were ever a case where an injury to someone else were to occur on your property.  If someone were to fall on your sidewalk, or slip in your home, you may be held responsible.  The third party liability will be there to cover you up to an amount outlined in your policy.
Living Expenses
An insurance policy may include coverage for living expenses for you and your family if your home is damaged or lost and must be repaired or rebuilt.
Investors, Landlords, and Renters Insurance
If you are investing in property, or you own property that you plan on renting or leasing, you'll need to consider landlord insurance to cover your properties you are renting out.  Your coverage would have similar structural costs you have covered under home insurance, but without the coverage of items and possessions. If on the other hand, you are renting a place and do not own property, or as a landlord, you should be informing your tenants that you can purchase renters insurance.  This gives you some of the benefits of homeowners insurance, but without the coverage of the dwelling. So your personal items will be covered in case of damages. These are important factors for investors to ensure your home or property is protected.  Ensure you have full understanding of all your coverage options
Everyone is in need of insurance in one way or another.  You've invested a lot into your home, and like any investment you need to take the proper precautions to protect it.  Know all the options you have and if you need more help, speak to a professional that can advise you. Every home is different, but needs protection all the same.