Motley Fool Rule Breakers Review: Overview, Benefits & Drawbacks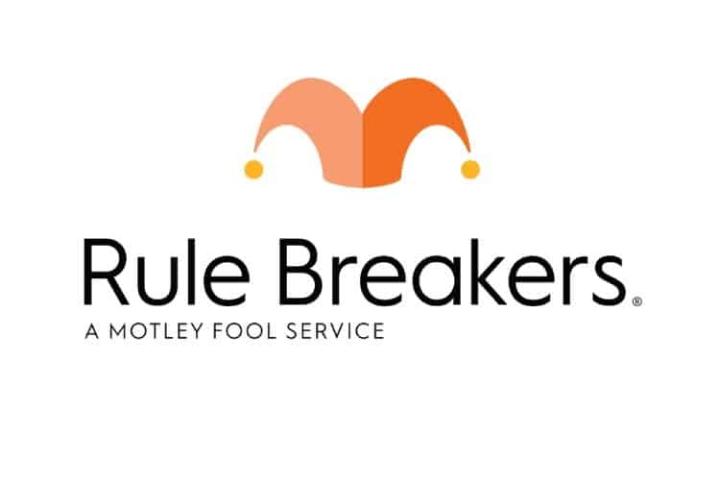 Motley Fool Rule Breakers
Delivers subscription-based stock picks
Focuses on growth-oriented companies
Effective research team with high-quality analysis
Recommendations have returned over 171 percent
Pros:
Two new picks a month
Good track record of beating the market
Easy-to-use Motley Fool app
Cons:
Expensive
High-risk investment strategy
There is no guarantee
Motley Fool Rule Breakers Ratings and Reviews
The Motley Fool Rule Breakers is an investment service that delivers subscription-based stock picks. For a monthly fee, members receive access to the top stocks, as well as research and analysis on each handpicked by the Rule Breakers team. 
Rule Breakers team comprises analysts focused on finding and investing in stocks that break traditional investing rules. The team's focus on innovative and growth-oriented companies makes this service a good choice for investors who are looking for stocks that have the potential to outperform the market. 
The Motley Fool Rule Breakers provide members with a variety of resources, including a monthly newsletter, online resources, and a discussion forum, aiming to help investors make informed decisions. 
With over 100,000 subscribers[1], the Rule Breakers service is a good option for investors looking for a comprehensive stock-picking service.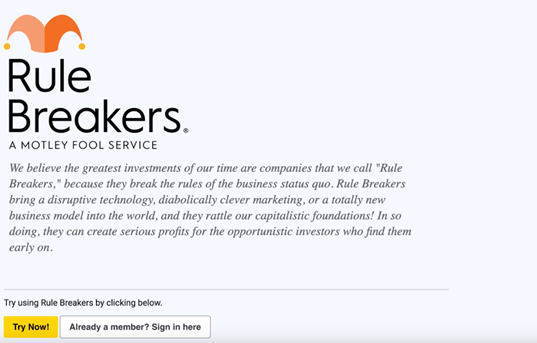 Motley Fool Rule Breakers Pros
The Motley Fool Rule Breakers newsletter is a valuable

resource for finding high-growth companies

. 

The company offers

a great selection of stocks

and two new picks a month. 

They have an

effective research

team that provides

high-quality analysis

. 

Offer

various investment strategies to suit different investors

. 

Maintain a

good track record of beating the market

. Average

Rule Breakers

recommendations have returned over 171 percent

[2]

.

Provide great service with a

team of friendly and helpful customer service

representatives.

The

easy-to-use Motley Fool app

is available on

Android

and

iOS

with an average rating of 3 out of 5.

With Motley Fool Rule Breakers, it is

easy to replicate trades

by opening the position at the end of the day.
Motley Fool Rule Breakers Cons
High Risk:

Rule Breakers could be considered a high-risk investment strategy and may not be suitable for all investors. Motley Fool Rule Breakers advise buying at least 15 stocks and holding them for at least five years to succeed in the stock market

[3]

, and there is no guarantee that they will perform as expected.

Subscription Fee:

The annual subscription fee for Rule Breakers is expensive when compared to other services or individual investments. This can be a barrier for investors who are on a tight budget.

Website:

The Motley Fool has a complicated website. It is challenging to reach the Rule Breakers page and other features of the service.
Motley Fool Rule Breakers Features
Stock Picks:

Rule Breakers makes stock picks for investors that are looking for big upside opportunities. 

Early-Stage Investing:

Rule Breakers specializes in investing in companies that are in the early stages of growth and have the potential to become major players in their industries. 

Industry Analysis:

Rule Breakers uses a combination of quantitative and qualitative analysis to identify potential investment opportunities. 

Industry Reports:

Rule Breakers publishes industry reports that provide an in-depth look at the products, services, and competitive dynamics of different industry sectors. 

Company Evaluations:

Rule Breakers evaluates potential investments based on various criteria, including financial performance, competitive position, and management expertise. 

Portfolio Management:

Rule Breakers offers portfolio management services to help investors manage and diversify their investments. 

Risk Management:

Rule Breakers provides risk management options to help investors manage their investments to meet their individual needs. 

Investment Education:

Rule Breakers provides educational materials and online courses that teach investors how to manage their investments effectively.

Rule Breaker Investing Podcast:

The Motley Fool

Rule Breakers podcast

is a weekly podcast about finding tomorrow's big stock winners. The co-founders, David and Tom Gardner, host the episodes featuring a Foolish stock pick and a live discussion of the latest investment news and trends.
Motley Fool Rule Breakers Pricing and Fees
The Motley Fool Rule Breakers service is available for $299 USD per year. There are no additional fees or hidden costs associated with the service. Motley Fool also offers a 30-day membership fee refund period, where members get a 100% refund if they are unsatisfied with the service. The membership payment can be made by debit/credit card as well as Apple Pay.

Motley Fool Rule Breakers Company Background
The Motley Fool is a private company that provides financial advice to its clients. Founded in 1993 by brothers David Gardner and Tom Gardner, Motley Fool helps individuals make smart, informed decisions about their finances and investments. 
The company started as a subscription newsletter written and published by the brothers but now spans over a range of products and services, including books, seminars, and video content. The Motley Fool has over 40 premium services, ranging in price from $100 to $13,999. They also provide an extensive suite of free content, such as investment ideas and market commentary, to help their readers become better investors.
The Motley Fool believes that investors should exercise their own judgment when making decisions about their finances and investments. The company does not offer a guarantee or assurance about the performance of stocks.
How does Motley Fool Rule Breakers work?
Motley Fool Rule Breakers is based on a proprietary stock-picking system that combines short and long-term investing approaches to identify fast-growing companies that could outpace the rest of the market. 
The Motley Fool Rule Breakers team sends two new picks each month. The service follows a strict selection process to choose a few unique stocks from thousands of publicly traded companies each month. It then provides a comprehensive list of stocks for members to invest in, along with detailed reports on each company's financials, insider trading, corporate actions, and more. 
In addition, Rule Breakers also provides stock analysis and advice from Motley Fool's team of experts, as well as access to interactive tools and webinars.
Motley Fool Rule Breakers User Experience
The Motley Fool Rule Breakers is designed to make stock investing simple and accessible. 
A key part of the user experience is the Motley Fool Rule Breakers Stock Selector Tool which allows investors to discover stocks and diversify their portfolios according to their personal investment goals. The tool enables investors to select stocks based on their preferred criteria, such as risk appetite, industry sector, and investment style. Once the investor chooses the stocks they are interested in, the tool compares their portfolio to the Rule Breakers investment strategy and provides actionable advice to help them build the strongest portfolio possible. 
The Rule Breakers' advice and research also include timely commentary on industry trends, analysis of emerging companies, and exclusive insights on upcoming IPOs. In addition, the tool offers exclusive investor resources such as industry-specific newsletters and webinars, allowing Rule Breakers to stay informed and informed of current events.
Customer Support: Contacts & How to Get Help
The Motley Fool Rule Breakers provides efficient customer service to its users to solve their account-related problems and answer their questions. The customer service team can be contacted by phone at 888-665-3665 Monday through Friday, 9:30 AM – 4:00 PM EST.
Furthermore, users can send their requests via the online Contact Customer Service form. They can also visit the Motley Fool help center to find frequently asked questions and support articles related to their subscription or other services.
Alternatively, users can follow Rule Breakers on Facebook and Instagram to directly reach the team with questions.
Who uses Motley Fool Rule Breakers?
Motley Fool Rule Breakers is a stock-picking service geared towards individual investors. The service recommends high-growth stocks that are expected to outperform the market and could be suitable for long-term investments. Beginner and experienced investors alike use the service to identify potential investments.
The newsletter and investing service are meant for investors looking to maximize their potential returns. It is best suited for experienced investors who are not afraid of taking on more risk and are comfortable with short-term stock volatility. 
Overall, Motley Fool Rule Breakers is a good investment service for investors willing to take on a higher level of risk and looking for responsive customer service.