OKX Review: A Comprehensive Overview 2022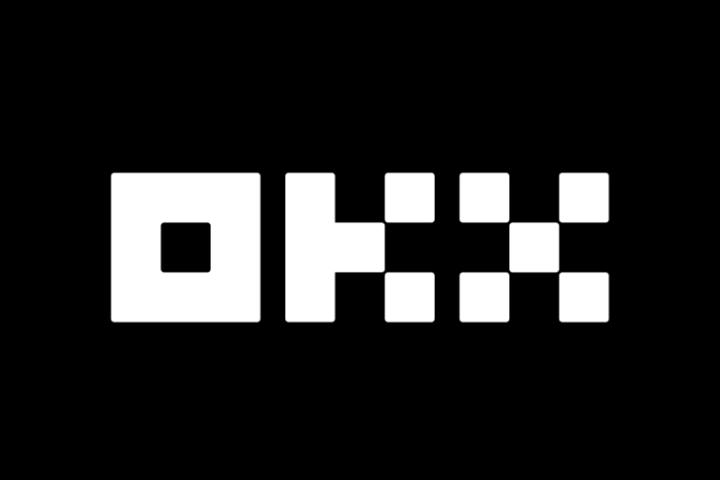 OKX
Cost-effective cryptocurrency exchange for traders of all levels
Customizable trading interface with various trading products
Impressive web3 exploration features for NFTs and DeFi
Pros
Available in over 100 countries
User-friendly mobile app
Industry-leading security features
Cons
Not available in the United States
Lack of quality customer support channels
Fiat not supported on the platform
OKX Rating and Review
OKX is a comprehensive web3 platform that offers a low-cost cryptocurrency exchange, an NFT marketplace, and a platform native blockchain. Available in over 100 countries, OKX is a platform for traders, degens, and web3 explorers. 
The OKX cryptocurrency exchange supports around 350 crypto tokens, with an intuitive and customizable trading experience, including access to a wide variety of products. 
OKX is not available to users in the United States and presents some other potential downsides, such as lack of quality customer service channels and fiat support. 
For users outside of the U.S. who do not need fiat services, the OKX platform is an all-encompassing web3 experience for individuals of all levels of trading expertise. 

Pros & Highlights
Customizable trading interface with various trading products

Competitive trading fees, especially for high-volume traders

Extensive offering of around 350 supported tokens

Industry-leading security features

Impressive web3 exploration features for NFTs and DeFi

Available in over 100 countries

User-friendly mobile app available on the

Apple App Store

and

Google Play Store

with an average user rating of 4.6/5

Site translated into 11 different languages, including English, Chinese, and French
Cons & Risks
Not available in the United States
Low liquidity for some trading pairs
Fiat not supported on the platform
Lack of quality customer support channels
OKX Features
OKX Earn: A yield farming platform with multiple opportunities for passive income. Professional investors can utilize the savings strategies to deposit tokens and earn yields up to 10 percent APY. Riskier options include high-yield staking strategies and Dual Investment contracts with yields of up to 150 percent. 
Jumpstart: A launchpad for new projects where users stake the OKX native token, OKB Coin (OKB), to secure an allocation of the project's token that is distributed upon launch. Recent projects include Taki (TAKI), Element Black (ELT), and Blockchain Brawlers (BRWL).
NFT Marketplace: Investors can explore the world of NFTs on the platform. With listings beyond digital art, users can explore utility-based NFTs such as music, gaming, and membership NFTs.
OKX DeFi: The OKX Decentralized Finance (DeFi) platform aggregates popular lending pools and staking opportunities from Defi platforms such as Compound, AAVE, and SushiSwap to provide users with a wide variety of DeFi options.
OKX Learn: An insightful database of tutorials, articles, and industry analysis designed to introduce new users to the platform, as well as educate experienced investors on fresh trading strategies, innovative blockchain technologies, and analysis of cryptocurrency markets. 
OKX Chain (OKC): An OKX native blockchain with a secure and programmable smart contracts platform customized to host web3 applications, or dApps. OKC is fully compatible with Ethereum Virtual Machine (EVM), the Cosmos ecosystem, and Inter-blockchain Communications (IBC) network.
OKX Prices and Withdrawal Fees
OKX provides competitive fees to all users but is specifically cost-effective for traders with high trading volumes over $10 million USD. 
The fee structure for regular users is structured such that trading fees decrease as the amount of OKB held increases.

For example, regular users with an OKB balance of 1,000 have access to Lv3 trading fees equating to 0.07 percent maker (seller) and 0.09 percent taker (buyer) fees. 
Regular users are upgraded to VIP level when their platform assets exceed $100,000 USD, or their 30-day trading volume exceeds $10 million USD. VIP users receive increased withdrawal limits and even cheaper trading fees. 
As OKX does not support fiat, there is no way to deposit or withdraw fiat from the platform. 
Cryptocurrency withdrawals will incur a fixed fee depending on the token withdrawn, as well as a minimum amount. For example, a minimum of 0.001 BTC is required to be withdrawn and incurs a total charge of 0.002 BTC regardless of the transaction size.
Company Background & History
Headquartered in Seychelles, OKX was initially founded in 2016 as OKEx by Mingxing "Star" Xu. 
OKEx was born as a crypto-to-crypto exchange, but the platform developed its offerings and expanded its presence beyond cryptocurrency trading. They dropped the E, standing for "Exchange" to convey that OKX is more than a trading platform. 
After its rebranding in January 2022, OKX launched features such as the NFT Marketplace, a DeFi platform, and its native chain. The OKX team continues to innovate and deliver new features as they position themselves to take advantage of the development of new blockchain technologies.
Trader Tools & Trading Experience
Traders have access to beginner-friendly direct trading through third-party services such as Koinal, Indacoin, and Banxa, where users exchange fiat for cryptocurrencies. It is important to note that fiat is not supported on the platform, so some users may choose to onboard fiat via cheaper exchanges and send their tokens to OKX.
For more experienced investors, OKX provides a fully customizable trading interface that includes impressive charting capabilities, simple order forms, filterable token watchlists, accurate order books, and other trading data.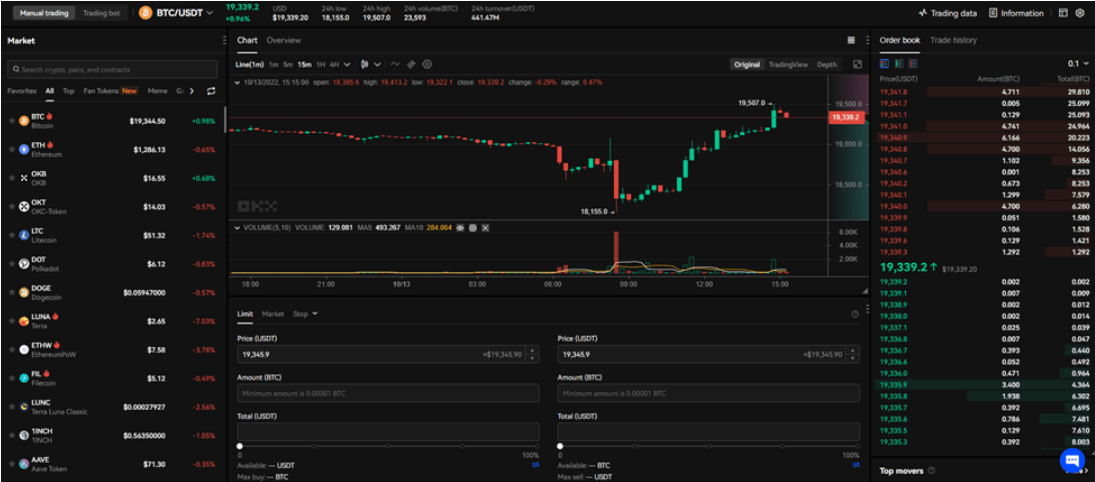 Investors can access powerful trading products, ranging from simple spot trading to leveraged options in margin trading, futures contracts, and other derivative products. OKX also provides complex features such as trading bots for automated strategy execution and Request-for-Quote (RFQ) custom multi-leg strategies.
What Cryptocurrencies are Available on OKX?
OKX supports a fine list of around 350 available tokens, including most popular cryptocurrencies. However, it does not support many small-cap altcoins that are available on other exchanges. 
Some of the supported tokens include: 
OKX Coin (OKB)

Bitcoin (BTC)

Ethereum (ETH)

Avalanche (AVAX)

Polygon (MATIC)

Solana (SOL)
Security: Is OKX Safe & Secure?
OKX excels in providing security features on a platform and account level. The focus on security infrastructure has helped them avoid major security breaches to date. 
On the platform level, OKX utilizes security measures focused on keeping funds and data offline to prevent online attacks, with no single points of failure throughout. These features include semi-offline signatures for network communication, geographically distributed multi-signature authorized individuals, and semi-offline private key storage.
Account level security consists of industry-standard measures such as two-factor authentication, anti-phishing codes, mobile/email verification, and customizable safety phrases.
Customer Support: Contacts & How to Get Help
Plenty of options are available for users to troubleshoot their issues on the platform, although other exchanges may have more extensive support capabilities.
The primary avenue for customer support is through the live AI chat box, where users can submit a support request if the problem is not solved via AI. 
Users can also visit the Support Center, which provides helpful documents and FAQs for those who prefer to troubleshoot individually.
KYC, Taxes & IRS Reporting Details
The OKX platform is not available to individuals in the United States and therefore does not report to the IRS. However, they are compliant with Know Your Customer (KYC) regulations. 
KYC verification is not required to use the platform, but non-verified users will be limited to crypto withdrawals of up to 10 BTC daily and access to only spot and futures trading. OKX recommends that users complete the verification process to access the platform in its entirety.
Level one KYC can be completed instantly by providing an ID number, name, and address. Level two KYC verification will further increase withdrawal limits and requires users to provide an official identity document and a photo. 
The process can be completed in under 15 minutes, although it may take up to three business days for the documents to be processed. 
OKX does not provide official tax documents but does allow users to export transaction history and link the OKX API to third-party tax services such as Koinly and CoinLedger.
Who It's Best For?
OKX is a cost-effective cryptocurrency exchange for traders of all levels and a platform that all blockchain enthusiasts can take advantage of. 
With intuitive trading options, direct trading order forms, and helpful educational resources, beginners have plenty of avenues for simple trading. The customizable trading interface and variety of trading products give experienced investors the tools they need to capitalize on their skill set. 
The OKX platform provides premium accessibility to investors in over 100 countries through a user-friendly mobile app, access to over 350 cryptocurrencies, and availability in 11 different languages. 
OKX rebranded in 2022 to convey that they focus on web3, not just crypto, immediately evident with its offering of the NFT marketplace, DeFi yield-aggregator, and OKX native blockchain. The depth of web3 product integration provides an expansive experience for blockchain enthusiasts.