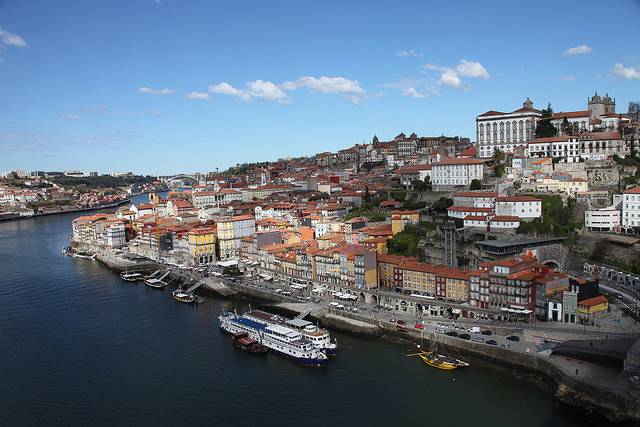 As one of the weakest Eurozone nations Portugal faces some of the most turbulent challenges in the wake of the wider financial fallout, and its housing market is much the worse for wear. Home prices continued to drop for the year ending in May 2012 by as much as 7.7% in some areas when adjusted for inflation. The country's construction sector remains inactive and experts are not optimistic about the beginning of a recovery in the near term. Slow mortgage growth and a stalled rental market are partly to blame, and an ongoing recession is not helping matters for the few prospective homebuyers and renters in the market. For more on this continue reading the following article from Global Property Guide.

The Portuguese housing market continues to slide, reacting to the country's dire economic situation.
During the year to end-May 2012, the average property price in the country plunged by 8.9% to €1,047 per square meter (sq. m.), based on the figures released by Statistics Portugal (INE). When adjusted for inflation, property prices actually dropped by 11.3% over the same period.
During the year to end-May 2012:
In Lisboa Metropolitan Area, property prices dropped by 4.8% (-6.2% inflation-adjusted)
In the Greater Metropolitan Area of Porto, property prices fell by 6.2% (-7.7% inflation-adjusted)
On a quarterly basis, property prices in the country dropped 0.8% (-1.9% inflation-adjusted) in May 2012.
Prices of flats fell faster than house prices. The average price of flats dropped by 10% (-12.4% inflation-adjusted) y-o-y to €1,078 per sq. m. in May 2012. On the other hand, the average house price fell by 7.2% (-9.7% inflation-adjusted) to €990 per sq. m. over the same period.
There was almost no activity in Portugal's residential construction sector, and thousands are losing their houses due to foreclosures. The construction sector owes banks around €25 billion and insolvency risks are increasing, as banks cut back on loans. The total number of property and construction firms going bust has risen by almost 50% in 2012 from the previous year.
The mortgage market is also declining, as interest rates rise. In May 2012, the total housing loans in Portugal dropped by 2.3% to €117.5 billion from a year earlier. The size of the mortgage market was at about 69.4% of GDP in 2011.The average interest rate on housing loans stood at 3.99% in May 2012, up from 3.6% in the same period last year, according to Banco de Portugal.
Property prices in the country are projected to continue falling for the remainder of the year. Demand for Portuguese properties is expected to remain weak in 2012.
There are no restrictions on foreign property ownership in Portugal and transaction costs are generally low.
Incomplete recovery
The house price boom that swept through most of Europe and the developed world from the mid-1990s to 2006 missed Portugal. Except in 2003, house price growth in Portugal has been generally lacklustre.
2003 – 2004, house prices rose by an average of 6.2% y-o-y (3.3% in real terms);
2005 – 2007, prices rose by an average of 1.25% (-1.3% in real terms);
2008 , prices fell by an average of 4.7% (-7.1% in real terms);
2009, prices fell by an average of 2.7% (-1.9% in real terms).
Why did Portugal miss the boom? Partly because it experienced sluggish economic performance, a contraction of 0.8% in 2003, and average of 1.1% GDP growth from 2004 to 2008. In 2009, the economy contracted by 2.7%.
Get Started
Claim up to $26,000 per W2 Employee
Billions of dollars in funding available
Funds are available to U.S. Businesses NOW
This is not a loan. These tax credits do not need to be repaid
The ERC Program is currently open, but has been amended in the past. We recommend you claim yours before anything changes.
Decades of rent control is another reason for low house price growth in Portugal. Lisbon can be used as a textbook case on how to destroy a city without bombing it. Rent control encouraged households to move to suburbs or the countryside leaving the city centres abandoned and decaying. There is substantial oversupply brought by a relatively high degree of second-home ownership (18.4% in 2001) and vacancy (10.6% of housing stock in 2001).
All Portugal's regions have experienced significant house price falls since late 2007. Of the five regions, Alentejo and Centro registered the highest house price declines. Even with the recovery of house prices in 2009, property prices are still way below their peak levels in the two largest regions by land area. In Q2 2010, the average price in Centro was lower by 13% compared to the peak price. In Alentejo, the house price was down by 11% over the same period.
HOUSE PRICE CHANGE (%)

Average price

Y-o-Y change

Q-o-Q change

From peak

Portugal

1,169

2.86

-0.28

-6.13

Grande Lisboa

1,528

2.18

-0.74

-3.84

AM Lisboa

1,442

2.17

-0.07

-4.69

Norte

993

4.38

-0.30

-8.76

Centro

973

3.65

-0.44

-12.86

Alentejo

1,098

3.16

-0.33

-11.19

Algarve

1,491

2.38

1.91

-5.45

Source: Instituto Nacional de Estatistica (INE)
Even in Algarve, property prices have not yet fully recovered from the crisis. The average price in Q2 2010 was 5.5% below the peak level. AM Lisboa performed better, with prices just down by 4.7% from peak level. In Grande Lisboa, the average price is only down by 3.8%. For Portugal as a whole, the average price is 6% below peak.
The Algarve and AM Lisboa have the most expensive housing in Portugal, with average prices exceeding €1,400 per sq. m. On the other hand, Centro and Norte have the cheapest properties, below €1,000 per sq. m.
Slow mortgage growth
Though interest rates fell to historic lows in 2010, mortgage growth remains sluggish.
Interest rates on housing loans fell to 2.28% in June 2010 from a peak of 5.76% in November 2008, after the European Central Bank (ECB) slashed its key rate to 1% in May 2009, where it has stayed since.
The mortgage market is extremely sensitive to interest rate changes since 98% of all loans approved have variable interest rates or initial rate fixation of less than one year.
As of June 2010, total mortgage growth was 5.5% y-o-y, growth having slowed from 10% in 2007, 15.7% in 2006, and 11.7% in 2005. An average of €861 million loans were approved monthly during the first half of 2010, much down on the €1.5 billion approved in H1 2006, and H12007.
Stagnant rental market
There is considerable pent-up demand for rental housing in Portugal. Tenancy laws, which have long given tenants controlled rents and protected them against eviction, have discouraged landlordism.
Generous government mortgage subsidies pushed owner-occupancy rates up from 52% in 1981, to 75% in 2001, giving Portugal one of the highest owner-occupation rates in Europe. The handicapped private rental market has shrunk from 39% of total dwelling stock in 1981, to 21% in 2001, while the social rental sector has stagnated at 3% to 4%.
As a result, young people either live at home, or pay exorbitant key money, or buy an apartment.
Rents are rarely sufficient to maintain dwellings in good condition. Most landlords refuse to rent due to "lack of collateral" according to Antonio Frias Marques, president of the National Association of Landlords (NPA).
Government figures show that there are about 720,00 tenants in Portugal, about 10% of the population. Around 300,000 (42%) had contracts after 1990 (rents are determined by the market), while the remaining 420,000 (58%) had contracts set before 1990, many with rents frozen for decades.
Inadequate rental reforms
In June 2006, the New Urban Lease Act (Novo Regime de Arrendamento Urbano – "NRAU") was passed in an effort to revive the decaying rental market. NRAU gives more security to landlords. The new law was enormously controversial and was at the centre of passionate public debate. For new contracts under the NRAU:
Initial rents can be freely agreed.
The minimum term for fixed-term residential tenancies is 5 years.
There are automatic and consecutive extensions of three years, but the landlord may prevent renewal, by giving notice 1 year ahead.
Where there is a termination agreement, judicial proceedings are not necessary.
For rental contracts already in force, an increase on rental income is based on the following:
Conservation rating
Property assessment, conducted by the government every less than 3 years.
The rental building's final rating should be satisfactory for the landlord to be allowed (by law) to increase rents; otherwise the tenant can require the landlord to renovate the property. If he refuses, the tenant is entitled to buy the property for the value attributed to it under the terms of the Property Council Tax, known as the Imposto Municipal Imobiliário (IMI).
While NRAU, in theory, will allow property markets to work more effectively, it is quite unfair to landlords with existing rental contracts (see readers' comments on Portugal landlord and tenant pages).
However, the implementation of these new housing laws still faces hurdles. Obtaining a property rental license is "complex, costly and time consuming," reports the Portugal Resident, with a license costing €1,200 or more and taking several months. In addition, the law still gives the tenant far too much security.
The NPA also complains that around 20,000 tenants pay little or no rent at all.
Construction sector in crisis
Residential construction has fallen to new lows. With several buildings in Lisbon and Oporto (second largest city) crumbling, a drop in new construction implies a further decline in the quality of the existing built infrastructure.
The number of dwellings completed for family housing declined only 60,215 units in 2009, from a peak of 125,000 units in 2002.
Permits for construction of new dwellings reached an all-time low of 27,012 units in 2009, significantly down from the almost 120,000 units annually from 1998 to 2001.
All regions experienced substantial declines in dwelling permits and completions.
Economic recession
The current fashion for fiscal conservatism is impacting Portugal. Investors and financial institutions have become skeptical of large national debts. Portugal, Ireland, Greece and Spain (derogatorily abbreviated as the 'PIGS') have been lumped together as highly risky.
Credit agencies have downgraded Portugal's credit rating:
Standard & Poor's lowered Portugal's long-term local and foreign currency sovereign issuer credit ratings to A- from A+. Local and foreign currency short-term ratings were lowered to A-2 from A-1.
Fitch lowered Lisbon´s rating from AA to AA-minus
Moody's cut Portugal's sovereign bond ratings to A1 from Aa2.
The country has also the lowest GDP growth rate in the European Union (EU). In 2011, the economy contracted by 1.5%, from growth of 1.4% in 2010 and a contraction of 2.9% in 2009.  GDP growth averaged only 1.1% from 2004 to 2008.
In 2012, the economy is projected to contract by 3%, before registering a slight growth of 0.2% in 2013.
Following a three-year, €78 billion (US$116 billion) bailout received from the European Union (EU) and the International Monetary Fund (IMF) in May 2011, the government adopted economic austerity measures aiming at slashing the budget deficit to 3% of GDP (€5.224 billion) in 2013.
The country's budget deficit fell to 4.2% of GDP in 2011, far below the 2010 deficit of about 9.1% of GDP. However, this was mostly due to an extraordinary one-off transfer of pension funds from banks to state coffers. During the year to end-Q1 2012, the deficit slightly increased to about 4.3% of GDP.
This article was republished with permission from Global Property Guide.