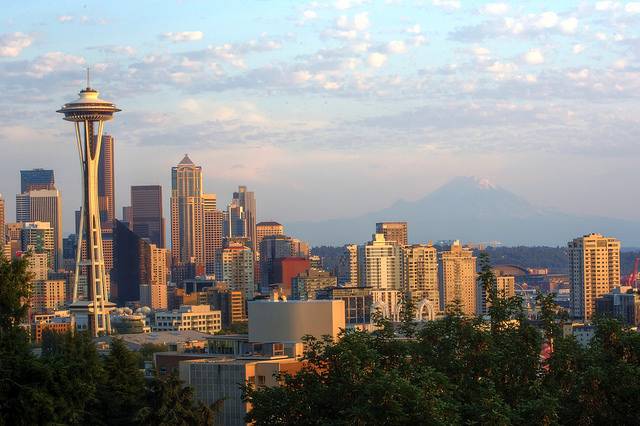 In August 2016, Seattle became the first city in the nation to pass a law requiring landlords to stop screening applicants the moment they found one who qualified to rent their property. Known as the "first-come first-served" measure, proponents say it will end the practice of "cherry picking" by landlords, some of whom have been alleged to pass over a qualified tenant in favor of one they personally prefer. But will it?
Here's what Seattle's first-come first-served rental measure means for landlords.
Landlords must notify potential applicants of their selection criteria before accepting rental applications. When completed applications are received, the date and time of their submission must be recorded. Should multiple applications for a rental property be submitted, landlords are required to review them in the order of their receipt. The first applicant satisfying all of the landlord's established criteria gets the place.
While it seems reasonable at a glance, opponents paint a very different picture. To opponents of the measure, it robs them of their right to employ personal judgment in the way they conduct their business. They cite situations in which landlords will be forced to rent to individuals with great jobs, high income, excellent credit and abhorrent personalities. Their gut instinct, unless the landlord is renting a place in which they also reside, is removed from the consideration process.
Get Started
Claim up to $26,000 per W2 Employee
Billions of dollars in funding available
Funds are available to U.S. Businesses NOW
This is not a loan. These tax credits do not need to be repaid
The ERC Program is currently open, but has been amended in the past. We recommend you claim yours before anything changes.
The ultimate aim here is to make property management in Seattle fair to everyone by stemming potentially discriminatory behaviors directed against people of color and applicants who must rely upon supplemental forms of income such as Social Security, veteran's benefits, child support and vouchers. Many Seattle landlords have openly demonstrated preferential treatment among applicants by offering employees of Amazon, Boeing and Microsoft perks such as discounted security deposits. The first-come, first-served measure was added to an ordinance outlawing this practice.
To enforce the measure, Seattle's Office of Civil Rights (SOCR), may conduct sting operations in which they submit qualifying applications to see if they get passed over. While applicants will have no consistently reliable method by which they can determine their place in line, they can petition the SOCR to audit a landlord's records if they suspect bias.
Another concern voiced by Seattle landlords is that rather than leveling the application process, it will actually favor those with free time, smartphones, easy access to the internet and personal transportation. Opponents of the measure say these people will learn of vacancies earlier and have the mobility to get to them first.
Other landlords say the measure is unnecessary because they already engage in the practice, maintaining their primary goal is to always get the unit rented as quickly as possible to a reliable individual. Fair Housing activists say while this might well be the case, unconscious bias is still possible. One solution for landlords whose portfolios will support it is hiring a property management company to conduct their rental processes, removing themselves from the situation altogether.
It should be noted the measure does permit landlords to ignore the policy to accommodate members of specifically protected classes such as domestic violence survivors. Additionally, if a prospective renter can show they need additional time to complete an application, a landlord may grant them a spot in the queue based upon the date and time of the request, as opposed to the actual delivery date of the application.
While no attempt to erase bias in society is ever likely to be met with universal approval, Seattle's heart seems to be in the right place. Unfortunately, though, to make it work, the city seems to be impinging upon the landlord's right to free choice. Ultimately, what Seattle's first-come first-served measure means for landlords is deciding whether to work within it, or to seek a way to work around it.