Skrill Review: Pros, Cons, and More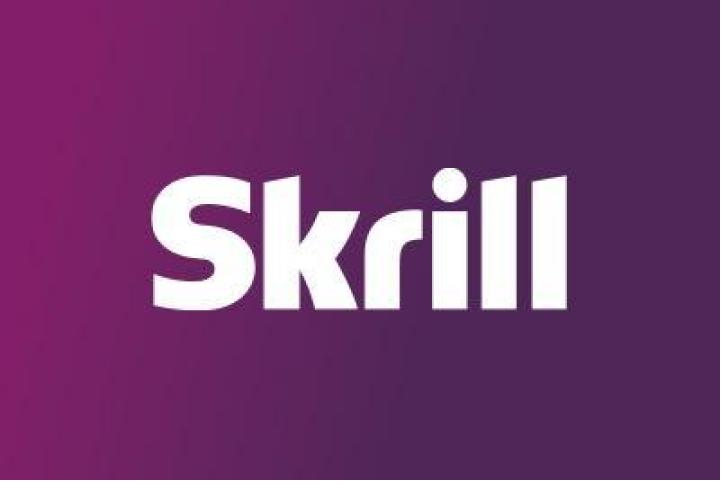 Skrill
Leading digital wallet with over 25 million users
Cost-effective payment solutions
Supports crypto transactions in over 40 cryptocurrencies
Prepaid Visa® Card and Mastercard features
Offers rewards and special benefits
Pros:
Easy and fast money transfers
Multi-currency support
Contactless payments
Affordable fees
Rewards can be redeemed as cryptocurrency
Cons:
Not all merchants accept Skrill
Unhelpful customer service
Low withdrawal limit
Not available in some countries
Skrill Ratings and Reviews
Skrill is one of the leading digital wallets in the world, offering a wide range of services from international payments and withdrawals. It is available in over 200 countries and provides a secure, fast, and efficient way to transfer money from one account to another.
Skrill can be used to pay for goods and services online, send money to family and friends, and make international payments. It also provides a range of other services, such as virtual cards, prepaid cards, and merchant solutions. 
Skrill is trusted by more than 25 million users[1] and is accepted by many major online retailers. It is easy to use, secure, and one of the most reliable and cost-effective payment solutions available.
Skrill also supports crypto transactions in over 40 cryptocurrencies, including Bitcoin, Ethereum, Bitcoin Cash, Cardano, and Dogecoin.Transactions on Skrill are secure, and users enjoy low transaction fees. They also offer a Prepaid Visa® Card and Mastercard to make payments directly from a Skrill account.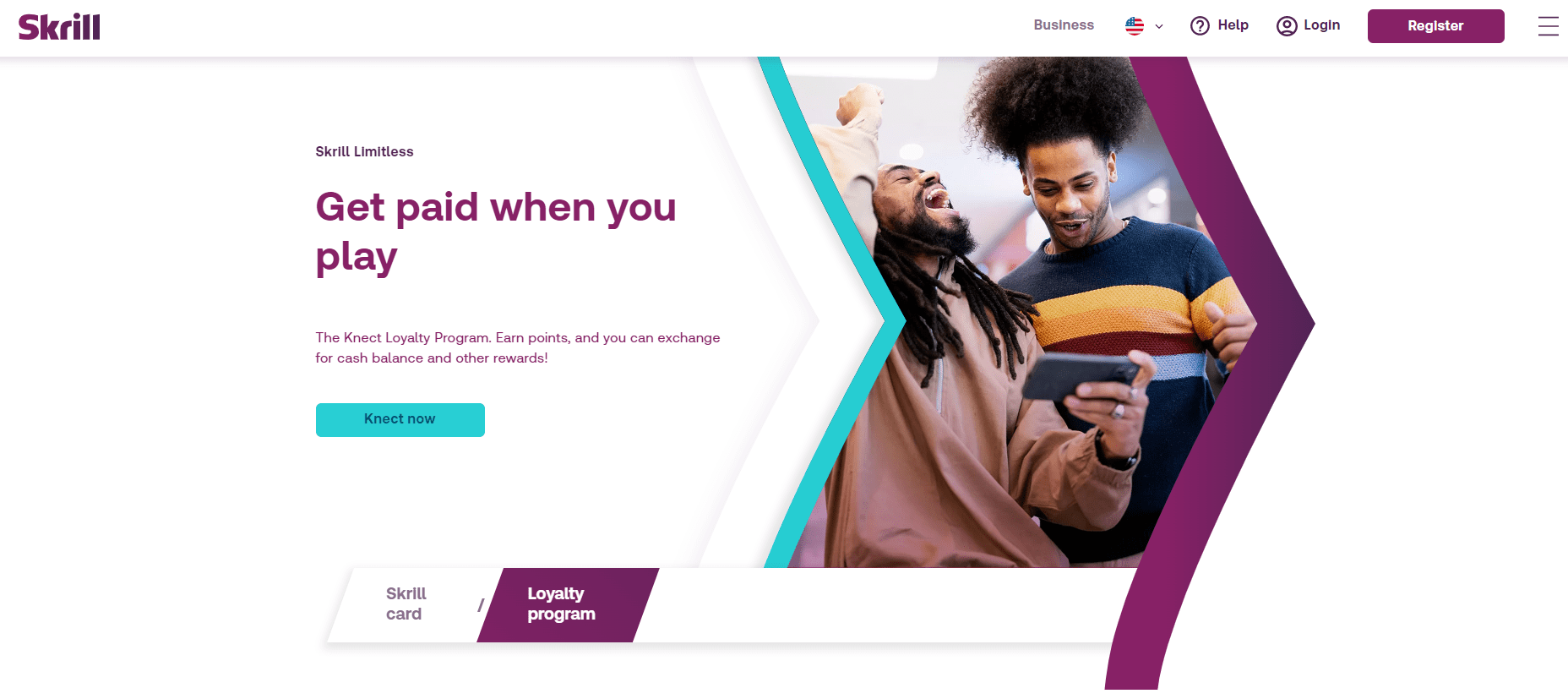 Highlights of Skrill
Easy and fast transfers:

Skrill offers a secure, hassle-free system for transferring money quickly and efficiently.

Multi-currency support:

Skrill allows users to manage their funds in multiple currencies, adding another layer of flexibility.

Cryptocurrency trading:

With Skrill's cryptocurrency trade feature, users can exchange their primary fiat or Bitcoin balance against over 40 cryptocurrencies and profit from the price fluctuations.

Reward Program:

Skrill offers a reward program that incentivizes users for every purchase, earning them points that can be redeemed for cashback, discounts, and more.

Global reach:

Skrill can be used by users worldwide, making it a truly global payment solution.

Multi-device access:

Skrill can be accessed online using mobile applications on iOS and Android.

Low Fees:

Skrill charges affordable fees for making payments, receiving money into a Skrill account, and opening a Skrill account is free.\

Secure:

Skrill uses the latest security features and protocols to ensure the safety of user data and financial transactions.
Downsides of Skrill
Limited acceptance:

Not all merchants accept Skrill, so buying some goods and services may not be an option. 

Exchange rate fees:

If users want to transfer money into a currency other than Euros, they'll be subject to a foreign exchange fee of up to 3.99 percent.

Customer Service:

Skrill often fails to respond to users' queries even after multiple attempts and is not always helpful.

Limited cryptocurrency availability:

Skrill only allows users to purchase certain types of cryptocurrency with its platform. 

Low withdrawal limit and late withdrawals:

Skrill has low withdrawal limits, meaning that users may not be able to withdraw large sums of money from their accounts, and their withdrawal limits depend on their account verification status. Additionally, some withdrawal methods, such as bank transfers, can take up to 5 business days.

Geographical restrictions:

Skrill is not available in some countries, such as Barbados, Japan, Kosovo, Turkey,

and more

.
Skrill Features
Skrill is used by individuals and businesses to securely receive and send payments and money transfers in more than 100 countries. Furthermore, the platform offers a number of features, including: 
Skrill Visa® Prepaid Card
Skrill Visa® Prepaid Card is a reloadable prepaid card powered by Visa and issued by Paysafe Financial Services Ltd that allows you to shop and make payments online at any merchant that accepts Visa debit cards. The Skrill Visa® Prepaid Card can also be used to withdraw cash at ATMs that accept Visa debit cards.
Skrill Mastercard® Prepaid Card
Skrill Mastercard® Prepaid Card is a prepaid debit card that is issued by Skrill Ltd, an authorized issuer of Mastercard® cards. With this card, you can easily access your Skrill e-wallet balance and use it anywhere Mastercard® is accepted. Users can make speedy contactless payments in stores and online.
Skrill Knect is a loyalty program powered by Skrill USA that offers rewards and special benefits to registered Skrill USA account holders. Skrill gives users 1 point for every $1 transaction made with the Skrill Visa@ Prepaid Card. Users can enjoy exclusive access to discounts, cashback, and Knect loyalty points, which can be exchanged for various rewards and gifts. 
Skrill VIP is a loyalty program designed to recognize and reward users who frequently transact with Skrill. Once users become a VIP, they are entitled to a range of benefits such as priority customer support, lower foreign exchange fees, additional account security, and a dedicated VIP team. Within this loyalty program, users can get VIP access to hospitality at major sports tournaments and tickets to networking events. Skrill USA users who transfer at least $15,000 to other Skrill USA merchants in one quarter are entitled to become VIP members.
Skrill Paysafe Affiliates is an affiliate program where members earn commissions for referring users to Skrill and Paysafe products. The program pays out commissions for each successful referral based on the user's activity and the amount of money transacted. Members can also earn additional bonuses and a 20 percent share of the revenue. The program also provides access to a suite of marketing tools and resources to help members maximize their earning potential.
With Skrill Crypto, users can store, buy, exchange, and transfer cryptocurrencies like Bitcoin, Ethereum, Litecoin, Bitcoin Cash, and XLM (Stellar). As a regulated company, Skrill Crypto allows users to make secure and fast transactions to and from their wallets, with various payment options.
Skrill Business is an online payment platform that helps businesses send and receive payments securely and conveniently. It provides businesses with a range of features and tools, including quick checkout, digital wallet, rapid transfer, shopping carts, access to multiple currencies, recurring payments, and fraud protection. With Skrill Business, businesses can quickly and easily process payments, receive payments worldwide, and manage their finances in a straightforward place.
Skrill Pricing and Fees
Skrill pricing and fees differ depending on the type of transaction, country, and Skrill account levels. For personal use Skrill USA account is free as long as users log in or make a transaction at least every 12 months, otherwise, a service fee of $5 is charged monthly. Additionally, deposits are free, but withdrawals have a $5.50 charge per transaction.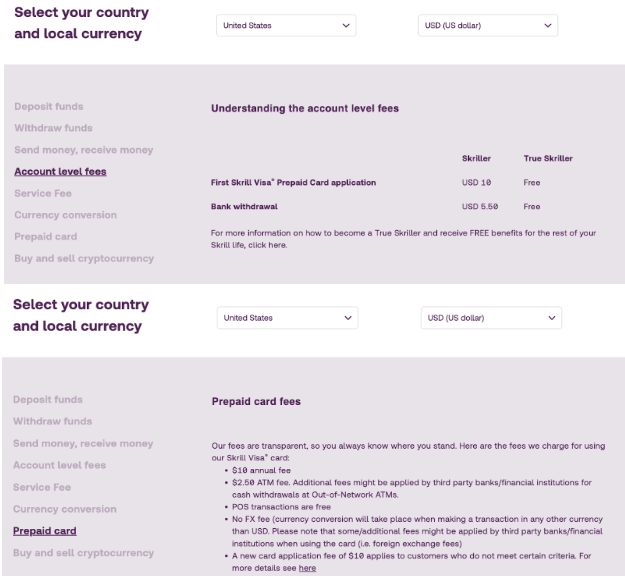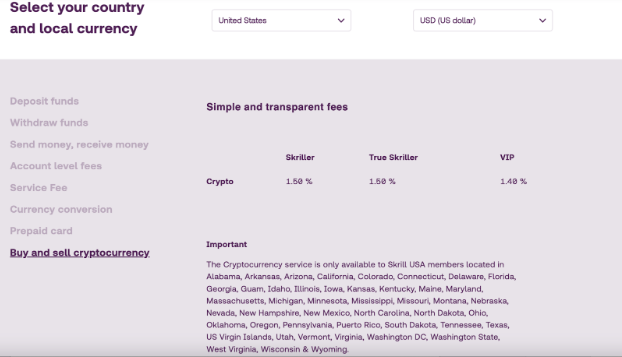 Skrill Company Background
Skrill, formerly known as Moneybookers, was founded in 2001 by Daniel Klein and Benjamin Kullmann in London, United Kingdom. The company grew quickly and became one of the top three e-payment solution providers in Europe by 2007[2]. 
In 2011, Moneybookers announced that they would rebrand as Skrill after approval from the Financial Conduct Authority in the UK.
In 2015, Skrill was purchased by Optimal Payments, the parent firm of Neteller, its rival digital wallet, for €1.1 billion.
In 2018, Skrill started broadening its service range, introducing a global money transfer service. They also launched a cryptocurrency service, making it possible for users to buy and trade digital currencies. The following year, the company launched its customer loyalty program, KNECT, and extended the international money transfer service to the U.S.
At present, Skrill is one of the world's largest and most trusted payment methods. Millions of users utilize their services, and the company has won numerous industry awards for its innovative services.
How does Skrill work?
Skrill is an online payment system designed to make purchases and send money quickly and securely. Users must open an account with Skrill and then link a bank account, card, or other payment method to the account. To make a purchase, users simply enter the amount to be paid, the merchant's email address and click the "Pay" button. This triggers a payment from the users' Skrill account to the merchant. Money can also be sent from one Skrill user to another, and payments can be made in different currencies.
Users can choose Skrill account levels: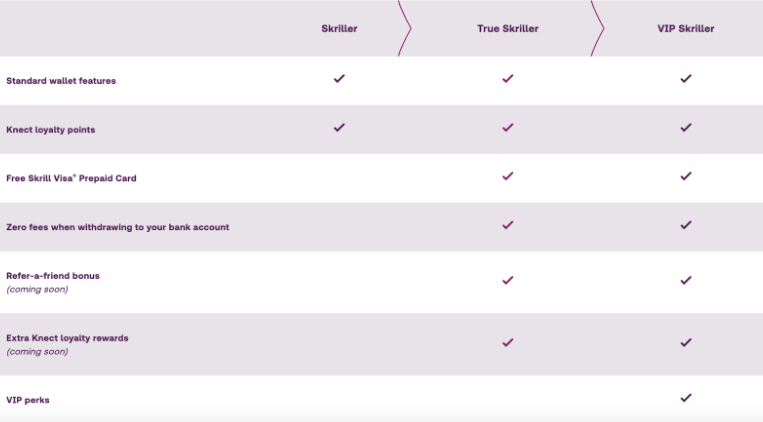 Skrill User Experience
Skrill's website is easy to navigate and offers a wide variety of services. They make it easy to create an account and start using their services. They also offer a mobile app on Android and iOS for easy access to their services on the go. Skrill mobile apps have almost four stars over five for users' ratings.
Skrill provides great security and a range of payment options, including credit cards, debit cards, and bank transfers, making it a suitable choice for anyone looking for a reliable and secure way to make online payments.
What cryptocurrencies are supported on Skrill?
Skrill supports over 40 cryptocurrencies that include:
Bitcoin

Celo

Chainlink

Decentraland

Ethereum

Maker

Polygon

Shiba Inu
The full list can be found on the company's website.
Security: Is Skrill Safe & Secure?
Skrill ensures that its users are secured. Their fraud and risk management system constantly monitors all activities and transactions. 
Users' account login, personal details, and all money transactions are protected using Secure Socket Layer (SSL) technology. The company implements state-of-the-art security systems, including 128-bit encryption certified by VeriSign. Users are further protected from fraud, theft, and unauthorized access as the platform adds two-factor authentication to every account for added security.
Customer Support: Contacts & How to Get Help
Users can contact the Skrill helpdesk in a variety of ways. The fastest and easiest method is the "How to contact?'' section on their website, which contains information on live chat sessions, email addresses, and phone numbers for customer service representatives. 
Users may use Skrill's social media accounts on Facebook and Twitter to ask questions and get quick responses. 
Additionally, users can refer to the extensive help center with FAQs and detailed instructions on Skrill's website.
Who is Skrill Best For?
Skrill is best for those who need a convenient, secure, low-cost way to send and receive money worldwide. Being one of the most popular digital wallet services, Skrill is accepted by many merchants worldwide, which makes it preferable for e-commerce shoppers. Thanks to its affordable transaction fees, anyone who frequently makes online purchases or transfers money to other countries can choose Skrill.
Skrill is an excellent option for those who want to buy and sell cryptocurrency safely and securely. With Skrill's cryptocurrency trade feature, users can exchange their primary fiat or Bitcoin balance against over 40 cryptocurrencies.
Skrill is also designed for those who want to benefit from rewards such as cashback and discounts while using their credit card.