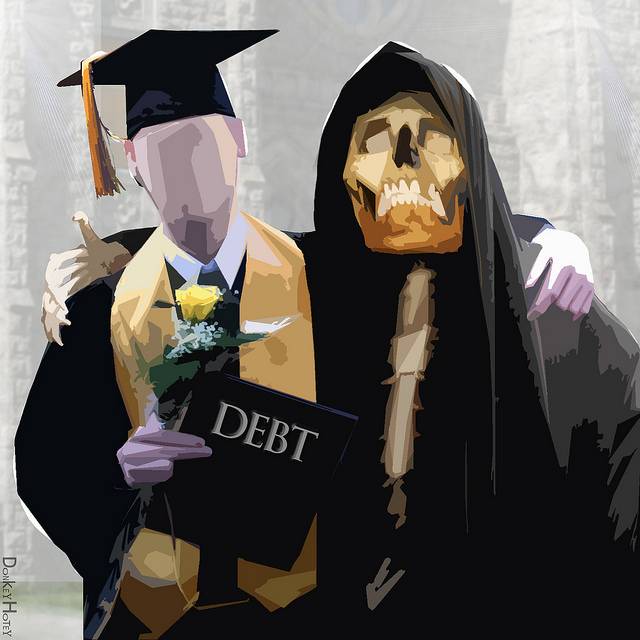 Huge levels of student debt – now at $1.3 trillion – translate into steep monthly payments, the very debt that can doom mortgage applications. So is student debt behind the decline in first-time homebuyers? The answer, as we shall see, is that college loans often lead to stronger mortgage applications.
There's no doubt that the decline in first-time buyers is both real and troubling. According to the National Association of Realtors, "the share of first-time buyers fell in 2015 for the third consecutive year to its lowest point in nearly three decades, even as home sales strengthened." That's a problem because without first-time buyers current homeowners have less opportunity to sell and move up, meaning the entire real estate market is ultimately impacted by the lack of fresh purchasers.
To figure out the role student debt is playing in the real estate market – and to see if it's killing off first-time buyers – we need to start with a few facts.
First, more than 98 percent of all new home loans are "qualified mortgages" or QMs. Lenders want to originate QMs because such loans shield them from virtually all liability.
Second, to be a qualified mortgage a loan must meet standards established under Dodd-Frank.
Third, one of the most important QM requirements is that the borrower's debt-to-income ratio (DTI) cannot generally exceed 43 percent.
This is the point where student debts become important – even if a student is not making monthly payments.
Get Started
Claim up to $26,000 per W2 Employee
Billions of dollars in funding available
Funds are available to U.S. Businesses NOW
This is not a loan. These tax credits do not need to be repaid
The ERC Program is currently open, but has been amended in the past. We recommend you claim yours before anything changes.
Student Loans & Monthly Debts
According to The Institute for College Access & Success the typical student owed $28,950 in loans as of 2014, the latest available year. The Federal Reserve Bank of Cleveland says the typical monthly payment in the second quarter of 2015 was $351, up more than 50 percent from $227 in 2005.
There are students who have a payment deferral plan and are not making any monthly payments. It might seem that a borrower who is not required to make monthly payments would do well with the DTI standard but that may not be the case. For instance, HUD says if no payments are being made, then for an FHA loan the lender must calculate a monthly cost equal to 1 percent of the outstanding student loan balance. For a borrower who owes $28,950 in student debts that would $289.50.
Can such costs make a difference? You bet.
The typical US household earned $53,657 in 2014, or $4,471 a month. Forty-three percent is $1,923. This is the allowable DTI percentage for most loans and includes recurring monthly costs such as housing expenses, car payments, credit card obligations and student loan payments. If $350 or thereabouts is deducted for student loans that leaves a lot less for other forms of debt, including mortgage borrowing.
Given such numbers is there any good news for prospective first-time borrowers?
"Student loan debt is a very real problem in today's housing market, partly because of the debt itself, partly because wages for entry level jobs haven't risen nearly as rapidly as the cost of a college education, and partly because of the new DTI rules," said Rick Sharga, executive vice president of online real estate marketplace Ten-X. "But in the long run, people with degrees should earn higher wages, and ultimately be well-positioned to own homes."
Student debt does not exist in a vacuum. People with higher educations tend to earn more than those with less training. According to the Department of Education, the typical high school graduate earned $30,000 in 2013 versus $50,000 for someone with a college degree. No less important, more education equals more employment – high school graduates had a 10.5 percent unemployment rate in 2014 versus 3.7 percent for those with a bachelor's degree.
That extra $20,000 a year equals an additional $1,667 a month. Forty-three percent of this additional income is $717 – far more than the typical cost of college debt. In effect, while student debt is a real cost and must be repaid, a higher education produces mortgage applicants who are better qualified than borrowers without a college degree.
Student Debt & No Degree
The catch comes with those who have student debt but do not graduate. A just-published study by Quiang Cai and Sarah Shahdad with Fannie Mae explains that "the benefits of obtaining at least a bachelor's degree outweigh the burden that student loans place on homeownership likelihood.
"However, for those who started but did not complete their bachelor's degree, the negative effect of student loans on homeownership is particularly acute. Among 25- to 44-year-olds with student debt, 40 percent did not get their bachelor's degree."
In effect, student loans are not a financial barrier for first-time homebuyers who complete their college studies. The real problem is with the large number of individuals who enter college but fail to finish and are then left with both debts and smaller incomes, a combination which at best delays buying and at worst makes homeownership unaffordable.