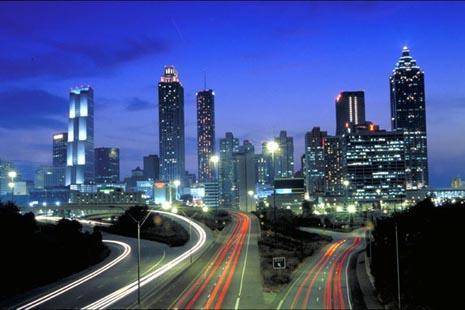 The fast-growing Atlanta metro area offers investors an opportunity to find affordable homes to purchase and lease to a large educated workforce with a median household income of $51,701. The rental housing demand is helped by a 16.7% increase in population in Atlanta from 2010 to 2018 and an abundance of employment opportunities including sixteen Fortune 500 companies and a thriving film industry.
Median sale prices in Atlanta have seen strong growth from $103,000 in 2011 to $234,900 by the end of 2018. However, home affordability is still high for a large U.S. city when compared to other large cities like Los Angeles and New York, and many properties in Atlanta are still available in the low 200's price range.
I've done hundreds of transactions in Atlanta over the years and have really liked this market. I know our client's properties in Atlanta have done extremely well. Continue reading to learn five reasons that investing in rental property in Atlanta is an attractive option for investors today.
Population Growth
An excellent rate of population growth of 16.7% in Atlanta from 2010 to 2018 has helped boost the demand for rental housing. Atlanta is one of the fastest growing cities in the United States and is even outpacing baby boomer destinations like Jacksonville which grew by 10.0% over the same time period. People fleeing high taxes and cold weather are attracted to the moderate spring and fall and mild winters in the Peach State. According to a report by the Atlanta Regional Commission, the population of the 20-county Atlanta region will grow by 2.5 million people by 2040 for a total population of more than 8 million.
Economy and Employment
Get Started
Claim up to $26,000 per W2 Employee
Billions of dollars in funding available
Funds are available to U.S. Businesses NOW
This is not a loan. These tax credits do not need to be repaid
The ERC Program is currently open, but has been amended in the past. We recommend you claim yours before anything changes.
A strong economy with many employment opportunities from large corporations to Hollywood films means a large pool of high quality tenants for investors. Residents of Atlanta earn a median household income of $51,701 according to the US Census (2013-2017) and have a low unemployment rate of 3.5% as of August 2019. The Bureau of Labor Statistics's summary report on the Atlanta economy from August 2019 shows strong job growth in the construction, leisure and hospitality, and professional and business services categories with 7,000, 12,000, and 20,000 jobs added respectively over the past year. Atlanta is home to sixteen Fortune 500 companies including Home Depot (#27), UPS (#41), Delta Airlines (#69) and Coca Cola (#100). Georgia also has a strong pro-business climate with a top corporate tax rate that was lowered to 5.75% in 2019.
Growth in Southwest Atlanta
An Atlanta developer who was interviewed on the Creating Wealth podcast said they are currently focusing their resources on southwest Atlanta where they are seeing the most growth.
"There's tons of employment there," he said. "You're only about 15 minutes from the airport. They're adding a mass transit to extend into Union City, along with a lot of Hollywood stuff that's coming."
He also recommends southwest Atlanta because it is near a self-sustaining community called Serenbe, which the New York Times calls "a utopian experiment in New Urbanism being molded out of Georgia red clay". The popular travel destination attracts people interested in the farm-to-table movement, sustainability, and escaping the fast pace and stresses of modern life.
Thriving Entertainment Scene
A large number of entertainment venues makes Atlanta an attractive place to relocate to for a high quality of life. Residents of Atlanta have many options for entertainment such as sporting events, museums, and parks. Mercedes-Benz Stadium is the home of the local Atlanta Falcons football team and was the host of the 2019 Super Bowl. The 22-acre public Centennial Olympic Park was the site of the 1996 Olympics and continues to be a popular location for locals and tourists with scenic views of downtown. Atlanta is home to Georgia Aquarium, the largest U.S. aquarium, as well as several famous museums like the College Football Hall of Fame and the World of Coca Cola.
Low Taxes
Although the tax environment is not as favorable as Florida, there are exceptions to state income taxes on retirement income that helps attract retirees to the area. Kiplinger named Georgia the #10 most tax-friendly state for retirees in 2018.
The state government is aggressive in offering tax incentives to attract companies to work in Georgia and this has led to Atlanta becoming a top location for filming movies and television shows. The filming of shows like Stranger Things and Ozark make up a portion of the $9.5 billion in total economic impact and over 90,000 film industry jobs in Georgia.
Potential Concerns for Investors
Crime is an issue in some areas of Atlanta as there are about 4,707 violent crimes annually and there is a 1 in 103 chance for residents of Atlanta to become a victim of a violent crime. Because of the relatively high crime rate, it is important to conduct thorough research into potential income property investments. This research can include viewing the satellite images of the area in Google Maps, physically visiting the area, and talking to someone that knows the area.
Conclusion
Atlanta is one of the few large U.S. cities that still has opportunities for finding properties with an ideal rent to value ratio of 0.7 or higher. Although you may find better cash flow in markets like Memphis, Tennessee or Jackson, Mississippi, the strong economy and growing population make Atlanta a top choice for many out of state rental property investors.
Author Bio
Jason Hartman has helped thousands of investors buy rental properties nationwide over the past 15 years. If you are interested in learning more about investing in a rental property in Atlanta, you can set up a free consultation with a JasonHartman.com investment counselor who can answer all your questions and help you find properties to fit your investment goals.