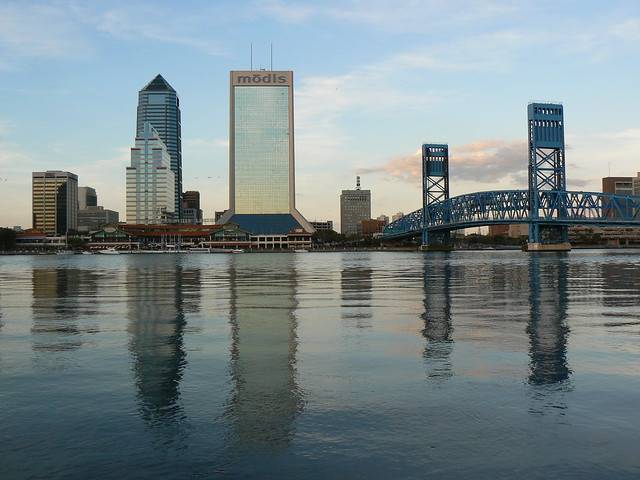 Jacksonville in northeast Florida offers many great opportunities for positive cash flow rental properties for real estate investors. Jacksonville is a coastal linear market with rental demand that is expected to continue to grow in the coming years.
"In addition to the fantastic business asset protection climate, so many people want to move to Florida it's almost a cliche," says Jason Hartman, a real estate investor who has been active in the Jacksonville market for several years.
This article shares the data that supports five reasons why investors should consider adding Jacksonville rental properties to their portfolio.
A Strong Economic Environment
Jacksonville is the home base for three of Florida's 19 Fortune 500 companies including CSX Corp., Fidelity National Information Services Inc. and Fidelity National Financial Inc as well as some billion dollar private companies like Florida Blue and Southeastern Grocers. JaxUSA provides a list of the largest employers in Jacksonville which includes Baptist Health (10,500 employees), Bank of America (8,000 employees), and Florida Blue (7,000 employees). Residents of Jacksonville earn a median household income of $50,555 according to the US Census (2013-2017) and have a low unemployment rate of 3.0% as of May 2019. Jacksonville has a pro-business government that offers low regulation and several tax incentives to encourage companies to expand their operations. Finally, there is a strong military presence in Duval County with thousands of active duty personnel who often seek to rent a home since they may receive orders to move to a different duty station.
Strong Population Growth
According to the US Census, the population of Jacksonville grew 10.0% since 2010, with an estimated population of 903,889 in July 2018. This excellent population growth fuels economic growth and increases demand for rental homes. While about 12.7% of Jacksonville's population is over 65, the senior population is expected to grow significantly over the next decade. Jacksonville is an attractive destination for retirees and Forbes.com just named Jacksonville to their list of Best Places to Retire in 2019.  Many retirees who move to Florida choose to rent a home because they like the advantages like having a landlord to take care of the maintenance and repairs. Millennials in Jacksonville and nationally often prefer the flexibility of renting and may not be able to save for a downpayment if they have other expenses like student loans. Overall, Jacksonville residents are more likely to be renters compared to the national average. In Jacksonville 57.1% of homes are owner-occupied, compared to the national average of 63.8%.
Low Taxes
Like the rest of Florida, workers in Jacksonville get to keep a larger portion of their paychecks because they don't have to pay a state income tax. Additionally, property taxes in Duval County are lower than average compared to the rest of the county. The millages rate, which is used to calculate the local property taxes, went down slightly in 2018 to 18.0231. In 2015, the average Jacksonville resident paid .9% of their home value in taxes which is lower than the national average. Jacksonville also offers corporate tax rebates to companies in target industries to encourage them to invest in the area and hire more employees.
Get Started
Claim up to $26,000 per W2 Employee
Billions of dollars in funding available
Funds are available to U.S. Businesses NOW
This is not a loan. These tax credits do not need to be repaid
The ERC Program is currently open, but has been amended in the past. We recommend you claim yours before anything changes.
Residents Have a Great Quality of Life for the Cost
Residents of Jacksonville have a low cost of living compared to other U.S. cities and enjoy the sunny weather and mild winters. The tradeoff is that Florida is the most humid state in the country which can be uncomfortable during the summer months. Jacksonville is the lowest hurricane risk area in Florida due to its favorable location about 60 miles off the Gulf Stream and is rarely hit directly by hurricanes. The only major hurricane to hit Jacksonville directly in recent memory was Hurricane Dora in 1964. Jacksonville has the largest urban park system in the United States with 80,000 acres of parks, 3 national parks, and 7 state parks. Jacksonville Beach attracts visitors with scenic beaches, a famous fishing pier, and plenty of beach activities. It is a short 45 minute drive to the charming coastal town of St. Augustine, known as the "Nation's Oldest City", and a 155 mile drive to Disney World in Orlando. One negative aspect of Jacksonville is the higher than average crime rate with 37,786 annual crimes and 5,711 annual violent crimes which is in the bottom 8% of U.S. cities according to Neighborhood Scout. Due to the higher than average crime rate, it is important to conduct thorough research and consult with local experts to find safe and desirable neighborhoods to invest in.
Duval County is Landlord Friendly
When it is necessary to evict a renter that doesn't pay rent, Duval County makes the process relatively easy and quick compared to other counties in the country. Florida is known as a landlord friendly state where judges tend to rule on the side of the landlord if the tenant doesn't pay rent. The Duval County Court outlines the steps for the eviction process on their website, which starts with a three-day notice of eviction. The judge will usually schedule a hearing within a few weeks where both parties can speak to the judge and present evidence. If the judge decides the eviction is appropriate, then he or she will enter an eviction order and the landlord may request the Sheriff evict the tenant if they have not moved out after 24 hours. In Florida, the tenant is required to deposit any unpaid rent with the court until the case is resolved or they may lose the case by default. The tenant may also be ordered to pay the landlord's court and attorney fees if they are the losing party.
While Jacksonville is an attractive market to find single family income properties, you may want to compare properties in this market to other linear markets with positive cash flow opportunities like Memphis, Indianapolis, and Jackson.
Author Bio

Jason Hartman has helped thousands of investors buy rental properties nationwide over the past 15 years. If you are interested in learning more about investing in a rental property in Jacksonville, you can set up a free consultation with a JasonHartman.com investment counselor who can answer all your questions and help you find properties to fit your investment goals.