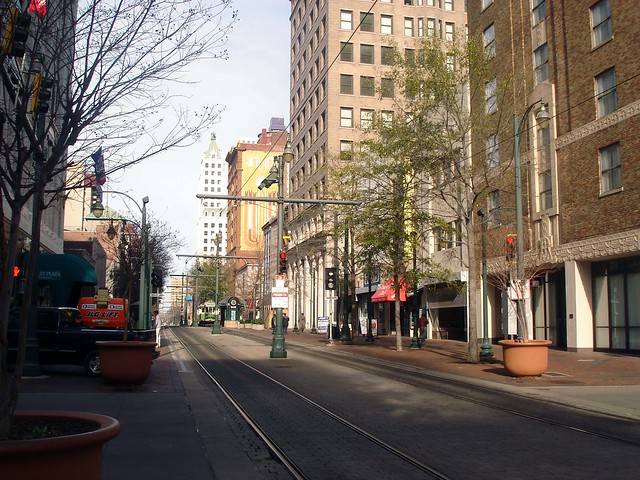 Despite strong appreciation over the past five years, the Memphis real estate market has good buy-and-hold investment opportunities for people looking to grow their wealth with income property.
"Memphis is a centrally located logistics capital with an ample renter base and landlord-friendly regulatory environment when compared to the high-flying cyclical markets. It's a solid linear market offering good yields." says Jason Hartman, a Memphis real estate investor and owner of the Platinum Properties Investor Network.
Here are some of the top reasons Memphis is an attractive market for out of state income property investors.
1. A Robust Economy
A strong and growing local economy with good paying jobs is a key to healthy rental property demand and low vacancy rates. Memphis is the home base for three Fortune 500 companies: FedEx, International Paper, and AutoZone as well as several important distribution centers for companies like Nike and Amazon. FedEx is the largest employer in Memphis with 32,000 employees while Methodist Healthcare comes in at number two with 10,890 employees. The large capital investments by corporations into the transportation industry means thousands of Memphis residents are employed in jobs that are difficult to move to a different part of the country. These are long-term blue collar workers who often choose to rent rather than purchase a home. The state's regulatory environment is favorable to businesses with low corporate taxes and a pro-business government. Memphis has been ranked #47 by Forbes for having a low cost of doing business.
2. Large Population of Renters
Get Started
Claim up to $26,000 per W2 Employee
Billions of dollars in funding available
Funds are available to U.S. Businesses NOW
This is not a loan. These tax credits do not need to be repaid
The ERC Program is currently open, but has been amended in the past. We recommend you claim yours before anything changes.
Memphis has a high percentage of renters compared to most other markets in the country. According to the US Census Bureau, the owner occupied housing unit rate in Memphis Tennessee is 47.5% compared to the national rate of 63.5%. Memphis residents have low credit scores compared to the national average with an average credit score of around 600. As banks have increased the requirements for home loans, it has made it more difficult for Memphis residents to qualify. They may also not have enough money saved for the down payment or prefer a fixed monthly cost for housing that covers maintenance issues. A segment of the population receive Section 8 assistance to pay all or part of their rent, and some investors like the reliability of rent payments made by the government. At the macro level, millennials saddled with unprecedented levels of student debt are postponing buying a home or choosing to rent at a higher rate than previous generations. "The growing demographics entering the rental housing market in the next decade are nothing short of phenomenal," says Hartman.
3. A Linear Market that is Not Overvalued
Hartman recommends that investors look to invest in markets with opportunities to buy investment properties that provide positive cash flow. These income producing properties are typically found in what Hartman calls "linear markets" that tend to appreciate at a steady rate and contrasts with the volatile "cyclical markets" like San Francisco and New York City. Although inventory has become tight, the relatively low housing prices in Memphis makes it possible to find investment properties that provide positive cash flow and good ROI without having to depend on future appreciation. The relatively low housing prices also makes it possible to buy multiple properties to grow your portfolio. The median home sale price in Memphis was $100,900 as of Mar 31, 2019. As of June 2019, there are multiple income properties available for sale in Memphis with a rent to value ratio of 1%, a much higher RV ratio than cyclical markets like Seattle, San Francisco, and New York.
4. Residents have a High Quality of Living Relative to the Cost
Residents of Memphis have a lot of reasons to stay in Memphis. It is a very inexpensive place to live with low housing costs and no state income tax. Memphis was near the top of Money.com's list of the least expensive cities in the country to raise a child at $208,322. There are several good entertainment options including the FedEx Forum which hosts NBA games and many concerts and events throughout the year. A unique entertainment venue in Memphis is Graceland, a popular tribute to Elvis that has been expanded into a museum and concert venue. Beale Street in downtown Memphis was declared the "Home of the Blues" by an act of Congress and is lined with three blocks of nightclubs, shops, theaters, and restaurants. You could even visit Memphis to enjoy these attractions while viewing some properties for sale or inspecting your properties if you choose to self manage instead of hiring a professional property management company.
5. Landlord Friendliness
Memphis has fair laws that protect both the tenant and landlord and has a relatively quick process for evicting tenants that do not pay rent. It generally favors landlords but also protects tenants by requiring the owner to maintain the property in a habitable and safe condition. In the unfortunate situation where the tenant does not pay rent, the landlord must provide the tenant with a 14-day eviction notice. If the rent is not paid within 14 days, the landlord can file an eviction lawsuit at the courthouse. The Memphis courts follow The Uniform Residential Landlord and Tenant Act, or URLTA (Tenn. Code Ann. § 66-28-102) which outlines the requirements for eviction. The City of Memphis has plans to create a landlord registry to make it easier to contact property owners in the case of code violations and also classify landlords that commit repeat code violations. A similar program in Nashville has been in place for several years but some investors do not like having the additional requirements and fees associated with a landlord registry.
Each of the nearly 400 distinct real estate markets in the US have their own set of advantages and disadvantages and the real estate investment environment could change quickly. For this reason, it is advantageous to diversify geographically with income properties in multiple US markets. Some other linear real estate markets that provide opportunities for positive cash flow and high rent to value ratios include Jacksonville, Indianapolis, Jackson, and Little Rock.
Author Bio
Jason Hartman has helped hundreds of investors acquire Memphis rental properties through his Platinum Properties Investor Network, which helps investors navigate through the process of out of state nationwide property investment. If you are interested in learning more about investing in a rental property in Memphis, you can set up a free consultation with a JasonHartman.com investment counselor who can answer all your questions and help you find properties that may be a good fit for your investment goals. You can also browse currently available properties nationwide with detailed proformas at www.JasonHartman.com/Properties.