Venmo Credit Card Review: Pros, Cons, and More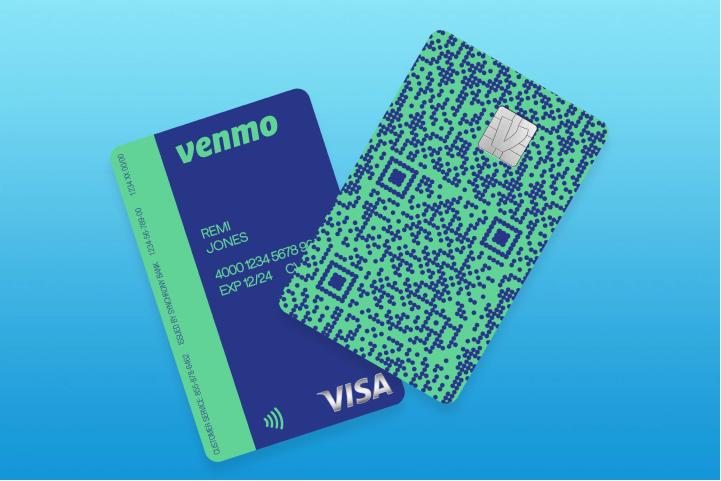 Venmo Credit Card
User-friendly mobile app available on the Apple App Store and Google Play Store
Automatic crypto purchases with cashback rewards
Simple contactless payment methods
Pros:
Intuitive cryptocurrency transactions
Accepted by all vendors that accept Visa cards
Efficient customer support channels
Cons:
Limited support of cryptocurrency
APRs as high as 27 percent
No initial rewards or bonuses
Venmo Credit Card Ratings and Reviews
Powered by Visa, the Venmo credit card provides a unique approach to managing credit through extensive customizability, tiered reward structures, and low-cost experience. 
With compatibility across Venmo products, users have access to a powerful yet familiar interface with additional support for cryptocurrency and access to efficient customer service. 
Venmo has broken the mold of traditional credit cards and is suitable for those that desire a more comprehensive experience.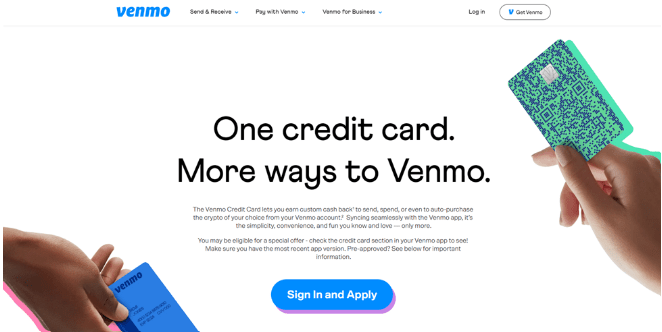 Venmo Credit Card Pros
Users can enable

automatic crypto purchases with cashback rewards.

Users can

customize their credit cards

with access to

five stylish credit card designs

.

User-friendly mobile app

available on the

Apple App Store and Google Play Store

with an average

user rating of 4.5 out of 5.

Venmo Credit Cards are

accepted by all vendors that accept Visa cards.

The Venmo Credit card is

supported in more than 200 countries.

Users have access to

efficient customer support channels

with

live customer service representatives.
The cryptocurrency exchange

allows users to intuitively

purchase cryptocurrency through the Venmo app

.
Venmo Credit Card Cons
Venmo

does not offer initial rewards or bonuses

upon signup, however, they do

provide an extensive reward system

.

Venmo offers

limited support for four cryptocurrencies,

including

Bitcoin, Ethereum, Litecoin, and Bitcoin Cash

.

Users may experience APRs as high as 27 percent

if they fail to make their payments.
Venmo Credit Card Features
Crypto Cash Back: Users can toggle the 'Purchase crypto' feature on the Venmo app to set automatic crypto purchases. Whenever cardholders earn rewards from purchasing everyday items, the cashback earned will be automatically invested in the crypto of their choice.
QR Code: Each card has the user's unique QR code linked to their Venmo profile etched on the front. This makes for easy access when a user needs to pay or get paid.
Crypto Education: Users have access to extensive educational resources covering many cryptocurrency topics. Accessed through the mobile app, users can watch simple yet insightful videos focusing on the basics of crypto and its role in the financial industry. 
Mobile App: The Venmo Credit Card companion app provides several tools for users to manage their credit cards. Users can track their spending habits, split bills with Venmo friends, and shop virtually.
Cryptocurrency Exchange: The Venmo mobile app allows users to purchase crypto directly, supporting four tokens, including Bitcoin, Ethereum, Litecoin, and Bitcoin Cash.
Venmo Credit Card Pricing and Fees
Users that apply for the Venmo Credit Card will be granted one of three account levels depending on their eligibility and credit history. Each level of account provides different Annual Percentage Rates (APRs) and credit limits.

 Venmo does not charge an annual fee or any other initial costs for the credit card. However, they charge fees for other activities, such as cash advances and late payments. 

Users who decide to purchase cryptocurrency directly through the mobile app will have access to accurate market prices and low fees. The transaction fee is determined by the spread of the market price of the token and the exchange rate of the fiat being used. Although Venmo states the fee will usually be around 0.5%, the fee will vary with market prices [1].
Venmo Credit Card Company Background
Headquartered in New York City, Venmo was founded in 2009 by Andrew Kortina and Iqram Magdon-Ismail. Venmo quickly became a cornerstone of Fintech by offering instant peer-to-peer payments with a social network twist. They have since expanded to supporting business-to-business transactions, credit cards, debit cards, and cryptocurrencies.
In 2013, Venmo was purchased by PayPal, who effectively integrated the app into their suite of fintech products and expertise. Under the leadership of the PayPal team, Venmo continues to ship new features and integrations to users, with a focus on the future of cryptocurrency.
How does Venmo Credit Card work?
Venmo credit cards function just as any other credit card but have some added benefits and features. Venmo separates itself by providing users with a comprehensive experience via their mobile app, where they can track spending habits, access quick support, or make payments.
Venmo also offers tiered cash back rewards that are automatically maximized based on spending habits. Rewards are structured such that the top spending category earns three percent, the next earns two percent, and the third earns one percent. The top three categories are calculated automatically from the eight categories that include spending activities such as transportation, entertainment, and grocery.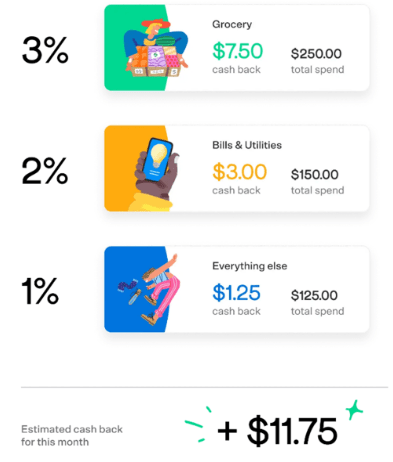 The Venmo Credit card offers intuitive support and compatibility with cryptocurrency. Users can purchase crypto effortlessly through the Venmo app, with access to four tokens. They also have the option to set cash back rewards to auto-purchase crypto, avoiding purchase fees in the process. Venmo does not currently support the spending of crypto but is working on adding that feature in the future. 
Venmo offers additional customization through the design of their cards. Users can choose from five designs to stand out in their own way.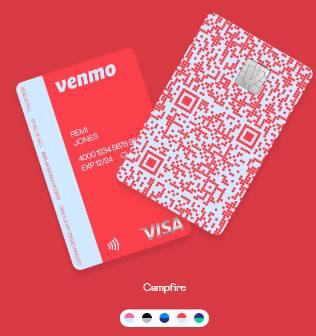 The credit card is not directly connected to a user's Venmo balance, but their balance can be used to pay off the credit card balance. Users can utilize the unused balance in their Venmo accounts to pay off their credit card balance directly through the mobile app.
Venmo Credit Card User Experience
The user experience cultivated by the Venmo credit card is what separates it from traditional card providers. 
The credit card integrates with the intuitive Venmo app, making contactless payment and virtual spending effortless. Users find additional benefits when transacting with compatible vendors, as well as other Venmo users. 
Each credit card has a unique QR code linked to the card holder Venmo account, making for easy and accurate peer-to-peer transactions. 
They are also one of the only major credit card providers to support cryptocurrencies. Many individuals interested in using cryptocurrencies find difficulty in navigating wallets and exchanges. Venmo comes with a solution as users can purchase major tokens directly through the app and transact their tokens effortlessly without the need to understand blockchain technology or remember safety phrases.
What coins are supported on the Venmo Credit Card?
Venmo primarily operates in traditional finance spheres but also integrates cryptocurrencies. They support four tokens and are continuously adding to the list.
The tokens supported include:
Bitcoin (BTC)

Ethereum (ETH)

Bitcoin Cash (BCH)

Litecoin (LTC)
Security: Is Venmo Credit Card Safe & Secure?
Venmo implements advanced security features to ensure their cards are as safe as their competitors'. Much of the safety of a user's credit card information lies on the cardholder responsible for selecting reputable vendors.
However, Venmo allows users to temporarily disable their credit cards through the Venmo app in case the card has been lost or stolen. If the card has been compromised, users can request a new card and card number free of charge.
Users also have protection against fraudulent payments or unauthorized transactions, which can be refunded through Synchrony Bank. To file a fraud report, users can call Synchrony Bank at 855-878-6462, with agents available 24 hours a day. 
Users who store their cryptocurrency on the Venmo app will be protected by industry-standard features. As Venmo holds custody of users' assets, they provide additional measures to prevent theft and fraud. Users can contact the service team if they suspect any fraudulent activity on their accounts.
Customer Support: Contacts & How to Get Help
Venmo excels in its focus on customer service. They provide quick access to a service representative through their live chat feature in the mobile app. Agents are available seven days a week from 8 am to 10 pm Central time. 
Users can also contact the team by filling out a contact form, as well as by direct phone calls (855-812-4430).
Who is Venmo Credit Card Best For?
Venmo has created a feature-packed credit card that offers customized rewards, an intuitive experience, and support for cryptocurrencies.
The Venmo credit card functions similarly to Apple products, where it integrates across Venmo's suite of products. The compatibility with the mobile app, debit card, and other Venmo users is great for those who desire a comprehensive experience.  
Venmo provides many avenues for customer support, such as quick replacement cards, fraudulent charge assistance, and an easily accessible support team. The efficient customer service channels make managing a credit card easy for beginners and experienced users, saving them time and money. 
As Venmo continues to add crypto-focused features, the Venmo Credit card stands out as a suitable option for Crypto enthusiasts. With a simple cryptocurrency exchange, plans for crypto spending capability, and automated crypto purchases, Venmo provides a simple user experience while still offering the tools desired by crypto investors.