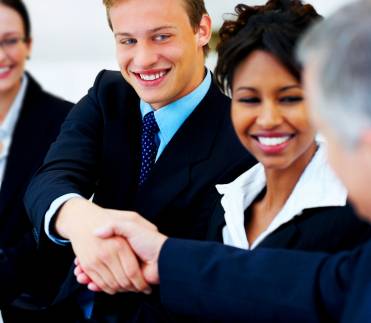 What is a PEO? PEOs are "Professional Employer Organizers" that work side by side with small businesses to manage a wide variety of personalized services like health benefits, payroll processing and HR compliance management at a super affordable cost. However, the PEO industry is on the rise, with new companies popping up left and right, so finding the right one to co-employ with you can be tricky. So, here are a few PEO companies that just might be the right fit for you.
Just Works
If you have under 100 employees, this PEO service without a doubt the best option for you. Justworks meets all of the basic needs for your small business. It is easy for you to set up and frequently access and best of all, it's super affordable! The pay for Justworks ranges from $49-$99 a month per employee, depending on the size of your company and what plans you decide to choose.
They are transparent and open about their pricing and services. There are no crazy hidden fees or crazy steps you have to take to figure out your quote. It's simple and straightforward! Another great thing about Justworks is the employee self-service option. Employees can go into their Justworks account and easily access tax documents, manage their vacation time requests and keep track of their benefits. All around, it is a great PEO service to go with if you are looking to fulfill your small business' basic needs at an affordable price.
XcelHR is a little bit fancier than other PEO services. Along with all of the services that PEOs normally manage, XcelHR also comes with effective employee performance and productivity tools. You can survey your employees and conduct performance reviews to keep your employees satisfied and productive! XcelHR will even help your employee through every stage of their time at your company, from being hired to being retired – all the information that your employees could possibly need is all on their easy to access on their XcelHR dashboard.
Get Started
Claim up to $26,000 per W2 Employee
Billions of dollars in funding available
Funds are available to U.S. Businesses NOW
This is not a loan. These tax credits do not need to be repaid
The ERC Program is currently open, but has been amended in the past. We recommend you claim yours before anything changes.
With additional services, comes an additional price – but it is nothing too outlandish. Depending on the size of your company, you can usually pay about $120 a month per employee, which isn't too much considering the amazing benefits that come with the contract.
TriNet
TriNet is a great PEO service to use if you have employees in multiple states, or if you have a mix of employees that work off-site and on-site! TriNet is a reliable PEO service that doesn't make you agree to a long term contract. You can even cancel the contract altogether just with a simple 30 days notice. TriNet has worked with over 15,000 companies, so no matter how small your business is – you will be getting access to amazing insurance plans and employee benefits.
Being such a large company that has been around for more than two decades, TriNet has negotiated many different vendors to supply it's employees with discounts on everything from theme park visits, to cellphones, to a brand new vehicle! TriNet costs anywhere from $125-$155 a month per employee. It is pricey, but it also comes with all the bells and whistles you and your employees could possibly need for a safe, comfortable, and happy life!
If you have employees living in different parts of the world, this is the PEO service for you. It can be really tricky learning all the laws, currencies and regulations from each country. Globalization Partners is compatible with over 150 countries from around the world and will take care of all the complicated translations for you! Instead of the onboarding process taking months and months, Globalization Partners will take care of it in days, so your new hires can get right into the swing of things.
Another thing about having an international business is that administering health benefits can become really complex. This service will work with you hand in hand to ensure your employees from all over the world are getting the right benefits. To figure out your quote, you can go online and request a proposal and see what steps you have to take to make your life easier and keep your global business running smoothly.
Finding the right PEO service for you is all about figuring out what kind of benefits you want for your employees, what kind of price you are willing to pay, and whether or not you would rather work with   PEO companies online, or in a city near you. Either way, no business is too small for a PEO service to take on, so do some homework and get ready to score some amazing employee benefits, increase productivity and make your life as small business owner easier.