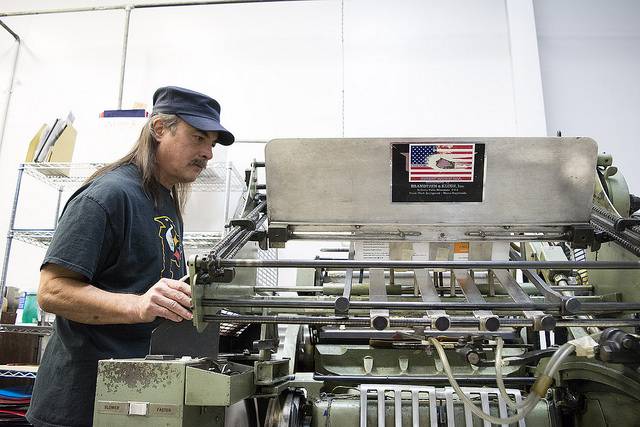 It's true that the U.S. business and industrial complex is dominated by massive corporations with sprawling interests, but there are some small businesses that are proving there is still room in the U.S. for entrepreneurism. Five companies that are seeing success in their attempt to revive once-profitable domestic manufacturing that has since been moved overseas include Enviro-Log (starter logs), Malmark (handbells), Green Toys (children's toys), School House (fashion/clothing) and Art's Way Manufacturing (niche farm products). For more on this continue reading the following article from TheStreet.
U.S. manufacturing has been synonymous with big companies like Ford(F), General Motors(GM) Boeing(BA) and General Electric(GE).
With the government looking to entice companies to locate or relocate their factories domestically, manufacturing will continue to be a hot button issue. It's not just about the "nuts and bolts" manufacturers of the industrial age, either. Starbucks(SBUX) is among the U.S. companies to have recently launched initiatives to produce products here in the U.S.
Small businesses, too, are succeeding at producing goods on U.S. soil.
Several entrepreneurial companies featured in this story are looking to rebuild aging industries that have long left U.S. shores for cheaper labor elsewhere. From the college campus fashionista to the handbell manufacturer and toy maker, entrepreneurs are taking it upon themselves to revive domestic manufacturing.
There is pride associated with creating skilled products and the satisfaction of being able to create an American job. However, small businesses also say there are very real cost, skill and quality benefits to keeping their manufacturing right here in the United States. We spoke to five companies for their perspectives on the renaissance in U.S. (small business) manufacturing.
Enviro-Log
Fitzgerald, Ga.
Employees: 30
Enviro-Log is a company that manufactures earth-friendly firelogs and firestarters.
Enviro-Log says it is the largest recycler of waxed old corrugated cardboard in North America and the third largest producer of manufactured firelogs in the U.S. Its firelogs are made of 100% recycled materials, cleaner burning, and emit 30% lower greenhouse gases, while providing 50% more heat per pound, the company says.
The firelogs are also the only manufactured firelog tested safe for use in woodstoves, chimneys and campfires. The product is marketable in several industries because it can be used both indoors and outdoors. The product is popular in the camping industry, particularly since wood is monitored these days and traced for issues like bug infestations. Consumers can also reduce home energy bills by using the log as a heat supplement. Enviro-Log also produces eco-friendly firestarters, made from 100% recycled wax, as an alternative to kindling or petroleum-based starters.
Ross McRoy, president of Enviro-Log, says it wouldn't make sense for the company to create its firelogs and firestarters anywhere but the U.S.
"It's more cost effective to convert it here because of the cost of moving materials back. And we want to put people to work. There never was a thought of taking it overseas," McRoy says.
Enviro-Log collects its materials from companies like grocery chains. McRoy says most vegetables are transferred in a wax corrugated container.
Enviro-Log Firelogs can be purchased at select national retail locations including Home Depot(HD), Sears Holdings(SHLD), Kmart, Lowes(LOW), Whole Foods(WFM), Walmart(WMT), Dollar General(DG) and regional retailers throughout the U.S.
Malmark
Plumsteadville, Pa.
Employees: 40
Malmark is the world's largest handbell producer, not that the competition spans the globe. Malmark, together with just-down-the-road Schulmerich Carillons and a U.K.-based handbell maker, pretty much comprise the tiny industry of handbell manufacturing.
Formed in 1973 when founder Jacob Malta left his position as chief engineer at Schulmerich Carillons, Malmark produces bell primarily for school music programs and church choirs. Increasingly, the bells are being sold for non-musical uses such as at weddings, anniversaries and other celebrations, as well as for personal use as gifts and keepsakes. Malmark has expanded its product line to meet these demands.
Malmark sells primarily factory direct items but they also have independent sales reps in the U.S. and Canada and increasingly through international dealers.
Get Started
Claim up to $26,000 per W2 Employee
Billions of dollars in funding available
Funds are available to U.S. Businesses NOW
This is not a loan. These tax credits do not need to be repaid
The ERC Program is currently open, but has been amended in the past. We recommend you claim yours before anything changes.
Malmark was not able to escape the impact of the financial crisis, given that school budgets have been on the chopping block and typically it's the music programs that are the first to go. Contributions from church parishioners also have been down. However, the company has been focusing on expanding product lines for consumers as well as to existing customers and in terms of new customers, it is focusing on international markets, such as Japan, for growth.
Malmark was a receiver of funding through the Pennsylvania Global Access Program, a federally-funded grant program designed to help small businesses increase their international export sales.
Still Malmark doesn't have any plans to outsource its manufacturing.
Like other companies, Malmark says it's easier to maintain quality control when production is under one roof. Additionally, Malmark's founder, a World War II veteran, was very committed to the U.S. labor force, Shuback says.
"The nature of our business is you can't just go out and shake a tree and find a bell tuner. This is a very highly skilled, highly crafted, artisan product," says Malmark's president Tim Shuback. "The largest part of our expense is going to be labor plus benefits."
Malmark's bell tuners are all trained in-house.
Green Toys
San Francisco
Employees: 8
Green Toys creates socially-responsible children's toys that are produced in the U.S.
The five-year-old company founded by Robert von Geoben and Laurie Hyman boasts that all phases of production including toy design, manufacturing, assembly and distribution are completed right outside San Francisco and made with 100% recycled plastic, mainly from recycled milk containers.
"Making things in America was really important for our mission," Geoben says. "You hear a lot of talk about manufacturing in the U.S. and it all comes down to what is our competitive advantage in the U.S. We firmly believe that is quality. I think that when you are looking at things like toys, parents really care about the … quality [and] the impact it has on the environment."
Like food, parents want to know where the products are coming from, with a growing trend to prefer not just U.S.-made goods but locally-sourced goods and products, Geoben says.
Consumers are responding to Green Toys's niche. The company is looking to expand the business to other kid-friendly and safe product lines, such as tableware.
"We've been growing 50% percent every year since we were founded," Geoben says.
Besides better transparency and insight into the manufacturing process of the toys (Green Toys does not have its own factory, it contracts out to a variety of factories in California), saving on overseas shipping costs and time lost waiting for shipments are two big positives, Geoben says.
Geoben concedes that disadvantages of manufacturing in the U.S. include higher labor costs — given the higher standards of living, and working with several different factories (all of which are producing multiple products), means a company doesn't get the sole attention that perhaps would be offered with overseas manufacturing.
"We spend a lot of time with our factories developing and manufacturing processes," he says. "It's actually rebuilding an industry here in the U.S. It's a thrill to go to the factory and see people making our toys. Just to see an American worker and think that you helped create that job is very satisfying."
Geoben is hoping to expand this idea of "locally-sourced" kid products to other countries as well.
"If we manufacture in other countries [and use local recycling materials, we want] to sell to those countries. Essentially our long term goal is reverse globalization," he says. "We want to change the way people see children's products."
School House
Durham, N.C.
Employees: 5
Collegiate fashion company School House moved its manufacturing from Sri Lanka to U.S. soil slightly over a year ago.
Founder Rachel Weeks, winner of the 2011 SCORE Outstanding Woman-owned Small Business award, was having issues dealing with overseas manufacturing such as added costs for freight and duty, long wait-times for shipments (one product sat on the water for 45 days), quality control that was costing the company an extra $6,000 to hire people to police the factories, and Weeks' own travel costs to fly to Sri Lanka every quarter.
There were two drivers behind the company's decision to bring manufacturing back to the U.S. It was actually economically wise, Weeks says. "As a very small buyer and customer doing business overseas it can be very difficult to do business because so many of those factories have tapped into volume opportunities. They're manufacturing for Nike(NKE) or JCPenney(JCP). 'We want 48 of this one sweater' ends up costing you a lot."
Even though School House works with more than 100 colleges, Weeks says at first it was a challenge to find U.S. factories. She cited a statistic from a March 2011 ABC News report that said just 2% of apparel is still made in the U.S.
"We confronted that fact as we went about trying to find factories that were still manufacturing apparel. What remain here are mostly military contracts because the U.S. government requires all of the Armed Forces and various agencies of the government to source from U.S. factories," Weeks says.
Weeks also had a personal desire to bring her manufacturing to U.S. soil, which came from her upbringing in North Carolina and "learning about the apparel industry basically in history books as something we used to have and lost," she says. "You drive across the South, particularly North Carolina and parts of Alabama, there are just ghosts of these old … garment factories."
"That was so compelling for me. If we could figure out how to do it profitably and play some small role in supporting domestic jobs — it was the obvious choice," she says.
Today, 75% of her clothes are made in Durham, while the other 25% is contracted to factories in South Carolina, Georgia and California.
Weeks also hopes her decision to manufacture domestically will resonate with her customers — college students.
"This message might resonate with them in a new way. It's not the old 'Made in America,' but the new 'Made in America,' based on high quality products, innovative design, rolling up our sleeves and getting to work. We found that our customers are responding with overwhelming appeal," she says.
Art's Way Manufacturing
Armstrong, Iowa
Employees: 200
Art's Way Manufacturing(ARTW) manufactures and distributes farm machinery niche products to farmers and ranchers in the U.S. Its specialized products include animal feed processing equipment, land maintenance equipment, crop shredding equipment, round hay balers, plows and manure spreaders.
The company also has three subsidiaries: Art's Way Vessels, which manufactures pressurized tanks and vessels; Art's Way Scientific, which manufactures modular animal confinement buildings and modular laboratories, and through a recent acquisition of Universal Harvester, manufacturing of pick-up reels for combines and swathers.
The company has been in business for over 50 years after a local farmer developed a special grinder mixer. Grinder mixers are one of Art's Way Manufacturing's main products, according to its president and CEO Carrie Majeski.
"We're very proud to be an American company that makes American products for the farmers located in all rural areas. We think it's important to have communities here in the rural areas and to have jobs available," Majeski says.
Majeski, age 36, says manufacturing this type of large equipment abroad would not be conducive to shipping.
"We do have some international sales, but most of our sales are domestic," she says.
Majeski acknowledges that labor costs are more expensive. "I'm sure you can get much cheaper labor than we have here, but there is a lot of tribal knowledge that is here as well," she says. "We are a relatively small company. It's hard to transfer that tribal knowledge because we don't have the structure that larger companies have to make sure things are well documented. We rely on the employees we have."
Majeski says the company has also brought back home some component purchasing. One example is machine bearings. Some bearings didn't hold up well so the company returned to American-made bearings for its equipment.
This article was republished with permission from TheStreet.