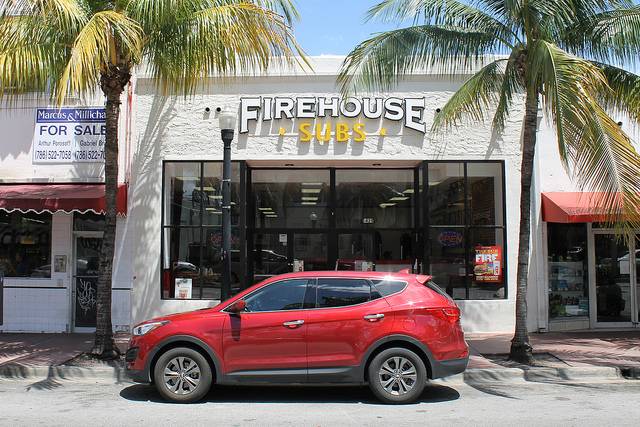 From car detailing franchises to medical franchise opportunities, Americans are looking for top performing business ventures with proven track records. Franchise Direct's 2016 survey reveals that most franchise seekers are motivated by the desire to be their own boss (39%),  to create supplemental income (31%), and to expand their existing business ventures (22%).
We scoured the US franchise arena to come up with the most unique franchise propositions that are already earning franchisees a high return on their investments.
1. Weed Man
Established in 1970 in Canada, Weed Man began franchising in 1976 and now has locations all over Canada (sold out) and the US (445 territories). The franchise has enjoyed top spot rankings by Entrepreneur and Forbes, among others, as the best low-level (<$150k) franchise to buy and the leader in lawn care services.
To ensure high ROI, the franchise offers comprehensive 10-day training to new franchise owners, exclusive territories to lock in clients and build long-lasting relationships, dominant bargaining power with all the top suppliers with favorable volume pricing, and excellent marketing systems.
2. Edible Arrangements
Edible Arrangements is a leading global franchise that has consistently ranked first in category in Entrepreneur's Franchise 500. The franchise has also ranked highly in the Fastest Growing Franchise and Top Global Franchise listings.
The financial requirements to open a franchise starts from $196,610 and one must fulfil a net worth requirement of at least $250,000 and a liquid cash requirement of $80k.
3. Beverly Hills Rejuvenation Center
BHRC is one of the fastest growing leading brands and top medical franchises in the age management industry. This health franchise opportunity business model works on the premise of offering cutting edge aesthetic treatments to provide high quality age management care with minimal recovery periods. Franchisees can expect expert support in areas such as drawing architectural, design, and decor plans, marketing and PR assistance, celebrity testimonials, and help in organising a red carpet grand opening event.
4. Firehouse Subs
Firehouse subs food franchise opened their first restaurant in 1994 and have since grown to over 1,000 locations all over the US. They offer specialty menus of cold and hot subs and salads. Firehouse Subs' food preparation style involves a steaming process designed to awaken flavors in their premium cheeses and meats.Their locations all have the unique decor of firefighting artwork and memorabilia.
To own a franchise, one needs an initial investment of between $130K and $1.2m, depending on the size and location. Franchisees can apply for and receive financial assistance through third-party financiers covering inventory, equipment, and franchise fees.
Franchisees also benefit from a 5-day headquarters training and 30 days of on-site training.
Get Started
Claim up to $26,000 per W2 Employee
Billions of dollars in funding available
Funds are available to U.S. Businesses NOW
This is not a loan. These tax credits do not need to be repaid
The ERC Program is currently open, but has been amended in the past. We recommend you claim yours before anything changes.
5. Massage Envy Spa
Massage Envy was established in 2002 as a membership spa designed to make massage services affordable and convenient. Currently, the brand boasts 686 locations spread over 43 states.
Franchise owners have reported great returns with an overall low loan failure rate of only 3.9%, an EBITDA of $185,000, and a success rate of 99.1%. Potential franchisees starting a health and wellness business with the brand need to have at least $150k in liquid assets and a minimum net worth of $500k. The initial investment costs between $340k and $560k.
Ongoing training and support is provided mainly to cover a robust reporting structure and profit coaching.
6. Zaxby's
Zaxby's chain of restaurants offers chicken fingers, buffalo wings, appetizers, and salads. Their over 800 locations are located mainly in the Southern United States.
To support franchisees, the brand offers training programs around business consultation, field operations, product development, and menu design. Franchise owners can also expect marketing assistance, site selection, and pre-launch assistance.
Prospective franchisees need to have liquid assets of at least $500k and a total net worth greater than $1m. The initial investment for owning a Zaxby franchise location is between $284K and $665K.
7. Batteries Plus Bulbs
The first Batteries Plus Bulbs location opened its doors in 1988 and the brand has been franchising since 1992.
Franchise owners need an initial investment of at least $210k, liquid assets greater than $100k, and a minimum net worth of $350k. Third party financing options are available to cover inventory, equipment, and startup fees.
Franchise owners benefit from 17 days of training at the headquarters with 10 days on-site training and ongoing sales training. Support includes toll-free phone lines, assistance with the grand opening event, security, national media, and co-op advertising.
How to Pick Your Franchise
The key to realizing a high ROI is identifying a growing brand. Conduct due diligence and examine how your chosen pick differentiates itself. Have an in-depth understanding of what the business model offers. It's very important to clearly understand what your role as a franchisee will be.
When it comes to finances, learn what the expectations are in terms of royalties, insurance, security, inventory, startup costs, and equipment.
The best franchises will support its franchisees with strong brand presence, creative marketing, unique product lines, and co-op advertising.
Author Bio
Samantha Thorenson | Chief Writer
Samantha is a content specialist for Titanium Success. Using the Titanium Success principles, she is driven to teach people how to achieve success in business and live an exceptional quality of life.
Website: http://www.titaniumsuccess.com
Social Media
Facebook: https://www.facebook.com/titaniumsuccess/
Twitter: https://twitter.com/titaniumsuccess
Instagram: https://www.instagram.com/titaniumsuccess/
Google+: https://plus.google.com/+Titaniumsuccess
YouTube: https://www.youtube.com/channel/UCe1MtHokWdU3euNCDvTp9eA