BitForex Review: A Comprehensive Overview 2022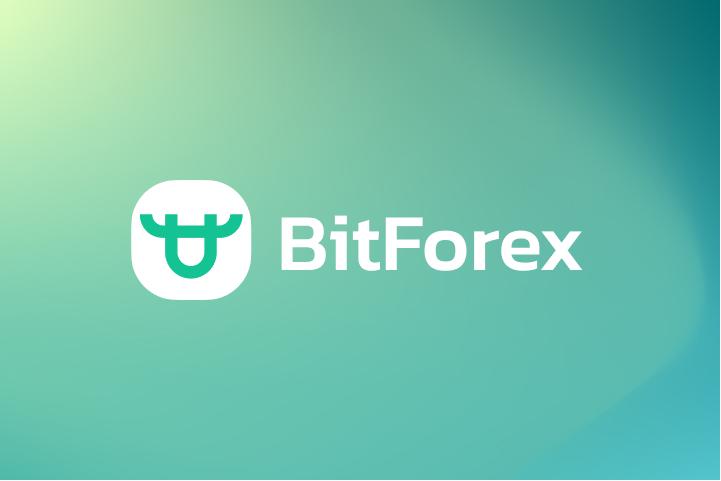 BitForex
Offers opportunities for passive income
Provides a low-cost coin swapping service
Relatively low trading fees compared to other exchanges
Pros
Straightforward, easy-to-use website and app
Does not require KYC
Highly curated educational resources
Cons
May not be compliant in the U.S.
Limited trading tools
Frequent complains from users being locked-out of their accounts
BitForex Ratings and Reviews
BitForex is a centralized digital currency exchange platform that allows users to buy, sell and trade popular cryptocurrencies and other digital assets. BitForex has a variety of trading, loaning, and earning options that make it a desirable platform for traders of every background.
BitForex offers several financial tools beyond cryptocurrency swapping and trading. A few services they offer include:
BitForex Earn

: A staking program where users can vest $USDT, $ETH, or $BTC for set periods and earn yield as a reward.

BitForex Turbostarter

: An NFT launchpad featuring partnered NFT projects in the fundraising stage.
BitForex offers a straightforward platform layout with ample educational content available for new users. Its easily-understandable layout and numerous investing tools make BitForex an attractive exchange option.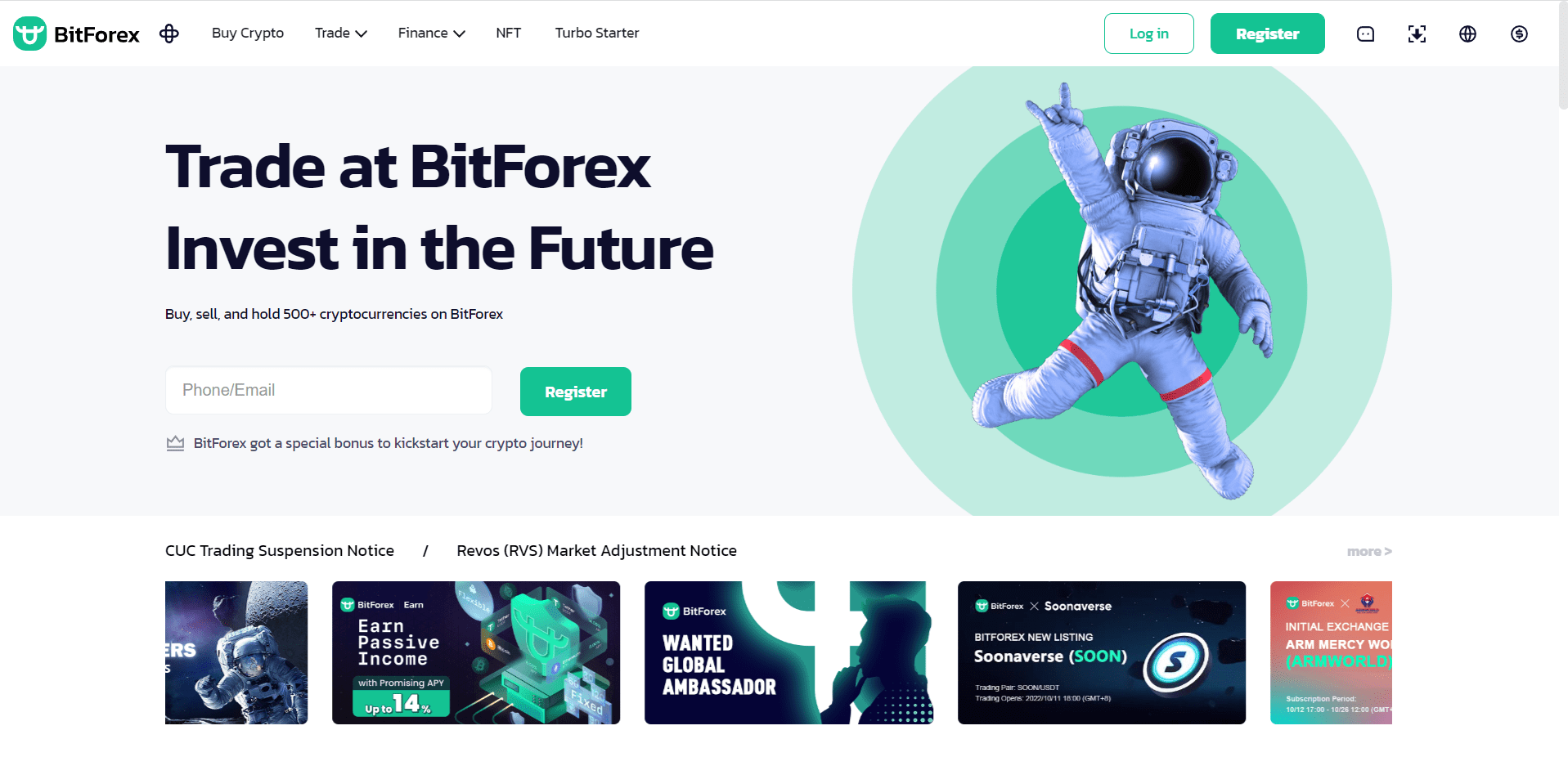 Pros & Highlights
BitForex has a simple website design that is easy to navigate and allows users to execute trades quickly and efficiently.

KYC (Know-Your-Customer) is not required to use BitForex, so users can sign up and begin trading quickly without a lengthy verification process. [1]

BitForex curates highly informative articles about cryptocurrency and trading for all experience levels to better hone their skills.

Users can access instant loans through BitForex of up to 10,000 USDT at a 30-day repayment window. [2]

BitForex offers several options for customers to earn passive income through interest on their coins.
Cons & Risks
Some disadvantages to using BitForex are important to note before trading on the platform.
As BitForex is headquartered in Hong Kong and registered in the Republic of Seychelles, the exchange may not be bound by the same regulations and scrutiny as US-based platforms, which are typically used to ensure platforms follow best business practices. [3]

BitForex does not offer leverage trading, meaning that customers cannot opt to create a larger position while incorporating added risk.

Some users report being locked out of their trading accounts with no way to access the funds stored there. While not common, it is essential to acknowledge the potential risks of the platform.
BitForex Features
NFT Marketplace: BitForex has an integrated non-fungible token (NFT) marketplace that displays popular and trending NFT collections. Using the turbo starter program, aspiring teams can apply to partner with BitForex to have their NFT collections featured on the marketplace storefront. 
CApp: CApp is the BitForex gateway to the many crypto applications integrated into the exchange. Customers can use these applications to make crypto purchases on partnered sites, like the streaming giant, Twitch. [4]
EazySwap: EazySwap is a coin-swapping service through BitForex that seeks to significantly lower gas fees when exchanging tokens. BitForex users can use this service to take advantage of low slippage rates, quick transactions, and minimal gas fees when swapping their tokens.
BitForex Prices and Withdrawal Fees
The BitForex fees are relatively low. The maker-taker fee is set to 0.1%, a comparatively low number amongst major exchanges. The withdrawal fees vary based on the currency being withdrawn. The complete list of tokens and their charges can be found under the fees section of their website. [5]

Withdrawal fees for several top cryptocurrencies (Source: https://www.bitforex.com/en/Fees)  
In addition to the reasonably low fees, deposits to Bitforex do not have fees imposed on them. Customers with large trading positions can also submit an application to BitForex for a chance to receive an even more highly discounted rate on maker-taker fees. 
BitForex fees are highly competitive among trading platforms. The low fee structure makes BitForex an appealing option for traders of all sizes.
Company Background & History
BitForex was founded in 2018 by Jason Luo and Garret Jin. The company has its headquarters in Hong Kong, with international offices around the world. After its founding, BitForex grew rapidly with the help of investments from top blockchain investing firms.
The mission of BitForex is to create a trading platform that is safe, professional, and convenient for all its users. BitForex has several high-profile partnerships, including deals with CoinMarketCap, Blockchain Life, and Spark Pool. [6] These partnerships helped launch BitForex into one of the top exchange spots by trade volume.
Trader Tools & Trading Experience
With an abundance of educational content, BitForex is a good fit for traders with minimal previous trading experience. In the BitForex Academy, users get free access to quality informational articles about cryptocurrency, the blockchain, and NFTs. 
BitForex offers Spot and Perpetual Futures trading to its over 3 million active users. Spot trading allows users to instantaneously buy and sell crypto assets, while perpetual trading allows users to purchase open-ended contracts tied to an underlying cryptocurrency.
To ensure accurate price charts, BitForex constantly refreshes and updates data on prices in real-time. Users can also view the integrated order book displaying recent positions taken on a given cryptocurrency.
As BitForex prioritizes simplicity and clarity, advanced professional traders may prefer an exchange with more refined analytical tools and optimized price charts.
What Cryptocurrencies are Available on BitForex?
BitForex offers over 500 cryptocurrencies and token pairs to trade on its platform, which is significantly higher than its competitors in the industry. 
Some of the most popular cryptocurrencies available on BitForex are:
Ethereum (ETH)

Bitcoin (BTC)

Bitcoin Cash (BCH)

Cardano (ADA)

Ripple (XRP)

Solana (Sol)

ApeCoin (APE)

Avalanche (AVAX)

Dogecoin (DOGE)
Due to ongoing litigation with the SEC, many US-based exchanges delisted Ripple from their platforms. Unlike those, BitForex allows users to freely buy and sell Ripple (XRP) on its platform.
Security: Is BitForex Safe & Secure?
Although BitForex has never suffered a major hack or exploit, some consumers report issues with maintaining access to their trading accounts. These reports are concerning, but there is no evidence that suggests this is a widespread occurrence across the platform.
Bitforex does not implement identity verification, but users can choose to enable 2-factor authentication (2FA) using the Google Authenticator app. The 2FA process requires users to undergo an extra verification step before logging into their trading account. In addition, users can enable SMS verification to add another layer of security via text messaging.[7]
To ensure the security of its users' funds, BitForex stores nearly all the assets in a multi-signature cold wallet. This wallet interacts with no outside contracts and cannot be accessed by a single individual. This system makes it extremely difficult to compromise their assets.
To better bolster its security, BitForex has a bug bounty program that rewards users who find potential exploits on their platform. This way, the site's security is constantly being tested and upgraded as potential weaknesses are discovered and coded out.
Customer Support: Contacts & How to Get Help
BitForex's customer support team claims to be online 24/7 to address customers' needs. To contact customer support, users can submit a ticket through the support portal or email at support@bitforex.com. 
BitForex does not offer a live chat or a direct phone number to a support specialist. Some users complain about lengthy response time for support inquiries. Yet, BitForex maintains a positive reputation of having competent, helpful support staff that are consistently available.
KYC, Taxes & IRS Reporting Details
Unlike some other major exchanges, BitForex does not require its users to complete the KYC process. As an extension, it means that BitForex does not report user profiles to the IRS.
However, all customers who earn over $600 worth of income from cryptocurrency must lawfully report these capital gains to the IRS. Because BitForex does not carry out the reporting process, it is the responsibility of the user to report them.
Who It's Best For
BitForex is a leading crypto exchange platform with valuable features for traders of all experience levels.
For novice traders, BitForex eliminates many barriers to entry by offering a low fee structure, easily understandable website design, and informational content. For experienced traders, the exchange features precise charting and an extensive catalog of cryptocurrencies to trade.
The BitForex platform is available to users in the US and global countries. US users can take advantage of the lack of KYC process to quickly create a BitForex account and execute trades but may consider other exchanges if security and compliance are a major concern.