Bitrue Review: A Comprehensive Overview 2022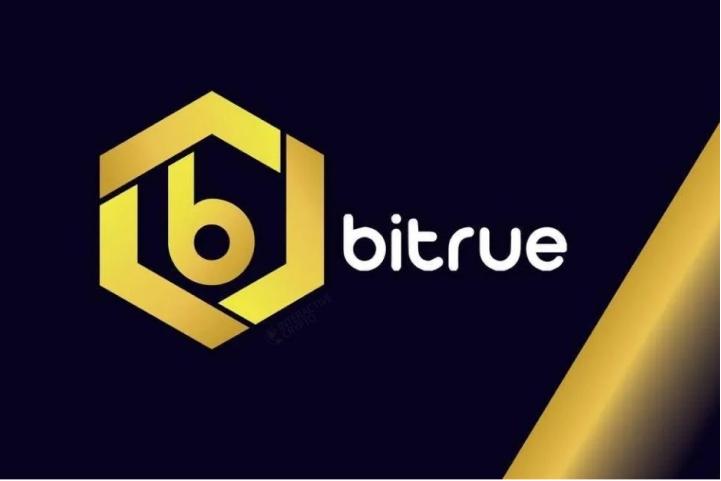 Bitrue
Intuitive trading interface for traders of all levels
Multiple options for low- and high-risk passive income opportunities
Deep trading liquidity with over $1 billion USD daily trading volume
Pros
Available in over 80 counties
Does not require KYC for trading
User-friendly mobile app for Apple and Android devices
Cons
Not available in New York and Texas in the U.S.
Expensive fee structure
Poor customer support channels
Bitrue Ratings and Reviews
Bitrue is a popular cryptocurrency exchange with over 700 tokens available and deep trading liquidity of over $1 billion USD daily. The platform shines with its powerful trading tools, intuitive mobile app, and multiple options for low- and high-risk passive income opportunities.
With availability in over 80 countries and offices across the United States, Europe, and Asia, users worldwide can take advantage of this platform.
Although lacking in terms of security and handling of fiat transactions, the convenience of use and specialized features make Bitrue stand out among their competitors.

Pros & Highlights
Extensive offering of over 700 cryptocurrencies.
Available in over 80 counties.
Intuitive trading interface for traders of all levels.
Does not require KYC for trading.
Deep trading liquidity with over $1 billion USD daily trading volume.
User-friendly mobile app available on Apple and Android devices.
Ripple (XRP) recommended exchange.
Multiple opportunities to earn passive income on crypto.
Cons & Risks
Expensive fee structure.
Limited fiat deposit options.
Not available in New York and Texas in the United States.
Subject to a major hack despite its security measures.
Poor customer support channels.
Bitrue Features
Bitrue Token (BTR): The Bitrue native token (BTR) is a Ripple (XRP) blockchain ledger-based cryptocurrency that provides holders additional rewards on the platform as well as a 20 percent discount on trading fees.
Advanced Trading Tools: The Bitrue trading interface offers an intuitive experience for beginners and advanced trading products for professional traders. In contrast to simple options such as spot trading, the riskier trading options include leveraged ETFs, perpetual futures, and access to crypto loans.
Power Piggy: Just like a high-interest savings account, Power Piggy allows users to lock up or stake their cryptocurrencies to earn a passive income of up to 6 percent APY with the option to withdraw at any time.
Bitrue Farms: Similar to Power Piggy, Bitrue farms offer much higher risk-reward ratios and have fixed term lengths. With over $100 million USD staked through Bitrue Farms and APY as high as 100 percent, this feature provides an opportunity for additional yields to investors with a high-risk tolerance.
Bitrue Partners: As an incentive for organic growth, users can become Bitrue Partners and earn rewards of up to 40% of all their trading fees for referring new users.
Bitrue Prices and Withdrawal Fees
The Bitrue trading fee structure is different from most exchanges. It provides flat trading fees dependent on the trading pair instead of a scaled fee structure. These fees are not the cheapest among other crypto exchanges but are certainly competitive.

The flat trading fees correspond with one of the four trading pair categories. For example, the trading fee for XRP/BTC is 0.20 percent regardless of trading volume and 0.14 percent if paid with BTR. A few trading pairs are exceptions to this structure, such as ADA/XRP, with a fee of 0.32 percent.
A complete list of trading pairs and fees is maintained by Bitrue on its website. [1]
The cost to deposit and withdraw fiat currency on the platform can be expensive as Bitrue does not provide a fiat on-off ramp option. It relies on third-party services such as Legend Trading (For ACH/Wire transfers) and Simplex (For credit card transfers) for those services.
Bitrue supports deposits and withdrawals of assets in cryptocurrency. Deposits are free, whereas withdrawals incur a flat fee dependent on the token.
Company Background & History
The history of Bitrue began in 2018 when a group of executives from Capital One partnered with other finance and cybersecurity professionals to design a cryptocurrency exchange.
With a mission of "providing complete financial services for the currencies of the future", the Bitrue team has built the platform from a simple crypto-to-crypto exchange to a comprehensive package of features seen today.
Although the executive team did not possess an impressive blockchain experience prior to the launch of Bitrue, they have delivered on their ability to execute and continually innovate.
Trader Tools & Trading Experience
Bitrue uses a simple order form for direct cryptocurrency purchases through third-party services. Users can also use these services to deposit fiat into their trading accounts.
Once the account is funded, users can begin utilizing the trading interface and charting capabilities powered by TradingView. With access to trade data, top movers, order books, and order forms, users can capitalize on Bitrue trading products.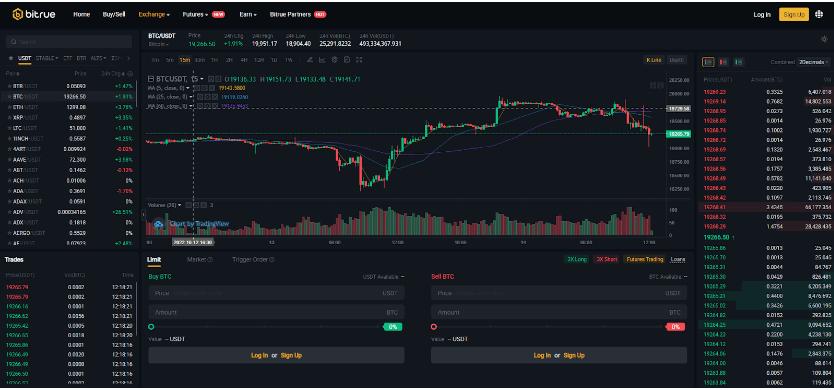 Traders can utilize simple trading options like spot trading or access more advanced products such as 3x Bitcoin leverage options and futures contract trading for those with higher risk tolerance.
What Cryptocurrencies are Available on Bitrue?
Bitrue offers one of the most extensive lists of token offerings among competing crypto exchanges. With cryptocurrencies ranging from the highest traded coins to new project tokens fresh on the scene, traders have no shortage of opportunity.
Some of the popular tokens supported include:
Bitrue Token (BTR)
Bitcoin (BTC)
Ripple (XRP)
Ethereum (ETH)
Solana (SOL)
Cardano (ADA)
Tokens are constantly being added to the list, with announcements made via the Bitrue Announcement and Bitrue Twitter.
Security: Is Bitrue Safe & Secure?
Bitrue utilizes two-factor authentication on accounts as well as multi-signature cold wallets for asset storage. A dedicated insurance fund is also in place to cover any potential losses to customers in the event of a security breach.
Users must take a mandatory set of precautions before they are allowed to withdraw their crypto or fiat, including the activation of two-factor authentication, customizable asset passwords, email binding, and Know Your Customer (KYC) verification.
Bitrue provides industry-standard security features but has experienced incidents of breaches in the past. The platform was hacked in 2019 and lost over $4 million. There have been no other breaches since then, but investors should exercise caution when using the platform.
Customer Support: Contacts & How to Get Help
Customer support may not be a primary focus for the platform, but viable options are available for troubleshooting problems and addressing user complaints.
Users can reach the customer support team through the Support Request portal, where they can expect a wait time of 1-3 days until the problem is resolved. There are currently no options to chat with a live agent on the platform.
They can also utilize the Help Center to access resources and FAQs that can help when individually troubleshooting.
KYC, Taxes & IRS Reporting Details
Bitrue complies with KYC regulations in certain cases. Although not required for trading, KYC verification is required to withdraw fiat from the platform and to increase the daily withdrawal limits of crypto. The KYC verification process takes 15 to 30 minutes to complete if users have all the necessary documents. These documents include:
Identity document (driver's license, passport, official government documents)
Photo of users to verify identity
Proof of address (utility bill, bank statement, government correspondence)
Bitrue does not report to the IRS and does not issue 1099s or any other official tax documents. However, it allows users to export their transaction history or link the Bitrue API to third-party cryptocurrency tax services such as Koinly.
Who It's Best For?
Bitrue is a comprehensive platform suitable for traders of all levels, with simple direct order forms for beginners and a powerful trading interface for advanced trading experts.
Their extensive list of over 700 available tokens and deep liquidity for trading pairs makes Bitrue a viable option for traders looking for more than just the most popular cryptocurrencies.
With an intuitive mobile app and unique yield farming features such as Piggy Bank and Bitrue Farms, the crypto exchange offers an impressive package of cryptocurrency products and availability to its users.
Bitrue is available in over 80 countries and has successfully managed to avoid major security breaches, calling for users' trust in recent times.