Bitso Review: A Comprehensive Overview 2022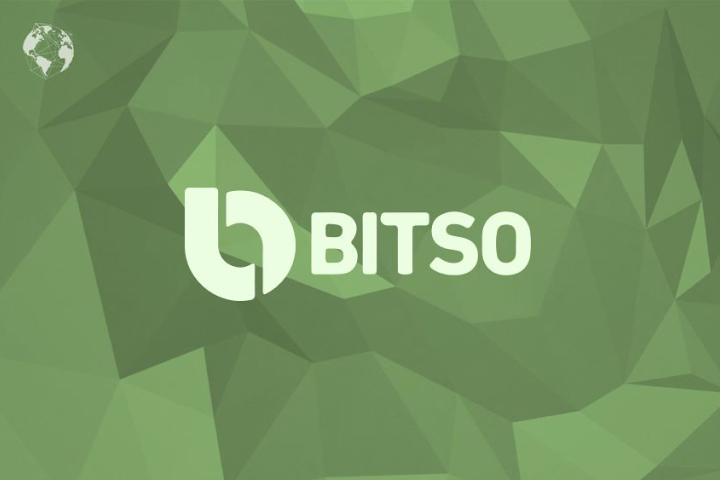 Bitso
Centralized cryptocurrency exchange for trading, buying, and selling cryptocurrencies
Straightforward, user-friendly interface with simple features
Pros
Easy-to-understand trading platform
Low fees compared to other exchanges
Advanced security measures and multi-sig technology
Cons
Limited availability cryptocurrencies
Limited global availability
High minimum initial account funding
Bitso Ratings and Reviews
Bitso is a centralized cryptocurrency exchange for trading, buying, and selling over 46 cryptocurrencies. With over 5 million users1, it is the largest cryptocurrency exchange in Latin America and the first platform to support cryptocurrency trading in Mexican Pesos. Bitso is a rare exchange that enables funds in the US dollar, Mexican peso, Argentine peso, and Brazilian real. 
Bitso offers crypto-to-crypto and crypto-to-fiat pairs and has a straightforward, user-friendly interface with simple features that are primarily suitable for beginners. The exchange provides services for individuals and companies such as Bitso Alpha, Bitso+, and Bitso Business.
Bitso follows advanced security practices by integrating multisign security technology, a type of security for wallets that need two or more private keys to access funds.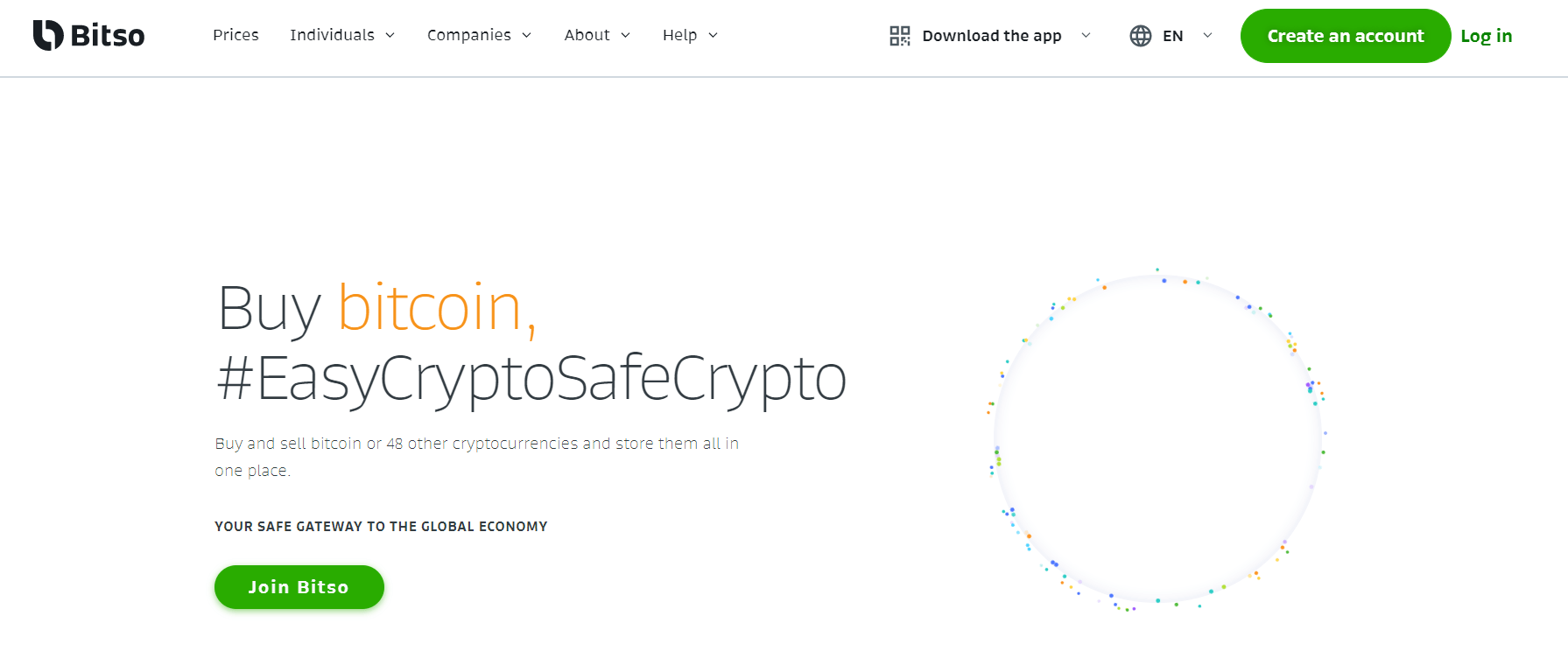 Pros & Highlights
Easy-to-understand trading platform:

With its user-friendly interface and support for popular cryptocurrencies, Bitso has a straightforward design suitable for traders of all levels of experience.

Low fees:

Bitso has one of the lowest fees for makers and takers in the market.

Security:

Due to its security measures and multi-sig technology,

Bitso is considered the

13th most secure crypto

exchange

in the world

2

.
Cons & Risks
Limited cryptocurrencies:

Bitso only supports around 46 cryptocurrencies.

High minimum fund:

The exchange demands its users to deposit a minimum of $100 to begin trading.

Limited global availability:

Bitso is only available in Mexico, Brazil, Argentina, and Colombia. U.S. residents cannot access the exchange.

Learning Hub:

Bitso offers limited educational sources to its users.

Customer Support:

Bitso does not provide adequate information about customer support on its website.
Bitso Features
Bitso offers basic products and tools for trading, making it suitable for beginners. Traders of all level benefit from its wide variety of features, which include:
Bitso Prices & Withdrawal Fees
Bitso adopts the Maker-Taker fee model to provide greater liquidity to the markets and reduce the spread between the purchase and sale prices. The trading fees decrease as the trading volume increases within a 30-day range.
Bitso has two fees; those calculated in markets against Bitcoin (BTC) and those calculated in markets against Mexican Pesos (MXN).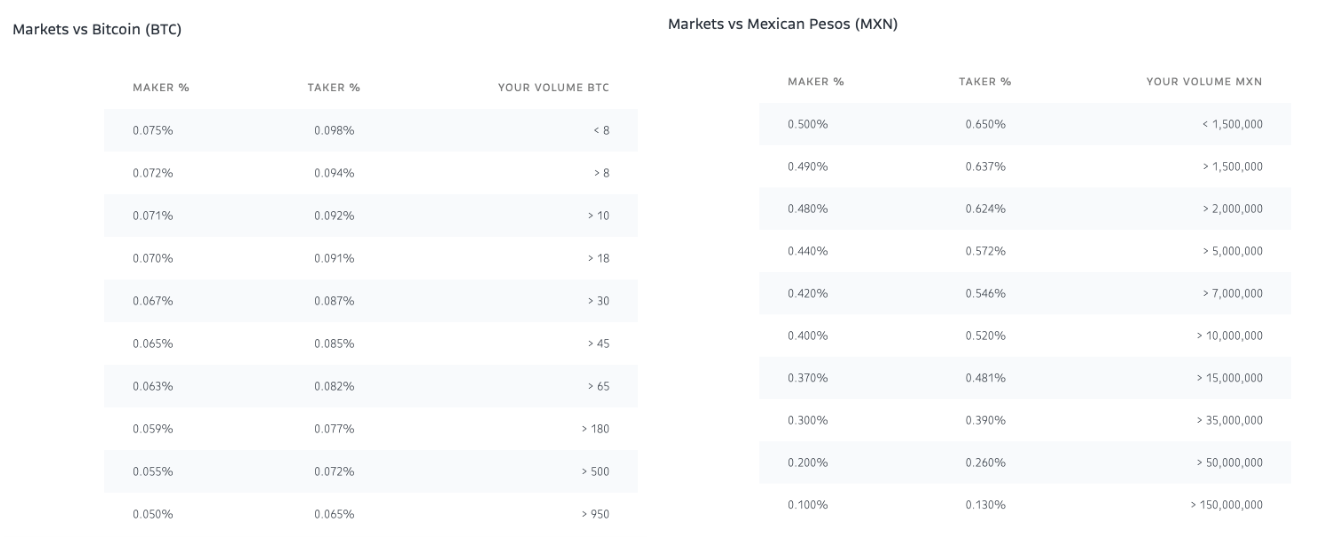 For deposits and withdrawals, Bitso accepts cryptocurrencies, Mexican pesos, Argentinian pesos, US dollars, Brazilian reals, and Colombian pesos. All deposits are free of charge. The price and transaction time may vary for withdrawals according to the chosen method. All the details about transaction fees can be found on Bitso3.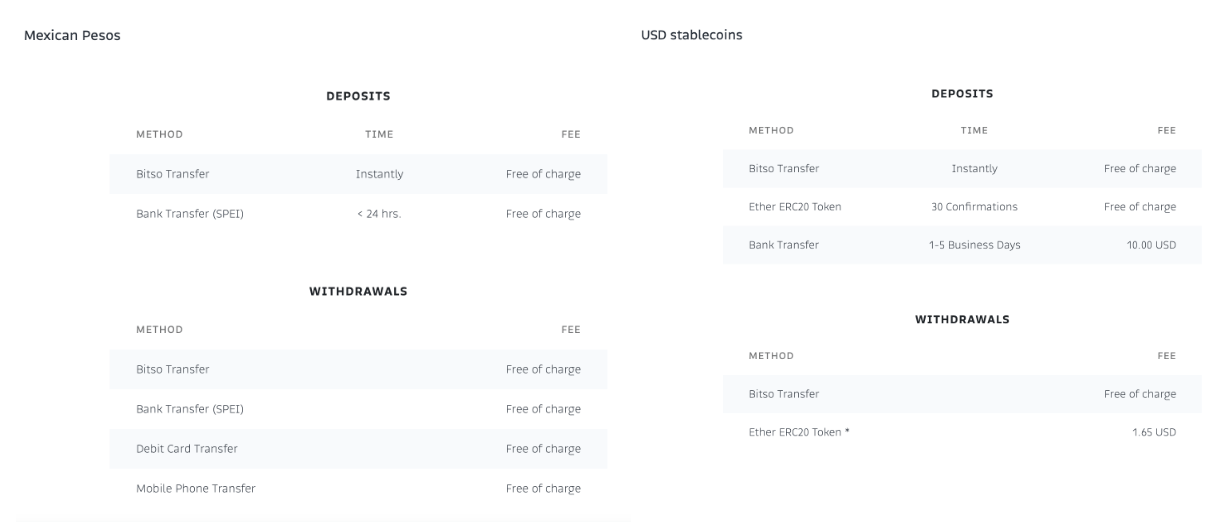 Company Background & History
Bitso was founded by Ben Peters, Daniel Vogel, and Pablo Gonzalez in 2014 as Mexico's first Bitcoin exchange. The exchange grew fast, and one year after its foundation, Bitso acquired the Mexican cryptocurrency exchange Unisend4. 
In 2016, the exchange started OTC (over-the-counter) in Mexican convenience stores and closed a $2.5 million round of investment. The following year, Ripple invested in the company. 
Between September 2019 and May 2020, Bitso's trading volume grew by 342%5, and the exchange surpassed 1 million users, of which 92 percent were from Mexico. Bitso expanded to Argentina in February 2020 and then entered Brazil in April 2021. The same year, Bitso started operations in El Salvador, officially adopting Bitcoin as a legal tender. Bitso cooperated with Silvergate6 to facilitate United States dollar transactions for Chivo wallet, El Salvador's official Bitcoin wallet.
Bitso became Latin America's first unicorn7 by raising $250 Million in Series C investment led by well-known investment firms and VCs such as Tiger Global and Valor Capital Group.
Trader Tools & Trading Experience
With its user-friendly interface, beginner investors and traders can easily start trading on Bitso and Bitso App. However, Bitso has a high entry threshold with a minimum deposit of $100. Users can use Bitso App on their mobile phones to sell, buy and exchange cryptocurrencies.
Bitso offers a seamless trading view with various charts to make trading an experience for seasoned traders with Bitso Alpha. On the platform, users can use limit/stop features to make crypto-to-crypto or fiat-to-crypto transactions and trade.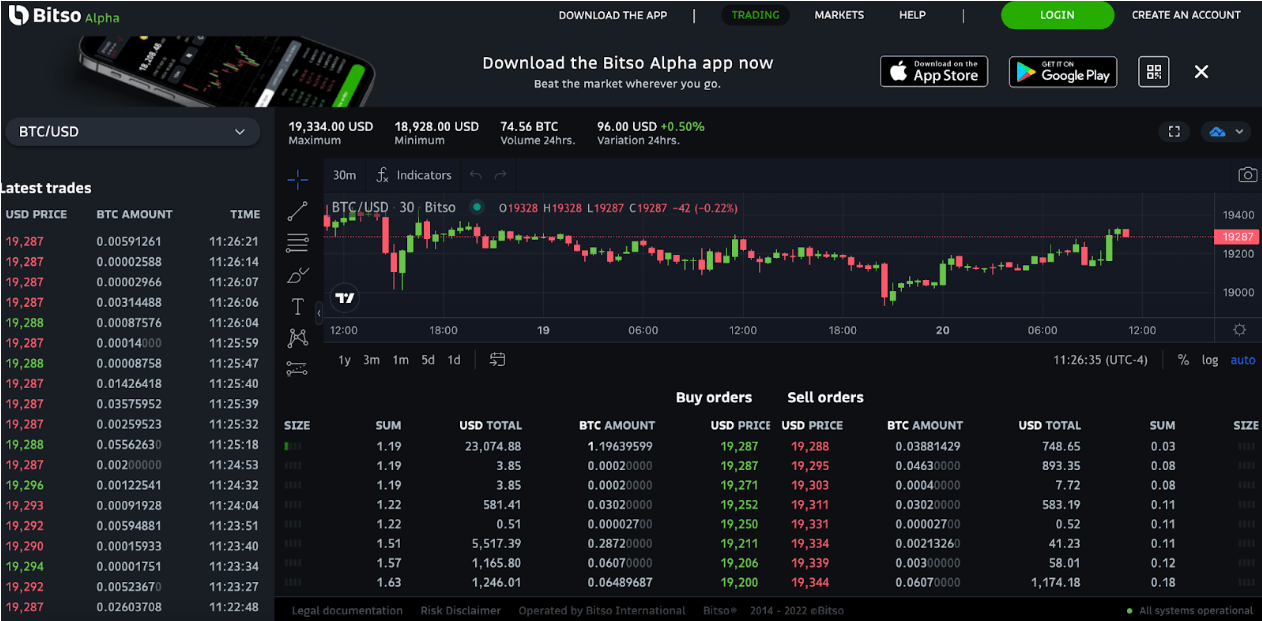 Even though Bitso doesn't have a margin trading feature, the exchange offers earning programs withBitso+. Users can earn up to 8 percent every week. Additionally, users' funds remain unlocked, meaning they can be withdrawn or traded anytime.
What Cryptocurrencies are Available on Bitso?
Bitso offers its users over 46 cryptocurrencies. On Bitso's exchange platform, users can purchase, sell and trade popular cryptocurrencies, stablecoins, game tokens, and web3 coins, including:
Bitcoin ($BTC)

Ethereum ($ETH)

Tether USD ($USDT)

ApeCoin ($APE)

Sandbox ($SAND)

ChainLink Token ($LINK)

Shiba Inu ($SHIB)
A complete list of tradable cryptocurrencies can be found on the exchange's website8.
Security: Is Bitso Safe & Secure?
Bitso provides high-quality security features to its users by detailing how they keep the funds safe. The company holds a DLT (Distributed Ledger Technology) license granted by Gibraltar Financial Services Commission (GFSC), and it is the first crypto-exchange in Latin America to be internationally regulated. 
Three insurance companies cover funds, wallets, and operations in Bitso in the event of thefts, cyber attacks, phishing, malicious software, or hacking. Bitso continuously monitors suspicious activities and prevents money laundering and the financing of terrorism. 
Customer Support: Contacts & How to Get Help
Since Bitso holds a DLT license, the exchange is required to guarantee world-class customer support. 
Bitso provides technical support under the Help section and addresses user concerns with curated articles, FAQs, and a limited number of tutorials. When these resources are inadequate to resolve conflicts, users can submit a ticket and expect a response within 24 hours. 
Bitso also provides Live Chat on its support page. Additionally, users can contact Bitso on the company's Twitter page or by emailing help@bitso.com.
KYC, Taxes & IRS Reporting Details
Bitso complies with the KYC verification process and requires users to provide personal information in order to sign up for the exchange. Since Bitso also complies with GFSC principles, it monitors transactions to prevent illicit activities. 
Regarding taxes, Bitso doesn't operate in the United States, and US citizens aren't allowed to access the exchange. That's why Bitso doesn't report to the IRS. About the other taxes, Bitso advises getting help from a professional since the exchange doesn't offer a related service on this matter either.
Who It's Best For?
Bitso is the 13th most secure crypto exchange worldwide by complying with GFSC principles. With its easy-to-understand website interface and mobile app, Bitso meets the expectations of beginner traders, prioritizing security and having popular cryptocurrencies. 
For experienced traders, Bitso Alpha can be a great fit in terms of trading view and charts, but crypto enthusiasts looking for various tradable coins and margin trade may choose another exchange. 
Bitso suits traders from Latin America and non-US residents interested in earning rewards and exploring crypto-related content.
Institutions can also work with Bitso Business to invest in cryptocurrency and accept crypto payments. Funded and trusted by well-known web3 and financial companies such as Ripple, Stellar Development Foundation, Celo, and Wyre, Bitso is one of the preferred centralized exchanges in LatAm.