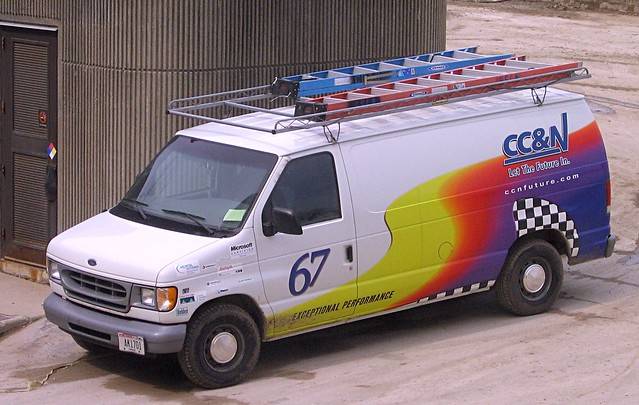 New or used, used or new. The question is now. Company vehicles are a great addon for any business. Your company isn't confined to a single location, and your employees need to be mobile. However, cars aren't cheap. Especially new ones. On the other hand, all used car had their share of wear and tear, and may ultimately cost more through their more frequent repairs. You will also need to think about your branding. Here are a few tips that can help you decide.
Specialty vehicles
A specialty vehicle – for instance, a service truck, van or a delivery vehicle – is any motor vehicle that is designed to serve a professional purpose. If your business requires specialty vehicles, it may be better to purchase a new car, as old cars may not have all the necessary technology and other equipment needed for your business. 
On the other hand, modifying existing vehicles to serve as company's specialty vehicles has become a trend nowadays, and can save you a lot of money, as new specialty vehicles can cost quite a lot. 
Branding potential 
While digital marketing makes up a significant portion of modern businesses marketing efforts, your company car gives you the capability to extend your branding further. Wrapping up your company vehicle in advertisements in an excellent way to market your business, as people across town will see it many times over. Moreover, this gives you more control over your corporate image. 
However, there are things you need to know about. For instance, showing up to a meeting in a car that's old and rundown may make your company look unsuccessful, while rolling up in a brand-new luxury car may come off as too showy, or even raise eyebrows about company prices and spending.
Get Started
Claim up to $26,000 per W2 Employee
Billions of dollars in funding available
Funds are available to U.S. Businesses NOW
This is not a loan. These tax credits do not need to be repaid
The ERC Program is currently open, but has been amended in the past. We recommend you claim yours before anything changes.
Or, if you're trying to convey a high-end image and your workers meet clients in beat-up clunkers, that will have a negative impact on your brand. The opposite is also true. If you're trying to convey a down-to-earth brand and have workers roll up in new cars.
New cars – pros and cons
Purchasing new vehicles is expensive. This requires a lot of upfront capital of at least a few thousand dollars – if not more – per car. Although you can write off some of these costs at tax time you will still need to come with the investment. This can be particularly challenging for small business owners since it can mean deciding between funding cars or inventory.
While buying an entire fleet of new cars will require a huge amount of upfront capital. Just remember to search for online deals when buying a car, whether is old or new, since they can be much cheaper. Yet, when searching online, go local. For instance, if you're a UK resident, search websites like Autovolo.co.uk. Local-based deals can save even more money. 
On the other hand, when you buy a new car, you don't have to worry about its past. You won't have to fret about whether any prior owner mistreated the vehicle, had accidents, or failed to do periodic maintenance. Not to mention wear and tear. They are also cheaper to finance and serve as great collateral to lenders if you have any. 
Used cars – pros and cons
The biggest advantage of buying a used car is that you let someone else take the biggest depreciation hit on the car. You may be able to sell the car later for nearly the same amount. When buying used cars, it is easier to save up and pay cash. This is particularly important when you looking to purchase a fleet of cars. Other benefits include:
Cheaper registry renewals – as the cost of registering a used car goes down every year.

Lower car insurance rates – when a car is worth less, it costs less to insure.
But their biggest disadvantage is that used cars are not as reliable or you may need to do more repairs on them. Maintenance costs – such as brake jobs, oil changes, tire rotation – will also be bigger and more frequent. 
To conclude – deciding whether to buy a new or old car ultimately boils down to your branding needs, the number of vehicles you require and whether you have the upfront capital. Answer these questions first, and the answer will present itself.