CakeDeFi Review: Pros, Cons, and More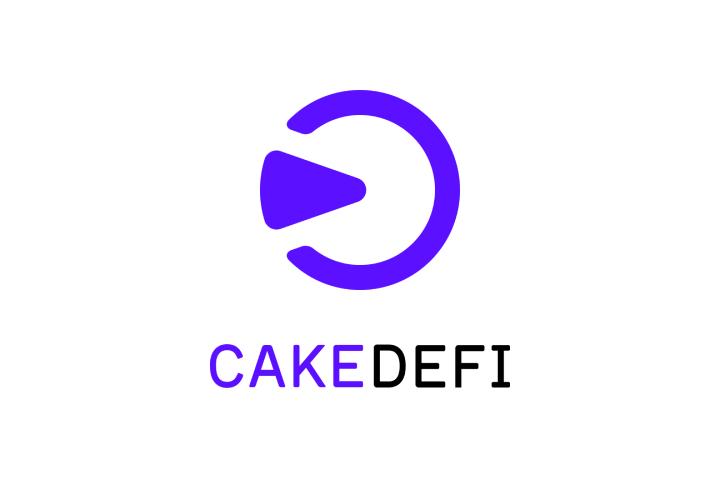 CakeDeFi
Decentralized finance (DeFi) platform that provides passive income opportunities for investors
Users benefit from APYs as high as 25 percent
Serves over one million users, paying $300 million USD in rewards.
Pros
User-friendly mobile app
Quality customer support
Advanced security features
Cons
Limited trading experience
Limited availability of supported tokens
Expensive swap fees for minimally invested users
Cake DeFi Ratings and Reviews
Cake DeFi is a decentralized finance (DeFi) platform that provides passive income opportunities for investors through liquidity mining, staking, and lending of their crypto assets. With strategies for all levels of risk tolerance, a user-friendly mobile application, and an intuitive yield-farming interface, Cake DeFi can serve a wide array of investors.
Cake DeFi provides a centralized experience with several advantages not available on other DeFi platforms. Users have access to customer service and platform custody of funds, allowing for a more inviting experience for beginners. However, the centralized nature may seem restrictive for some experienced DeFi investors.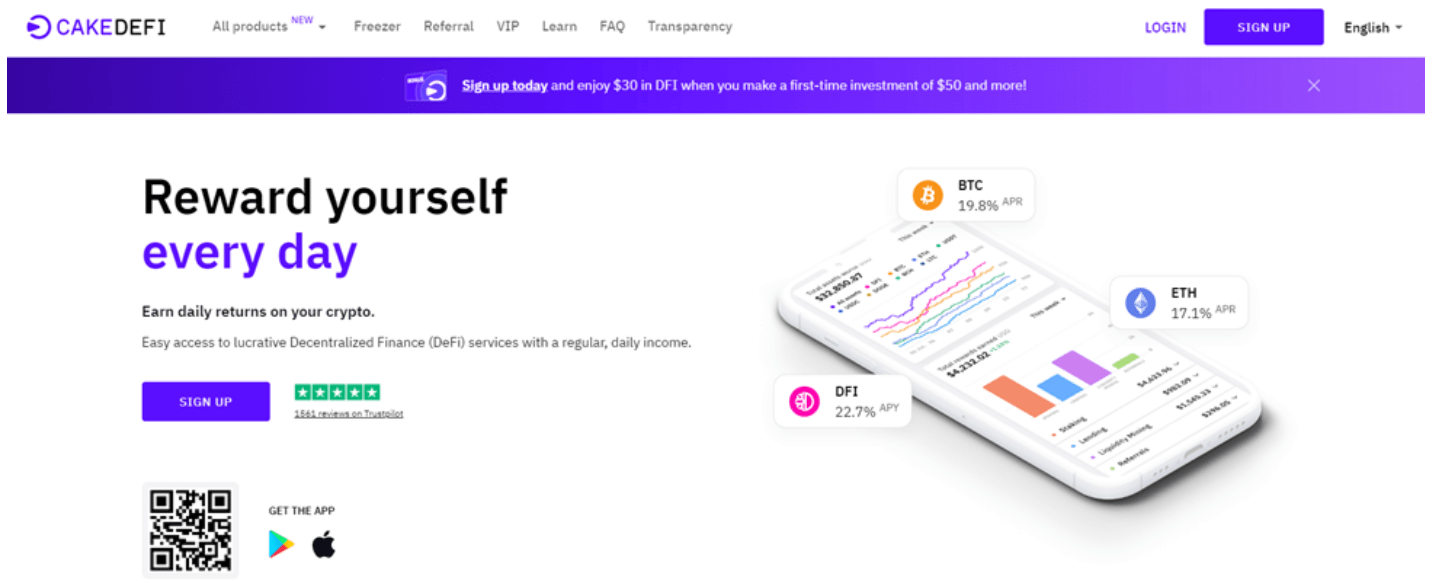 Highlights
Serves over one million users, paying $300 million USD in rewards.

Provides a user-friendly mobile application available on

Apple App Store

and

Google Play Store,

rating 3.4 out of 5 by the users.

Presents unique long-term passive income strategies such as Freezer

Offers a platform-native DeFi Chain (DFI) token

Provides quality customer support and advanced security features

Users benefit from APYs as high as 25 percent
Risks
Know Your Customer (KYC) required to use the platform
Limited trading experience
Limited availability of supported tokens
Expensive swap fees for minimally invested users
Platform rewards are paid out in native DFI token
Cake DeFi Features
Mobile Application: Cake DeFi offers a user-friendly mobile version of the platform, hosting Earn and Borrow capabilities. Like a high-interest savings account, Earn provides users with a low-risk income strategy, and the Borrow feature allows users to borrow DUSD using crypto as collateral. 
Freezer: A long-term yield-generating strategy, Freezer allows investors to allocate their crypto to liquidity mining or staking with lockup lengths up to 10 years. In the long locking period, funds experience compound growth as returns are rolled over, subsequently reducing fees. 
Learn: Users have the opportunity to learn about the tokens offered on the platform, such as Bitcoin (BTC) and Ethereum (ETH), and get paid in the token while doing it. 
Transparency Report: The Cake DeFi team publishes a quarterly Transparency Report which details the performance and outlook of Cake DeFi. With details such as upcoming features, recent achievements, and other platform data, this report provides insight into the operations and trajectory of the platform.
Cake DeFi Pricing and Fees
Fees on Cake DeFi differ depending on the strategies investors pursue. Investors with sizable investments will have a more cost-effective experience than others on the platform.
All crypto deposits to the platform are free. However, a one-time fee of $10 USD for ETH deposits goes towards wallet generation. 
Swap fees are structured such that fees decrease as the total amount invested on the platform increases. With five tiers of fee structures, VIP Levels are calculated based on a 12-week moving average of assets invested with an added multiplier given depending on which products are used. The exact calculations for VIP Levels are mentioned on the company website [1].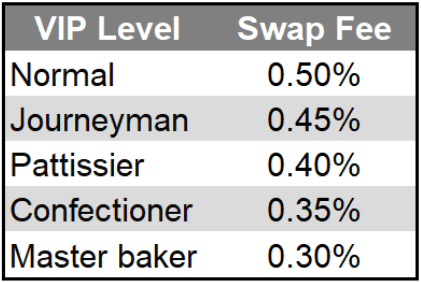 Staking fees are flat for all users but vary depending on the specific token being staked. Cake DeFi takes 10 to 15 percent of total staking rewards from the user. The projected APYs are shown after these fees are levied.
Withdrawal fees are also dependent on the token being withdrawn. While most tokens are relatively cheap to withdraw, Bitcoin, Ethereum, and Tether can be expensive. 
The token withdrawal fees are structured as such: 
Dash: 0.003 DASH

DeFiChain: 0.2 DFI

Bitcoin: 0.0005 BTC

Ethereum: 0.005 ETH

Tether: 10 USDT

Litecoin: 0.01 LTC

Dogecoin: 5 DOGE

Bitcoin Cash: 0.001 BCH

USDC: 10 USDC
Cake DeFi Company Background
Cake DeFi is a semi-centralized platform founded by Dr. Julian Hosp and U-Zyn Chua in 2019. After being successful early investors in cryptocurrencies, they wanted to develop a way for investors to generate cash flow on top of the capital gains they were earning. Headquartered in Singapore, the founders of Cake DeFi plan on listing the company as a public stock to raise money for growth acceleration and R&D [2]. 
Cake DeFi is owned and operated by the Cake DeFi team rather than the community, making it a centralized DeFi platform. However, Cake DeFi leans into the categorization and actually describes being centralized as a competitive advantage over other DeFi platforms.
How does Cake DeFi work?
Cake DeFi provides cryptocurrency investors multiple opportunities to generate passive income in addition to experiencing capital gains on the crypto they hold. 
By sending their tokens to the Cake DeFi platform, users can select from strategies, such as the Earn, or riskier options, such as staking and liquidity mining. 
Investors allocate their tokens to the desired strategies and earn rewards over varying periods of time, with different liquidity restrictions. These are considered passive income strategies as they do not require any action by the users throughout execution.
Yield Farming on Cake DeFi: Liquidity Mining, Staking, Lending
Cake DeFi offers three major products for yield farming on their platform, each with differing levels of risk and accessibility. 
Liquidity Mining: The riskiest yield farming option with APRs as high as 25 percent. Users allocate their tokens to specific liquidity pairs on the platform, thus bolstering the liquidity of swap pools and earning swap fees in the process. 
Staking: A popular strategy in DeFi where users can stake their tokens to node pools that help secure the network for the respective proof-of-stake token. Investors currently have access to stake ETH, DFI, and DASH tokens with APYs as high as 22.7 percent.
Lending: A traditional option guaranteeing base APY rates. Users can lend their tokens to others on the platform and earn APYs as high as 6.5 percent. Additional bonuses are given if the underlying token prices increase during the lending term.
How is the Trading Experience on Cake DeFi?
The trading experience on Cake DeFi is limited to simple token swap features, with no availability of advanced trading products such as spot or margin trading. The majority of swap pairs are between one of the nine supported tokens and the native DeFi Chain (DFI) token.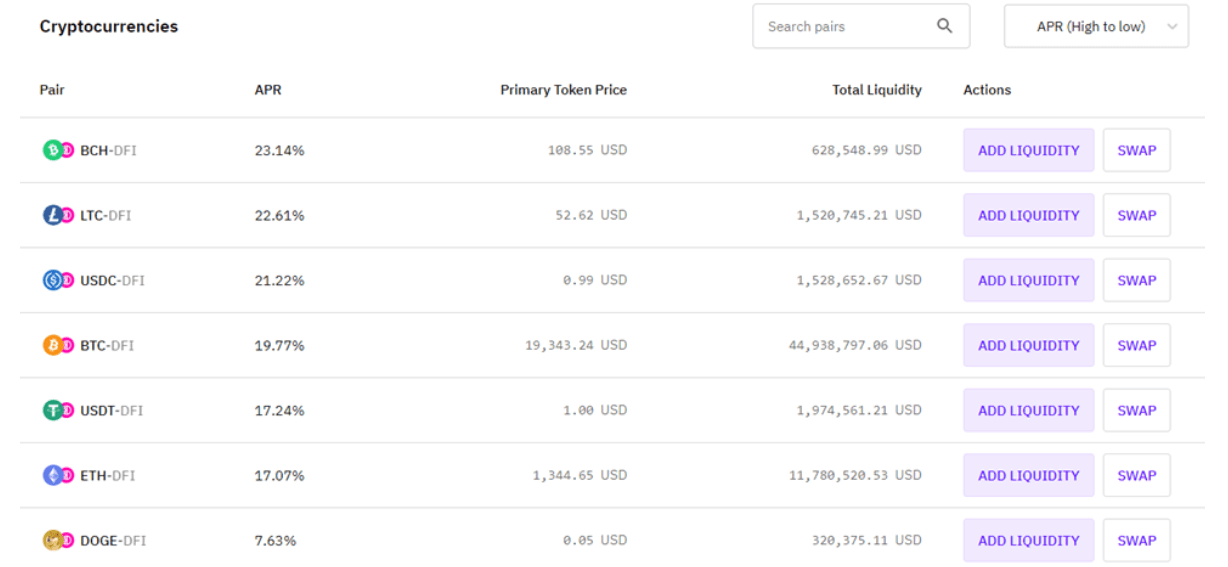 What Cryptocurrencies are Available on Cake DeFi?
Cake DeFi provides yield-farming and swapping support for 9 cryptocurrencies, with plans to add more in the future. 
Some of the popular tokens include:
DefiChain (DFI)

Dash (DASH)

Ethereum (ETH)

Bitcoin (BTC)

Tether (USDT)

Litecoin (LTC)

Bitcoin Cash (BCH)

USD Coin (USDC)

Dogecoin (DOGE)
Customer Support: Contacts & How to Get Help
Cake DeFi offers superior customer support channels compared to other DeFi platforms, as they provide a more centralized experience. 
The primary avenue for customer service is through the Support Request portal, where users can detail their issues and receive assistance within 24 hours. 
A detailed FAQ page contains helpful resources and articles for those who prefer to troubleshoot individually.
Security: Is Cake DeFi Safe & Secure?
Cake DeFi is unique as it custodies user funds. In doing so, they take on more responsibility and have integrated industry-standard security features to keep the platform and its customers safe. 
Cake DeFi utilizes cold storage and multi-signature wallets at a platform level to ensure that platform funds are stored offline and away from online attacks. 
At an account level, Cake Defi requires users to complete KYC verification, set up two-factor authentication, and allow for account whitelisting to ensure that account owners confirm all transactions.
Who is Cake DeFi Best For?
Cake DeFi is a centralized DeFi platform leading to users putting more trust and responsibility in the hands of the Cake DeFi team. 
In addition to providing industry-standard DeFi features, Cake DeFi offers advantages that make the platform more intuitive. Primarily, inexperienced investors do not have to rely on themselves for the safety of their funds and have access to quality customer support channels provided by Cake DeFi. 
Investors still have access to many of the powerful yield-farming strategies found on other DeFi platforms, such as liquidity mining, staking, and crypto lending, with similar levels of return. With options varying in levels of risk and access to unique strategies such as Freezer, investors can build a passive income strategy specific to their risk tolerance. 
Cake DeFi is best utilized by beginners new to the DeFi ecosystem that require quality support channels and a more intuitive experience.