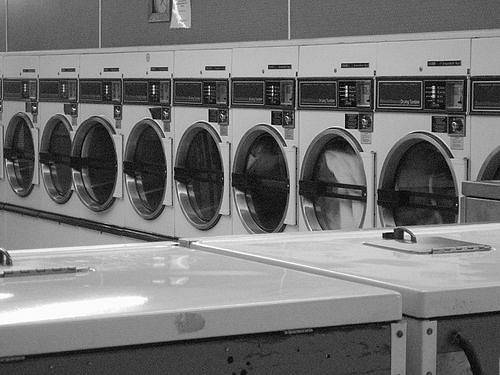 The coin-operated laundry industry is not what it used to be — which is probably a good thing. The weekly chore of washing clothes has become much more bearable in recent years, thanks to added amenities, new services, and an overall aesthetic facelift of laundromats around the country. Laundromat owners are up against years of bad stereotypes, but in recent years the in-demand service has turned a corner in terms of accessibility.
Here are a few emerging trends that are cleaning up the industry and increasing laundromat profitability.
Expanded services
A major contributor to the laundromat renaissance is that owners now make money on services other than laundry. For the price of rent, laundromat owners can leverage their space to make money through a variety of channels that don't include the namesake.
Laundromat owners with the proper zoning and credentials are now serving food, renting out mailboxes, offering Internet and providing other popular services to boost profits. Expanding laundromat offerings to include low overhead services is a great way to compensate for the high costs of rent and laundry machine upkeep.
New amenities
We are all busy, and nobody loves taking time out of their busy schedule to do laundry, but you know what people do like? Free Internet, video games, beer, and other homey essentials.
Get Started
Claim up to $26,000 per W2 Employee
Billions of dollars in funding available
Funds are available to U.S. Businesses NOW
This is not a loan. These tax credits do not need to be repaid
The ERC Program is currently open, but has been amended in the past. We recommend you claim yours before anything changes.
Laundromats that go above and beyond the status-quo tend to be the most profitable. Offer amenities that will make people want to be there whether that's a bar, comfy seating, Wi-Fi, etc. Owners should look to inject a little humanity into the laundromat experience in order to capture the hearts, minds, and coins of potential customers.
Growing demand
Changing consumer demographics and lifestyle trends are very complementary to long-term prosperity for laundromats. With more people moving to major metropolitan areas, opting for apartment rent over house payments, and living in dual-income households, it's safe to say that people these days have less residential space and therefore more demand for laundry services than ever.
According to the Coin Laundry Association, over half of laundromats offer wash-and-fold services, which eliminates the time commitment of doing laundry. Busy professionals are the perfect demographic for laundromats with wash-and-fold services — they are willing to part with some pocket change to add a few extra minutes to their day.
The state of the laundromat market
The laundromat industry is in what financial experts call a "mature market." This means supply and demand are more or less equal, and there is little room for new businesses. While this might seem like a major drawback, there are actually many ways to make money owning a laundromat — if you're willing to get your hands a little dirty.
If you have enough capital to shell out up front, opening a new laundromat within an metropolitan neighborhood is a good way to get started. Your biggest challenge will be luring customers away from their current laundromat, so your location must be the best of the best and offer a niche that isn't already offered in the area.
Another option is to buy a laundromat, renovate it, and adopt an existing clientbase. Buying an existing operation comes with several perks, such as established branding, existing equipment, set operational processes, a loyal customer base, etc.
No matter which route you take, there has never been a better time to own a laundromat. Laundromats are recession proof, reliable money makers, and unlike the clothes that go in the machines, they never go out of style.
Author Bio
Bruce Hakutizwi is the USA and International Accounts Manager for BusinessesForSale.com, the world's largest online marketplace for buying and selling small and medium size businesses.  Bruce has over 7 years' experience working within the US business transfer marketplace connecting buyers and sellers.