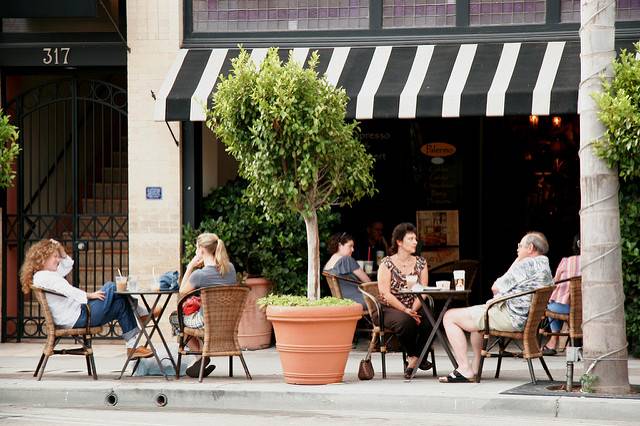 Every year, the average American worker spends about $1,100 at coffee shops or convenience stores. If you're someone who wants to cash in on our national coffee habit by opening a coffee shop, you must first determine if they are a worthwhile investment for you.
While there are a couple of major coffee chains that dominate the coffee shop market, it's not impossible for an independently owned or franchised coffee shop to make a solid profit. In fact, coffee shops can be incredibly lucrative businesses, depending on the market in which they reside. However, competition is fierce.
In order to determine if a coffee shop is the right investment for you, you need to first weigh the pros and cons.
Pros
Be your own boss
As with any business, one of the best aspects of owning a coffee shop is the ability to be your own boss. Make your own schedule, stay at work as long as you want, and get involved in every aspect of your business. Doing so will help you not only create a more successful business, but also make you feel invested on every level—not just financially.
Streamlined product offering
Unlike a restaurant or retail shop, you don't have to have a wide array of foods, a large kitchen, or a giant inventory of goods to sell. All you really need is some good quality coffee, maybe a few pastries, and internet access for your guests. Many coffee drinks use the same ingredients (for example, a cappuccino and a latte are made of the same basic ingredients, just in different proportions).
Get Started
Claim up to $26,000 per W2 Employee
Billions of dollars in funding available
Funds are available to U.S. Businesses NOW
This is not a loan. These tax credits do not need to be repaid
The ERC Program is currently open, but has been amended in the past. We recommend you claim yours before anything changes.
Solid profit margins
Because of the relatively low cost of your product, and the price people have demonstrated they are willing to pay, it's likely you will be able to turn a solid profit just by marking up coffee drinks. Compete with large chains by offering slightly less expensive coffee drinks, and keep customers coming back with loyalty cards.
Cons
High startup costs
The estimated costs for starting a coffee business from scratch run from $200,000 to $375,000, and coffee franchises can cost as much as $673,000 for a sit-down coffee shop. Compare this to the cost to open a restaurant, roughly $425,000. The reason for this can largely be attributed to the price of a good commercial-grade espresso machine, which can cost as much as $13,000. Considering your shop may need more than one of these, you can expect costs to add up quickly. You'll also need at least one industrial coffee grinder, as well as a roaster (if you want to keep things as pure and authentic as possible).
Competition
As previously mentioned, competition for independently-owned or franchised coffee shops can be rather fierce. Be prepared to fight for loyal customers, have the best location, and make sure your coffee shop has something that makes it stand out. Maybe your shop makes a special scone or other pastry, or maybe it has the most innovative drinks. Either way, your coffee shop should be worth coming back to, so ask yourself: what would earn my repeat business as a customer?
Knowledge base
Coffee shops, especially independently owned ones, pride themselves on their knowledge of all things coffee. Make sure you're a coffee connoisseur, latte pro, and bean enthusiast all rolled into one business-savvy package.
Things to keep in mind:
Be passionate. Don't open a coffee shop just for something to do. Open a coffee shop because you're passionate about coffee, willing to put in the hard work, and ready for a new and challenging adventure.
A good location is invaluable. Set up shop somewhere that's likely to get a lot of foot traffic, or is easily accessible by car. For example, a coffee shop near a cluster of office buildings might see a lot of 9-to-5ers looking for their morning caffeine fix.
Ergonomics and floor plan matter. When you design the inside of your coffee shop, make sure to set up the floor plan in a way that makes sense for patrons. The flow of the line is important. Additionally, make sure the barista has everything they may need within arm's reach. Don't set up the espresso machine at one end of the bar, and the fridge at the opposite end. Help them make drinks as quickly as possible to keep your customer base happy.
Making sure to do your homework before opening your own coffee shop or franchising one is critical. Follow these simple guidelines and YOU will be the fierce competition.