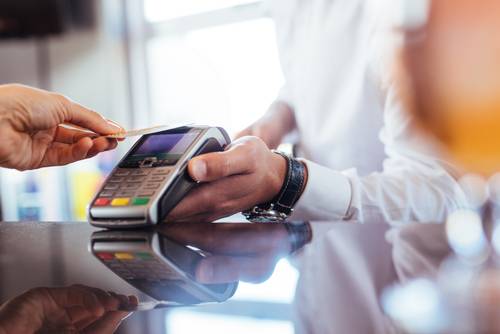 You have heard the expression that "Cash is king." Well, as we enter the third decade of the new millennium, the king has been replaced by a rectangular piece of plastic called a credit card. Your customers want to pay with plastic, and they do not want to wait long to have their transactions approved. They want you to swipe a cred and get instant approval for a transaction.
Credit cards are good for business as well. Several studies demonstrate that the average amount of a transaction is higher for customers that pay with credit cards. Impulse purchases also are higher for credit card purchases than they are for cash purchases.
However, far too many small business owners remain stuck in the early 2000's by using outdated credit card processing systems, especially systems that are not fully integrated in the business accounting software platform.
Let's go over a few tips to get your business up to speed with the magic of credit card purchases.
Find the Right Payment Processor
You cannot simply wave a magic wand to install a credit card processing system. You need to determine what you want from a processor, and then research different companies to learn more about the products and services offered. A payment processing company such as Double Helix Processing provides a comprehensive website that presents the information you need to make a sound decision.
Get Started
Claim up to $26,000 per W2 Employee
Billions of dollars in funding available
Funds are available to U.S. Businesses NOW
This is not a loan. These tax credits do not need to be repaid
The ERC Program is currently open, but has been amended in the past. We recommend you claim yours before anything changes.
Selecting the right payment processor for your business is similar to deciding on a credit card company. You have to factor in fees, rates, and the fine print that appears on the back of an agreement. However, it is not all about dollars and cents. You should read online reviews, as well as network with the owners of other businesses in your area that have installed a credit card processing system.
You Want Contractual Flexibility
Running a small business requires you to adjust to rapid changes. When it comes to a payment processor, you cannot afford to be stuck in a lengthy contract that does not allow you to adjust on the fly. Although installing a credit card processor in your store will increase sales, you cannot afford to end up in a long-term contract that prevents changes. You also want to avoid signing a contract that includes a cancellation fee in the fine print. Take the time needed to read the entire contract, before you agree to all the contractual terms.
Follow All Contractual Terms
Congratulations! You have signed a contract to process credit car payments. Your investors will be pleased. That can change if you fail to follow every stipulation written into a credit card processing contract. Reading the fine print is also about knowing how to use your new payment processing system. Rules and regulations vary among processors; just make sure to follow the rules established by the company installing your payment processing system. For example, you should understand whether you are allowed to process transactions that do not involve a physical card. Some of your customers might prefer to consummate purchases over the phone. Many payment processing companies require businesses to collect additional information, that include IP addresses and digital signatures.
Promote Your New System
In 2020, most consumers take for granted that businesses accept plastic to finalize sales transactions. Yet, that is not the case for some small businesses, many of which have operated on the cash and check model for years. When you install a credit card processor, make sure to promote your new form of financial transaction by placing signs in your store windows. You have seen the logos of Visa, Mastercard, and American Express stuck to the walls of restaurants and grocery stores. Do the same thing by adding the brand name of the credit cards you accept to your business walls and windows.
To Refund, or Not to Refund
That is not the question, because you have to establish a refund policy to ensure the delivery of optimal customer service. Your customers expect to get their money back whenever they are dissatisfied with a product. How you handle credit card refunds is important, because you can give cash back to make your customers happy or tell them that your credit card processor has to make the payment adjustment. If you decide to let your processor do all the refund work, then your customers might have to deal with a delay.
Whatever you decide to do with your refund policy, put it in writing and display the policy at every point of sale terminal.
Know Fraud When You See It
Sadly, identity theft remains a huge problem for credit card transactions. Although it is difficult to prevent seasoned thieves from stealing your customer's credit card information, you can prevent fraudulent chargebacks from appearing on your weekly payment processing statements. A reputable payment processing company will teach its clients how to detect fraud when it comes to handling credit card transactions.
Above all, maintain accurate records of every credit card transaction. The best payment processors offer detailed reports that give you the information you need to manage a credit card processing system successfully.